In this article, Richard Aucock of Motoring Research has selected and reviewed his pick of large family cars, including four cars that are currently available to lease on the Motability Scheme with no Advance Payment. The prices shown are valid for applications placed before 30 September 2021.
---
The breadth of cars available on the Motability Scheme ensures there is a car for everyone. Experience tells us many customers appreciate the practicality and flexibility of a larger car – motors that can take anything life can throw at them. With this in mind, we have decided to look at some of the roomiest cars available on the Scheme… most of which come with the added bonus of no Advance Payment.
The ongoing global semiconductor 'chip' shortage is, as we know, having an effect on the availability of some cars on the Scheme. Manufacturers have, in a few cases, had to temporarily withdraw large cars that were previously available on the Scheme, while the factories wait for fresh supplies of chips. But rest assured – every large family car listed here is still currently available on the Scheme, and your local dealer will look forward to discussing delivery dates with you. 
Toyota Corolla Saloon 1.8 Hybrid Icon 
What sort of car is it?
The Toyota Corolla Saloon is an executive-style four-door saloon car with the appearance of something much larger. It has a grown up appearance on the road and gives off a business-like air of confidence. As an added bonus, fuel-saving self-charging hybrid technology comes as standard: over 60mpg should easily be achievable. 
Why is it so popular?
The latest version of the British-built Toyota Corolla is proving to be something of a growing success for the Japanese firm. The car is winning ever more fans, aided by its upmarket look and quality feel. The interior is very well equipped, with lots of safety features, and this saloon version has useful extra space for those sitting in the rear.
It also has an enormous, well-shaped 471-litre boot, which has a wide opening, making sliding long loads in easy. Meanwhile, the hybrid engine combines good power and excellent fuel economy: it is capable of running more than half the time in engine off mode, as the self-charging battery-powered electric motors take over. Better still, being a hybrid means an automatic gearbox is standard, too.
Fiat Tipo 1.4 Street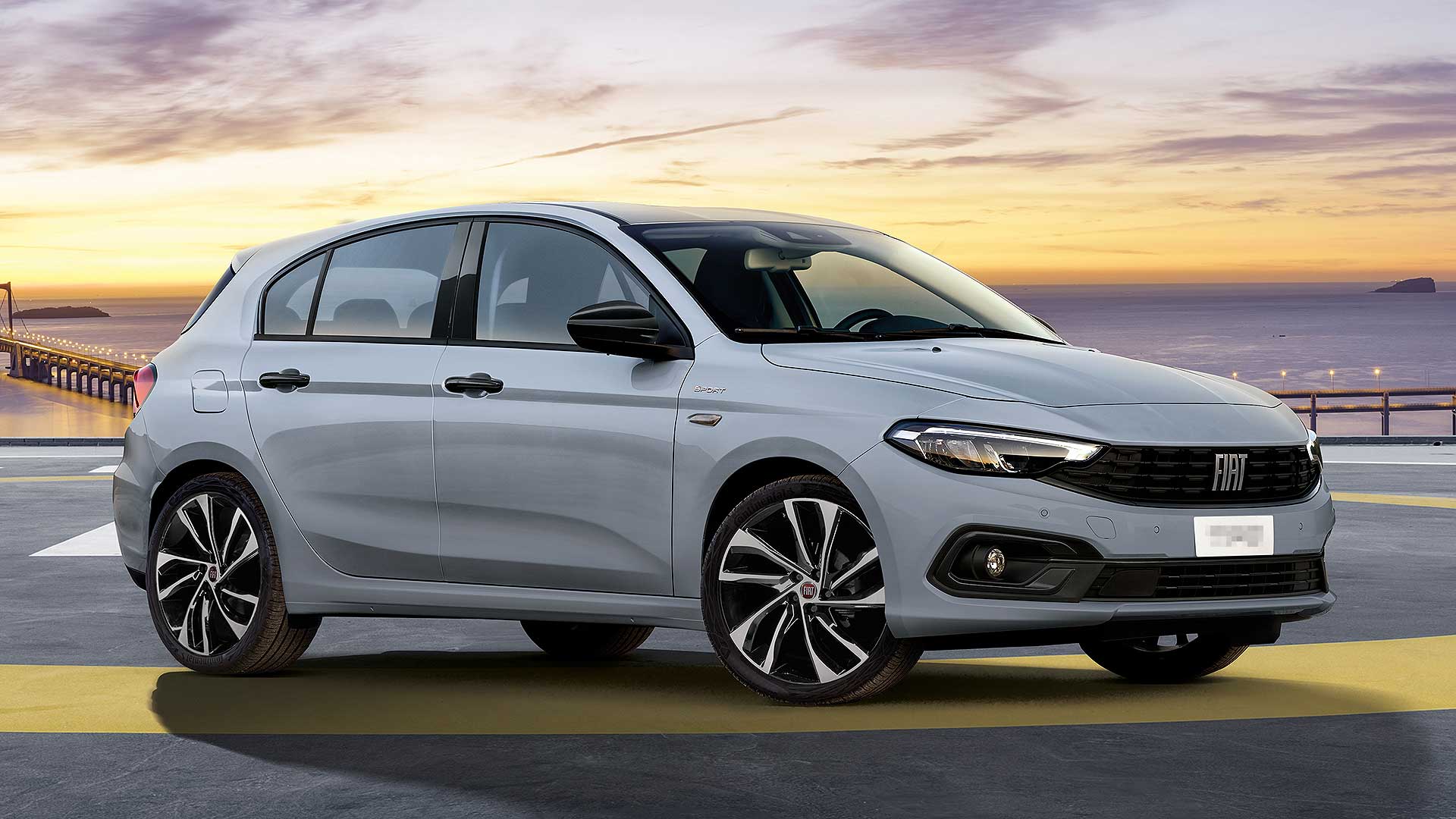 What sort of car is it?
The Fiat Tipo is a large, family-friendly five-door hatchback from the brand behind the famous 500 city car. The Tipo is infused with some of the cheeky style of the 500, but doesn't let practicality suffer. This makes it a good choice for those who want some Italian style without compromising on passenger or boot space. 
Why is it so popular?
The Tipo is well regarded across Europe as a value-priced car that delivers plenty for the money. This has been enhanced for 2021 thanks to a facelift, which sharpens the styling and adds a few extra features inside. This Street version has cool black-painted alloy wheels and eye-catching daytime LED running lights as well.
The Tipo is an engaging, enthusiastic car to drive. It has a spirited verve and the charismatic petrol engine will be enjoyed by keen drivers. For those who take it a bit more steadily, nearly 50mpg should be possible. Also, because the Tipo isn't excessively powerful, it can be driven by under-25s, too. 
Volkswagen ID.3 Life Pro 58kWh

What sort of car is it?
The Volkswagen ID.3 is the giant German brand's car of the future. Effectively a pure electric alternative to the legendary Golf hatchback, you can only have it with a battery-powered EV powertrain. Choice comes in terms of battery capacity, trim line and motor power: the mid-range Life Pro 58kWh is, we reckon, among the best all-rounders in the line-up. 
Why is it so popular?
Because it is pure electric, the ID.3 doesn't have to give up space for things like engines, petrol tanks, exhaust pipes and the like. With the battery mounted in the middle of the car, under the seats, it means much more space available in the open-plan interior for passengers and luggage. The electric Volkswagen has lots of room for people both front and rear and a user-friendly 385-litre hatchback boot. Naturally, the rear seats fold, too.
A fully-charged battery has a range of around 265 miles, and high-tech electronic displays on the dash give plenty of information about the remaining charge. If you're running low, the sat nav will even show you where nearby charge points are – but most users will simply charge from home overnight and never visit a filling station again! 
---
Are you considering an electric vehicle? Did you know that if you're a Motability Scheme customer then you can have a charge point installed at your home, or gain access to a network of charge points for easy on-street charging? Read more about this initiative here.
---
Suzuki Vitara 1.4 Boosterjet 48V Hybrid SZ4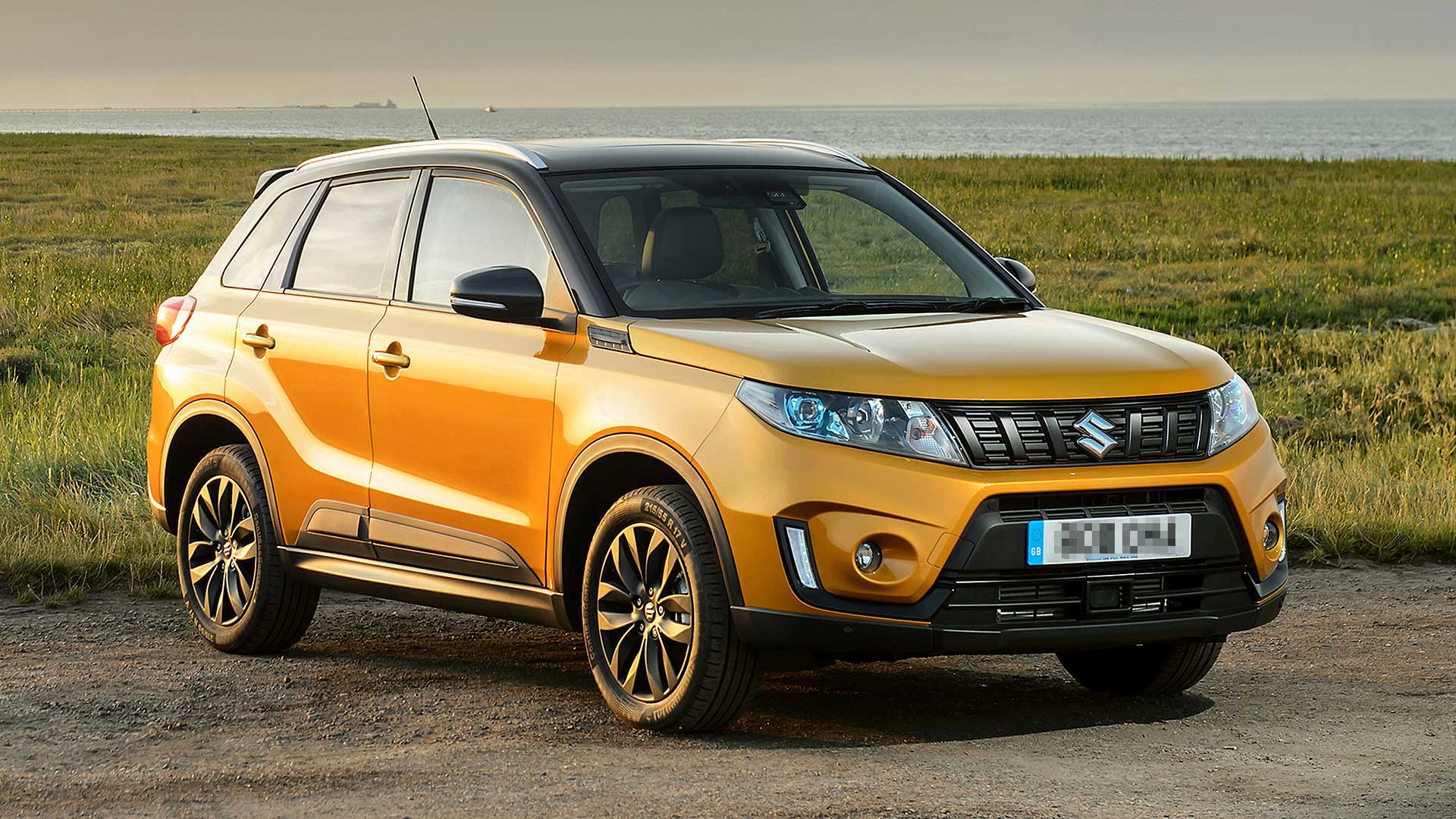 What sort of car is it?
The stylish Suzuki Vitara is a fashionable SUV-style machine, with a tall ride height and rugged lines. It was revised a little while ago, adding crisper styling and new features inside, while this version has the added benefit of fuel-saving 48V hybrid technology, which helps cut fuel consumption in town. 
Why is it so popular?
Passengers get a nice, high-set driving position inside the Suzuki Vitara. This makes it easy to step in and out of, too – when you're getting out, you don't have to step up out of a low-set seat, for example. Rear seat space is fine and there's good headroom for taller people, along with an easy-to-load 375-litre boot. Equipment levels are generous too.
The 'Boosterjet' 48V hybrid technology helps serve up official fuel economy of nearly 53mpg. For an engine that also produces nearly 130hp, this is impressive – during testing, I found the Vitara a responsive, engaging car that never felt out of its depth, even on the motorway. For families seeking style as well as space, it's a model well worth adding to your shortlist. 
Vauxhall Combo Life 1.5D Edition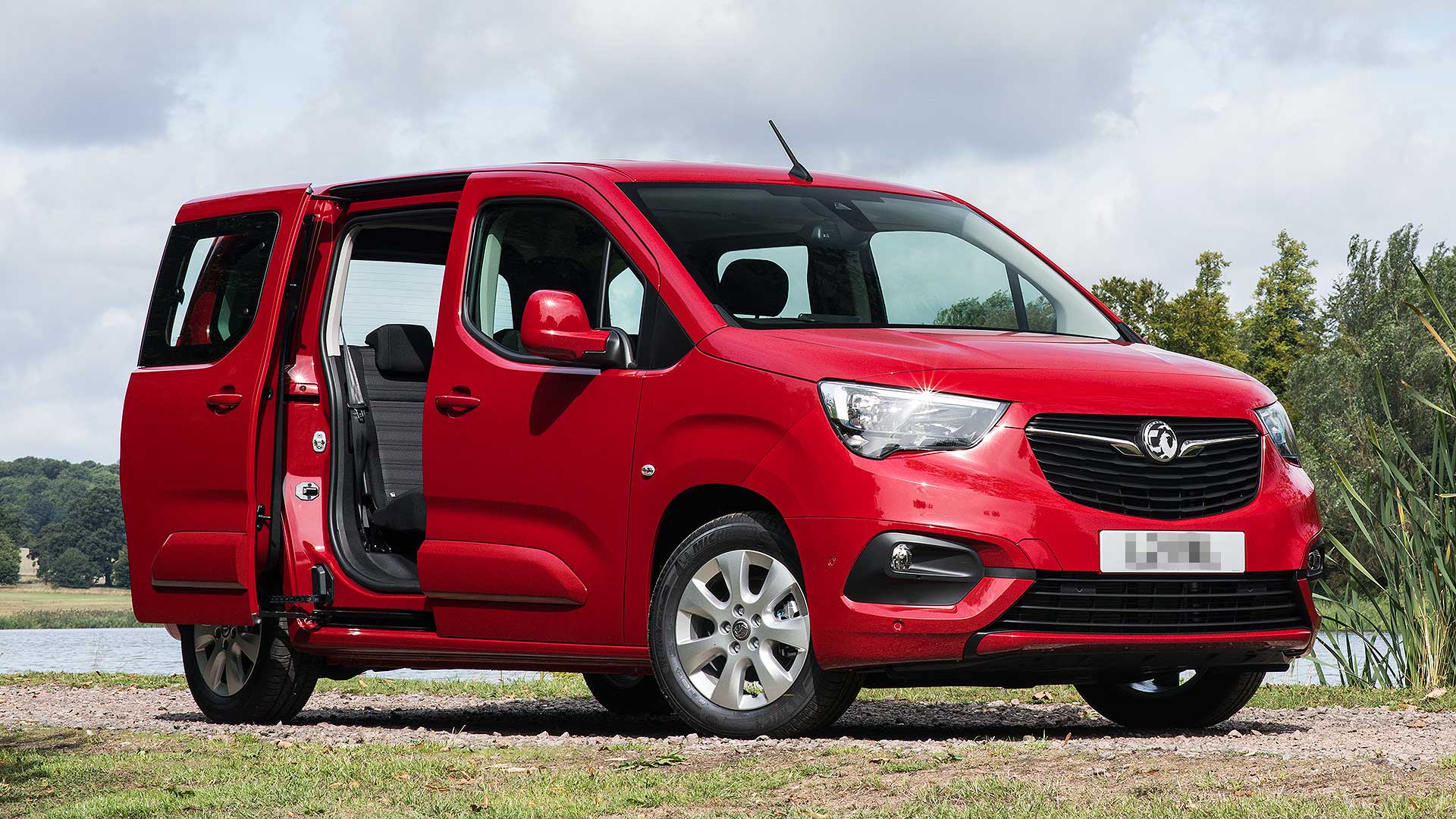 What sort of car is it?
The Vauxhall Combo Life is an extremely practical family car indeed. Its boxy, upright appearance gives a clue to the amount of space inside, but it still manages to surprise those who jump on board for the first time. This well-equipped Edition model has a fuel-saving 1.5-litre turbo diesel engine – and while it isn't quite zero Advance Payment, the £99 sum is a worthwhile investment for those seeking a spacious family car.
Why is it so popular?
The Combo life is huge inside. For front seat passengers, it feels airy and light, with the same sort of high-set driving position you normally get in an SUV. The modern dashboard is appealing to use and the supportive seats are good, too. Those in the rear will not be short-changed either – they even have the advantage of accessing the vehicle through easy-to-use sliding rear doors.
Back seat space is, frankly, exceptional, even for those travelling three-up. There's a whopping 983-litre boot as well, which is square, tall and extremely well shaped for even the most awkward of loads. Fold the seats and it becomes more akin to a van. A low load sill helps with heavy loads, which the fuel-saving diesel engine then makes light work of. This really is one of the roomiest, most practical cars you can choose right now. 
What are the pricing options?
There are three pricing options available when leasing through the Motability Scheme:
Cars that cost less than your mobility allowance:
There are currently over 40 cars that cost less than your mobility allowance, giving you money back to spend as you wish. The amount you pay is fixed during your lease and the remainder is paid directly to you by the Department for Work and Pensions (DWP) or Veterans UK, depending on which mobility allowance you receive.
View less than your allowance cars
Cars that cost all of your mobility allowance:
There are around 130 cars that cost the same as your allowance, which means you swap the whole of your weekly mobility allowance for the car of your choice. There is no Advance Payment on these models. These cars will display the words 'Total Mobility Allowance' on the specifications page for weekly rental amount on the Car Search tool.
View Total Mobility Allowance cars
Cars that cost all of your mobility allowance and have an Advance Payment:
You can increase your choice further by paying a one-off, non-refundable upfront payment which we call an Advance Payment. The Advance Payment covers the cost between your  mobility allowance and the total cost of your lease.
View cars that have an Advance Payment
How the payments work?
Payments are deducted from your qualifying mobility allowance every four weeks, then paid directly to us by the Department for Work and Pensions (DWP) or Veterans UK. If you choose a car that costs less than your allowance, the remainder is paid directly to you by the DWP or Veterans UK.
All-inclusive leasing
No matter which car you choose, all come with our all-inclusive package of insurance, breakdown cover, servicing, tyres and glass repair and replacement.
Search the full range
If you'd like to join over 630,000 customers already enjoying the benefits of a worry-free lease package through the Scheme, start exploring the full range of cars available using our Car Search tool to narrow down your options.
Our price lists are updated every three months, so you can be assured you're getting the best prices from each manufacturer. The dates the new prices are published are:
1 January
1 April
1 July
1 October
Interested in joining the Scheme?
About the Scheme
The Motability Scheme offers an all-inclusive package. If you are in receipt of a qualifying mobility allowance you can use it to lease a car, scooter, powered wheelchair or Wheelchair Accessible Vehicle. The Scheme provides flexible and hassle-free access to a brand new, reliable vehicle of your choice. As well as a great choice of cars, we also provide a wide range of Wheelchair Accessible Vehicles, scooters and powered wheelchairs.
Eligibility
To join the Scheme, you must be in receipt of one of the following mobility allowances:
Enhanced Rate of the Mobility Component of Personal Independence Payment
Higher Rate Mobility Component of Disability Living Allowance
Higher Rate Mobility Component of Child Disability Payment (Scotland)
War Pensioners' Mobility Supplement
Armed Forces Independence Payment 
Related Articles
Electric vehicle charging: your questions answered
UK car production slumps to lowest June level in almost 70 years