When disability blogger Emma noticed that the tyres on her Wheelchair Accessible Vehicle were looking worn she contacted Kwik Fit to arrange an appointment with their mobile fitting service. Read all about her experience in this article.
---
Unfortunately, our vehicles will experience general wear and tear throughout the duration of the lease period. So, it's always a good idea to keep on top of their general maintenance and that includes checking for damage or wear and tear to the tyres. Fortunately, the Motability Scheme offers complete worry-free motoring which includes tyre replacement.
With the ongoing COVID-19 pandemic, many of us, myself included are spending most of our time at home. As an accessible travel blogger, I would usually be travelling up and down the UK in my Wheelchair Accessible Vehicle (WAV) multiple times throughout the year. But not this year. The furthest we've travelled is fifteen minutes to my local hospital for my regular appointments.
Although we haven't been getting much use of our WAV lately, it's still important, even more so than usual to make sure it is in good condition. That's when we noticed the two rear tyres were looking worn with barely any tread left. With winter on its way, we wanted to get the tyres replaced as soon as possible as we didn't want to take any risks.
Contacting Kwik Fit
Having used the Kwik Fit mobile fitting service a few years ago I knew it would be straightforward again. I gave them a call and spoke to a lovely customer service agent. She took my details including my vehicle registration and asked when would be most convenient for one of the mobile fitting units to come out to my home to replace the tyres.
The call only lasted a few minutes and I had my home appointment booked in for a few days later. If it is your first time using the Kwik Fit mobile fitting service then it's handy to make a note of the tyre size before calling as the agent will need to know this. This ensures they bring the right tyres for your particular car. However, luckily they already had my WAV tyre size noted on their system from the first time I used the mobile service.
The appointment
On the day of the home appointment, the tyre technician called me thirty minutes before he arrived. When he arrived at our home, we didn't have to do anything apart from hand him the car keys.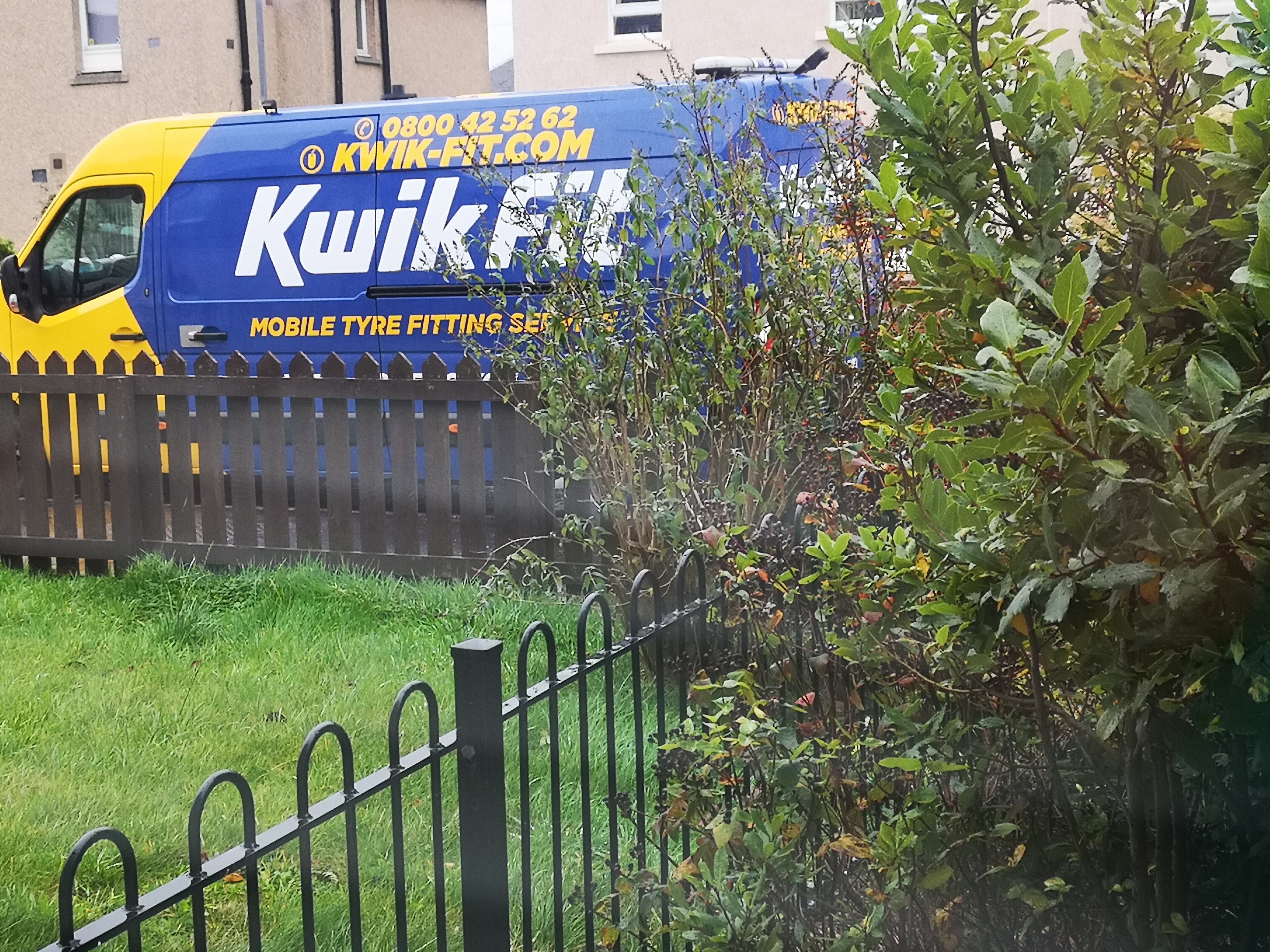 Our WAV was parked on our driveway and we didn't even have to move it for the technician to gain access. He worked on it where it was and within thirty minutes he had replaced the two rear tyres.
Using the free Kwik Fit mobile fitting service was quick, easy and completely hassle-free. It is a great service for Motability Scheme customers who are unable to get to a Kwik Fit centre or if there are accessibility issues at their nearest centre. I will definitely use the service again.
You can read more from Emma on her blog Simply Emma
About the Scheme
Your Motability Scheme lease includes tyre repair and replacement from Kwik Fit. You can take your Motability Scheme vehicle to any one of the 600+ Kwik Fit centres across the UK and the team will carry out a full safety check and replace any tyres in need of attention at no extra cost.
Or you can also take advantage of Kwik Fit's mobile fitting service and have your tyres fitted at home or at work. It can be an inconvenience trying to find the time to get your tyres repaired at a local garage, plus, due to Coronavirus many people are staying at home. Kwik Fit's mobile fitting service gives you the opportunity to not only choose when to have your tyres fitted, but also where. To arrange a home appointment for tyre replacement with the Kwik Fit mobile service, call 0330 123 1533.
If you're new to the Scheme and would like to find out more about the all-inclusive lease package request a free information pack below and we'll send you all the information you need.
Request a free information pack
Related articles
Four simple car checks for safer winter driving
Video: What's in the van? Kwik Fit's Mobile Fitting Service
Top Tips for looking after your Wheelchair Accessible Vehicle (WAV)