Motoring expert Richard Aucock reviews his top new car picks from the Motability Scheme's latest price list. From automatic to electric vehicles, large cars to small, there's something for everyone no matter your needs or budget. The prices shown are valid for applications placed before 30 June 2021.
---
Motability Scheme customers continue to enjoy a broad range of safe, reliable new cars, with fresh models being added all the time. Every car on the cost-effective Scheme comes with insurance and breakdown cover included, along with tyre replacement if you get a puncture. Customers even get full vehicle servicing for the duration of every lease.
I've been through the latest quarterly price guide and picked out some of my favourite cars across six different categories – from SUVs, to automatics, to seven-seaters, to electric cars. Some of them are available for no Advance Payment (this means that you simply exchange your qualifying mobility allowance) and no car included here has an Advance Payment of more than £999. Read on to see what's caught my eye this quarter!
Skoda Kamiq 1.0 TSI 110 DSG SE
My automatic car choice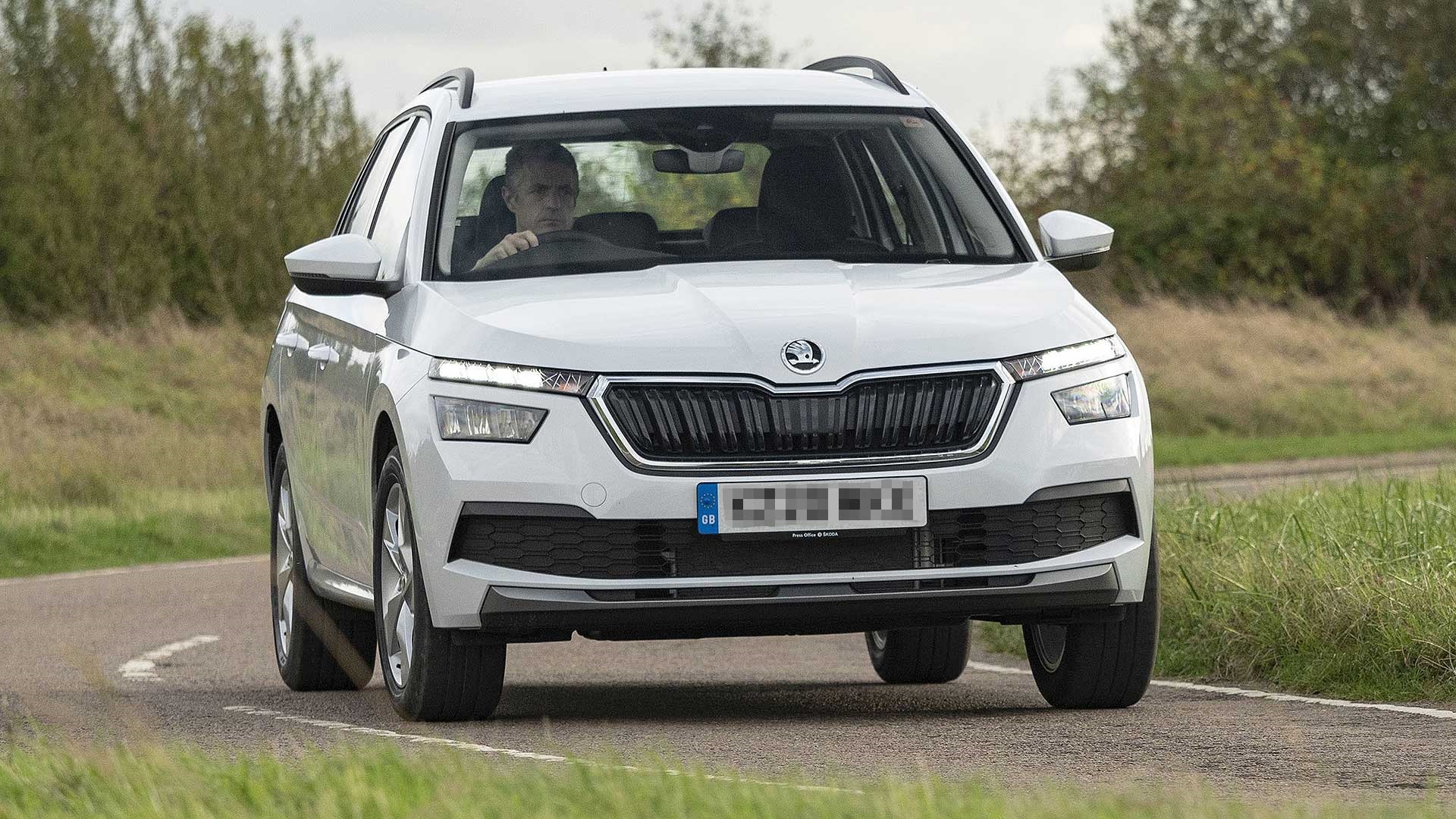 Skoda is an ever-popular brand here in the UK, known for its roomy and practical cars on offer at fair prices. The Kamiq I've picked out here comes with a slick DSG automatic gearbox and, even better, is available with no Advance Payment on the Motability Scheme – and the fact it is also a roomy and stylish small SUV ticks even more boxes.
Why is it so popular?
The Kamiq is a relatively compact SUV on the outside, but this doesn't stop it offering loads of practicality on the inside. Occupants enjoy a confident driving position for a safe feel on the road, while those in the back have more than ample legroom and comfort. The boot is a vast 400 litres even with the seats up, and it's also well-shaped and easy to load.
The 1.0-litre turbo engine performs well on the road, with good pulling power, and you will barely notice the DSG automatic changing gear – it's uncannily smooth. With a smooth ride quality and lots of stability at all speeds, the Kamiq is a super all-rounder. The added attraction of no Advance Payment makes it my pick of the accessible automatics this quarter.
Alternatives to consider: A good range of automatic cars are available for no Advance Payment. If you're keen for crossover SUV alternatives to the Skoda, look at the Vauxhall Crossland, Kia Stonic and Seat Arona.
Mini Cooper Classic 3dr
My car with no Advance Payment choice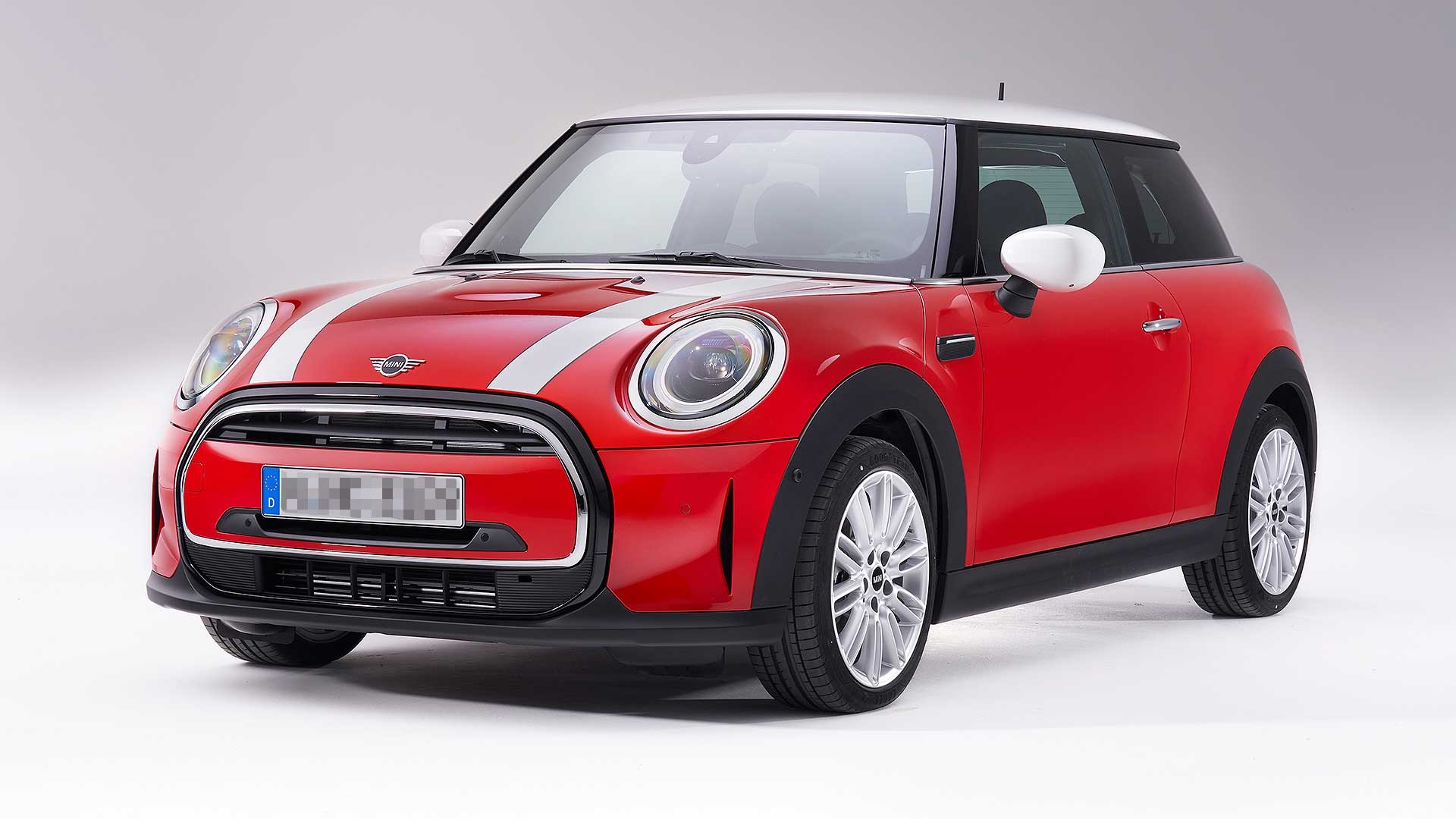 The modern Mini is 20 years old in 2021 and the company is celebrating with a comprehensive update for the latest version of its high-tech little hatch. The iconic Cooper three-door gets a modern new look and extra onboard tech – yet the classic three-door is also available with no Advance Payment on the Motability Scheme. What's not to love?
Why is it so popular?
People are drawn to the Mini for how it looks, and the new 2021 version simply enhances this further, with a contemporary new appearance. It's the Mini we know and love, brought right up to date. Inside too, there are new digital screens including a feature-packed central display with advanced Mini Connected features. It has sporty seats, a racy driving position and a charismatic layout.
The powerful 1.5-litre turbo petrol engine is punchy, and the Mini's handling is as brilliant as ever – you'll struggle to find a car that's more fun-to-drive through the corners. Yet the little Mini Cooper is also surprisingly good on fuel, meaning it should prove affordable to run. It's available with no Advance Payment and it's as still as loveable as it's always been – go on, treat yourself!
Alternatives to consider: Want something similarly head-turning with no Advance Payment? Try the city-friendly Smart ForFour, funky Volkswagen T-Roc or the sharp and stylish Peugeot 208. The fun-to-drive Abarth 595 is also a charismatic alternative to the Mini Cooper.
Mazda MX-30 SE-L Lux
My electric car choice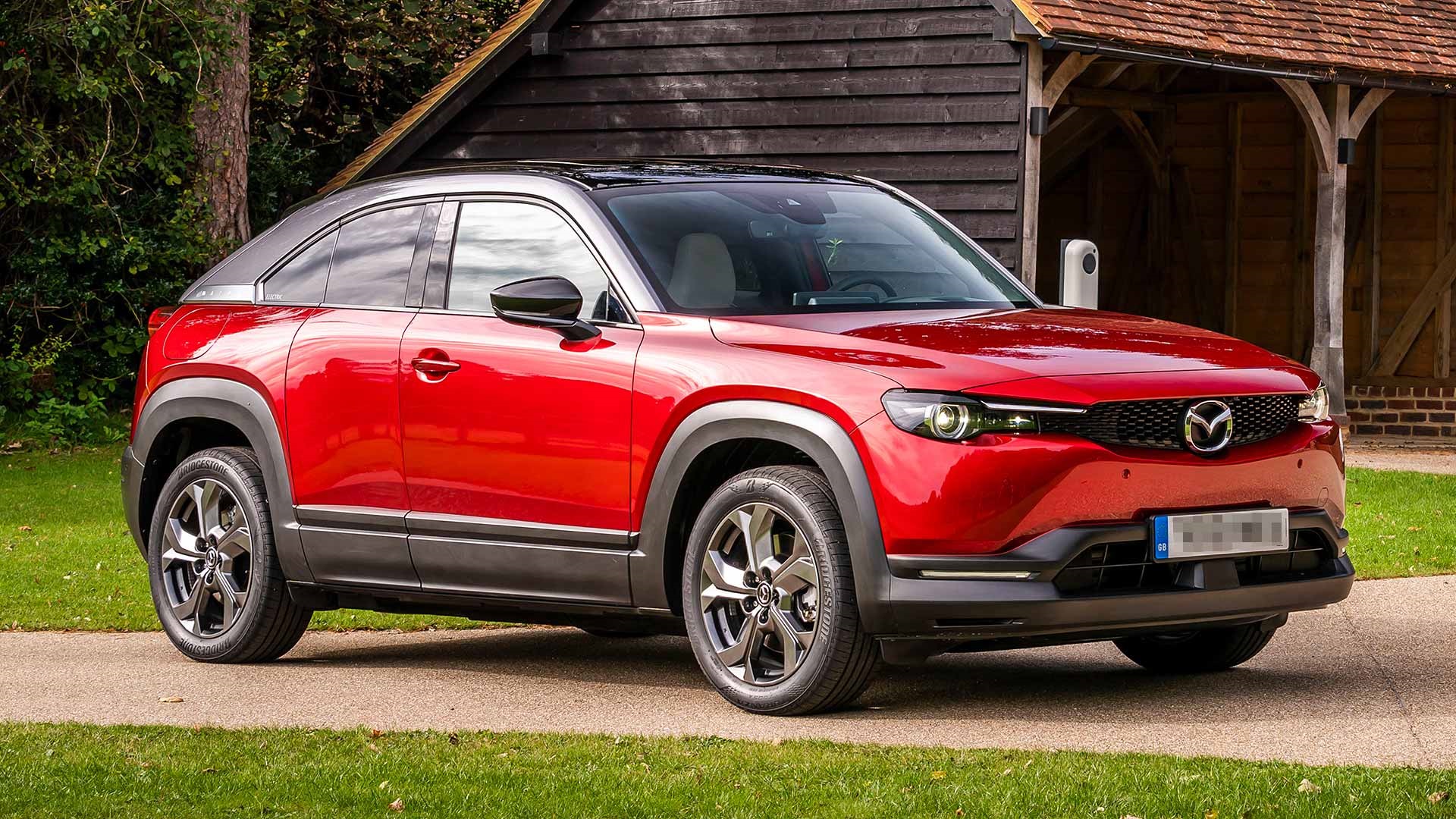 The Mazda MX-30 is an innovative and distinctive new electric car that delivers surprise upon surprise. If you think all cars are the same, check out Mazda's new coupe-inspired, SUV-style compact electric five-door – genuinely a car unlike any other! Even more tempting is the fact this version is available with an Advance Payment of just £299.
Why is it so popular?
Mazda has blended the racy appearance of the MX-5 sports car and the rugged stance of the CX-30 SUV to create the radical MX-30. It has rear doors that are hinged at the back, and the lack of a central pillar makes it easy to get in and out, despite its compact, city-friendly size. The SUV styling gives a high-set and confident driving position, and I love the modern, sporty feel to the interior.
The 35.5kWh electric battery gives 124 miles on a full charge, and Mazda says that if you keep to the city, you'll get even more miles between charges. It's ready to use the latest rapid chargers too, which will take the battery from 20% to 80% charge in barely more than 30 minutes. The MX-30 is fun and sporty to drive and, of course, has the silent-running refinement that's such a draw to electric car buyers.
Alternatives to consider: There are growing numbers of electric cars available at competitive prices – indeed, if you don't want to pay any Advance Payment at all, look at the Renault Zoe, Vauxhall Corsa-e, MG ZS EV and Nissan Leaf.
Suzuki Swace 1.8 Hybrid SZ-T
My alternative fuel choice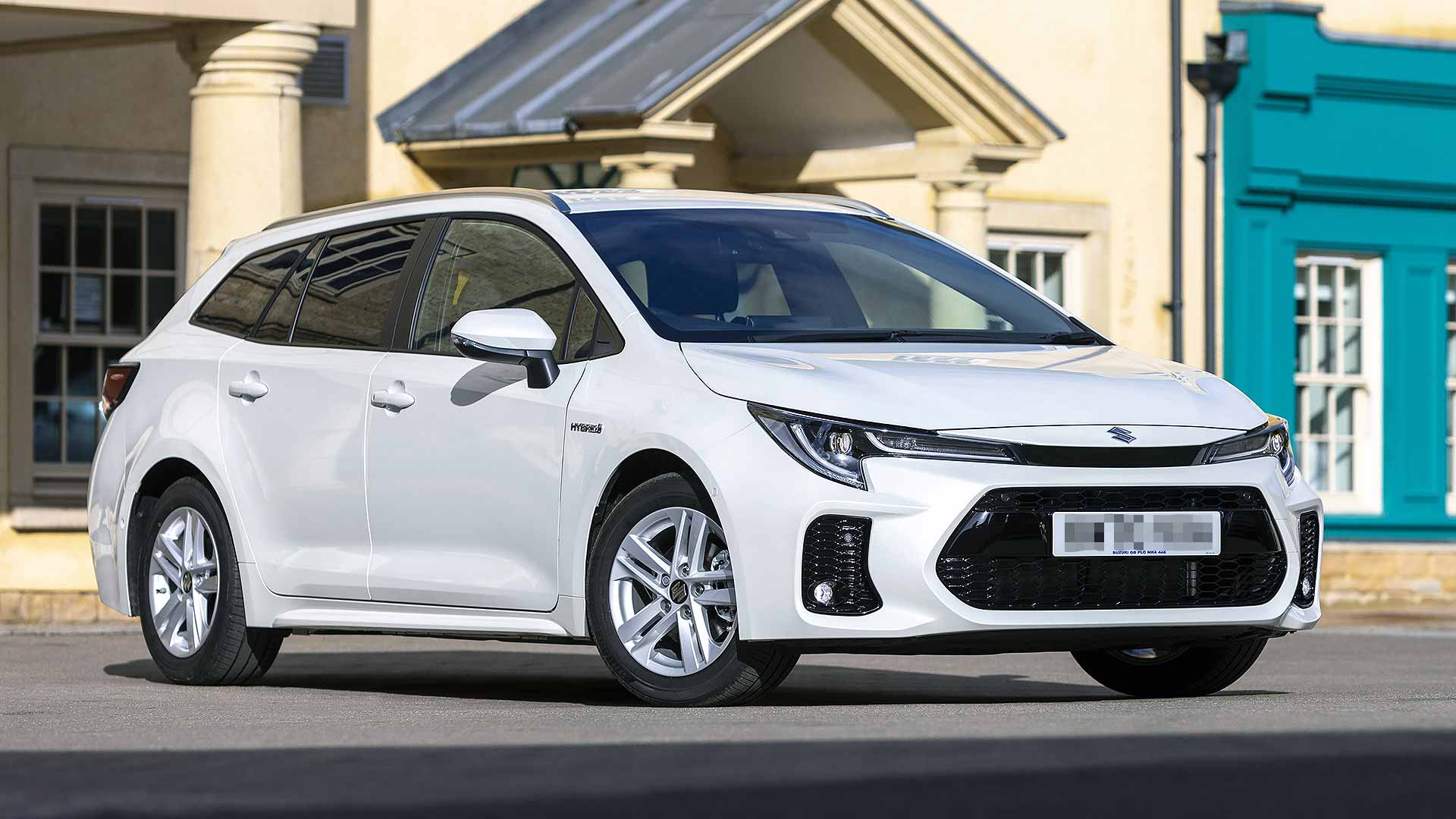 The Swace is an all-new model from Suzuki. It combines a fuel-efficient self-charging hybrid engine with a spacious and practical family estate car body, opening up an entirely new sector for this well-liked Japanese car brand. I've picked out the very well-equipped SZ-T version here, available with an Advance Payment of £999.
Why is it so popular?
If you think the Swace looks familiar, you're correct – it's a Suzuki-branded version of the Toyota Corolla Touring Sports, which is built here in Britain. Suzuki is selling it to broaden its range and also help lower the CO2 emissions of the cars it sells – a figure of 103g/km is very competitive… and equates to excellent claimed fuel economy of 64.2mpg.
I recently tested the Swace and had no trouble seeing 60-plus mpg in everyday driving. The hybrid engine runs in EV mode surprisingly often, and the 1.8-litre motor has good performance in reserve. As a family-sized estate, there's loads of room for passengers and a wide, broad, vast 596-litre boot. Overall, an impressive and upmarket-feeling new alternative fuel model from Suzuki.
Alternatives to consider: You could consider the car from which the Swace is derived, the Toyota Corolla Touring Sports, while the Hyundai Ioniq, Kia Noro and Hyundai Kona are also all good hybrid choices.
Hyundai Tucson 1.6 T-GDI SE Connect
My SUV choice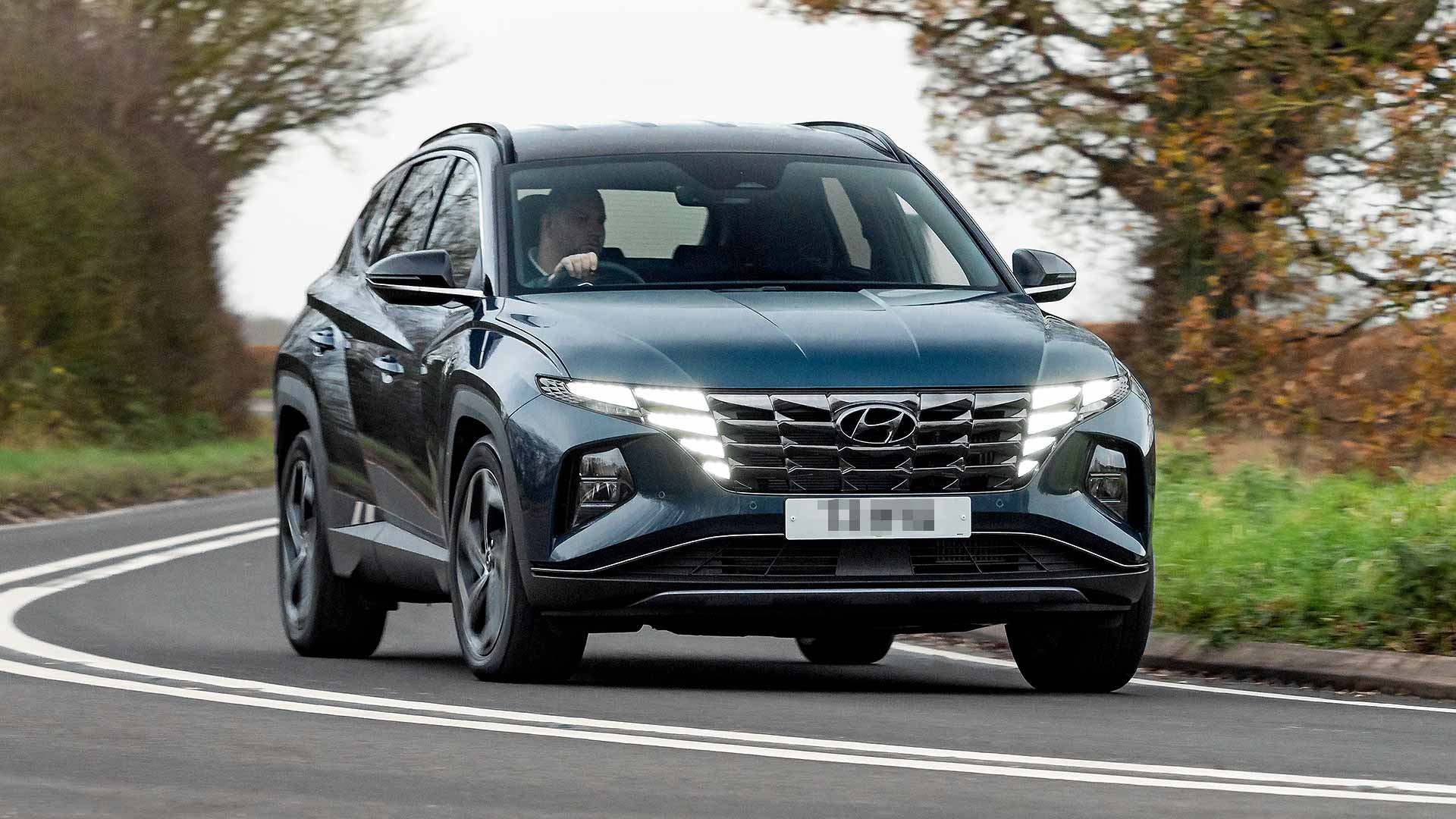 The latest Hyundai Tucson, fresh to Hyundai showrooms in 2021, is a real step on from its predecessor. Its modern styling is very futuristic, and the interior has the latest tech wizardry too. Yet it also remains roomy, practical and easy to drive – it's one to watch in 2021.
Why is it so popular?
I recently tested the all-new Tucson, and I was really impressed at how Hyundai has moved things on compared to the well-liked previous version. The step up in sophistication is obvious from the moment you sit inside, with a luxurious feel to the interior which, like the exterior, has touches you'd normally associate with concept cars.
Don't worry, the systems are easy to use, and the excellent refinement of the latest Tucson will also soothe you on the move – it's sleek, quiet and comfortable. The 1.6 T-GDI SE version I've picked out here, available for an Advance Payment of £999, has plenty of power in reserve and its five-seat interior is also more than spacious enough, even for fast-growing families. It marks a big step on for the popular Hyundai Tucson.
Alternatives to consider: The sister brand to Hyundai is Kia and its Sportage remains a good SUV choice in this sector. The Dacia Duster is roomy and stylish, and the Suzuki Vitara is available for very competitive APs – including two models for no Advance Payment.
Vauxhall Combo Life 1.5 Turbo D SE 7-seat
My 7-seater choice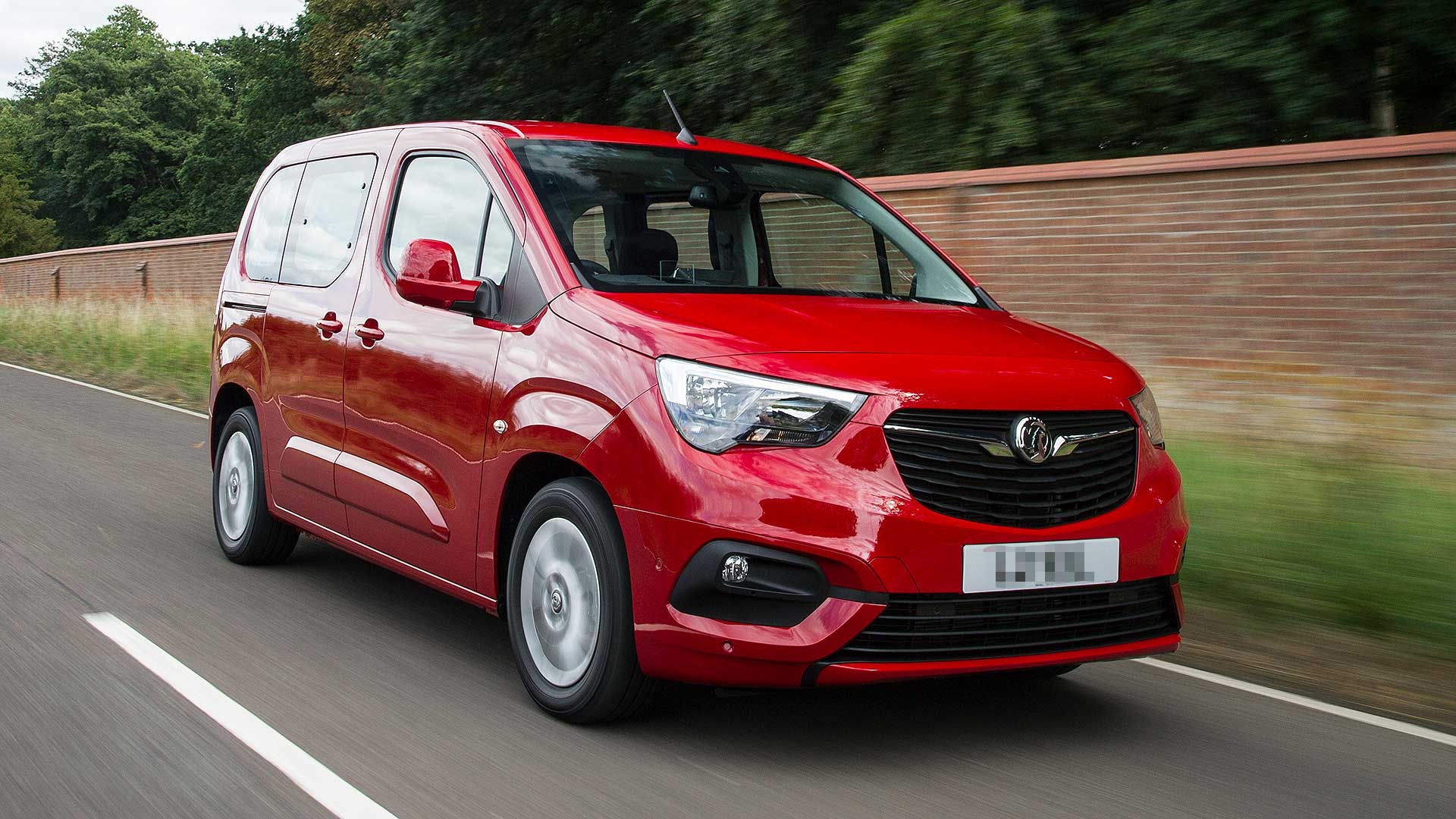 The Vauxhall Combo Life certainly packs a surprise. It's not only a seven-seater, but a genuinely useable one at that – even third-row passengers won't feel cramped or hemmed in. Key to its sheer practicality is its square yet stylish appearance, which makes maximum use of every millimetre within despite a relatively compact length of 4.4 metres (a longer, even roomier XL version is available too).
Why is it so popular?
Space-seekers will be delighted by the Combo Life. Those in the front have a safe, high-up seating position, while space for middle-row passengers is genuinely vast – and sliding rear doors makes getting in and out ultra-easy. If you don't need the rear seats, there's a huge 600-litre boot even below the sliding load cover – pack it to the window line or fold the middle seats, and you've literally got van-like levels of space.
Despite being available for an Advance Payment of just £199, this SE version has a good haul of standard equipment, including air conditioning and some reassuring driver safety aids. The 1.5-litre diesel engine has strong pulling power even when it's fully loaded with seven people, and the smooth, modern engine is surprisingly good on fuel as well.
Alternatives to consider: The Vauxhall Combo Life is closely related to the Peugeot Rifter and Citroen Berlingo, and they are available at competitive Advance Payments too. The Ford Grand Tourneo Connect is also a roomy and practical seven-seater.
What are the pricing options?
There are three pricing options available when leasing through the Motability Scheme:
Cars that cost less than your mobility allowance:
There are over 100 cars that cost less than your mobility allowance, giving you money back to spend as you wish. The amount you pay is fixed during your lease and the remainder is paid directly to you by the Department for Work and Pensions (DWP) or Veterans UK, depending on which mobility allowance you receive.
View less than your allowance cars
Cars that cost all of your mobility allowance:
There are almost 300 cars that cost the same as your allowance, which means you swap the whole of your weekly mobility allowance for the car of your choice. There is no Advance Payment on these models. These cars will display the words 'Total Mobility Allowance' on the specifications page for weekly rental amount on the Car Search tool.
View Total Mobility Allowance cars
Cars that cost all of your mobility allowance and have an Advance Payment:
You can increase your choice further by paying a one-off, non-refundable upfront payment which we call an Advance Payment. The Advance Payment covers the cost between your mobility allowance and the total cost of your lease.
View cars that have an Advance Payment
How the payments work?
Payments are deducted from your qualifying mobility allowance every four weeks, then paid directly to us by the Department for Work and Pensions (DWP) or Veterans UK. If you choose a car that costs less than your allowance, the remainder is paid directly to you by the DWP or Veterans UK.
All-inclusive leasing
No matter which car you choose, all come with our all-inclusive package of insurance, breakdown cover, servicing, tyres and glass repair and replacement.
Search the full range
If you'd like to join over 630,000 customers already enjoying the benefits of a worry-free lease package through the Scheme, start exploring the full range of cars available using our Car Search tool to narrow down your options.
Our price lists are updated every three months, so you can be assured you're getting the best prices from each manufacturer. The dates the new prices are published are:
1 January
1 April
1 July
1 October
Interested in joining the Scheme?
About the Scheme
The Motability Scheme offers an all-inclusive package. If you are in receipt of a qualifying mobility allowance you can use it to lease a car, scooter, powered wheelchair or Wheelchair Accessible Vehicle. The Scheme provides flexible and hassle-free access to a brand new, reliable vehicle of your choice. As well as a great choice of cars, we also provide a wide range of Wheelchair Accessible Vehicles, scooters and powered wheelchairs.
Eligibility
To join the Scheme, you must be in receipt of one of the following mobility allowances:
Enhanced Rate of the Mobility Component of Personal Independence Payment (PIP),
Higher Rate Mobility Component of Disability Living Allowance (DLA),
War Pensioners' Mobility Supplement (WPMS),
Armed Forces Independence Payment (AFIP).
Related Articles
Spotlight on: Electric cars available on the Motability Scheme
Why car prices are rising – and how the Motability Scheme is keeping them affordable
Dealer advice on choosing a car and COVID-safe handovers