When it comes to choosing a new car, one of the first questions you might be faced with is whether to go for a manual or automatic gearbox. Generally, an automatic gearbox means less work because the transmission changes gears for you, but there are various other factors that might influence your choice. Here are some key points to consider when making this decision.
Where will you be driving?
Thinking about driving conditions is a good place to start when deciding between manual and automatic. If you're mostly going to be driving in a big town or city, driving will involve continual gear changing with you regularly stopping at junctions, roundabouts and traffic lights. If you are likely to get stressed with these changes, a vehicle with an automatic transmission might be for you. If you live in a more rural area, you could prefer a manual car because the ability to change gears comes in handy when driving on different terrain such as muddy paths.
Think about the weather
Are you likely to need to take the car out every day, even if the weather gets nasty and icy? Traditional clutch and gearstick arrangement is usually better in wintry weather because it gives you more flexibility with engine braking and foot braking when driving safely on icy roads. On the other hand, as technology advances, Electronic Stability Control helps some cars with automatic transmissions to increase grip in dicey weather. Watch this space!
Alleviating pain
If you suffer from hand, arm, foot, leg or back pain, an automatic shifting gearbox can help ease any physical pain when driving. With some conditions, depressing the clutch pedal to change gears could cause a lot of pain to the driver. An automatic car can take away this element of driving and give drivers with limited mobility one less thing to worry about. And if you have limited mobility which means you need driving control adaptations (such as a push/pull device to control the speed of your car), then an automatic gearbox will be essential to enable you to operate these controls with your hands.
Some people with limited mobility might find automatic gearboxes easier to operate
Drivability
If you prefer to feel that you're really driving your car, then an automatic might make you feel a little disconnected. Some automatic cars can be sluggish when compared with their manual counterparts, too. Then again, with modern improvements, more automatic transmissions are being kitted out with a dual clutch.
This doesn't mean you need to operate a clutch; the technology allows for conventional automatic mode but also lets you switch gears manually, using your fingers to activate paddles behind the steering wheel. This set-up usually comes fitted to premium cars or models that are at the top of their trim line-up, but it may well trickle down to more affordable models in the future. The big advantage of dual-clutch technology is that it provides quicker gear changing than a similar model with a normal manual gearbox.
Riding the clutch
A drawback with a manual gearbox is that it's easy to get into the bad habit of 'riding' the clutch. Clutch control is all about completely disengaging the clutch when selecting gears by fully depressing the clutch pedal into the floor. You then re-engage by taking your left foot off. Doing this means you can go from gear to gear smoothly without crunching them.
'Riding' the clutch happens when your foot is left on the clutch after choosing a gear, so it isn't totally re-engaged. You'll notice the smell of burning inside and outside the car if you do ride the clutch. This is a sign that damage is being done, so try and adjust your driving position or be mindful of what your left foot is doing. Most cars have a footrest built into the left side of the clutch pedal, so make an effort to put your foot there, rather than resting it on the pedal.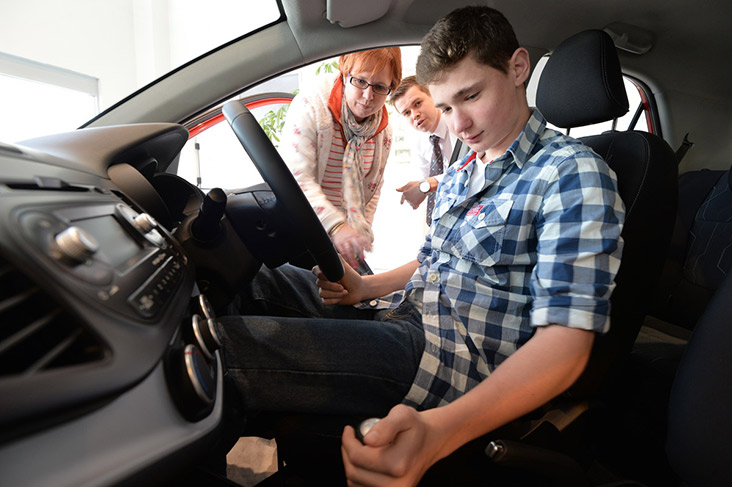 With the Motability Scheme, you have a big choice of both manual and automatic cars
Fuel consumption
Another thing to think about before you ditch your manual car for an automatic one is fuel consumption. Older automatic transmissions were weightier than their manual counterparts, often returning a little less to the gallon. However, current automatics are now less heavy and tend to use gears more resourcefully than a car with a manual gearbox. Here are some ways that you can help reduce your fuel consumption, regardless of which type of car you drive!
Money matters
As with many decisions in life, it's not always a black and white process when considering giving up your manual for an automatic. Cars with a clutch and gearstick are nearly always less expensive than a car with an automatic gearbox. What's more, an automatic is more complicated than a manual to build, and if the auto gearbox goes wrong, then it's possible the repairs will take longer. Additionally, even though automatics are more sophisticated than they were a decade or so ago, they will often need to be serviced more regularly than a vehicle with a manual set-up.
Even more options
There is also another kind of transmission; continuously variable transmission (CVT). Many people confuse this with automatic transmission because it is so similar, but there are some key differences. Instead of gears, this system uses a belt and pulley arrangement that gives an infinite amount of ratios. A vehicle fitted with a CVT is generally smoother to drive around town than a car equipped with a standard automatic gearbox. A CVT is also economical, which is the reason why many hybrid vehicles come fitted with one.
Some people find cars with a CVT system strange because there are no perceptible gear shifts. This is why manufacturers have added paddles to CVT cars. These paddles choose pre-set ratios that copy the gears in an automatic transmission. Despite this, not everyone will like driving a vehicle with a CVT, especially if you enjoy the sensation of gears shifting, for example, on twisty rural routes.
Verdict
If you prefer out and out control of your vehicle, a manual gearbox might be the best choice for you. On the other hand, if you're fed up with changing gears all the time and you want an easier life, then an automatic is the way to go. If you're a current customer with the Motability Scheme and your lease is almost up, browse the cars available on the Scheme with our car search tool that allows you to filter by automatic or manual gearboxes. If you're not already a customer, use our eligibility checker to find out if you can join the Scheme and request a free information pack to find out more!
Related articles
Five optional extras your next car should have
Explained: Safety assistance systems