This is the third in a series of mobility scooter reviews by our independent reviewer, Ian Cook. This review has a mix of different medium scooters with three Class 2 and one Class 3, so some are smaller and more compact while others are on the larger side.
Invacare Leo (Class 2) Weekly rental £16.82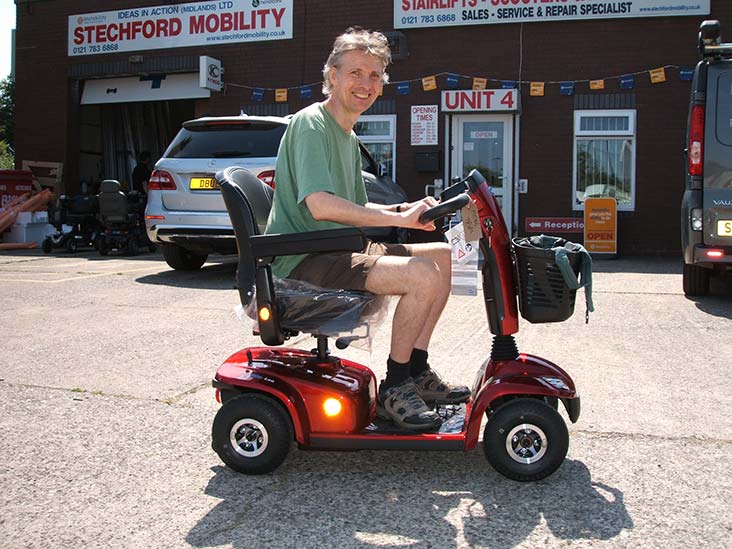 The Invacare Leo is a 4 mph mobility scooter ideal for use in urban areas such as pedestrianised town centres, shopping complexes and pavements everywhere. At 99 cm high, 59 cm wide and 122 cm in length, it's pretty compact. It weighs in at 83 kg (13 stone) and can go for 22 miles per charge.
The Leo is stylish and sophisticated, giving a comfortable ride for a driver up to 136 kg (21 stone) in weight. The lighting includes a rear brake light for safety. There's a delta handlebar which I always think gives extra grip and I found the ride on its pneumatic tyres very comfortable. The Invacare Leo may not be king of the jungle but arguably it's king of the pavement, if not king of the road. Highly recommended.
TGA Zest Plus (Class 2) Weekly rental £19.04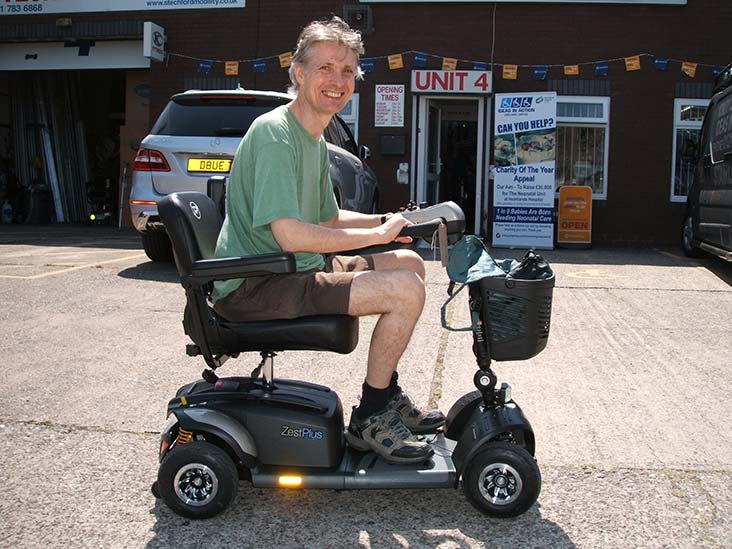 The TGA Zest Plus is a Class 2 four-wheel scooter that gives you that little bit extra. One of the positive aspects of the Zest Plus is the clever ergonomic design including delta handlebars. The Zest Plus also has a fully adjustable padded seat and air-filled tyres. Perhaps its most important feature is that it's easily taken apart and transported in the boot of a car.
The 69 kg (11 stone) scooter is 112 cm long, 94 cm high and 56 cm wide. Maximum user weight is 150 kg (24 stone). As well as being compact, lightweight and transportable, the Zest Plus has some really intelligent features such as thumb paddles on the handlebar, which allows you to control the movment as normal while using your thumbs to control the backwards and forward motions.
At a maximum battery range per charge of 16 miles, it didn't have the longest range of the tested scooters, but it was actually the most enjoyable.
---
Read more on our Scooter review hub
---
Freerider Mayfair 4 (Class 2), weekly rental £17.63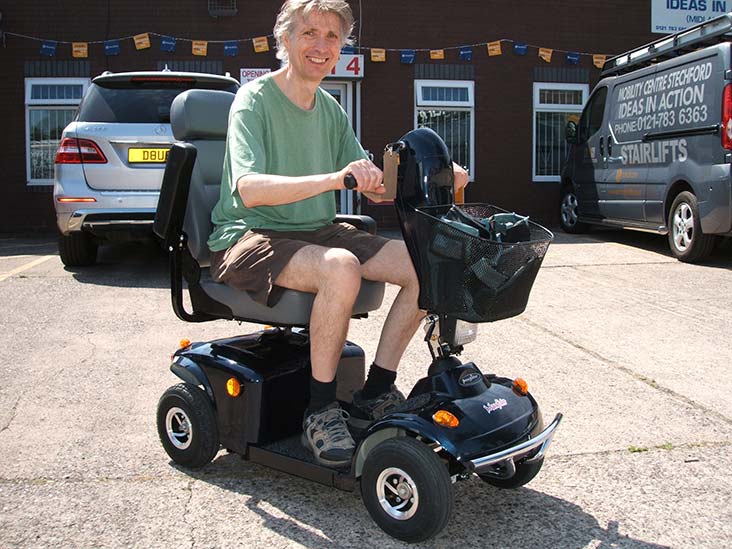 The Freerider Mayfair 4 is an excellent addition to the Mayfair range of scooters, offering comfort, practicality and reliability. Its four tyres can be air-filled or solid (mine were air filled) and the maximum user weight is 133kg (21 stone). The controls are easy to use, and the tiller seemed to allow for almost infinite adjustment.
An intuitive control system is complemented by a multi-positional tiller bar, meaning you can set the scooter up to your specific requirements for smooth operation and simple control. The Mayfair 4 is 119 cm long, 122 cm high and 61 cm wide. It also features a fully-adjustable captain's chair with swivel action as well as fold-up armrests for easy access on and off the scooter. Four 10" pneumatic or solid tyres on the front and rear of the scooter keep you stable outdoors.
The Freerider Mayfair 4's all-around lighting system includes indicators which help you to stay safe and be seen later when it's dark. I particularly liked the size of the shopping basket on the front. Practical and built to the highest specifications, it will take you for up to 20 miles per charge.
Electric Mobility Rascal 388 XL (Class 3) £18.53
The Electric Mobility Rascal 388 XL mobility scooter is a 6mph Class 3 mobility scooter that can be used on the road. It is designed with a narrow, compact chassis for easy manoeuvring with its narrow 54 cm width. It is 125 cm long and 110 cm high. The 388 XL boasts a fully adjustable captain's seat to ensure your comfort and large pneumatic tyres which also help.
I found the ride quality extremely good and the best Class 3 scooter I have ridden so far. With a range of up to 20 miles and a maximum user weight of 136 kg (22 stone), this scooter is capable of serious road travel. However, if pavement use is required, there is a 4 mph switch on the controls allowing you to cap the top speed of your scooter to this lower limit.
The Motability Scheme enables you to exchange all or part of your mobility allowance for a mobility scooter, car or powered wheelchair. You can find out more about joining the Scheme here and you can use our search tool to browse the Scheme's full range of scooters.
Many thanks to Ideas in Action, a Motability Scheme dealership in Stechford, Birmingham for helping us to bring these reviews to you.
---
Related articles
The Motability Scheme's top tips for using public transport with a wheelchair or scooter
What to expect if your mobility scooter or powered wheelchair needs a repair
Maximise your scooter battery-life