The latest in our series of reviews from independent reviewer Ian Cook sees him put four powered wheelchairs through their paces.
---
Now that the weather is warmer and the days are brighter it's the perfect time for powering out in a Motability Scheme powered wheelchair. Powered wheelchairs are a great choice if you have limited mobility but want to go places, and are amazingly manoeuvrable, being controlled by a joystick rather than traditional scooter "tillers". So, with the promise of four great powered wheelchairs at my disposal I decided to head out and put the products through their paces.
Prices shown are for applications placed between 1 July – 30 September 2021.
1. Monarch – Carbon Lite (weekly rental £26.96)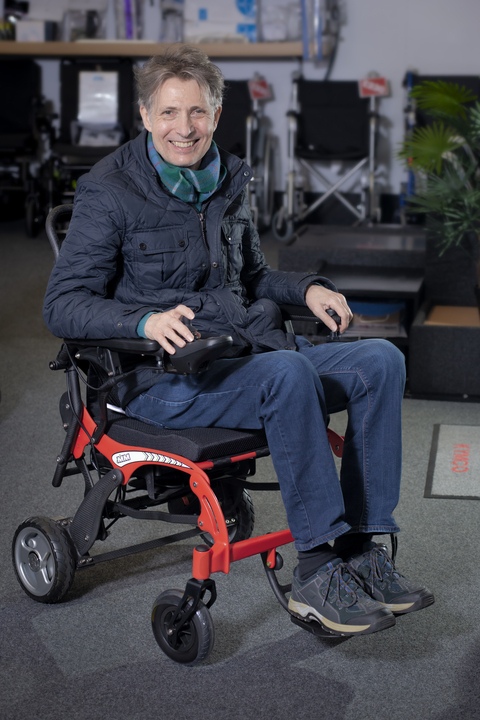 Product weight: 20kg (3 stone 1lbs)
Maximum battery range: 20 miles
Maximum user weight: 114kg (25 stone 1lbs)
Thanks to its carbon fibre construction Monarch's Carbon Lite is certainly light. In fact, weighing in at just 20kg it is one of the lightest class 2 (4 mph) four-wheel powered wheelchairs on the market.
As well as being super light the Carbon Lite also offers a super smooth ride and I found the suspension reassuringly secure and comfortable. If you will excuse the pun this was a Monarch truly fit for a king.
And there was more. One of the other things that particularly impressed me was the fact that the Carbon Lite was suitable for both left and right-handed users, with the joystick being easily re-positioned. Best of all the Monarch featured a simple, folding mechanism and when folded it was incredibly compact allowing for easy storage and transport.
The Carbon Lite combines the indoor usability of a traditional powered wheelchair with the sense of freedom and outdoor independence associated with bigger and more powerful mobility scooters. As a class 2 powered wheelchair, you may not feel king of the road, but you will certainly feel king of the pavement.
2. Pride – iGo Lite (weekly rental £24.90)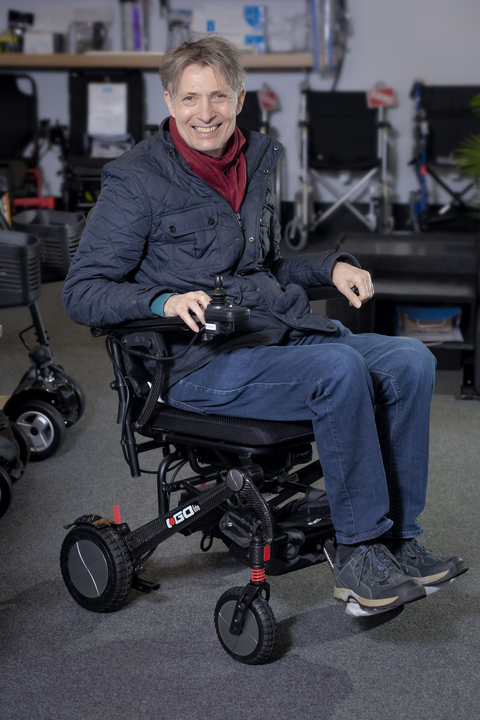 Product weight: 19.8kg (3 stone 1lbs)
Maximum battery range: 9.6 miles
Maximum user weight: 135kg (21 stone 3lbs)
The Pride iGo Lite is sleek, practical, and ultra-light or "lite". It's a four-wheel class 2 powered wheelchair crafted from carbon fibre and aluminium and weighing in at only 19.8 kg. As such, the iGo Lite is even lighter than the Monarch Carbon Lite. One thing I found particularly impressive was the built-in USB charger which means you can go places and stay connected with the world around you. Other features I liked included the large secure under-seat storage compartment, the adjustable control position, the stylish design and the simple one-touch folding system. The iGo Lite may be a lightweight but packs in lots of useful features.
---
Wondering what powered wheelchair is right for you? Have a look at the types of powered wheelchair available on the Scheme here.
---
3. Invacare – Aviva RX20 Modulite with Tilt – M94 (weekly rental £45.18)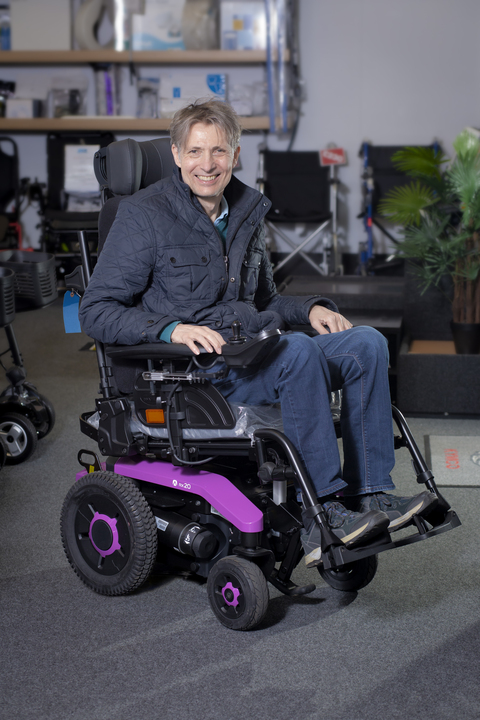 Product weight: 105kg (16 stone 5lbs)
Maximum battery range: 21 miles
Maximum user weight: 136kg (21 stone 4lbs)
The Invacare Aviva RX20 Modulite with Tilt is a high-performance four-wheeler that has an outstandingly compact 56 cm base making it an ultra-manoeuvrable class 2 powered wheelchair
The first thing I noticed was the RX20's ultra-smooth ride. Its Modulite seat is a much more advanced seating system, with a wide range of options to ensure a perfect fit, and able to be adapted to changing needs – useful if your disability is progressive, like mine. I found the innovative LiNX control system features on the RX20 reassuring in its simplicity of use yet packed with impressive features. Weighing in at a more substantial 105 kg with a maximum user weight of 136 kg and a maximum battery range per charge of an impressive 21 miles – so it's a great powered wheelchair if you want to go places.
4. Sunrise Medical – Quickie Q50 R (weekly rental £28.76)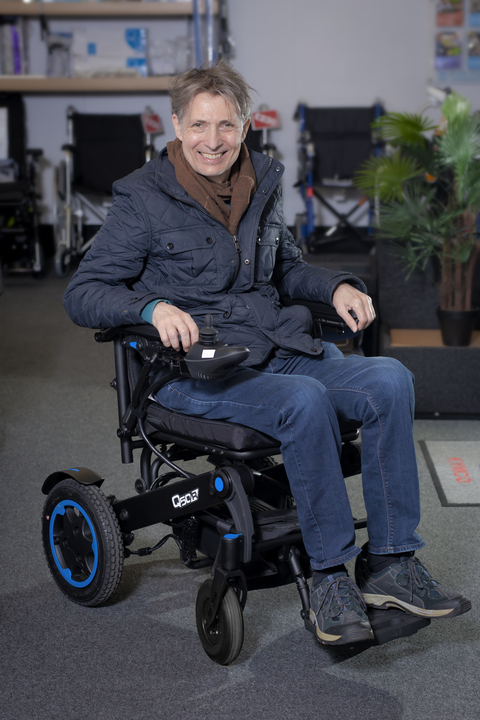 Product weight: 37.5kg (5 stone 9lbs)
Maximum battery range: 17 miles
Maximum user weight: 136kg (21 stone 4lbs)
The new Quickie Q50 R by Sunrise Medical has everything you need for a stress-free ride in a class 2 powered wheelchair. And there's more. In addition, the Q50 R has a "Free Wheel" mode so you can push the chair in manual with ease if needed.
Weighing in at 37.5 kg, the Quickie Q50 R supports a maximum user weight of 136 kg with a maximum range between charges of 17 miles, so it will take you a fair distance. One thing I particularly liked was the Q50R's double cushioning, which provided maximum comfort and a smooth ride without vibrations or noise. The footrest platform which is folding was adjustable in two positions.
If you are looking for comfort the back upholstery is tension adjustable with a zippered document pocket. The seat base has adjustable straps in the central area. It is practical too with the bottom bag including a tool kit, to store the objects you need.
I particularly liked the simple, integrated swing away joystick control which offered precise steering, and there's an exceptional range of 17miles. Sit back and enjoy the ride. It is longer and more comfortable than you might expect.
Many thanks to Ideas in Action, a Motability Scheme dealership in Stechford, Birmingham, for helping us to bring these reviews to you.
If you'd like to know more about the Scheme, request a free information pack and we'll send you all the information that you need.
Related articles
The Motability Scheme's top tips for using public transport with a wheelchair or scooter
What to expect if your mobility scooter or powered wheelchair needs a repair
Maximise your scooter battery life