This is the first in a series of powered wheelchair reviews, focusing on Class 2 and Class 3 powered wheelchairs. The Class 2 wheelchairs can be used on pavements while the Class 3 model can be taken on the road. They are all controlled by a joystick and can be used outdoors as well as indoors.
1. Electric Mobility Rascal P327 Mini (weekly rental £24.60)
The Rascal P327 Mini is a Class 2 compact 4mph mid-wheel drive powered wheelchair with full suspension and comfortable high-back adjustable seating. As well as the comfort of the seats, it feels very stable thanks to the two small castor wheels alongside the central wheels with solid tyres.
The joystick is simple, very easy to use and has two available speeds. Conveniently, the battery charge indicator is located at the top of the joystick console so you always know when it's time to recharge.
The Rascal's 34 Ah battery has an impressive range of up to 22 miles and can handle a six-degree incline. It is the largest of the wheelchairs reviewed, at 116 cm long and 62 cm wide. Weighing in at 81kg, it has a carrying capacity of 21 stone. Overall, I would say its outstanding manoeuvrability makes it an excellent entry level powered wheelchair for a first-time user.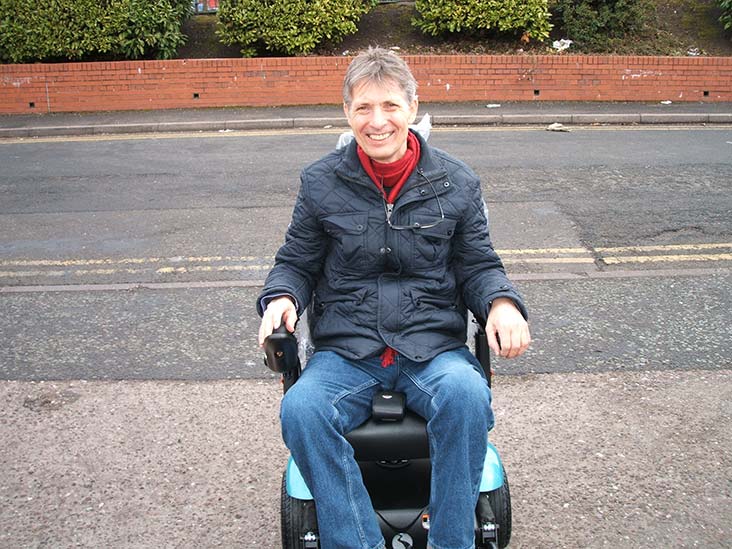 2. Electric Mobility Sango MWD Comfort Lift and Tilt (weekly rental £47.94)
Another mid-wheel drive, the Sango Advanced Lift and Tilt is a six-wheel 6mph Class 2 powerchair aimed at those with greater mobility needs. As well as the Lift and Tilt model, there are other options in the same series such as the Fixed Tilt. This particular model is 107 cm long and 61 cm wide, and I had complete confidence as I scooted around indoors and outdoors.
Comfort is very important if your disability means you're spending a lot of time seated and this wheelchair is well cushioned and very comfortable. The Lift and Tilt that I tried out had pneumatic tyres which added to the comfort, but solid tyres are also available. User weight is a maximum of 25 stone and the product weight is 140 kg so the Sango can comfortably take quite a lot of weight.
The Sego seating system offers excellent support for the whole body and the 60 aH battery has a maximum range of 18 miles per charge. Overall, it's both high tech and high performance.
3. Invacare TDX SP2 NB Modulite configured M50 (weekly rental £56.27)
The Invacare TDX SP2 NB Modulite is a 6 mph Class 3 powered wheelchair, perfect for those looking to lead an active life, both inside and outdoors. Mid-wheel drive allows great manoeuvrability and despite a narrow wheelbase, it offers great stability.
Six wheels and an automatic stability lock system make climbing and descent feel very safe. Weighing in at 133 kg, this powered wheelchair comes with a tension-adjustable backrest and standard seat. The full range of Invacare's Modulite seating system can also be fitted, giving whatever level of support you need.
It's also worth mentioning the seat lifter with electrical tilt, supporting the maximum user weight of over 23 stone. The product itself is 98 cm and 61 cm, and the maximum battery range per charge is a highly impressive 16 miles.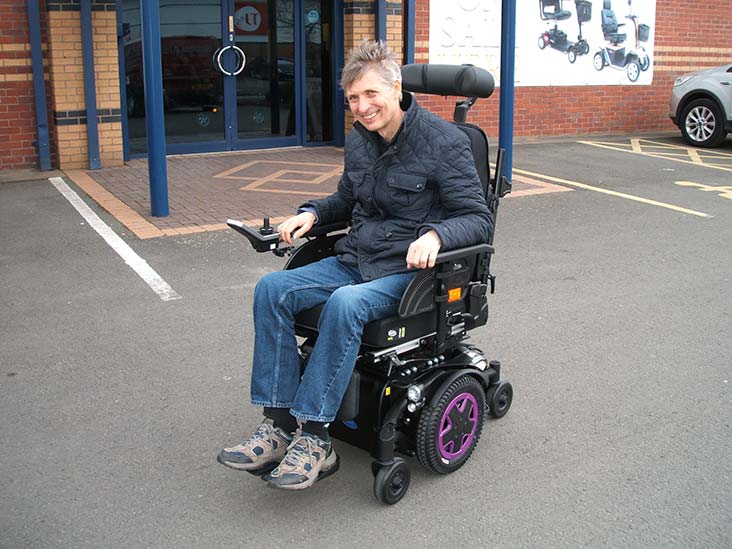 4. Invacare Esprit Action4 NG M48 (weekly rental £31.66 weekly rental)
This four-wheel, car-portable Class 2 powered wheelchair also has manual capability. With a maximum battery range of 9 miles, I would want to be careful how far I go with it outdoors, however, it would be fine in places like shopping centres. It has removable wheels and a compact battery pack so you can disassemble it for maximum portability.
It is incredibly lightweight and compact, weighing a little more than 45 kg. It has an option to self-propel and a reduced overall width of just 50 cm, making it narrow enough to manoeuvre tight spaces. This could be particularly useful in the home. Maximum user weight is a little over 18 stone.
It is also highly configurable and can be impressively disassembled and put in your car boot. The battery can also be detached and charged away from the chair for added convenience and flexibility.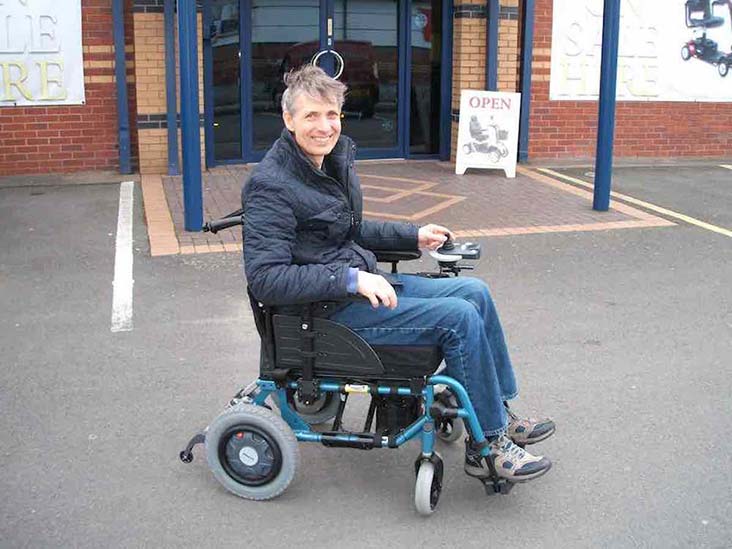 Whatever your preferences when it comes to powered wheelchairs, you will be able to find the right fit for you with the Motability Scheme. Whether you're already a customer thinking about your next lease or you're new to the Scheme, simply search through the full range of powered wheelchairs available and locate your nearest dealer to find the perfect model for you!
---
Related articles
Read all the scooter and powered wheelchair reviews
A guide to travelling by scooter and powered wheelchair
The Motability Scheme's top tips for travelling by scooter or powered wheelchair