This is the second in a series of mobility scooter reviews by our independent reviewer, Ian Cook. This review focuses on small Class 2 scooters which, unlike Class 3 scooters, can't be used on roads. They are ideal for journeys like trips to local shops or visiting friends, and their compact size gives them great manoeuvrability.
Most Class 2 scooters dismantle and can be put in the boot of your car. Some can be taken on buses and trains, but you can easily find out from the local service provider you will be using if this is the case for your scooter and area. They have an upper speed limit of 4 mph (6 km/h) and a battery life of around 10 miles.
1. Electric Mobility Rascal Veo Sport (weekly rental £15.45)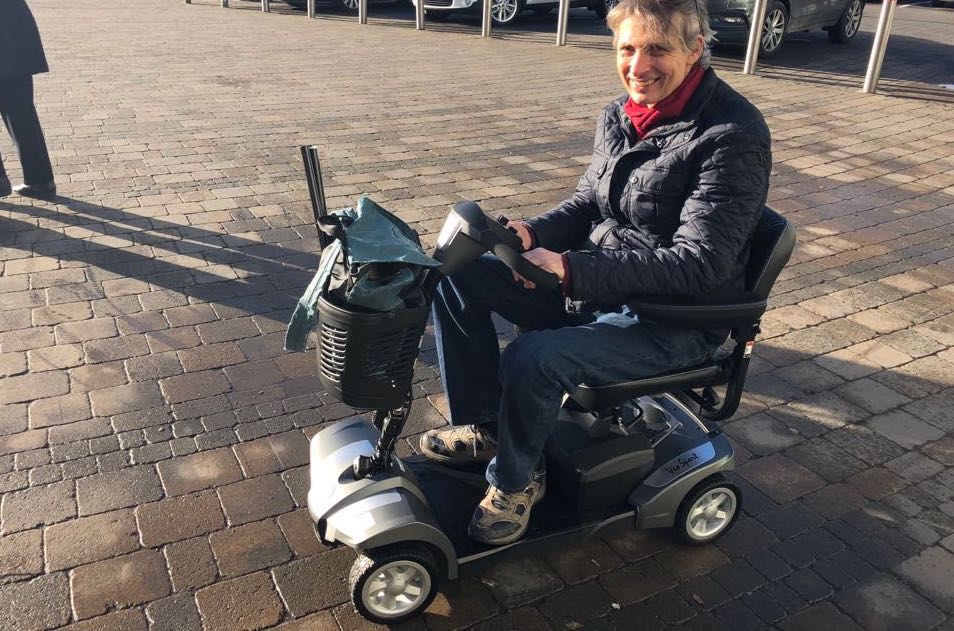 The Veo Sport is robust and sporty with a large range of 13 miles. It also has all-around suspension—a very useful feature that makes it a super-smooth ride. There were times that I felt I was scooting around on pneumatic rather than solid tyres!
Weighing in at 54 kg (8.5 stone), the Veo Sport is not the lightest Class 2 scooter, but the extra weight makes it sturdy and you feel at ease scooting around. Other things that made this scooter an easy ride included the 22 aH battery, the luxury seat which can support a driver of up to 129 kg (20.3 stone), and the padded delta tiller.
It's also worth mentioning the Veo Sport's easy and robust take-apart mechanism which allows you to store or transport its five parts in the boot of your car. The Veo Sport is very practical with distinctive looks and all-around suspension, offering a lot of comfort and bags of bounce.
2. Van Os Medical Excel Tiempo (weekly rental £13.96)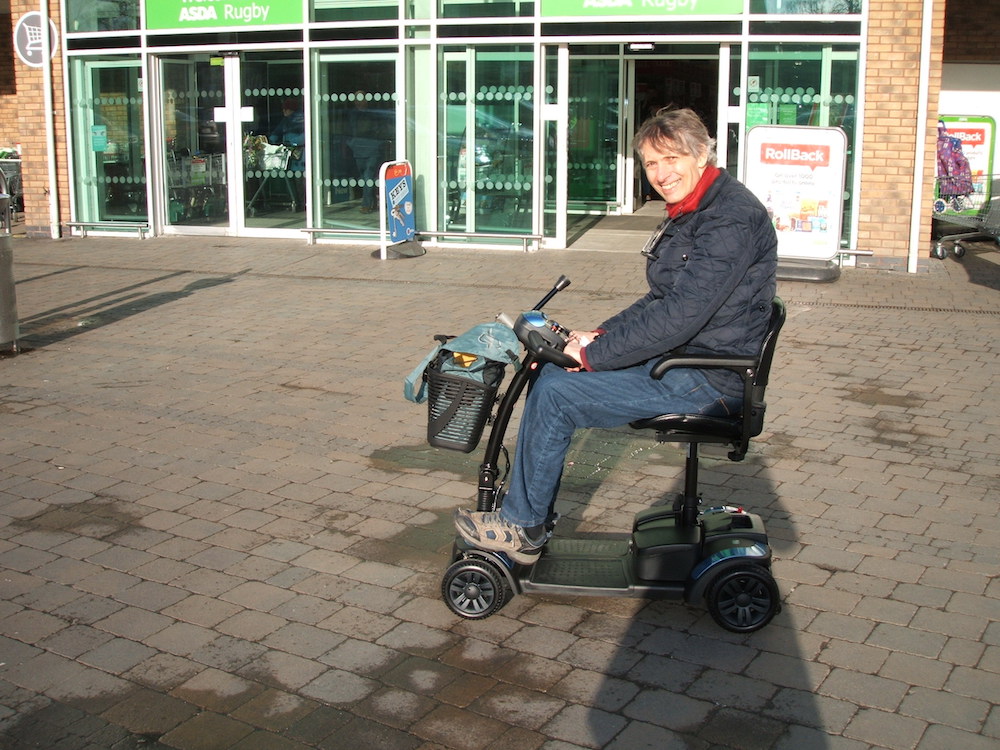 This scooter from Van Os Medical is comparatively lightweight, but it also has some interesting, innovative and very practical features. At 50 kg (7. 8 stone) the Excel Tiempo is 4 kg—more than half a stone—lighter than the Veo Sport, making it one of the lighter Class 2 scooters around.
This is partly due to the ultra-light seat which has adjustable armrests and will support a driver weighing up to 113 kg or 17.8 stone. The Excel Tiempo has a 12 aH battery with a maximum range of 12 miles per charge, which is only a little less than the Veo Sport.
Its solid wheels made for a comfortable ride and I found the tiller easy, lightweight and comfortable. But the outstanding feature of the Excel Tiempo has to be the new LED lights at the front—very useful if you're out and about at night or even on a dull winter's day (like I was)!
3. Pride Go-Go Elite Traveller 4, 12 amp (weekly rental £13)
Weighing in at a mere 44.5 kg—just over 7 stone—the 12 amp Go-Go Elite traveller 4 from Pride Mobility was the lightest and the most compact of the three scooters I test drove. When you start driving this scooter, it becomes clear that it is super manoeuvrable and easy to control. The front tiller was easy to handle and it comes complete with two sets of easily changeable coloured panels in red and blue.
It has solid tyres, which are standard on Class 2 scooters, and I got a very smooth ride while out shopping. The vinyl-covered, moulded foam seat provided extra comfort can support users weighing up to 136 kg or 21.4 stone.
The 12 aH battery should take you 10 miles before you need to recharge and it is easy to disassemble into five pieces for convenient transport and storage. The aptly named Go-Go Elite is small, light highly manoeuvrable and surprisingly zippy.
Whatever your preferences when it comes to small mobility scooters, you will be able to find the right fit for you with the Motability Scheme. Whether you're already a customer thinking about your next lease or you're new to the Scheme, simply search through the full range of scooters available and find your nearest dealer to find the perfect mobility scooter for you!
---
Related articles
Test drive: Large scooters put through their paces
Choosing the right mobility scooter for you
How fast do scooters go… and eight other questions you've always wanted to know about mobility scooters