There are many different adaptations available for cars. They tend to fall into distinct groups covering three main aspects: driving, stowage and access. Here we are going to be looking at access adaptations. An access adaptation is something that helps people with limited mobility get in and out of their vehicle more easily than they would be otherwise able to. These are the different types available with the Motability Scheme.
Transfer Plates
A transfer plate is a platform that creates a bridge for users between the car seat and their wheelchair. They allow the user to slide from the wheelchair onto the plate and across to the car seat making getting in and out of the car a lot easier. These plates normally fold up and away but there are some that can be removed completely after use. There is also the choice between manual or electric transfer plates; naturally, the electric option is more expensive.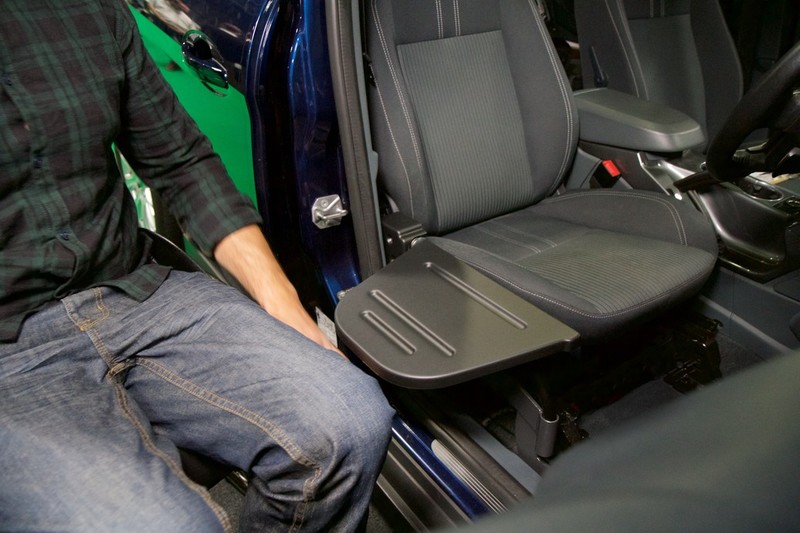 What the experts say
It is important when thinking about transfer plates to consider your upper body strength. Using a transfer plate does require you to be able to lift your body up onto the plate from your wheelchair and the other way around. Some people do find this hard, so having a go on a demonstration model is advisable. It is also very important to consider the height of the car you are looking to fit a transfer plate, too. Some cars have seats that are very high up which would mean a greater distance from your wheelchair to the transfer plate.
Electric person hoists
A hoist is a powered mechanism that lifts the user from their wheelchair and lowers them into the car seat. This can be a great option for people who are not able to lift themselves into the car. The hoist mechanism can be stowed away in the boot after use. The system uses a sling that goes under the user and raises them up and over onto the car seat and back when required. While driving, the sling remains under the user making the transfer back to the wheelchair very simple. This system does require a second person to operate and assist so it is not suitable for solo drivers.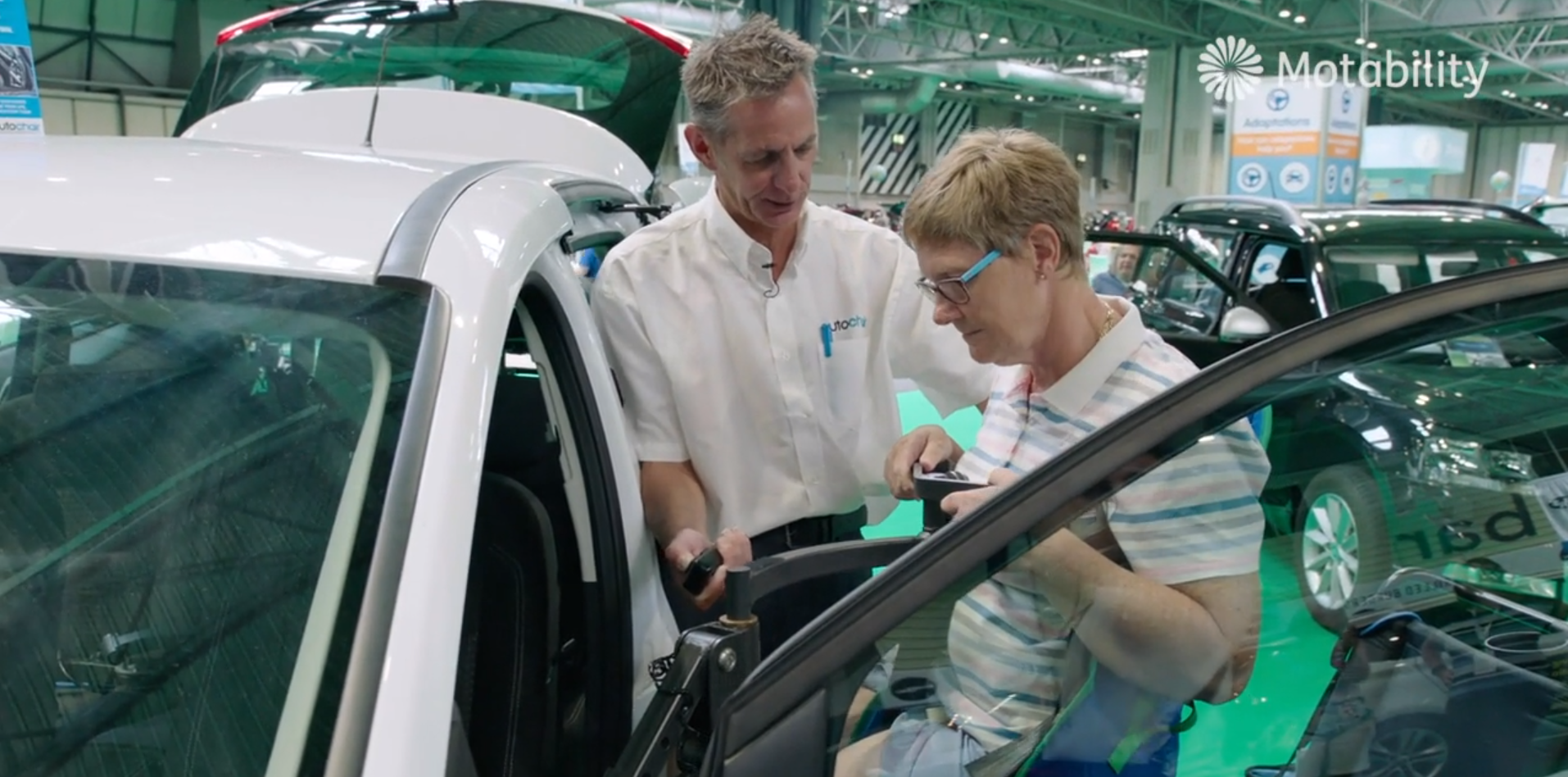 What the experts say
There are a few considerations with person hoists. It is important that you feel comfortable being hoisted up into the air. There is an element of swinging as you are moved to the car seat and some people find this uncomfortable. Another important point is that not all cars are able to have a hoist fitted. The door needs to be long and wide enough to accommodate the mechanism and there also needs to be enough room next to the car to use the hoist. This means it may not be suitable for small car parks and other tight spaces.
Swivel seats
Swivel seats is a collective term for a number of different options. Generally, they cover the option of having the car seat turn to allow ease of access. They can also tip and lower as well as turn. The idea is to make it easy for someone using a wheelchair to get in and out of the car seat from their chair. Often operated by a simple lever, there are also electric versions where the driver can turn the car seat outwards to then transfer from their wheelchair.
Once they are sat comfortably, the car seat then swivels back into the original position. There are also swivel seats that work with specific wheelchairs that are called wheelchair swivel seats. Here, the seat can be removed from the wheelchair base and attached in the original position. The wheelchair base can then be stowed away, thus removing the need to have to switch between seats. These more complex systems do require a second person to help stow the chair base.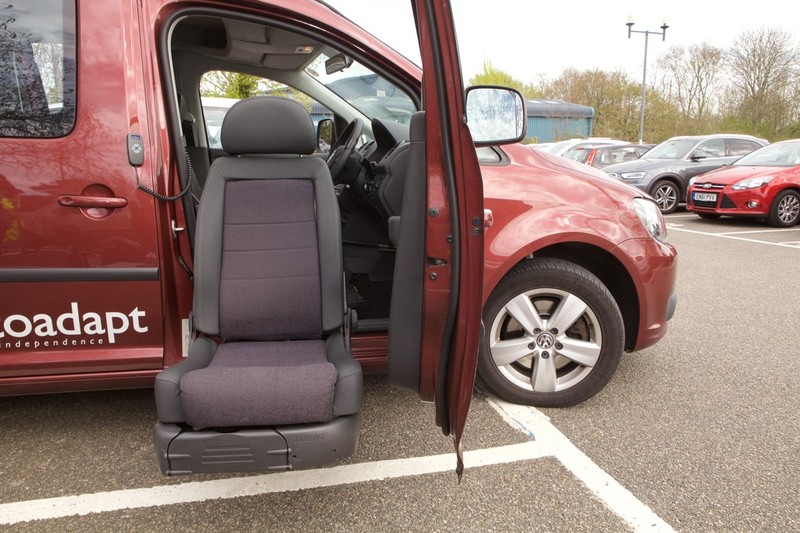 What the experts say
The first consideration when thinking about swivel chairs is the amount of room needed in the car to allow the seat to swivel. We are all different shapes and sizes and different cars have differing amounts of legroom. In some cases, while the chair can swivel freely, your legs may hit the steering wheel or, for passengers, they may not fit past the dashboard.
The length of the door plays a part in this, as well as the amount of headroom. Often, three-door cars and large cars have longer doors and can be suitable. In some cases, however, smaller five-door cars have small doors which can be a problem. It is important to seek advice from adaptations specialists and book a demonstration in the type of car you want. When considering a wheelchair swivel seat, it is important to make sure the chair is suitable for use outside of driving, because you stay in the seat while sitting on your chair outside or at home as well as in the car.
Find out more about Motability Scheme adaptations
There are hundreds of different adaptations available with the Motability Scheme. You can browse them on our adaptations page and find your local installer when you know the right type of adaptation for you. It is best to order your adaptations when ordering your car and it is always important to seek advice. Getting the right access adaptation for you is very important, so take your time and make sure to test them out.
---
Related articles
Steering adaptations explained
Could remote control devices help you?
Why are WAVs converted from commercial vehicles?