Having blind spots when driving is one of the biggest challenges for any driver. This article by Tom Jervis from Car Buyer reviews a solution to this: blind-spot monitoring systems. Read more to understand if how they work and if they could be a good solution for you.
---
Changing lanes when driving can be dangerous, especially when travelling at high speeds on the motorway. Turning around to check your blind spot is an essential part of the manoeuvre, but it means that for a fraction of a second, your eyes are not on the road ahead. This is where Blind Spot Monitoring (BSM) systems are useful. This technology is fitted to many modern vehicles and is capable of warning the driver when another vehicle is in their blind spot.
How do Blind Spot Monitoring systems work?
Blind Spot Monitoring systems typically operate via a variety of external sensors located on a car's bumpers and wing mirrors. These can detect if a person or vehicle enters your blind spot, notifying you via an audible or visual cue – typically, a warning light located in the car's wing mirrors. 
Many systems will illuminate an amber light on the mirror if a hazard is detected in the car's blind spot on that side of the car. If the driver then indicates to turn in that direction, there will be a more pronounced warning such as a red light or warning sounds. If the driver still attempts to complete the manoeuvre, some systems that incorporate automatic emergency steering can apply the brakes or turn the steering wheel to prompt a move away from the hazard, similar to a lane-departure warning system.   
This technology goes by many different names depending on the manufacturer of the car it's fitted to. Audi calls its system 'Audi Side Assist', Mercedes names it 'Blind Spot Assist', while Skoda calls it 'Blind Spot Detect', whereas it is dubbed as the 'Blind Spot Information System (BLIS)' on all Ford models. However, whichever make and model of car you opt for, most of these detection systems operate in a similar way apart from a few exceptions.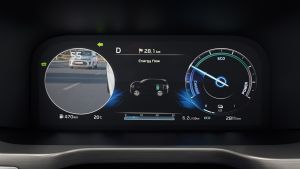 Models such as the Hyundai Tucson are more advanced, incorporating cameras into their setup. Hyundai's 'Blind Spot View Monitor' displays a live feed of the car's blind spot in the instrument cluster, allowing the driver to make their own judgement before performing a lane change.
Worry-free car leasing
The Motability Scheme makes leasing a car an easy, hassle-free experience. With the Scheme, you can exchange part or all of your qualifying mobility allowance to lease a brand-new vehicle of your choice.
Insurance, breakdown assistance, servicing and maintenance is already arranged and included in the price you pay, so you can enjoy the freedom that comes with a worry-free lease.
On many modern cars, Blind Spot Monitoring is a standard feature, although it's worth checking a car's specification to make sure it's fitted. On some models, such as the Ford Focus hatchback, Blind Spot Monitoring is available as an option or as part of a driver assistance package. These packs can cost from a few hundred pounds to over £2,000 depending on the model and the other technology that's included.
Is blind spot monitoring worth it?
Blind Spot Monitoring is a useful feature that helps keep you safe while out on the road. The system can be incredibly handy and can help prevent an accident. Plus, with many manufacturers sacrificing driver visibility over style with angled rooflines and smaller side windows – features like this can be vital. 
Do bear in mind, however, that these systems are not completely infallible and that you must rely on your own vision and judgement at times when driving. We would always recommend checking your mirrors and your blind spot manually before changing lanes, using your Blind Spot Monitoring system purely as a backup. Depending on your budget, the cost of this technology can be expensive, but we wouldn't class it as a must-have feature unless you have mobility issues that make manually checking your blind-spot difficult. It's another one of those safety aids that afford a valuable extra layer of protection for drivers.
This article was written by Tom Jervis from Car Buyer and was legally licensed through the Industry Dive Content Marketplace. Please direct all licensing questions to legal@industrydive.com.
Related articles
What are the latest car safety features?
My Motability Scheme journey: Driving with adaptations