A smart motorway is a section of the motorway in the UK that uses active traffic management techniques to increase capacity by use of variable speed limits and hard shoulder running at busy times. This article from Car Buyer explains what the different types of smart motorways are and gives some helpful tips on keeping safe when using them. For additional advice, read our article on what to do if you break down on a smart motorway.
---
First introduced in the UK in 2006, smart motorways are designed to improve traffic flow and reduce congestion without the need for expensive and disruptive road-widening schemes.
It's a catch-all term: smart motorways actually come in three different varieties, although all are monitored and managed by regional control rooms.
Controlled smart motorways
Controlled smart motorways feature lanes that can be opened and closed using overhead gantry signs, and they also have variable speed limits, which are displayed on the same signs. By altering the speed motorists are permitted to travel at, control-room operatives are better able to keep traffic moving during heavy traffic conditions.
If you see a red 'X' above any lane on an overhead sign, that lane is closed and driving in it is illegal. Lanes can be closed due to broken-down vehicles or crashes, or to allow emergency vehicles to reach incidents more easily.
Dynamic hard shoulder smart motorways
Dynamic hard shoulder smart motorways make use of the variable speed limits and closable lanes described above, but also bring the hard shoulder into play when required.
While traditionally a place solely for emergencies and broken-down vehicles, dynamic hard shoulders can be driven on when opened by control-room staff. This is done when extra capacity is required on the motorway.
Dynamic hard shoulders are closed by default, though, and remain separated from the rest of the motorway by a solid white line. Gantry and verge-mounted signs will make it obvious when you can drive on a dynamic hard shoulder and the speed limit will be displayed above them. If the sign above the hard shoulder is blank or features an 'X', this means it's closed.
Smart motorways making use of dynamic hard shoulders feature 'refuge areas'. These lay-bys must be no more than 1.6 miles apart and a programme to paint their surfaces orange is being rolled out to improve their visibility. If you're driving at 60mph, you should pass one, on average, every 75 seconds.
All-lane-running smart motorways
All-lane-running smart motorways essentially turn the hard shoulder into a permanent extra lane, and also make use of variable speed limits. As with dynamic hard shoulder smart motorways, all-lane-running smart motorways feature closable lanes, as well as refuge areas for motorists experiencing breakdowns or emergencies.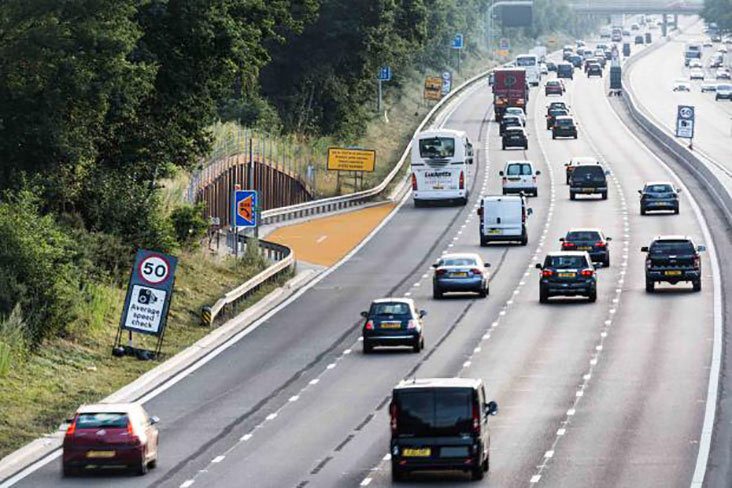 Unlike dynamic hard shoulder smart motorways, however, on all-lane-running smart motorways there's no solid white line between the motorway and hard shoulder, which is open by default, only closing when an incident occurs or emergency access is required.
Smart motorway driving tips
Smart motorways are controlled by electronic signs on gantries and verge-mounted displays. Pay attention to these and follow the instructions they show.
If you or your car experiences difficulties on an all-lane-running smart motorway or a dynamic hard shoulder motorway where the hard shoulder is open to traffic, make your way to the next refuge area or pull off at the next exit if at all possible. Refuge areas are marked by blue signs and all feature SOS telephones. Use this to alert the authorities if you have to pull over into a refuge area.
If you can't make it to a refuge area or the next junction on a smart motorway where the hard shoulder is being used as an extra lane, pull over as far as you can to the side of the road of the nearside (furthest left) lane and put your hazard-warning lights on.
If you find yourself in this situation, Highways England's advice is "exit the vehicle via the left-hand door, if you can and it is safe to do so, and wait behind the barrier if possible".
If you can't make it to the hard shoulder, a refuge area, the next exit or the nearside verge and are forced to stop in a live lane, put your hazard warning lights on and contact the emergency services. The smart motorway control team should spot you, or be alerted to your peril by the build-up of traffic behind you.
One last piece of advice: Highways England says that "if for any reason you cannot, or believe that it would be unsafe to, exit the vehicle, or there is no other place of relative safety to wait, you should remain in the vehicle with your seatbelt on."
This article was written by Hugo Griffiths from Car Buyer and was legally licensed through the NewsCred publisher network. Please direct all licensing questions to legal@newscred.com.
---
Don't forget: Motability Scheme Customers have breakdown cover included in their car lease! If you do break down on a motorway, try to pull up at the side of the road away from traffic, put on your hazard warning lights and either use your mobile phone or an emergency telephone on the roadside to call RAC Motability Assist to get help as soon as possible.
---
Related articles
How technology can help make the roads safer for motorists
What are the latest car safety features
Distracted driving: what is a driver emotion test?