The UK has a thriving theatre scene, and when the mercury rises there's no better way to experience it than at one of the alfresco venues up and down the country. From Shakespearean comedies in flower-filled gardens to family-focused plays at historical venues, Rough Guides author Jacqui Agate picks the top accessible outdoor theatres around the UK.
England
The Globe, London
The Globe © Tony Hisgett
Perhaps the most atmospheric of all the UK's theatres, The Globe occupies a scenic spot on London's Southbank. The modern theatre was finished in the late 90s, moments from the original 16th-century venue (now demolished), where Shakespeare himself once wrote and performed.
True to its predecessor, today's Globe has a largely open roof, leaving it at the mercy of the elements. There are both sheltered and alfresco spectator areas, with so-called 'groundlings' watching performances from a standing area called the Yard. Running from April–October, the 2019 season includes everything from whimsical comedies such as A Midsummer Night's Dream to histories like Henry V.
There are relaxed, audio-described and British Sign Language-interpreted performances throughout the season. The theatre also has a dedicated Access Information Line, so you can discuss your needs before purchasing a ticket. There are accessible entryways, numerous disabled toilets, plus provision for one wheelchair user at a time in the Yard. Accessible seating and wheelchair space is also available elsewhere in the theatre, with trained staff on hand to help you.
Minack Theatre, Porthcurno, Cornwall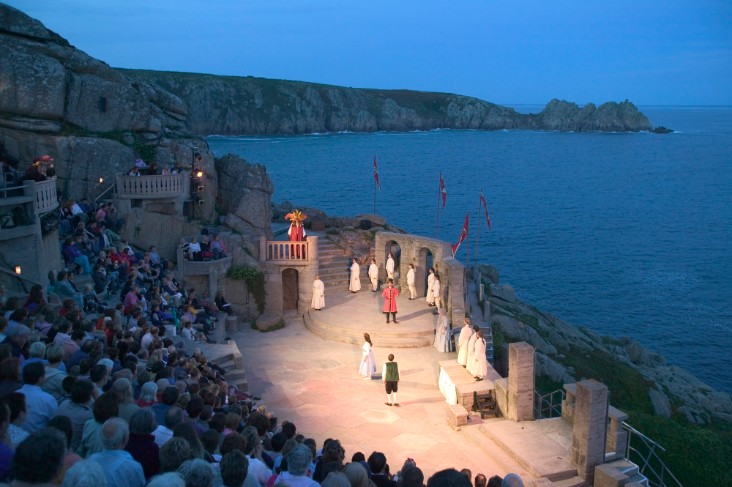 Beautifully sited Minack Theatre © Minack Theatre
Porthcurno's historic Minack Theatre gets points for sheer drama. Dating back to 1932, this amphitheatre-like venue is built into cliffs on the Cornish coast. A series of terraced, stone seats look down onto an open-air stage that has the ocean for a backdrop.
The performance schedule is varied, with family-orientated fairy tales and stagings of classic novels. Highlights for 2019 include a performance of The Wind in the Willows by the Cornwall Youth Theatre Company and an adaption of Charles Dickens' Great Expectations by Next Stage Theatre Company.
There's accessible parking, ramped access to the visitor centre and a hearing loop available. Due to its historic nature, the main auditorium has stepped access – but accessible seating is available on the balcony, which overlooks the entire theatre.
Regent's Park Open Air Theatre, London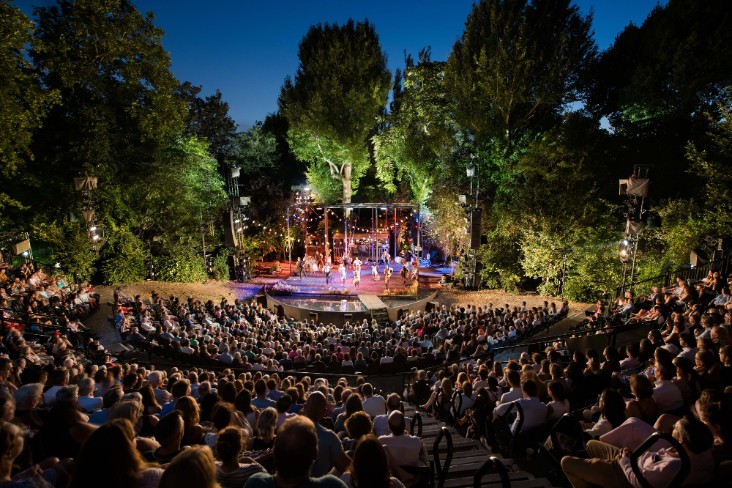 Regent's Park Open Air Theatre illuminated at night © Regent's Park Open Air Theatre/David Jensen
Set in one of London's sprawling Royal Parks, Regent's Park Open Air Theatre features an intimate stage nestled within trees and greenery. This enchanting spot has stood the test of time, dating back to 1932, and still runs an 18-week season each summer.
It's revered for its adaptations of literary classics from Harper Lee's To Kill A Mockingbird to award-winning musicals like Jesus Christ Superstar. This year, theatre-goers will be treated to productions that include Thornton Wilder's Pulitzer Prize-winning play Our Town and Shakespeare's A Midsummer Night's Dream.
Accessible seating is available and booking staff will work with visitors in advance to decipher the best seat for their needs. You'll be charged the lowest price (Band D), regardless of where you need to sit. There are also captioned and audio-described performances for many productions.
Scotland
Illyria Open-air Theatre Company at Logie Estate, Findhorn Valley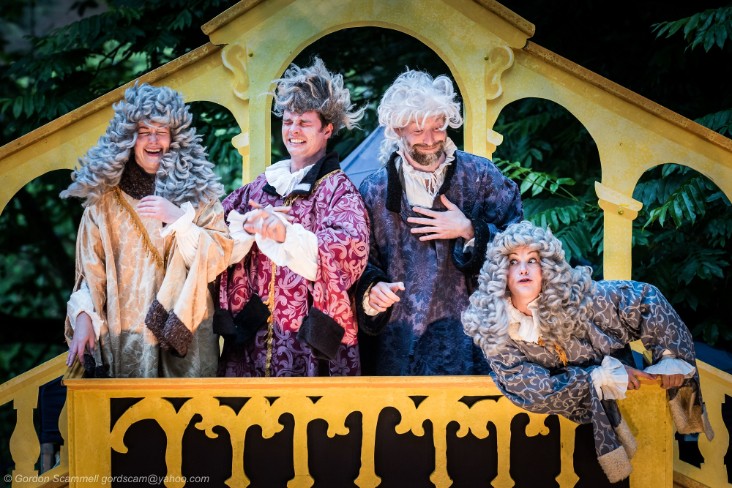 Performance by the Illyria Open-air Theatre Company © Gordon Scammel
Logie Estate is a grand property in Scotland's bucolic Findhorn Valley, and each year its grounds are host to the Illyria Open-air Theatre Company. Illyria entertain audiences up and down the country (and beyond) with their award-winning performances, and 2019 will be their 15th summer at Logie.
This year the five-strong team of actors will perform Shakespeare's The Tempest, a musical production of Mary Shelley's Frankenstein, and a spirited retelling of Ali Baba and the Forty Thieves.
Access from the car park is all on one level, the theatre space itself is flat, and there is a disabled toilet on site.
Bard in the Botanics, Glasgow
Dubbing itself Scotland's "biggest and best-loved Shakespeare festival",Bard in the Botanics takes place in Glasgow's blooming Botanic Gardens. Running through summer (26th June–3rd August 2019), the event sees talented casts bring to life some of Shakespeare's most beloved plays. The 2019 schedule will not be announced until spring, but past performances have included a passionate rendition of Antony and Cleopatra and a spirited show of comedy Much Ado About Nothing.
Though there is usually no parking onsite, special arrangements are made for visitors with mobility issues. The performance space is accessible for wheelchair users, paths throughout the gardens are mostly flat and even, and there's a disabled toilet onsite. It's advisable to call in advance to discuss your needs.
Wales
Willow Globe, Powys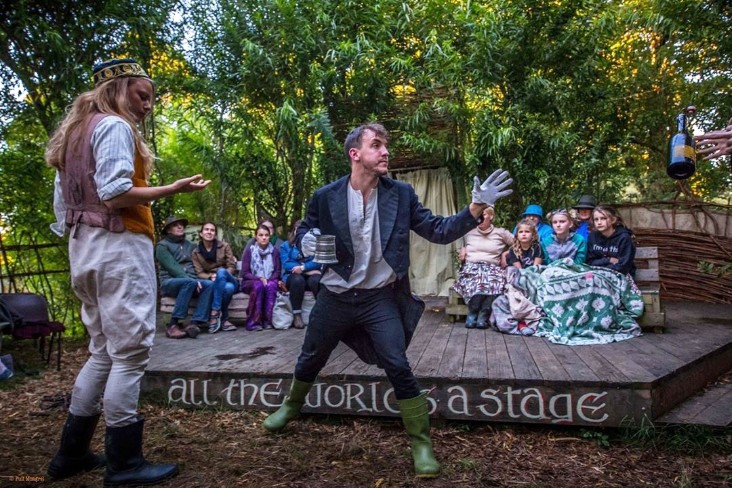 Willow Globe: © Shakespeare Link
This enchanting open-air theatre space is often touted as Wales' answer to The Globe in London. The secluded spot, with its performance area woven from willow trees, is a third of the size of the Globe – but what it lacks in space, it makes up for with ambience. Performances at the theatre, tucked away in the Powys countryside, run from April–September – past shows have included famous Shakespearean tragedies like King Lear and lesser-known plays like Pericles, Prince of Tyre. The 2019 scheduled is yet to be announced.
The theatre exists on a working farm, but the ground has been levelled as far as possible to make it accessible for wheelchair users. There's also a disabled toilet and parking onsite.
Cardiff Open Air Theatre Company at Sophia Gardens, Cardiff
Each summer the Cardiff Open Air Theatre Company bring the city's Sophia Gardens to life. Running since 1983, the festival caters to the whole family, with performances ranging from high-energy musicals to Disney classics to Shakespeare comedies. In 2019, look out for a magical adaptation of The Little Mermaid and a version of Andrew Lloyd Webber's Jesus Christ Superstar.
The festival is part of the Welsh Hynt access scheme, so Hynt card holders are entitled to free entry for their carer or assistant. The festival area spans various parts of the gardens, but the park has mostly even ground with paved paths too. There is organized parking beside the site.
Northern Ireland
Outdoor theatre shows at Bangor Castle Walled Garden, Bangor
Filled with arching trellises, flowers beds and trees, the Walled Garden in the grounds of Bangor Castle is a pretty spot for open-air theatre. The garden has sporadic theatre performances throughout the summer, and previous performances have run the gamut from an adaptation of David Walliams' The Midnight Gang to Jane Austen's gothic Northanger Abbey.
The venue has accessible entryways and flat pathways, disabled parking and an accessible toilet.
Related Articles
Riding the rails: travelling the UK's historic railways
8 of Britain's best accessible theatres and entertainment venues
Accessible days out with The Royal Shakespeare Company
Picture credits
Rough Guides would like to thank the following individuals, companies and picture libraries for their kind permission to reproduce their photographs (in order of appearance on the web page):
Header image: © Minack Theatre
The Globe: © Tony Hisgett
Minack Theatre: © Minack Theatre
Regent's Park Open Air Theatre: © Regent's Park Open Air Theatre/David Jensen
Illyria Open-air Theatre Company: © Gordon Scammel
Willow Globe: © Shakespeare Link