There are plenty of reasons to enjoy theatre, the arts and live entertainment, with a host of fantastic and accessible shows. Many venues hold relaxed performances for those on the autism spectrum, Birth Sign Language (BSL) and audio-described productions, and provide excellent on-site access. In addition, many run workshops and events designed to be accessible for all, while some companies are run by and for those with disabilities. Here, Rough Guides' author Amanda Tomlin selects some of the best accessible venues and events.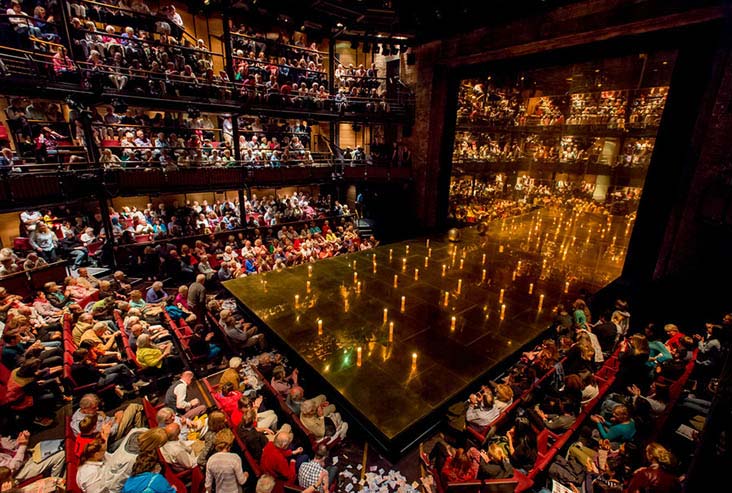 Watching a show at the Royal Shakespeare Theatre
1. The Royal Shakespeare Theatre, Stratford-upon-Avon
One of the world's best-known theatre companies, the Royal Shakespeare Company is based in Shakespeare's hometown of Stratford-upon-Avon. Two theatres share the same riverside site, the larger The Royal Shakespeare Theatre, which puts on plays by the bard himself, and the smaller Swan Theatre, which stages the work of his contemporaries and pieces by new playwrights. Access facilities here are excellent, with wheelchair and transfer seats available at all shows and front row seats reserved for those with sight and hearing difficulties. All shows have at least one audio-described and signed performance, plus relaxed and chill-out performances for those with learning disabilities, those on the autism spectrum and those who suffer from dementia.
2. National Theatre, London
The National Theatre is among London's most accessible venues, with a full-time access manager and free underground parking for Blue Badge holders. The National puts on some of the country's highest-regarded shows and performances, with relaxed, BSL, captioned and audio-described productions with touch tours available. The theatre also runs workshops such as the relaxed puppetry workshop designed for families with disabled children.
3. Dundee Rep Theatre and Scottish Dance Theatre, Dundee
Sharing a building in Dundee, Scotland's last remaining repertory theatre, Dundee Rep Theatre produces some of the country's most interesting and innovative work, as well as more traditional performances such as The Snow Queen, while the Scottish Dance Theatre is Scotland's national contemporary dance company.
The Rep Theatre also runs a variety of classes and drama workshops for young people and vulnerable adults with learning disabilities and additional support needs: some focus on communication, social skills and performance; some on providing social interaction within a calm environment; and others on team work, story-telling and drama. Access facilities are good, with wheelchair access to all parts of the theatre, and audio-described, BSL, relaxed and captioned performances available. Guide and hearing dogs are welcome and touch tours allow those with impaired sight to explore the set, props and costumes.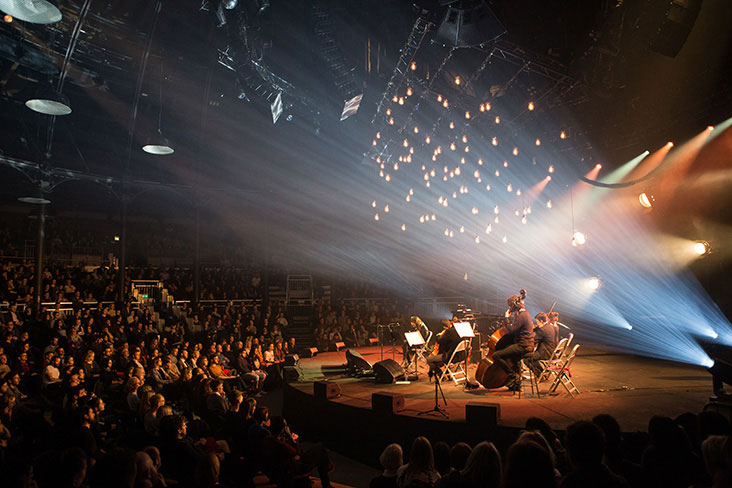 Enchanting performance at the Roundhouse
4. The Roundhouse, London
A former Victorian steam-engine shed, The Roundhouse puts on a dynamic programme of live theatre, music, dance, comedy and circus, hosting top names from Franz Ferdinand and Lady Gaga to Coldplay and Dizzie Rascal. There are good facilities for people with vision impairment, hearing difficulties, disabilities and those on the autism spectrum, with some productions staging autism-friendly performances. The venue has recently been awarded an Attitude is Everything award for its commitment to providing an excellent experience for deaf and disabled visitors.
5. Victoria Theatre, Halifax
The traditional, Victoria Theatre puts on a varied programme of plays, concerts and events, including ballet, comedy, opera and circus. It's wheelchair accessible, with level access to the stalls, and the annual pantomime has BSL-interpreted and BSL-integrated performances, plus relaxed shows for those on the autism spectrum.
Creative space at the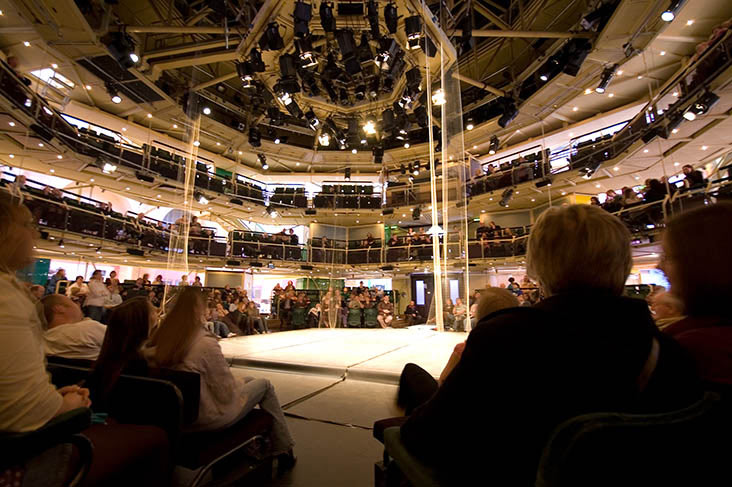 6. Royal Exchange Theatre, Manchester
The Royal Exchange Theatre has a great reputation for staging classic shows alongside innovative and challenging new theatre. With its futuristic, steel-and-glass structure, it's one of the country's most unusual theatre spaces. Wheelchair spots offer excellent, unimpeded view of the action, while a lift provides level access to all floors. The theatre puts on audio-described, captioned, BSL and relaxed performances, and a useful online visual guide can be downloaded from the website to prepare people for what to expect before their visit.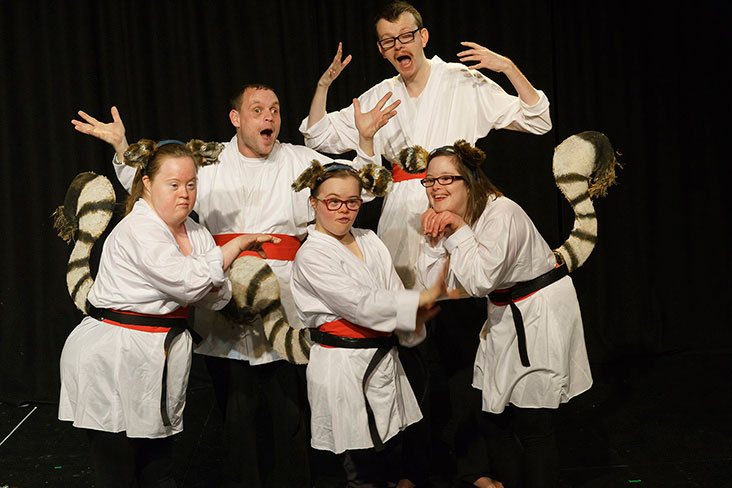 An integrated cast performs with the Hubbub Theatre Company
7. Hubbub Theatre Company, Derby
Based in Derby, the Hubbub Theatre Company is an integrated ensemble, working with actors with moderate learning disabilities. The Hubbub mainly focuses on physical theatre, and runs an actor training programme for adults with learning disabilities as well as putting on weekly classes and community participation workshops. Local venues host its lively, varied and original shows that use puppetry, mask, music, dance and physical and visual drama. There's also a biannual club evening at the Déda centre featuring dance, music, drama and interactive activities, plus touring productions and street theatre.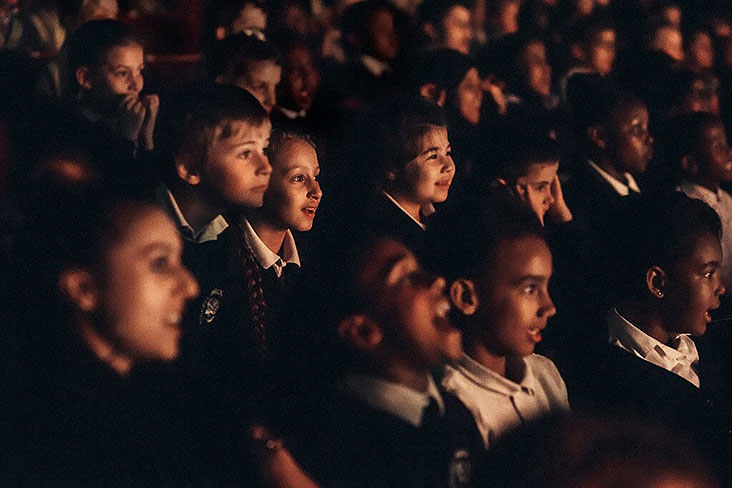 A captivated audience at the Polka Theatre
8. The Polka Theatre, London
The UK's first venue dedicated to children's theatre, target="_blank" rel="noopener"The Polka Theatre puts on traditional theatre shows, such as The Wind in the Willows and Jack and the Beanstalk, as well as original and exciting new productions, collaborations with the likes of the Royal Opera, puppet shows and adaptations of tales from around the world. They also run workshops focused on imaginative play, movement, dance and music. Access is good, and relaxed, autism-friendly performances, touch tours, audio-described shows and BSL performances are all available. Free pre- and post-show multi-sensory workshops can be arranged for SEN groups (booking a show is required).
For more inspiration on days out around the UK, see The Rough Guide to Accessible Britain.
Read more articles like this
7 free accessible things to do in the UK
The world's most accessible places to visit
Days out for foodies: the best accessible food and drink experiences in the UK
Image credits
Rough Guides would like to thank the following individuals, companies and picture libraries for their kind permission to reproduce their photographs (in order of appearance on the web page):
Header image: © John Williams Photography/Roundhouse
Royal Shakespeare Theatre: © David Tett /RSC
The Roundhouse: © John Williams Photography/Roundhouse
The Royal Exchange Theatre: © University of Salford
The Hubbub Theatre Company: © Hubbub Theatre Company
The Polka Theatre: © The Polka Theatre