Sometimes you just need a day to recharge, and there are plenty of spots around the UK where you can enjoy an afternoon's relaxation. Whether you want to soak in a spa or breathe in the great outdoors, here are eight ideas from Rough Guides' writer Jacqui Agate for a stress-free day out.
Back to nature
1. The Eden Project, Cornwall, England
This sprawling site in southwest England warrants more than a day's exploration. There are vast biomes (one is home to the world's largest indoor rainforest), peaceful outdoor gardens and fascinating exhibitions – plus plenty of secluded spots to unwind. The sweet-smelling plants, rushing falls and colourful blooms mean it's a feast for the senses too.
The Eden Project goes above and beyond to make the experience accessible for all (even winning awards for its efforts). There is ample disabled parking, wheelchair-friendly routes around the complex, hearing loops on request, and personal assistants can enter for free. There are also "relaxed" versions of activities and events for those people with autism or other cognitive disabilities.
2. National Botanic Garden of Wales, Carmarthenshire, Wales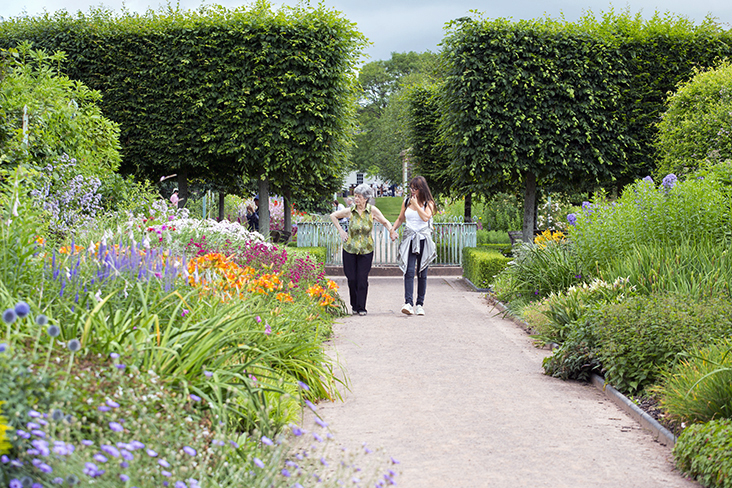 A sweet-scented floral display at the National Botanic Garden of Wales
A day at the National Botanic Garden of Wales is sure to leave you feeling relaxed. The Apothecary's Garden is a crowd-pleaser: it's filled with healing herbs and is themed around areas of the body. The Boulder Garden, with its fragrant Mediterranean plants and tranquil corners, is also a highlight.
The paths that zigzag through the gardens are suitable for wheelchairs and mobility scooters, and there's a shuttle buggy reaching most of the grounds, too.
Relax and rejuvenate
3. Chewton Glen, Hampshire, England
If you want to feel truly pampered, head to Chewton Glen, a lavish hotel and spa nestled in Hampshire's New Forest. The spa offers day packages, most of which include luxurious treatments, a buffet lunch and full use of the facilities.
There's a pool hoist, a stair-climber for the spa stairs and a large disabled changing room, plus plenty of helpful staff on hand should you need them. Treat yourself to a massage or facial, or simply relax in the pool and feel your stresses seep away.
4. Ragdale Hall, Leicestershire, England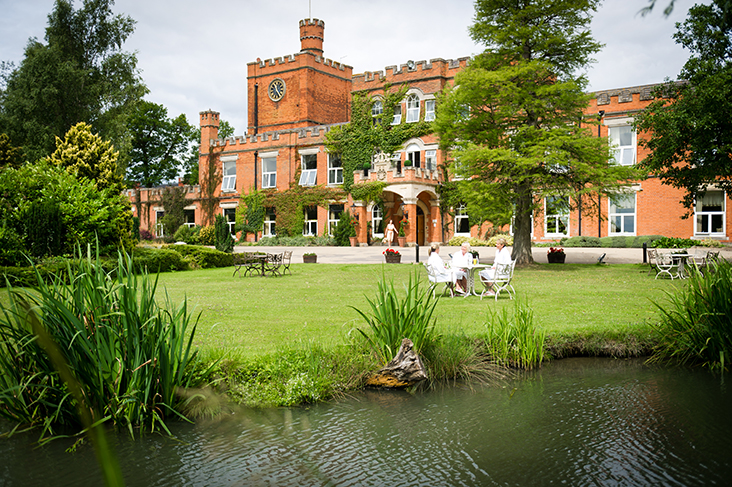 The peaceful grounds at Ragdale Hall
An afternoon at Ragdale Hall is sure to be indulgent. The spa is in a grand Victorian estate in the Leicestershire countryside, and an experience here doesn't come with too heavy a price tag. There's a range of offers available, from those aimed at couples to those promising all-out luxury, and you can find some peace and quiet in the comfy lounges and extensive gardens.
Disabled parking and flat-level entrance makes arriving stress-free. Once inside, the heat experience rooms are accessible by wheelchair, seating and handrails are dotted throughout, and treatments can be tailored to individual needs.
On the coast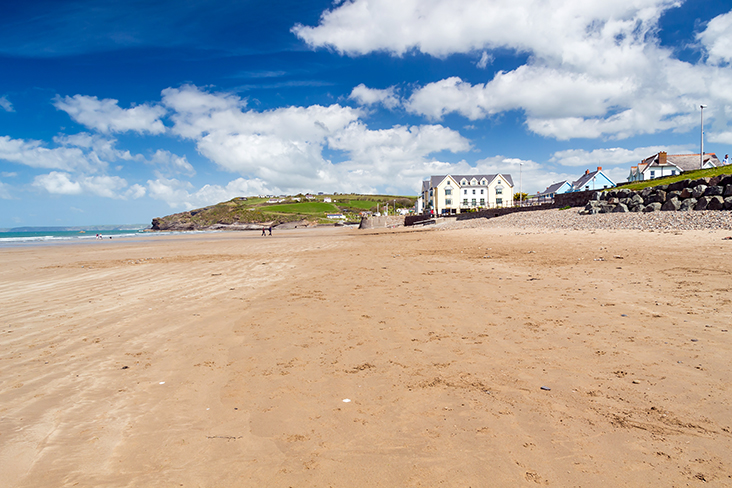 Open skies and firm sands at Broad Haven
5. Broad Haven, Pembrokeshire, Wales
Few things are better for the soul than a day spent beside the seaside, and the Pembrokeshire coast has plenty of beautiful spots.
Broad Haven's sand and pebble beach is particularly picturesque, flanked by cliffs on either side. It was awarded Blue Flag status back in 2016, and is known for its calm, shallow waters.
Wheelchair users should approach from the northern end where there is a boardwalk leading onto the sand (there are steep steps at the southern entrance). During the summer months, all-terrain beach wheelchairs are available for hire from Haven Sports Surf Shop nearby.
6. West Bay Beach, North Berwick, Scotland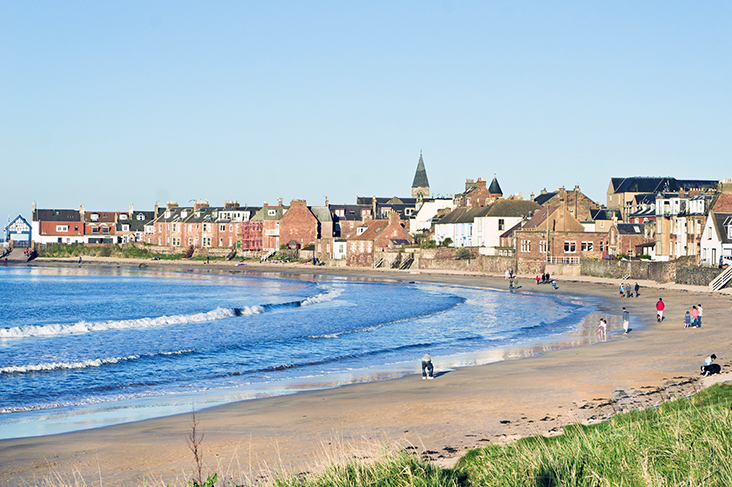 Gentle West Bay Beach at North Berwick
A great swathe of sand fronting the town of North Berwick, West Bay Beach makes for a relaxed family day out. It gets extra points for location: there are stunning views across to Bass Rock, a craggy offshore island famed for its seabirds.
Local charity Beach Wheelchairs operates out of a beach hut at North Berwick Harbour. They offer both adult and children's all-terrain wheelchairs for use on the beach and also have a hoist if needed.
Into the woods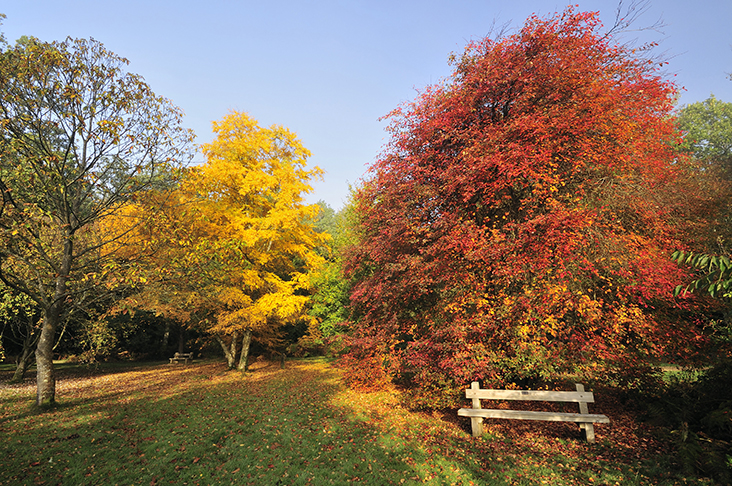 Serene woodland at Blackwater Arboretum
7. Blackwater Arboretum, Brockenhurst, England
Wandering in the woods – or "forest bathing" –is a proven way to ease stress. If you're keen to harness the power of the forest yourself, Blackwater Arboretum is a good place to start. It's a large area of protected woodland near Brockenhurst with a serene sensory trail winding through it. The trail encompasses trees from all over the world, each with different smells, sounds and textures, designed to stimulate the senses.
The wheelchair-friendly path stretches for half a mile – it's a smooth, gravel surface (mostly flat bar one light slope) with plenty of points to stop and rest along the way.
8. Castlewellan Forest Park, Northern Ireland
For lake and woodland vistas rolled into one, head to this peaceful forest park. The glossy expanse of Castlewellan Lake is a soothing sight in itself, but the onsite "peace maze" (one of the world's largest) adds an extra dose of calm. The maze pathways (which are flat and wheelchair accessible) twist and turn until they reach a "peace bell" in the centre.
The most accessible organised trail here is the Lakeside Walk. Its signposted paths loop around the lake, dipping into the forest and passing by a looming 19th-century castle. The paths are even and there's a café with disabled access en route.
Liked this article?
Then read more articles by Rough Guides or view the Rough Guide to Accessible Britain online:
Days out for foodies: traditional, fun and accessible
12 greatest accessible trails across the UK
Here's to a healthy year with this list of accessible gyms in the UK
Where the grass is greener: accessible days out to gardens around the UK
Top wheelchair and scooter friendly towns across the UK
Image credits
Rough Guides would like to thank the following individuals, companies and picture libraries for their kind permission to reproduce their photographs (in order of appearance on the web page):
Header: West Bay Beach, North Berwick: Shutterstock
National Botanic Garden of Wales: © Tim Jones Photography
Ragdale Hall: Courtesy of Ragdale Hall
Broad Haven: Shutterstock
West Bay Beach, North Berwick: Shutterstock
Blackwater Artboretum: Shutterstock