A summer festival is almost always an unforgettable day out and many are surprisingly accessible. A good number of the UK's bigger, weekend festivals now also have one fully accessible campsite, as well as members of staff dedicated to ensuring the comfort of revellers with cognitive and physical disabilities. Most summer festivals are held outdoors so – assuming the weather holds out – you can soak in some sun, enjoy the atmosphere or find a quiet corner away from the crowds. Rough Guides have been busy selecting the UK's very best accessible festivals for 2019.
July
Culture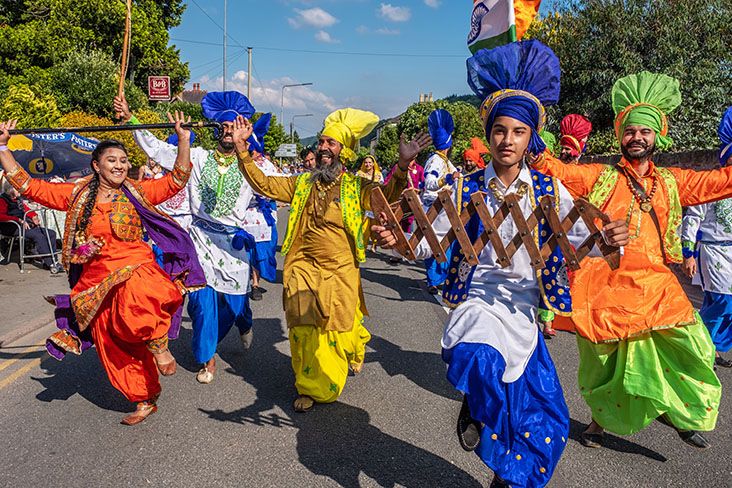 1. Llangollen International Music Eisteddfod
1–7 July 2019, Llangollen, North Wales
Every summer, around 4,000 performers and 50,000 visitors gather in this small town in northeast Wales for the Llangollen International Music Eisteddfod (LIME). This spectacular cultural festival runs a smorgasbord of music, dance and entertainment for people of all ages and cultures. Buy a day ticket for the main pavilion where you can watch choirs, folk singers and dancers from around the world compete. Alternatively, catch an evening concert – this year's line-up includes Jools Holland and his Rhythm and Blues Orchestra, the Gipsy Kings featuring Andre Reyes and Llanfest on 7 July, featuring The Coral, the Fratellis and The Pigeon Detectives. Access facilities are good: wheelchair spaces can be booked at the main pavilion, a courtesy car is available for travel around the site on request, and solid walkways and temporary laid pathways enable wheelchair access. In addition, there are unisex accessible toilets, assistance dogs are welcome and an induction hearing loop system is in operation in the main pavilion. For further access information, see the event website.
Agriculture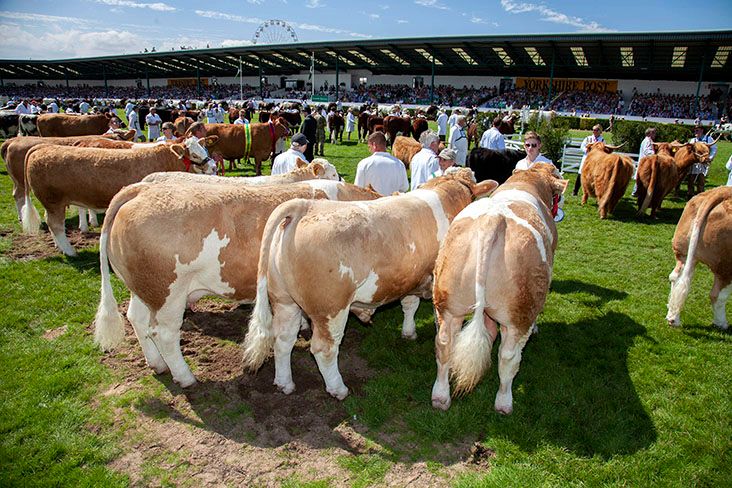 2. The Great Yorkshire Show
9–11 July, Harrogate, North Yorkshire
There is something for everyone at The Great Yorkshire Show, England's best-known agricultural fair. This big summer event features equestrian displays, pig and cattle rings, cookery demos and art exhibitions, as well as garden and fashion shows and all the livestock and machinery you'd expect. The majority of walkways have hard surfaces, and most buildings and animal areas have ramped or level access. There are viewing platforms at the ends of the Grandstand, disabled parking and toilets, and wheelchair and electric scooter hire. See the website for more on access.
Airshow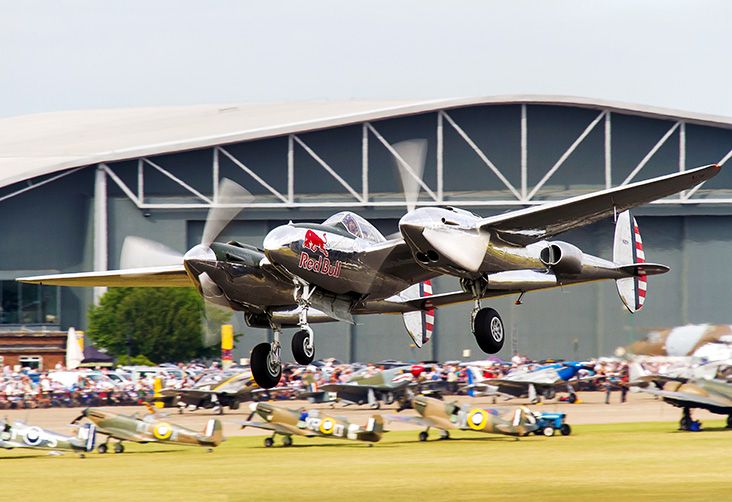 3. Flying Legends Airshow
13–14 July, IMW Duxford, Cambridgeshire
2019–2020 is an important year in the events calendar as we commemorate 75 years since D-Day, the start of the Liberation of Europe and the end of World War II. There couldn't be a better time to visit the Flying Legends Airshow at the renowned Imperial War Museum Duxford. The choreographed routines – with unique historic planes including World War II fighters swooshing in unison across the skies – are guaranteed to delight kids and adults alike. Themed extras (you can sit in a spitfire, have your make-up done in vintage style or kick back and soak up live music) complete the picture.
Accessible parking for blue-badge holders can be pre-booked and visitors with disabilities can bring a carer free of charge (book online). There is also a dedicated area for wheelchair users, and while some areas of the site are on grass, the Flightline Walk is fully tarmacked with level access. Assistance dogs are welcome, too. Be aware that – with plenty of aircraft – this may not be the right event for those sensitive to loud noises.
Music and Culture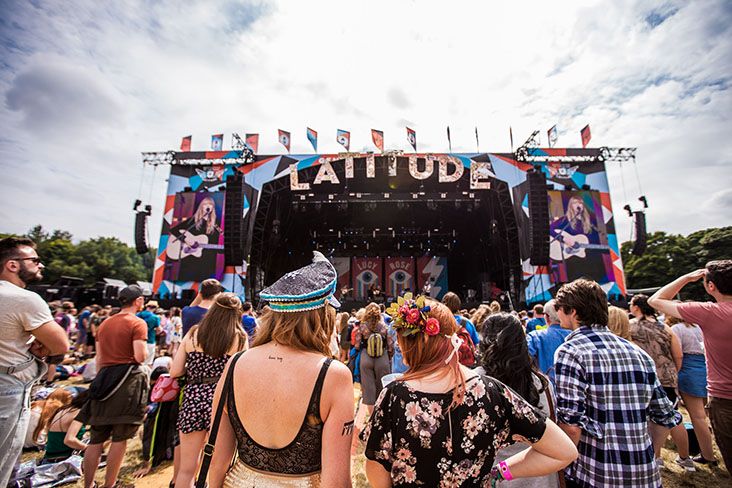 4. Latitude
18–21 July, Henham Park, Suffolk
Blossoming in popularity since it burst onto the UK festival scene in 2006, Latitude is a colourful and friendly family festival showcasing a range of music, arts, comedy, science and debate. Hot musical picks for 2019 include Lana del Rey, Snow Patrol, Primal Scream and Everything Everything; the comedy stage is lit up by performers like Jason Manford, Katherine Ryan and Frank Skinner; while acting and dancing troupes include performances by the National Theatre Live and Sadler's Wells. With a dedicated Kid's Area and Inbetweeners Teen Area to keep young mind's occupied, it's little wonder that Latitude won Best Family Festival at the UK Festival Awards in 2018.
With a friendly and inclusive vibe, Latitude also has excellent services for those with physical and cognitive disabilities, who can apply for access facilities and/or a PA ticket through the Disabled Access Scheme. Latitude's fully accessible campsite has wheelchair accessible unisex showers and toilets; HDU with a raised bed and a hoist; accessible sinks; an electrical point to charge wheelchairs or mobility scooters; and a fridge for secure medical storage. Viewing platforms are found in the arena, and performance interpreting and hearing loops are also attached to some stages and performances. Attitude is Everything, a charity established with the aim of improving deaf and disabled people's access to live music, is also a presence at the festival, with company volunteers running the Information Tent in the Disabled Access Campsite. See the festival website for a full list of access facilities.
Culture
5. Bristol Harbour Festival
19–21 July, Bristol
During one weekend in July, a spectacular regatta transforms Bristol's historic district as boats of all kinds gather for the Bristol Harbour Festival to celebrate the city's maritime heritage. Along with many nautical attractions, including tall ships, steamboats and boat races, there's all manner of entertainment – from world-class circus and street theatre to music concerts and spoken-word performances. Children can take part in singing or storytelling workshops and try their hand at some arts and crafts. Access is generally good on closed roads and hard surfaces, and there is a raised viewing platform at the Amphitheatre stage. BSL interpreters will be located on the Circus Stage, Dance Stage and in the Spoken Word Tent throughout the weekend. See the festival website for more about access.
Music and Culture
6. WOMAD
25–28 July, Charlton Park, Wiltshire
WOMAD – standing for World of Music and Dance – does what it says on the tin, showcasing an excellent selection of music, arts and dance from around the world. This year, some of the highlights include Ziggy Marley, Macy Gray and Orbital. Disabled viewing platforms are provided and there is a designated campsite area for people with disabilities, including accessible toilets and showers, a wheelchair battery re-charging zone and medical storage. Large print and braille timetables are available and tickets for carers are free. See the festival website for further details.
August
Parade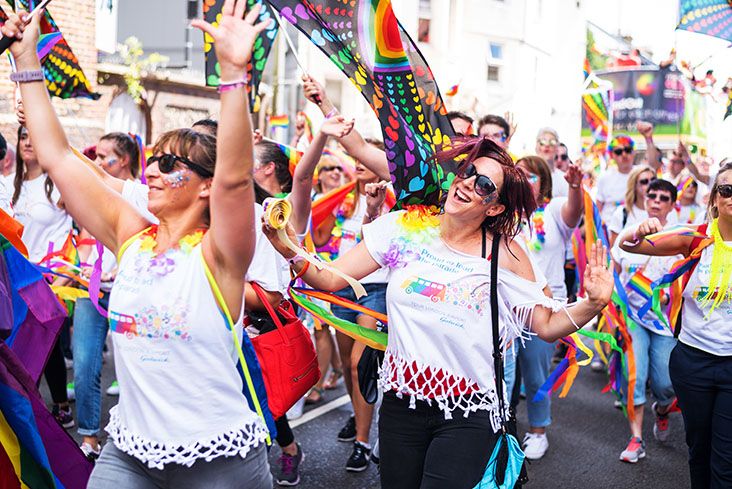 7. Brighton Pride
2–4 August, Brighton
Brighton Pride is a flamboyant, colourful "carnival of diversity" that's famed for its community parade of floats, bands, costumes and dancers. There's also a dog show, activities in the park and many other music, comedy and poetry performances. Purchase tickets through the Access Ticket Shop where you can request passes for accessible toilets, mobility viewing passes, personal assistant (PA) passes and personal changing spaces. Further access information is available on the festival website.
Arts
8. Edinburgh Fringe
2–26 August, Edinburgh
Since it began 70 years ago, The Edinburgh Fringe has become the world's biggest celebration of the arts. Tens of thousands of shows take place all over central Edinburgh, from comedy to music, theatre to circus, cabaret to spoken word. The steep streets and cobbles of Scotland's capital may not be easy to navigate, but if you plan well, the festival is worth every effort. Access needs are well catered for, with signed, audio-described and captioned performances. The Fringe Society also provides a number of sensory backpacks (first come, first served) for visitors on the autism spectrum, with a fidget toy, earplugs or ear defenders, a photo story and a list of relaxed performances at the Fringe. For information on accessible performances and the best ticket collection locations see the festival website.
Music and culture
9. Just So Festival
16–18 August, Cheshire
Championing the importance of storytelling for children and adults alike, Just So Festival is an intimate family festival held in Cheshire. Vibrant make-believe worlds, glittering installations, a theatre hidden in the woods, a "tribal tournament" with owls, foxes and frogs… What more could you want? Literature, arts, theatre, dance, music and comedy are the focus here, with an abundance of exciting hands-on workshops for little ones.
Like Latitude, Just So works with Attitude is Everything to improve access to music for those with disabilities, and have been awarded Gold on their Charter of Best Practice. Accessible camping is offered, with facilities such as accessible toilets, showers, a charging point, a medicinal fridge and first-aid area; free PA tickets are available; and there are quiet spaces located around the festival. See the website for more detailed access information, or email Callum Hogg directly (callum.hogg@wildrumpus.org.uk).
Related articles
For more travel inspiration, see other articles written by Rough Guides:
The best accessible caravanning spots in the UK
7 free accessible things to do in the UK
Image Credits
Rough Guides would like to thank the following individuals, companies and picture libraries for their kind permission to reproduce their photographs (in order of appearance on the web page):
Header image: © Jen O'Neill/Festival Republic
Llangollen International Music Eisteddfod: © Barrie Potter/Llangollen International Musical Eisteddfod
The Great Yorkshire Show: © Yorkshire Agricultural Society
Flying Legends Airshow: © Shutterstock
Latitude: © Jen O'Neill/Festival Republic
Brighton Pride: © Shutterstock