From historic galleries hung with paintings by Old Masters to gardens filled with avant-garde sculptures, the UK has an impressive range of art on display. Here, Rough Guides author Jacqui Agate picks the top destinations for accessible art and sculpture up and down the country.
England
National Gallery, London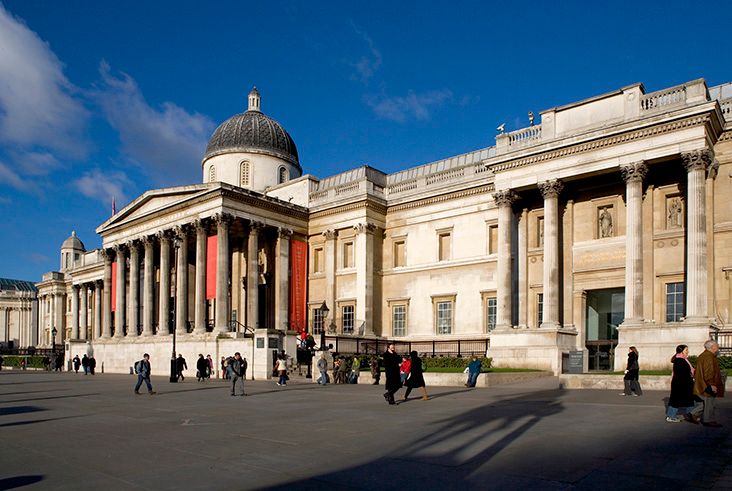 National Gallery: © National Gallery, London
More than 2000 paintings hang proudly in London's cavernous National Gallery. The venue's exhibition spaces, with their domed ceilings and grand columns, take visitors through a range of European art movements, from Realism to Renaissance, and the collection spans some eight centuries. Don't miss Vincent van Gogh's famed Sunflowers, dating to 1888, or the 15th-century Venus and Mars by lauded Italian painter Sandro Botticelli.
Visitors with disabilities are granted discounted access to a variety of special exhibitions, while carers go free. The building has four level entrances, seating dotted throughout, and wheelchairs available for booking. There are also art sessions tailored to those who are blind or partially sighted, plus British Sign Language tours of the venue.
Henry Moore Studios and Gardens, Hertfordshire
Perhaps the most famous British sculptor of all time, Yorkshire-born Henry Moore is celebrated for his striking bronzes. Despite his northern roots, the late artist spent a significant portion of his life in Perry Green, Hertfordshire – from the 1940s until his death in 1986 – and Moore's former home remains a shrine to him. At the Henry Moore Studios and Gardens, visitors can expect lush grounds dotted with Moore's towering bronze sculptures, mostly abstract depictions of human and animal forms. You can also tour Moore's family farmhouse, peek inside his studios and learn more at the informative visitor centre.
Much of this attraction is outside, with grassland and gravel pathways making up most of the site, but suitable wheelchairs and mobility scooters are available to borrow. There are also disabled parking bays on site and carers are offered free entry. Tailored tours for visitors with learning disabilities, visual impairments or other additional needs are available, and assistance dogs are welcome.
The Hepworth Wakefield, Yorkshire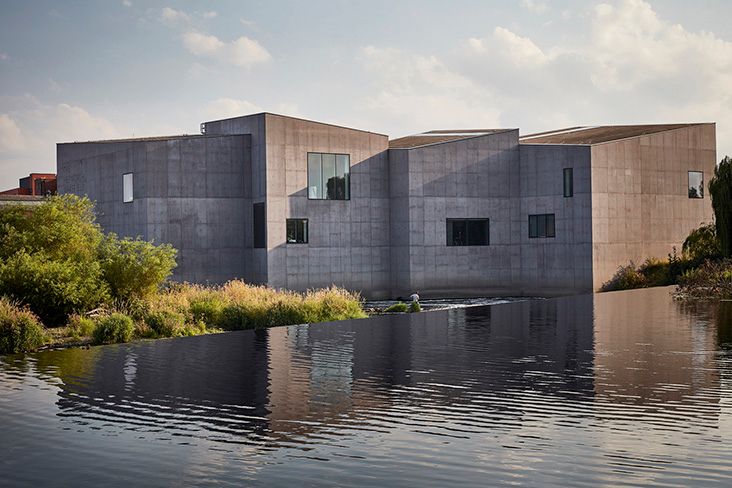 Hepworth Wakefield: © Justin Slee 2016
The hulking Hepworth Wakefield gallery is one of the most impressive art venues in the north of England. The modern concrete building is a feat in itself, designed by innovative architect David Chipperfield, and inside it's an Aladdin's cave of contemporary art. Modern works by British artists are the focus here, with a special emphasis on the venue's namesake: modern sculptor Barbara Hepworth.
There are two manual wheelchairs available to book here, and the exhibition space is flat with lifts to all floors. Three accessible toilets are dotted throughout the venue, and there's a specific Changing Places toilet situated on the ground floor. You'll also find accessible parking and induction loops in the café, auditorium and at the welcome desk. In advance of a visit, it is also possible to listen to an audio introduction to the gallery on the Hepworth Gallery website, and/or view a visual story showing the journey within the building.
Scotland
Kelvingrove Art Gallery and Museum, Glasgow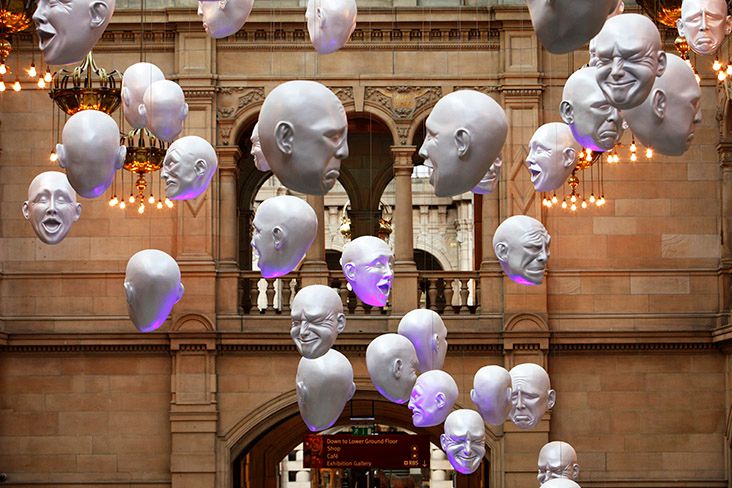 Kelvingrove Art Gallery and Museum: © VisitScotland/Kenny Lam
Dating back to 1901, this historic museum and gallery has stood the test of time – and for good reason. The Spanish Baroque façade, with its arched entryways and red sandstone, wows visitors from the outset. Inside, fine art displays sit alongside fascinating exhibitions on everything from ancient civilizations to the animal kingdom.
Art lovers should make a beeline for Salvador Dali's Christ of St John of the Cross, a celebrated painting depicting the crucifixion. The Scottish Colourists Gallery, paying tribute to four influential post-impressionist painters (Francis Cadell, John Duncan Fergusson, Leslie Hunter and Samuel Peploe), is also worth a visit.
There is an accessible entrance, lifts throughout the building and level access to the café, plus disabled toilets and wheelchairs available to borrow. There's also parking for Blue Badge holders and a hearing loop within the venue.
Dundee Contemporary Arts, Dundee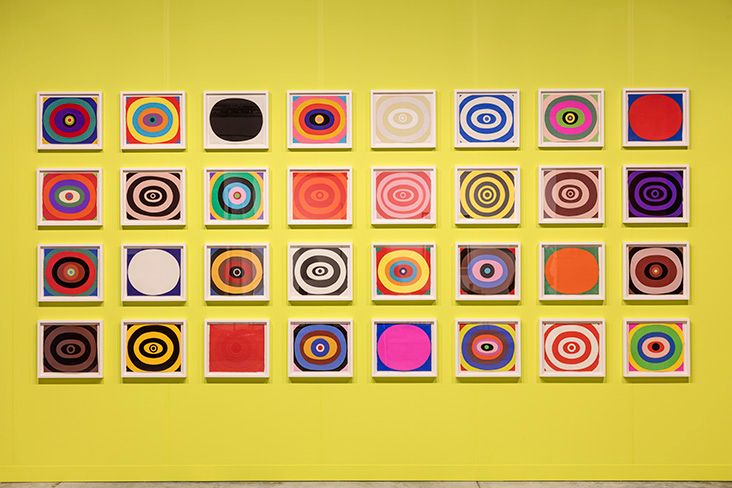 Dundee Contemporary Arts: © 2016 Silvia Ros
Dundee is the UK's only UNESCO City for Design, and there's no better place to discover the country's most cutting-edge contemporary art. At Dundee Contemporary Arts museum, which celebrates its 20th birthday this year, visitors will find themselves in a treasure trove of modern works. All kinds of media are represented, from prints and photography to sketches and sculpture, and pieces by up-and-coming artists sit alongside those by more established names. A current exhibition showcases the work of popular English artist David Austen.
All floors can be reached by lift, while there's level access throughout the exhibition spaces. For those with visual impairments, there are contrasting colour blocks throughout the galleries, plus tactile buttons and audio announcements in the lifts. Relaxed, audio-described and subtitled screenings are available at the venue's cinema.
Wales
Glynn Vivian Art Gallery, Swansea
Glynn Vivian Art Gallery has recently enjoyed a £6-million-pound refurbishment, so there's never been a better time to visit this beloved Swansea institution. The gallery boasts an eclectic collection, and its huge store of intricate porcelain and pottery is the major draw. Other highlights include works by French artists Gustave Doré and Claude Monet.
The building is fully accessible (including a step-free main entrance) with designated parking for disabled visitors and seating areas peppered throughout the space. Staff have undergone disability awareness training and are on hand to meet visitors' needs.
Bute Park and Arboretum, Cardiff
This pretty city park and arboretum has a lot to offer: a huge collection of trees, flower-filled borders and, best of all, a sculpture trail comprising 20 fascinating pieces. Weave your way through the park, pausing to take in such works as a giant picture frame and a clever carving of an otter and his fish supper.
Paved, level paths loop through the majority of the park, providing easy access to the sculptures, which are clearly marked on an interactive map. There's also an accessible toilet on site.
Northern Ireland
The MAC, Belfast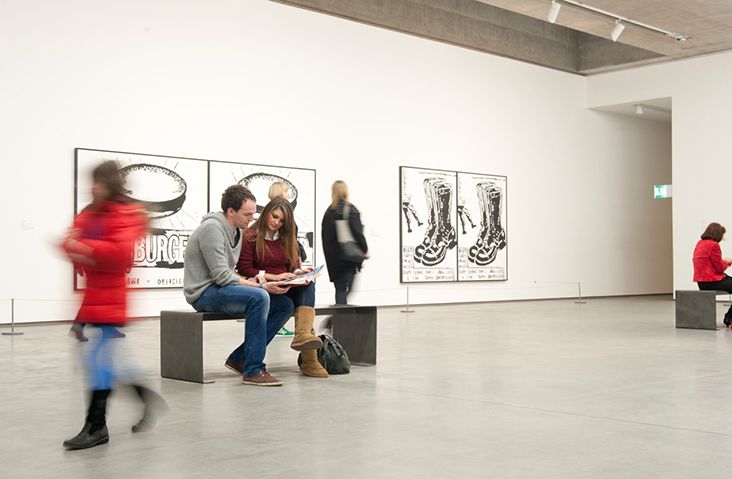 The MAC: © Northern Ireland Tourist Board
The MAC is a one-stop shop for art and culture in Northern Ireland's capital. Alongside a range of theatre, live music and talks, the centre hosts avant-garde art displays throughout the year. Past exhibitions have been dedicated to pop artist David Hockney and contemporary painter Neil Gall. The current MAC International exhibition showcases progressive works from a range of international artists.
The venue is accessible throughout, with level entrances and lifts to all floors, plus there's an Access Register, so the MAC will have your needs ready on file each time you book. If you stay for a show, there's accessible seating, plus relaxed, signed, captioned and audio-described performances available.
Related articles
8 accessible open-air theatres in the UK
Animal Magic: Accessible zoos and animal parks
Accessible days out beside the seaside
Image credits
Rough Guides would like to thank the following individuals, companies and picture libraries for their kind permission to reproduce their photographs (in order of appearance on the web page):
Header image: © VisitScotland/Kenny Lam
National Gallery: © National Gallery, London
Hepworth Wakefield: © Justin Slee 2016
Kelvingrove Art Gallery and Museum: © VisitScotland/Kenny Lam
Dundee Contemporary Arts: © 2016 Silvia Ros
The MAC: © Northern Ireland Tourist Board