Being in touch with nature and getting up close and friendly with animals can be hugely beneficial for those with disabilities. But it can also sometimes be scary or difficult to get round outside, so Rough Guide author Mandy Tomlin has rounded up some of the country's best zoos and animal parks that go the extra mile to accommodate people with additional needs. Check out our top picks below, all of which are accessible and welcoming for those with disabilities.
London Zoo, London
It may be one of the UK's oldest zoos, with several of its buildings listed, but London Zoo has made a real effort to be as accessible as possible. There's ramp and slope access to most enclosures, with Europe's biggest penguin pool having wheelchair-height viewing panels and designated wheelchair spaces for the popular penguin feeding time.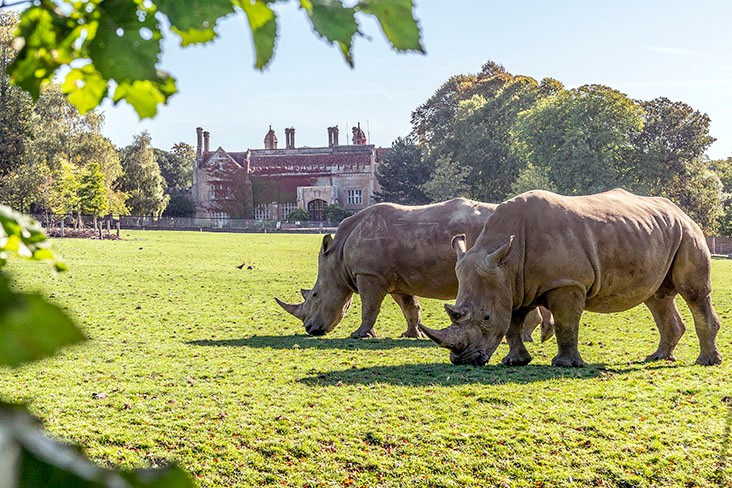 Rhinos enjoying the sunshine at Marwell Zoo
Marwell Zoo, Winchester
This wonderful wildlife park is in a beautifully landscaped setting, with enclosures designed to be as close as possible to the animals' native habitat. The site is large and hilly, with plenty of slopes, but power-chair users will have no problems getting around. With hundreds of species to see around the 140-acre park, all the viewing platforms above the animal enclosures are wheelchair-friendly so guests can get stunning views. The zoo lends out manual wheelchairs, though you may require some help getting up and down some of the steep hills (carers go free). There is also a wheelchair-accessible carriage on the land train that trundles around the park. As well as this there is a downloadable sensory trail mp3 for guests who are blind and hearing loops are available too.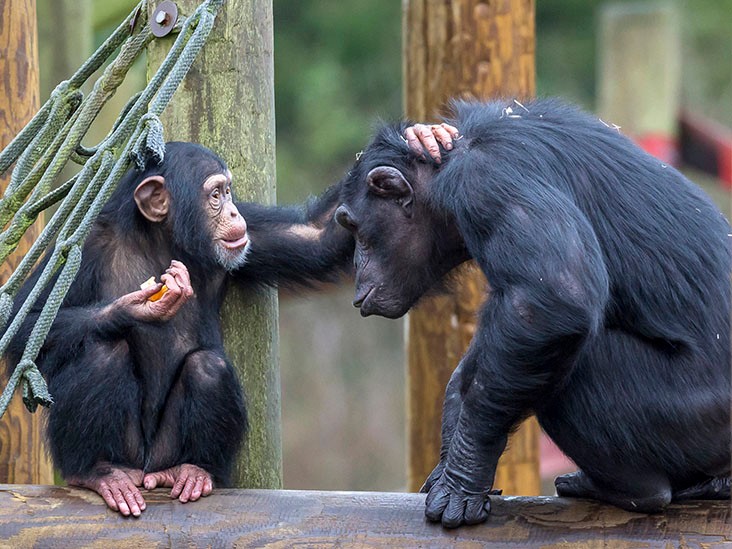 Thelma and Kuki, chimpanzees at Monkey World
Monkey World, Dorset
You can get really up close and personal with the animals at this heart-warming primate rescue sanctuary. The primates live in natural surroundings, so you can watch them interact in their family groups, just as they would in the wild. Most of the paths are tarmac, and access is possible to all the monkey enclosures – you can even venture inside the lemur enclosure for close encounters of the primate kind. There's a great adventure playground too, with a wheelchair swing for human monkeys to enjoy. The site is hilly, so it's a good idea to borrow one of the sanctuary's motor scooters (reserve in advance with £10 refundable cash deposit). Sensory statues are also available, and the keeper talks can be requested in written format too.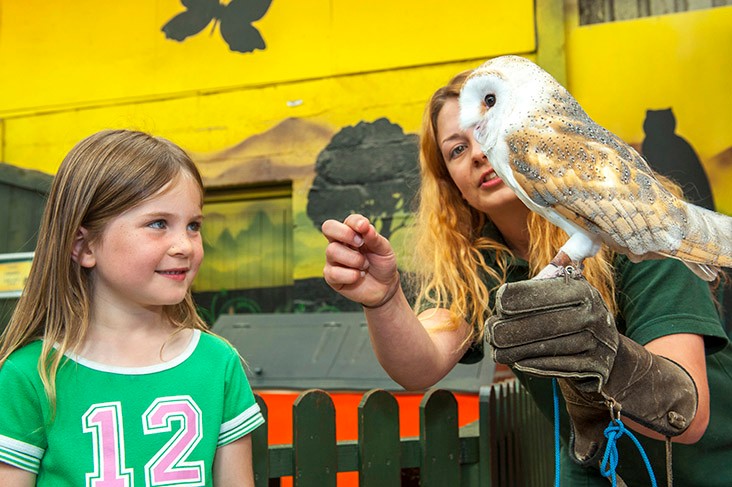 A Folly Farm owl
Folly Farm, Pembrokeshire
A farm, zoo, playground and vintage fairground are all combined in this great family day out. You can ride an array of vintage fair rides, watch penguins swim, cuddle a guinea pig and even try milking a goat. Although it's on a large site, most of the farm's paths are level and tarmac, so access is generally good. The land train tractor ride and the Pembrokeshire Big Wheel both have wheelchair-accessible carriages, and wheelchairs are also available for hire at the park entrance.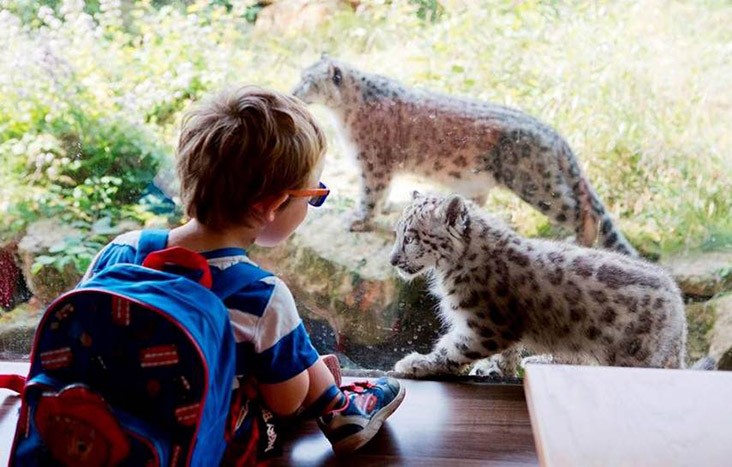 Beautiful snow leopard cubs at Twycross Zoo
Twycross Zoo, Warwickshire/Leicestershire border
Home to some of the world's most endangered species; Twycross Zoo is on a flat site with hard gravel or tarmac paths and good accessible facilities. The site is large, though, so you may want to hire one of the zoo's mobility scooters (£12) to get around in comfort. Home to all four types of great ape, as well as giraffes, penguins and meerkats, Twycross has plenty of wildlife on view – you can even look into the snow leopard enclosure while you eat at the zoo's restaurant.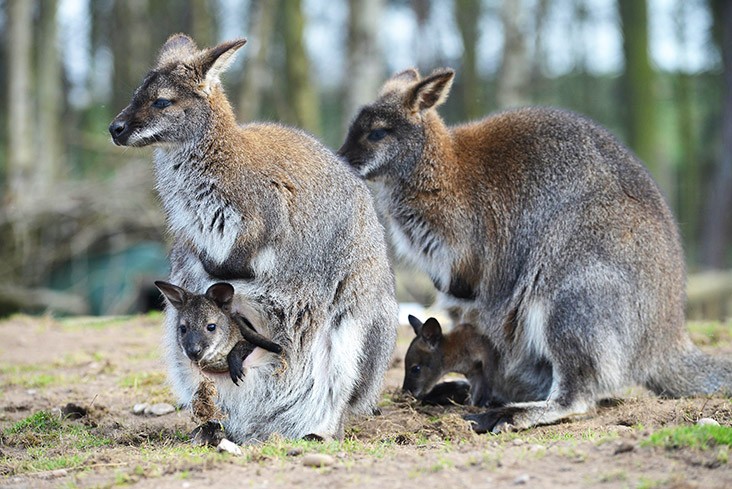 Baby joey wallabies at Yorkshire Wildlife Park
Yorkshire Wildlife Park, Doncaster
Home to England's only polar bears, plus lions, rhino and more, the Yorkshire Wildlife Park is a great place to learn about some of the world's rarest species. Most of the park's paths are level, including those that go into the walk-through enclosures – so you can get really close to the wallabies and lemurs, as well as the likes of marmosets and giant anteaters in the South American Viva display. Many of the enclosures have ground-level viewing panels too, so it's easy to watch creatures such as the giant otters and the meerkats and mongooses playing around their homes.
Knowsley Safari Park, Merseyside
View lions, camels, baboons, zebras and rhino in nearly-natural habitats from the comfort of your own car at Knowsley Safari Park. At five miles, this drive-through safari park is the UK's longest and is home to more than 750 animals. If you don't want to risk driving your own car through the curious baboons' enclosure, you can take the Baboon Bus, which has a wheelchair ramp and space for one wheelchair (book in advance). Most of the paths in the walk-round Foot Safari area are on level smooth tarmac, and many of the enclosures have accessible viewing platforms to get the best views of the animals.
Highland Wildlife Park, Inverness-shire
Visit the first polar bear cubs to be born in the UK for 25 years at this magical highland park, with drive-through and walk-through sections. You can see reindeer, elk, Amur tigers, snow monkeys plus a selection of native Scottish wildlife, all with a backdrop of stunning mountain and loch views in the Cairngorms National Park. Due to the steepness and rough nature of the site, some wheelchair-users may find a few of the trails challenging, though the majority of the paths round the park are easily accessible, particularly the wooden walkways to the tigers.
Related articles
12 great days out for people with autism
7 free accessible things to do in the UK
Top 10 days out for people with hidden disabilities
Image credits
Rough Guides would like to thank the following individuals, companies and picture libraries for their kind permission to reproduce their photographs (in order of appearance on the web page):
Header image: ©
Marwell Zoo: © Marwell Zoo/Jason Brown Photography
Monkey World: © Monkey World
Folly Farm: © Pembrokeshire Photography
Twycross Zoo: © Twycross Zoo
Yorkshire Wildlife Park: © Yorkshire Wildlife Park