Hundreds of attractions around the UK cater for people with autism and other cognitive disabilities with provisions such as quiet times to visit, relaxed performances and specially trained staff. Rough Guides writer Emma Field has cherry-picked 12 great days out for people with cognitive disabilities, whether you're into science or books, the great outdoors, theatre or history.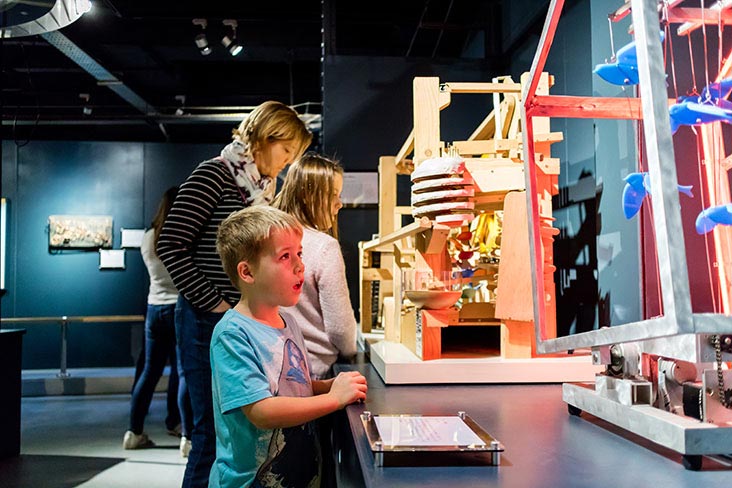 Engrossed in an exhibit at The MAD Museum
For scientists
Eyes to the skies at Armagh Planetarium, County Armagh! There are interactive exhibits and one of the largest meteorites on display in Ireland, but the star of the show is an audio-visual adventure in the digital theatre. The quietest time to visit is between 10am and midday. Call ahead to discuss individual access needs – private early screenings for groups can be arranged.
The MAD (Mechanical Art and Design) Museum, Stratford-upon-Avon, is small, friendly and crammed with madcap contraptions and interactive knobs, buttons and levers. Some visitors on the autism spectrum might find the noisier exhibits overwhelming – one machine claps loudly to visitors – but out-of-hours visits for visitors with autism can be arranged. There's plenty of access info for before you go too.
Birmingham's Think Tank museum covers science and technology from the past, present and future, with everything from Spitfires to scientists' predictions for the future. Visitors can pre-book a Morning Explorers session for a quieter experience (the next one is in November 2018), and there's a wealth of familiarisation info.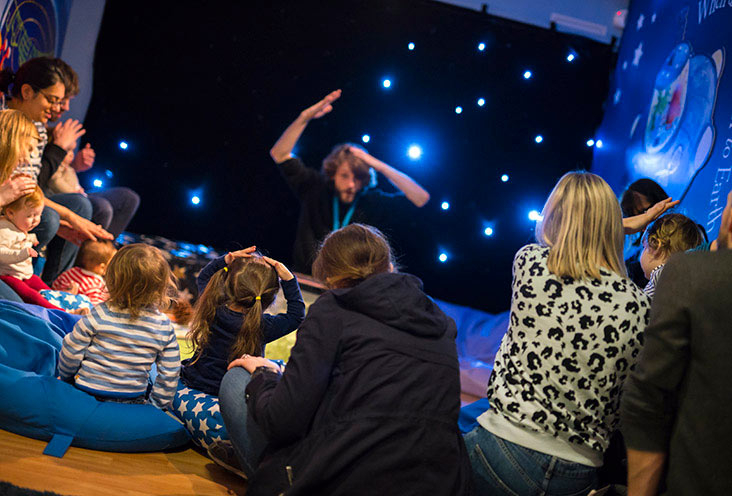 Performance of Night Owl at Seven Stories
For bookworms
Book lovers of all ages will enjoy a day at Seven Stories: The National Centre for Children's Books in Newcastle upon Tyne. It's a treasure trove of original artwork and manuscripts, plus exhibitions, activities and events that bring children's books to life. Early Bird Openings (9am–10am, first Saturday of every month) allow visitors with an autism spectrum condition to experience it without music, queues or noisy announcements. Sensory backpacks and ear defenders are available, and you can familiarise yourselves with the Social Story before you arrive.
The Burns Birthplace Museum, Ayr, holds regular accessible openings (3pm–5pm, first Tuesday of every month) when audio-visual effects are switched off and displays that are usually only visible under dim conservation lights are illuminated by brighter cleaning lights so all Burns fans can see the "auld clay biggin" where the poet was born.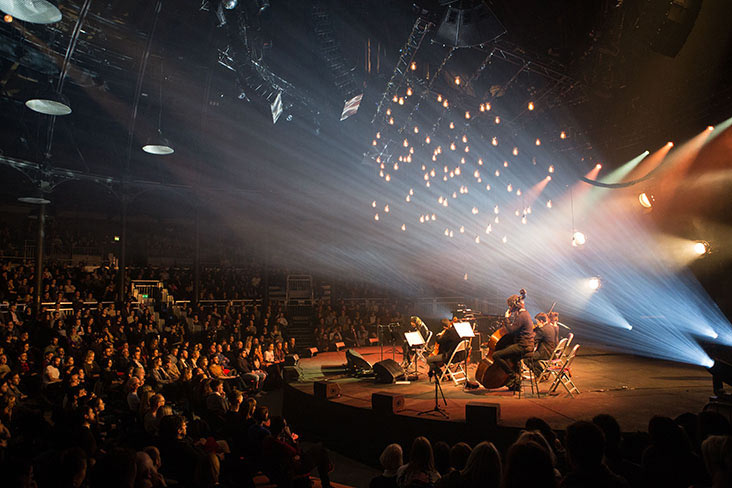 Keaton Henson performing at the Roundhouse
For theatregoers
Everyone can see the latest shows, thanks to sensory sessions and relaxed performances. In London, the Roundhouse's relaxed performances create a supportive, less formal atmosphere for audience members with autism, learning difficulties and sensory or communication needs, while maintaining the artistic integrity of the show. At a relaxed performance, the house opens earlier so the audience can settle in well before the performance starts; food and drink are allowed, light, sound and any participation is adjusted and there are opportunities to tour the building and meet characters from the production before the curtain goes up.
Fans of the Bard can get their fill of all things Shakespeare in Stratford-upon-Avon. The Royal Shakespeare Company holds a range of assisted performances at their three venues. Relaxed performances have heightened lighting, a chill-out room and sensitively adapted performances. A visual story of what to expect from both the theatre and the plot is available beforehand too. "Chilled" performances are ideal for everyone from parents with newborns to people with dementia. The performance is the same, but the rules about speaking and moving during the show are more relaxed.
Come Christmas, try The Victoria Theatre, Halifax, which puts on a relaxed performance of its annual pantomime. This year it's Snow White.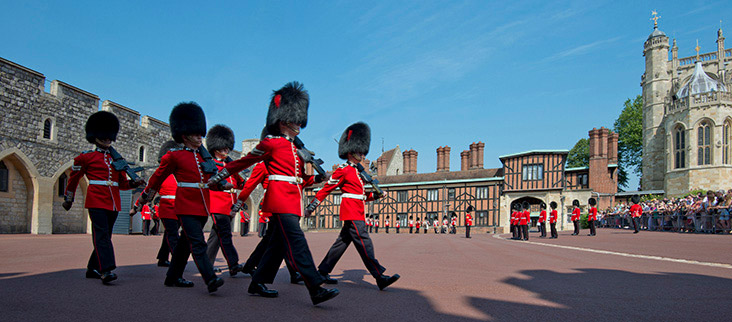 The Changing of the Guards ceremony at Windsor Castle
For history lovers
With confusing layouts and acoustics, ancient sites aren't obvious days out for visitors with autism and other cognitive disabilities, but there are plenty of places that have access facilities worthy of the 21st century.
In Bath, the extensive ruins of The Roman Baths include ancient plunge pools and interactive displays set below the modern street level. The attraction provides plenty of access information for visitors with autism or claustrophobia. The quietest times to visit tend to be early from October to March, and in the evening during summer. Staff are on hand to help if queuing proves tricky, and the attraction is working to become dementia-friendly.
Windsor Castle, Berkshire, is the world's oldest and largest occupied castle. The guide for visitors on the autism spectrum covers everything from what to expect on arrival to where you're most likely to encounter large groups of people, and there are regular special access events.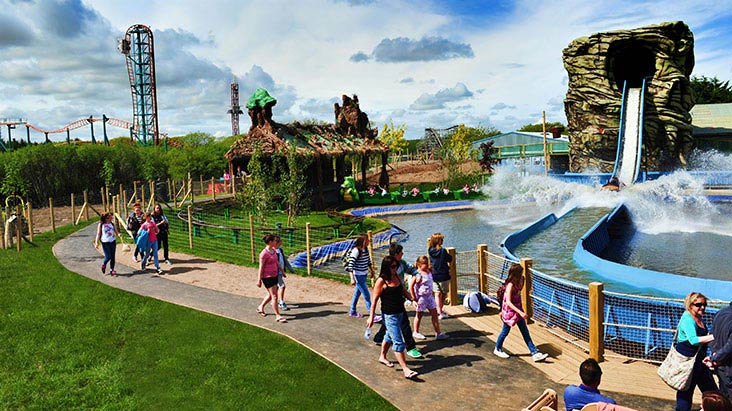 Neverland at Oakwood Theme Park
For adrenaline junkies
Sandcastle Waterpark, Blackpool, is the UK's largest indoor waterpark, with water slides and fun pools galore. It can be a little overwhelming but there are plenty of measures in place to make it welcoming for guests with autism. Staff are trained in autism awareness and Water Ambassadors are on hand to offer additional support. Familiarisation visits and water-safe ear defenders are available and there's an autism-friendly quiet room. The first hour of each day is a dedicated quiet session, while the monthly relaxed accessibility evenings have maximum 400 guests, more lifeguards, no music and significantly reduced rates.
Back on dry land, Oakwood Theme Park, Pembrokeshire, has looping rollercoasters, gentle carousels, mini golf and the Air Target Shooting Range. The Ride Access Pass scheme is great for visitors who don't understand the concept of queuing or who find following instructions difficult.
For more inspiration on days out around the UK, see The Rough Guide to Accessible Britain.
Read more articles like this:
7 free accessible things to do in the UK
Top 10 days out for people with hidden disabilities
How the Motability Scheme can help if you care for someone with autism
Image credits
Rough Guides would like to thank the following individuals, companies and picture libraries for their kind permission to reproduce their photographs:
Header image: Neverland at Oakwood Theme Park, © Oakwood Theme Park
The MAD Museum: © The MAD Museum
The Night Owl: © Rich Kenworthy/Seven Stories
The Roundhouse: © John Williams Photography.co.uk/Roundhouse
Windsor Castle: © VisitBritain/Pete Seaward
Neverland at Oakwood Theme Park, © Oakwood Theme Park