For a carer, parent or family member of someone with autism, travelling via public transport or running an older, less reliable car can sometimes be challenging.The Motability Scheme is designed to help, providing flexible and worry-free access to a brand new, reliable vehicle of your choice.
How it works
The Scheme aims to provide a hassle-free solution for people with varying mobility issues and their families. Anyone can lease a brand new car in exchange for a higher rate mobility allowance, with all the insurance, servicing, maintenance and breakdown cover already included.
How it helps
A Motability Scheme car can be invaluable for a parent or carer of someone with autism, as up to two named drivers can be added and use the car to help with jobs and trips that benefit the person in their care. Customers often tell us that it gives them back the everyday freedom of popping out as a family.
Customer Julie Simpson knows the benefits of using the Scheme in this situation, being a carer for her son Joe who has autism and learning difficulties. Joe qualifies for the higher rate mobility component of the Disability Living Allowance (DLA) and Julie, on his behalf, exchanges the award to lease a Motability Scheme car. Her husband Stephen is the named driver of the car.
"It makes such a difference not having to ask for lifts or wait for a taxi to turn up. A Scheme car takes a huge amount of stress out of every day life of caring for someone with autism."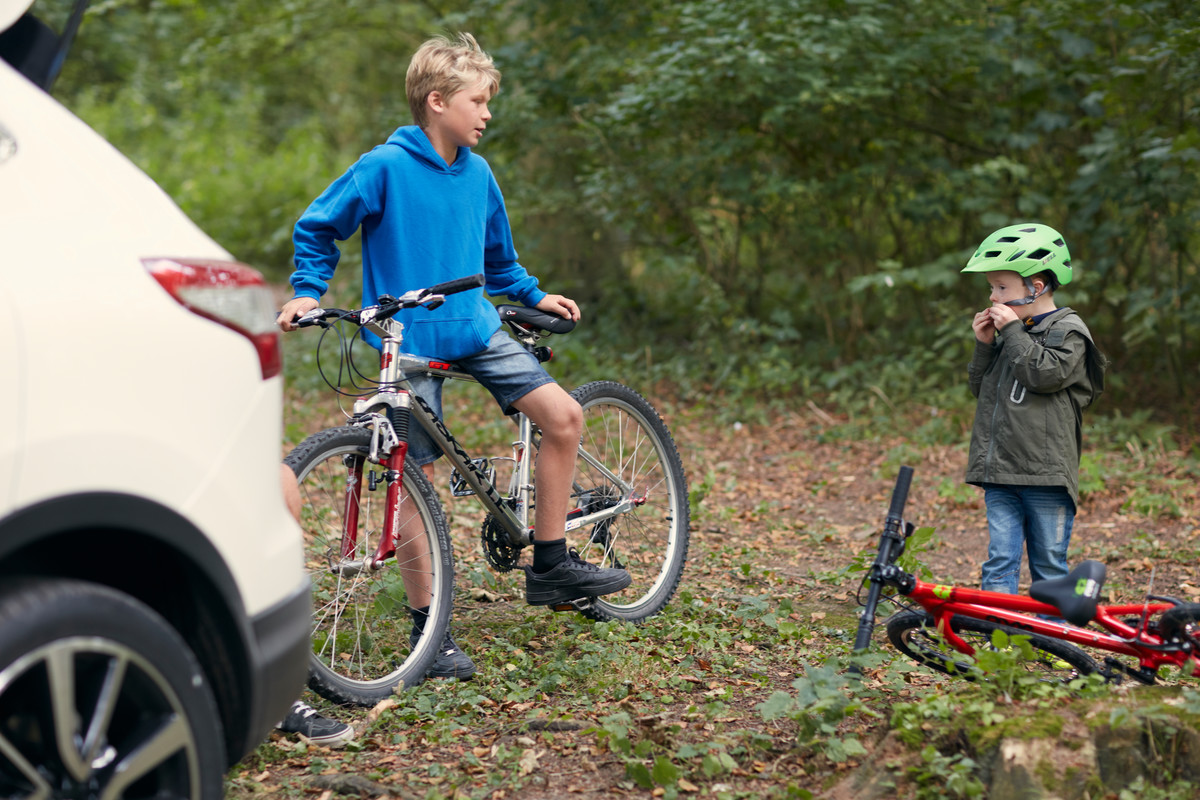 Motability Scheme cars are great for family days out
Julie can't easily take Joe on buses. His senses are very heightened and he notices things such as the bus revving up or a crying baby, which in the past has caused him to have a meltdown on the floor of the bus. "People think he's being naughty but he isn't. He just can't cope. A Scheme car means we don't have to go through all of that."
Walking with Joe isn't feasible either. "Like many children with autism he has a tendency to run off and I can't catch him. He has no sense of danger so it can be very frightening."
Driving with Joe is also a great way to keep him calm and entertained. "The range of technology in a Scheme car is very appealing to some children with autism. They love all that! So Joe rides in the back with his DVD player or iPad. Technology is our saviour."
How to choose the car
Joe doesn't choose the Scheme car, but he does pick the colour and he knows it's his car. As Julie says, "you lease the car for three years so it's important to choose something that suits your family's needs. Then at the end of the lease you hand the car back and choose a new car, so don't pick an obscure one, go for something that won't change too much if that could be overwhelming for the person you care for."
Julie suggests that it's a good idea to go for a test drive to listen out for sounds and noises that may cause problems for the child or adult with autism. With other 2,000 cars to choose from, you can test drive as many cars as your wish and take your time to find the right car.
Often dealer showrooms have distractions so you might want to avoid taking your child with you to the showroom, or keep the time you're there limited. But don't forget you can make an appointment with a dealer in advance and let them know it's for someone with autism and you need to be seen at the appointed time, preferably in a quiet space.
Julie and her autistic son Joe love their Scheme car
"You also need to prepare your child for when the car changes at the end of the lease. That can take quite a bit of planning, otherwise Joe wouldn't accept the new car. We let him know the car is changing for several weeks beforehand and he'll have a new name ready for it as he always names his cars."
Think very carefully before you choose your Scheme car. You'll have it for three years so you need to know it's comfortable. Things to consider might include:
Would it help if the car had a charging point in the back for devices?
Perhaps you need a quieter dashboard or indicators if the person in your care is sensitive to loud noises
Make sure it has automatic child locks
A two-door car could make it difficult for you to put your child's seatbelt on in the back
Some children might not like a sunroof while some may love it
Some children with autism hate seatbelts and will try to get out of them. You can get special ones fitted that restrain them just in case to keep them as safe as possible
Key advice
If the person you're caring for qualifies for a Motability Scheme car it can make all the difference to your life, says Julie. "We'd really struggle without it. It's great being able to go out, meet other people and enjoy the same freedom of movement other parents have. It's better for Joe and it's better for us as a family to have this mobility. We wouldn't be able to afford it if we didn't have the mobility allowance. It's a wonderful scheme."
To find out more about how to join the Motability Scheme, request a free information pack below:
Related articles
People with 'hidden disabilities' could get Blue Badges
Getting around with a hidden disability