Statement from Lord Sterling
In June 2019, we announced the intention of creating an endowment fund, which will provide an excellent long-term insurance policy for our beneficiaries and their ongoing mobility needs. The endowment fund will help us to continue to enhance the lives of disabled people by helping with their transportation needs and independence.
In late 2018, Motability received a donation of £400million from Motability Operations. The extraordinary size of this donation was made possible by the unusually buoyant second-hand market, in which cars have been selling consistently at values significantly higher than expected.
Work began in June 2018 to establish how any potential donation could be most effectively utilised and a comprehensive programme of consultation took place, regarding nine initiatives. These are currently in varying stages of development. They include expansion of our Drive-from-Wheelchair vehicle programme; increasing passenger Wheelchair Accessible Vehicle grant-funding; extending driving lesson support and funding; and accelerating support of the Family Fund Mobility Scheme, to help families with severely disabled children under the age of three who have significant mobility needs.
In early 2019, we approached the Department for Work and Pensions to discuss other areas in which they are involved with disabled people, in which our support could prove helpful. In July 2019, the Minister for Disabled People announced that we would extend our charitable contributions in two new areas.
Firstly, over the next three years we have committed to support all Scheme customers who lose eligibility to the Motability Scheme as a result of a stopped allowance, such as PIP to PIP assessment, with a Stopped Allowance Support Payment of £1,000. Based on available data, this will amount to some £60million. This sum is in addition to our ongoing commitment to spend some £175million supporting Scheme customers who lose their eligibility to use the Scheme following reassessment from Disability Living Allowance (DLA) to Personal Independence Payment (PIP).
Secondly, in order to help more disabled people gain access to employment, Motability is actively working with the Department for Work and Pensions to see if we can provide grants to pay the transport related Social and Domestic Contribution on behalf of disabled people who have applied for Access to Work support.
Today, Motability Operations has announced the decision to make a donation of £800million to Motability's endowment fund. This donation comprises Motability Operations' entire profits for the year, plus the release of capital reserves of £370million that was announced in June. This brings the capital reserve £370million below the September 2018 balance sheet position. The endowment fund, which will be called The Motability Foundation, will enable us to substantially extend and sustain our current grant-making programmes and introduce new initiatives, taking into account industry capacity and additional resource, for example the need for highly trained specialist staff.
This donation was made in addition to investing in initiatives which improve the service and package offered to Scheme customers, including a £100million release to support customers. Since 2008, Motability Operations has invested £1.37billion in initiatives to support customers, such as free and subsidised vehicle adaptations, subsidised Wheelchair Accessible Vehicle pricing, alternative transport such as taxis or hire cars when a Scheme vehicle is off the road, and payments to customers when they return their vehicles in a good condition.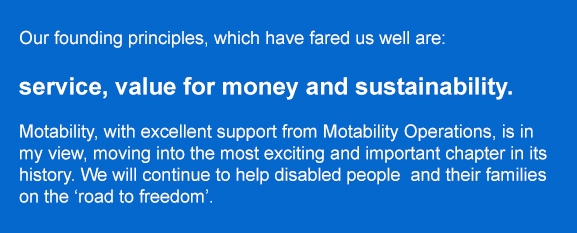 Lord Sterling
Chairman of Motability
---
Statement from Motability Operations 26 September
Motability Operations – the company which operates the Motability Scheme on a day-to-day basis, under contract to Motability, the Charity which founded the Scheme – today announces a donation of £800 million to Motability. The money will go into the new endowment fund, to be used to enhance the lives of disabled people through helping with their wider transportation needs.
The money is in addition to £100 million already committed by Motability Operations as direct support for Motability Scheme customers. That money has been used to increase the bonus paid to customers for the return of cars in good condition, which amounts to a cash payment of £600 to most customers; for the addition of insurance for a third driver as standard on the Scheme; and to give increased support for Wheelchair Accessible Vehicles.
Today's exceptional charitable donation comprises Motability Operations' entire profits for the year, plus the release of capital reserves of £370 million that was announced in June. This brings the capital reserve £370 million below the September 2018 balance sheet position.
Since capital reserves are not held as cash, but are used to purchase cars, the business has had to borrow on the financial markets to put the release into effect.
Motability Operations does not end its financial year until 30 September, so a final top-up donation may be made before finalising and publishing the financial results in December, at which point the precise profit position is ratified.
While in accounting terms the donation requires Motability Operations to record a loss this year, this does not affect the business's ability to meet its liabilities, and it remains in strong financial health.
Sir Stephen O'Brien, Chairman of Motability Operations commented:
"We are pleased to be making this substantial donation which will help Motability improve the lives of many more disabled people. The Board is confident that following the rebasing to this revised capital position, and the donation of this year's profits, the business remains robust, affordable for customers, and sustainable for the long term.
"In planning the donation, we have sought a balance between additional support for Scheme customers and seeking opportunities to improve the lives of a wider range of disabled people through donations to Motability, the Charity."
Additional Background:
625k customers currently choose to use the Motability Scheme
Almost 5 million vehicles have been supplied since the Scheme launched
Cars leased through Motability Operations are 44% cheaper than market alternatives
Overall customer satisfaction has been independently measured at 98% or above for eight consecutive years
MO buys more than 220,000 new cars each year, and sells 4,200 a week into the used car market as vehicles are returned at the end of the lease
Capital reserves position
As announced in June, the release of capital reserves took a number of factors into account:

A Review commissioned by Motability, by financial consultancy Oliver Wyman, confirmed MO's approach to determining capital reserves
An observation in the Review that the conservative assumptions underpinning certain risk components could be amended
The financial impact of lowering the capital reserve, since each pound released has to be replaced through the financial markets
The long term attractiveness of the business to lenders
The level of uncertainty in the economy

The Board's assessment was that capital reserves could be released to a level of £370 million below the September 2018 position, of which £150m could be specifically attributed to the Oliver Wyman review.
The revised capital reserves position led to a rating downgrade by Standard and Poor's earlier this year.
Any larger release would risk further rating reductions, as well as leaving the Scheme and its customers under-protected, and potentially increasing prices for customers.
About Motability Operations:
Motability Operations Limited delivers affordable leasing to more than 625,000 customers, under contract to the Motability, the Charity, which sets the strategic policies and direction of the Motability Scheme.
Motability Operations negotiates with car manufacturers to provide cars at the lowest possible rates, and manages servicing, insurance and resale. Around a third of eligible recipients choose to use their Disability Living Allowance or Personal Independence Payment to lease a Motability car.
Motability Operations is an independent company. Its shareholders are UK banks who have supported the Scheme since 1978. The company holds appropriate capital reserves to maintain financial security, weather economic changes, and to reduce the cost of borrowing, enabling it to keep prices low. All profits are reinvested for the benefit of disabled people
Surplus funds are directed as donations to the charity Motability
About the Motability Scheme:
Since it was founded in 1977, the Motability Scheme has provided more than five and a half million vehicles and helped millions of disabled people and their families to enjoy the 'road to freedom'
Customers access affordable, worry-free mobility using their mobility allowance to lease a car, Wheelchair Accessible Vehicle, scooter or powered wheelchair
The Scheme is fully inclusive of insurance, breakdown cover, maintenance and servicing and is available on identical terms to all qualifying recipients across the UK.