Richard Aucock of Motoring Research has selected and reviewed six automatic cars that are available to lease on the Motability Scheme with no Advance Payment. This means that if you'd like to lease these cars you simply exchange your qualifying mobility allowance.
The prices shown are valid for applications placed before 31 March 2022.
---
Automatic cars are among the easiest vehicles to drive. Without a clutch pedal or gearstick to worry about, motorists can simply engage 'D' for drive and be underway, with the car doing all the gear-changing on their behalf. They are a more relaxing type of car to drive – and, thanks to being in the right gear at the right time, some modern automatics are just as fuel-efficient as manuals.
Once a preserve of luxury cars, now even the smallest cars offer an automatic option. Don't think automatic cars are unobtainable, either – there is a good amount of choice available on the Motability Scheme. To highlight this, I've chosen six automatic cars here that are all available on the Scheme with no Advance Payment. One of them even leaves you a little left over from your weekly mobility allowance!
Due to the global semiconductor shortage, car manufacturers are currently experiencing production challenges, which can lead to delivery delays of new cars. The situation is changing all the time, so we advise you to speak with your dealer for the most up-to-date information.
Kia Picanto 1.0 auto X-Line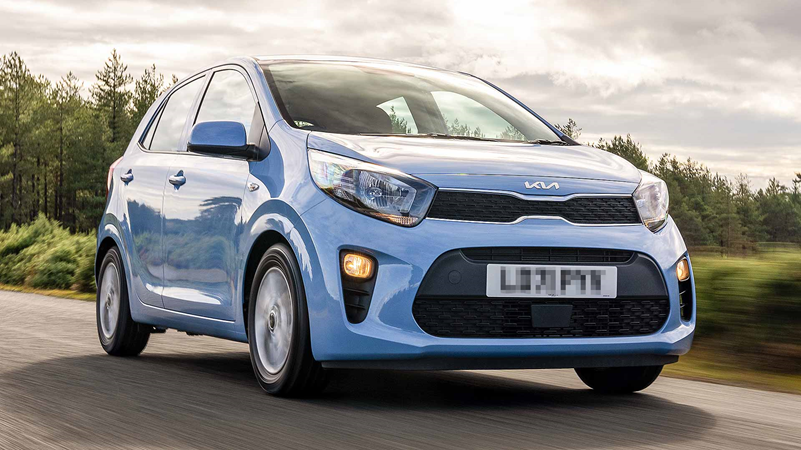 What sort of car is it?
The Kia Picanto is a popular and well-liked city-sized small car. Despite its compact dimensions, it still offers five-door practicality, and the boot is a reasonable size, too. It's an easy-to-park package that's made even more painless thanks to its automatic gearbox.
Why is it so popular?
The Picanto is a good-looking car that looks even sharper in X-Line spec. This gives it a mini crossover look, with tough body cladding plus bold front and rear bumpers. Inside, you get faux leather upholstery with green stitching, along with privacy glass at the rear.
The Picanto X-Line has a generous standard spec, with 8.0-inch touchscreen display and a safety-boosting forward collision avoidance system. The fuel-efficient AMT automated manual gearbox helps it average over 52mpg – it's just as fuel-efficient as the manual – and this cheeky-looking car is also one that can be driven by under 25s. It costs £61.95 a week, so you don't have to spend your full PIP weekly allowance on it.
Vauxhall Corsa 1.2T 100 auto Elite Edition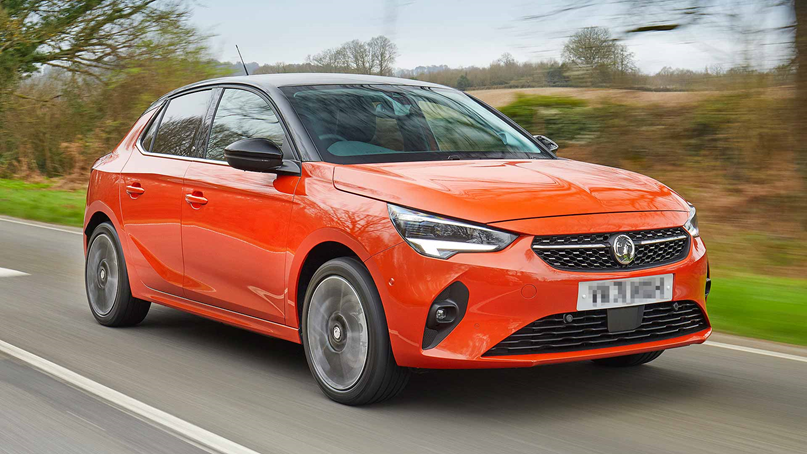 What sort of car is it?
The Vauxhall Corsa was Britain's best-selling car of 2021. Motorists have really fallen for its sophisticated new styling, simple-to-use interior layout and grown-up driving dynamics. Several variants are available with a sophisticated automatic gearbox too, further adding to the upmarket feel.
Why is it so popular?
The Corsa's fuel-efficient 1.2-litre turbocharged engine produces a healthy 100hp, and is able to be driven by under 25s. It also uses a highly sophisticated eight-speed automatic transmission, meaning it is always in the right gear at the right time. This gives it a smooth, 'big-car' drive, and helps deliver impressive fuel economy figures.
This Corsa Elite Edition has a very generous standard specification. Standout features include climate control, heated front seats, a 7.0-inch touchscreen and digital instrument cluster, plus front and rear parking sensors backed up by a panoramic rear-view camera. I also love the 17-inch bi-colour alloy wheels, black roof and dark-tint rear glass that give it a premium appearance.
Toyota Yaris Hybrid Icon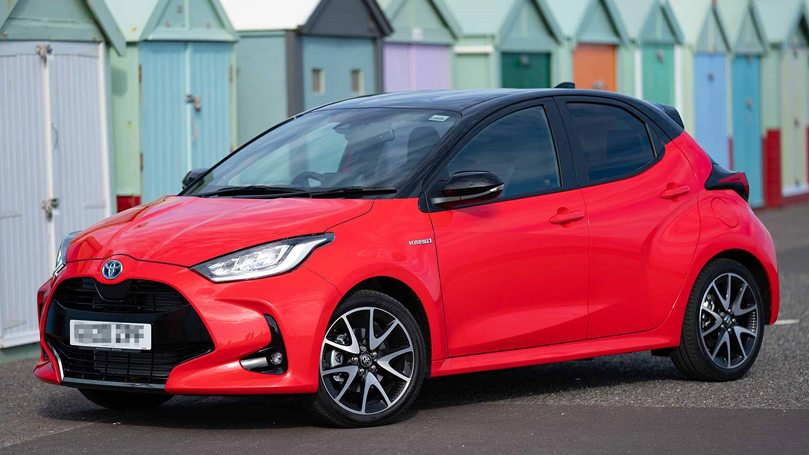 What sort of car is it?
The sporty-looking Toyota Yaris is the Japanese company's distinctive five-door supermini-style car. Offered with a petrol-electric hybrid engine, this means it comes as standard with a two-pedal automatic gearbox. As it is a 'self-charging' hybrid, it doesn't need to be plugged in, either.
Why is it so popular?
The latest Yaris is a really good-looking car. It has sporty lines and a racy appearance, in a similar vein to the GR Yaris car that petrolheads are currently so excited about. This hasn't led to compromised interior practicality though, with the Yaris offering a good amount of space given its compact dimensions.
The hybrid system works seamlessly, with the engine automatically switching on and off to save fuel, something the driver will barely even notice. The result is, in the city, more than half an average drive being conducted in fuel-saving, zero-emissions mode. Toyota even has a readout on the dashboard that shows you how far you've driven in electric mode at the end of each journey.
Nissan Micra 1.0 IG-T CVT Acenta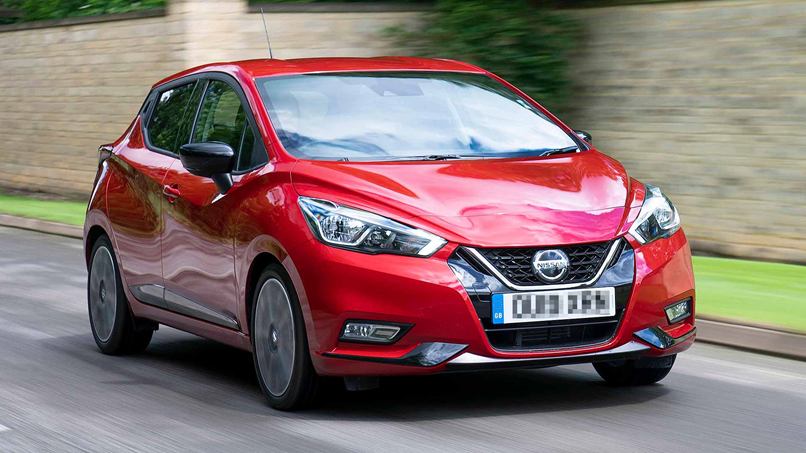 What sort of car is it?
Nissan is a well-known brand for its SUVs and electric cars, but it also offers a supermini-sized five-door, the Micra. It's an interesting car to look at, with an angular front end, sweeping lines and neat hidden rear door handles. The 1.0-litre turbo engine is also available with an automatic gearbox.
Why is it so popular?
Nissan uses a CVT-style automatic gearbox for the Micra. This is a very efficient transmission, which gives a smooth 'single-gear' effect that ensures the engine is always delivering exactly the right amount of power and response at any one time.
The well-built Micra's interior is robust and straightforward to use, and the grown-up handling has a confident feel. With 92hp, the turbo engine has enough oomph to get you out of trouble, while still delivering over 47mpg. Drivers aged under 25 are able to use it, too. 
Hyundai Bayon 1.0 T-GDI DCT SE Connect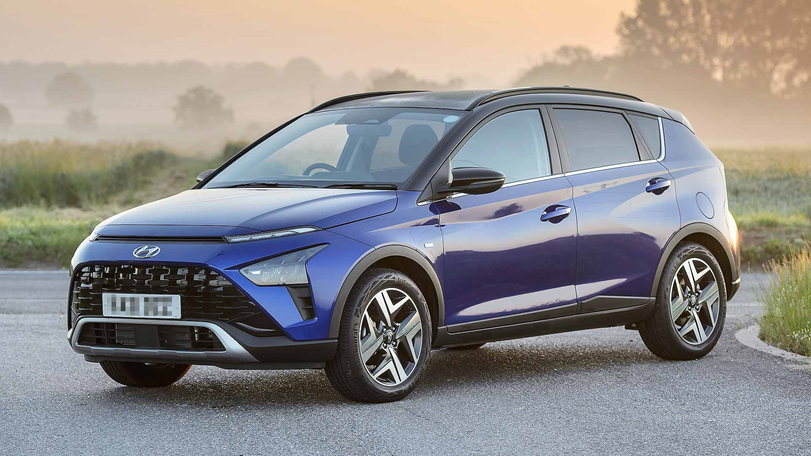 What sort of car is it?
The modern-looking Hyundai Bayon is described as an urban crossover, a higher-riding vehicle with distinctive lines that are very on trend. It's a new type of car for Hyundai, one with which the designers have worked hard to create a roomier and more practical interior than the small SUV norm.
Why is it so popular?
The high seating position of the Bayon is comfortable and easy to access. I also like how the modern design has carried through to the interior, with a distinctive look to the steering wheel and digital displays. Those in the rear enjoy excellent legroom and there's an ample 334-litre boot (plus a clever 'intelligent' boot cover to hide your valuables).
The 1.0-litre turbo petrol engine uses a quick-shifting DCT automatic gearbox. It works smoothly and combines well with the 48 volt mild hybrid system to shut down the engine as you roll to a halt. This saves fuel – and the powerful system also gives a boost to acceleration when you get underway again. Notably, the automatic Bayon is more economical and emits less CO2 than the manual gearbox alternative. 
DS 3 Crossback E-Tense Bastille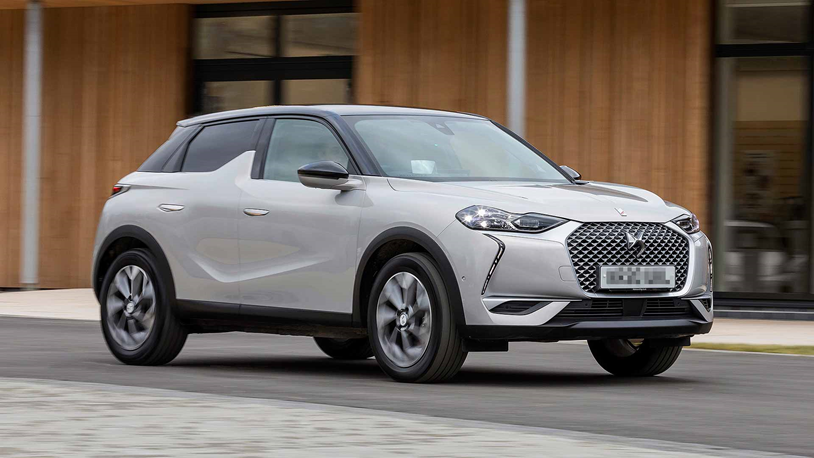 What sort of car is it?
The DS 3 Crossback is a stylish crossover SUV – and the E-Tense variant is the pure electric version that uses a powerful e-motor for impressive zero-emissions performance. Because it is an electric vehicle, two-pedal automatic driving comes as standard – as does the incredibly peaceful silent running you get with all future-proof electric cars.
Unsure about electric cars?
Read our handy guide which explains how electric cars work and what you should know when considering one.
If you are a Motability Scheme customer, take a look at the electric cars section of our website to find out how we are supporting the switch to electric.
Why is it so popular?
With a 136hp electric motor, performance of the DS 3 Crossback E-Tense is swift and effortless, even at motorway speeds. It has an official driving range of 193 miles, which can be extended to more than 230 miles if you mainly drive in town. The 50kWh battery takes around seven hours to charge from the wall box your DS dealer will arrange for you – or in around 30 minutes from a 100kW public rapid charger.
Beautiful Bastille grade comes with gadgets such as climate control and rear parking sensors, plus luxuries like Bronze Peruzzi cloth trim. Dark-tinted rear glass adds a premium touch and the 17-inch alloy wheels are stylish. It all adds up to a very prestigious and classy-looking car.
What are the pricing options?
There are three pricing options available when leasing through the Motability Scheme:
Cars that cost less than your mobility allowance:
There are a range of cars that cost less than your mobility allowance, giving you money back to spend as you wish. The amount you pay is fixed during your lease and the remainder is paid directly to you by the Department for Work and Pensions (DWP) or Veterans UK, depending on which mobility allowance you receive.
View less than your allowance cars
Cars that cost all of your mobility allowance:
There are also lots of cars that cost the same as your allowance, which means you swap the whole of your weekly mobility allowance for the car of your choice. There is no Advance Payment on these models. These cars will display the words 'Total Mobility Allowance' on the specifications page for weekly rental amount on the Car Search tool.
View Total Mobility Allowance cars
Cars that cost all of your mobility allowance and have an Advance Payment:
You can increase your choice further by paying a one-off, non-refundable upfront payment which we call an Advance Payment. The Advance Payment covers the cost between your mobility allowance and the total cost of your lease.
View cars that have an Advance Payment
How do payments work?
Payments are deducted from your qualifying mobility allowance every four weeks, then paid directly to us by the Department for Work and Pensions (DWP) or Veterans UK. If you choose a car that costs less than your allowance, the remainder is paid directly to you by the DWP or Veterans UK.
All-inclusive leasing
No matter which car you choose, all come with our all-inclusive package of insurance, breakdown cover, servicing, tyres and glass repair and replacement.
Search the full range
If you'd like to join over 640,000 customers already enjoying the benefits of a worry-free lease package through the Scheme, start exploring the full range of cars available using our Car Search tool to narrow down your options.
Our price lists are updated every three months, so you can be assured you're getting the best prices from each manufacturer. The dates the new prices are published are:
1 January
1 April
1 July
1 October
Interested in joining the Scheme?
About the Scheme
The Motability Scheme offers an all-inclusive package. If you are in receipt of a qualifying mobility allowance you can use it to lease a car, scooter, powered wheelchair or Wheelchair Accessible Vehicle. The Scheme provides flexible and hassle-free access to a brand new, reliable vehicle of your choice. As well as a great choice of cars, we also provide a wide range of Wheelchair Accessible Vehicles, scooters and powered wheelchairs.
Eligibility
To join the Scheme, you must be in receipt of one of the following mobility allowances:
Enhanced Rate of the Mobility Component of Personal Independence Payment (PIP),
Higher Rate Mobility Component of Disability Living Allowance (DLA),
Higher Rate Mobility Component of Child Disability Payment (Scotland),
War Pensioners' Mobility Supplement (WPMS),
Armed Forces Independence Payment (AFIP). 
Related Articles
Current challenges in the motoring industry
Spotlight on: Electric cars available on the Motability Scheme
Why car prices are rising – and how the Motability Scheme is keeping them affordable