Although parking might already be getting easier with advances in technology, such as automatic parking, the task of finding a parking space is still something that can be frustrating for many drivers! Car Buyer has identified some of the best apps available now that can help you with this.
---
Trying to find a suitable and affordable place to park can be one of the biggest frustrations when driving. It's especially troublesome in busy town and city centres, especially if you're visiting from afar. Stressed motorists driving slowly and making sudden moves to find a place to park can also cause traffic jams and even collisions. Luckily, this is another area of life that smartphones can make more convenient.
Parking apps have improved rapidly over the last few years, not only helping find spaces but often letting you pay for parking as well.
How we tested them
Most of the parking apps tackled tasks including finding a space, providing information on parking facilities and paying for parking. We tested each of the available functions and awarded more points to those that could do all three than more limited software.
We also based our judgement on how smoothly apps ran on our smartphones running the latest operating systems, while assessing their interfaces and sign-up process. Apps that could navigate you to a car park and provide live availability updates improved their scores, too.
Verdict
If you just want one parking app to rule them all, AppyParking is slick and packed with features. Parkopedia Parking is close behind, but you won't be able to pay for spaces within the app. RingGo rules if you want to do that, but has a bit of a clunky interface.
Read on for our list of the best parking apps…
AppyParking review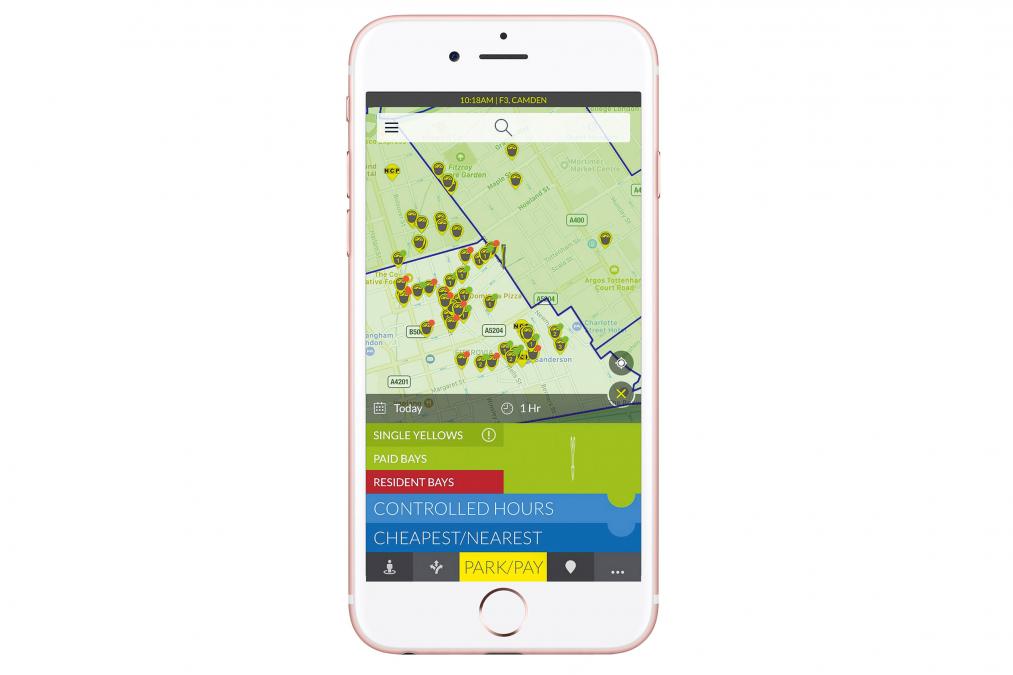 Available for: iOS, Android
Rating: 5/5
AppyParking stood out thanks to its slick and friendly user interface, making it easy to browse locations and look for on or off-street bays and electric charging posts. If you want an even better idea of how the space or car park looks, you can also access Google StreetView within the app.
Prices are easy to spot and there are colour-coded zones so you know where you can park. Dropping a pin on a road will even tell you about any parking restrictions that apply. Navigation is provided to help you drive to the car park or get back to your parked vehicle on foot, plus you can pay by card or telephone via AppyParking.
Parkopedia Parking review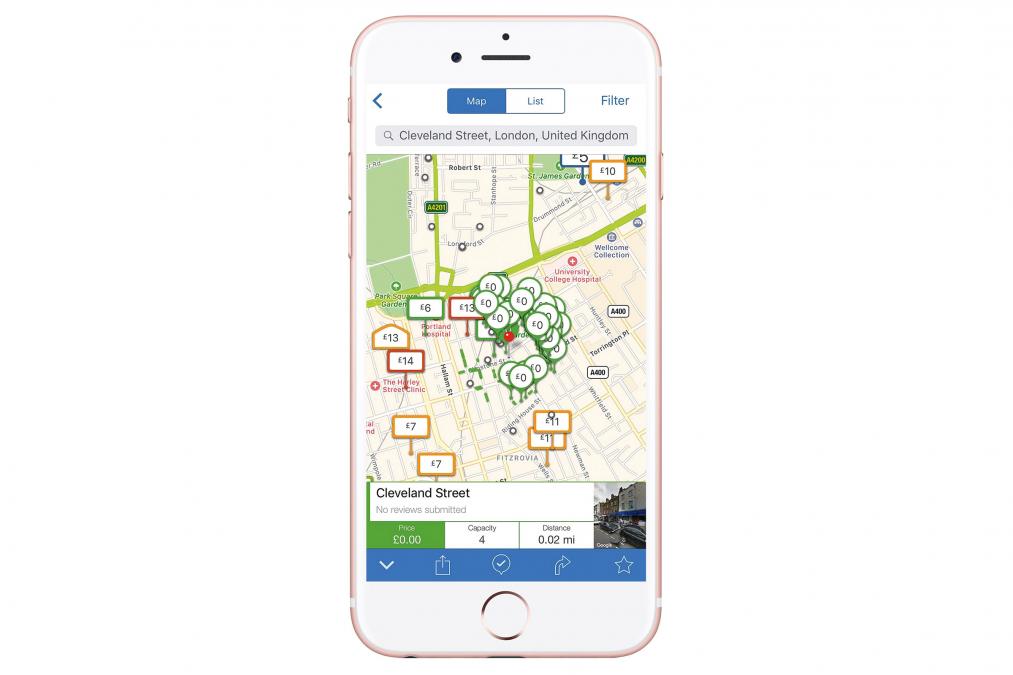 Available for: iOS, Android
Rating: 4/5
It's quick to sign up to Parkopedia, the interface is slick and it's backed up by a great archive of places to park. You can switch between map or list views of the available car parks, and spaces are colour-coded depending on their price category, so you quickly see which fit your budget. The app also tells you how many spaces there are, but for live updates of how many are left, you'll need to upgrade – and not all car parks are likely to support this feature.
Users are also encouraged to report and review car parks, and clicking on spaces within the map reveals more information. There's also a navigation option, which lets you choose which of your phone's sat-nav apps to use and then integrates with it. The main downside is that there's no way to pay for parking via Parkopedia.
RingGo Parking review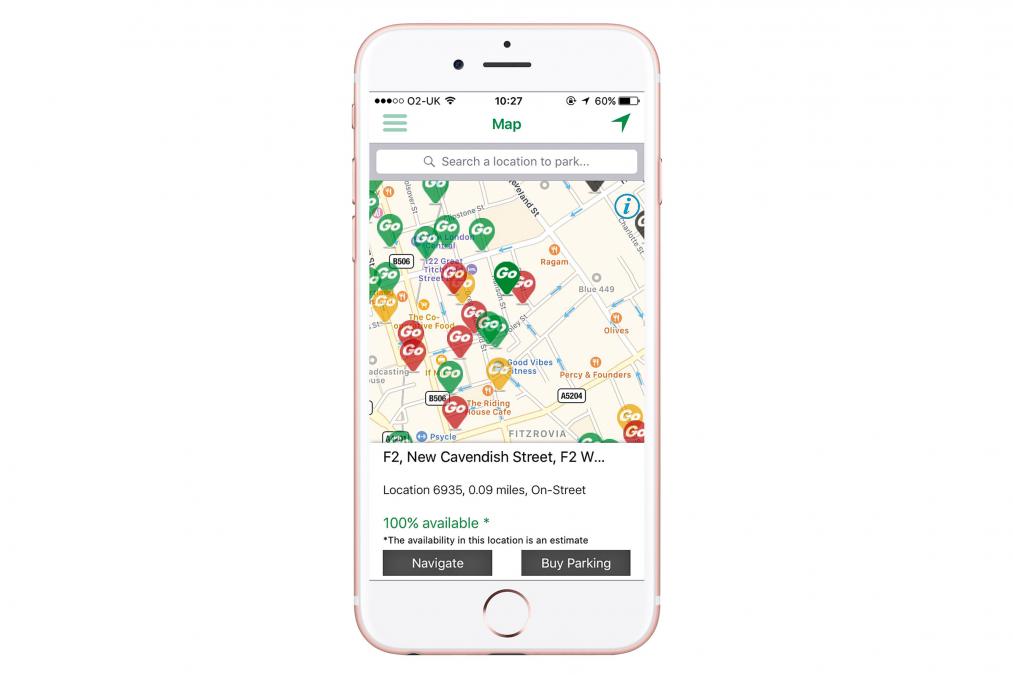 Available for: iOS, Android
Rating: 4/5
Signing up to RingGo is as easy as entering your car's registration and your payment details. It's a good idea to download RingGo, because many other apps – including AppyParking – use its system for payment at some car parks.
We did experience some slowdowns with the app in busy areas; because it provides so many parking options, it appears to get overwhelmed. You can check parking availability in real time and you use a code system (where each car park has a unique number) to tell it where you want to pay for parking. This allows you to pay in increments using a slider to adjust how long you need, and navigation to the car park of your choice is also offered.
YourParkingSpace review
Available for: iOS, Android
Rating: 4/5
You won't find every type of car park using this app, but its key feature is allowing people to rent out their private driveways or parking spaces when they aren't in use. This can be especially handy if you're looking to park your car for longer than usual, as you can often extend the length of stay 'on the fly'. Looking for alternatives to the usual parking spots can also help you avoid busy car parks, find a better deal, or get you closer to your destination.
PayByPhone Parking review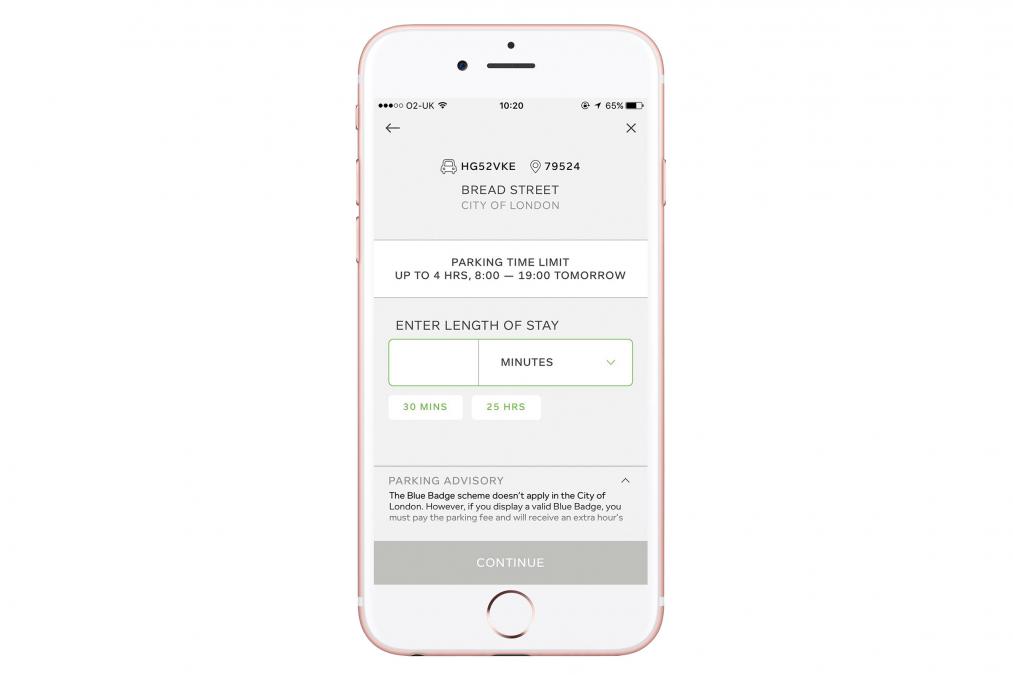 Available for: iOS, Android
Rating: 3/5
Differing slightly from the other apps, PayByPhone Parking does pretty much what its name suggests, allowing you to pay for many spaces, but not helping you find them in the first place. The code-based system allows you to pay for bays or parking spaces that had a unique identifier on the parking meter.
It can let you pay for parking units as short as a minute long, but automatically adjusts to the longest time available for the same fee. It's very easy to load a payment card into the app using its camera-based image-recognition system, and once set up, it's fast to pay and can allow you to extend your length of stay remotely. It's a one-trick pony, but it's the best payment app.
Just Park review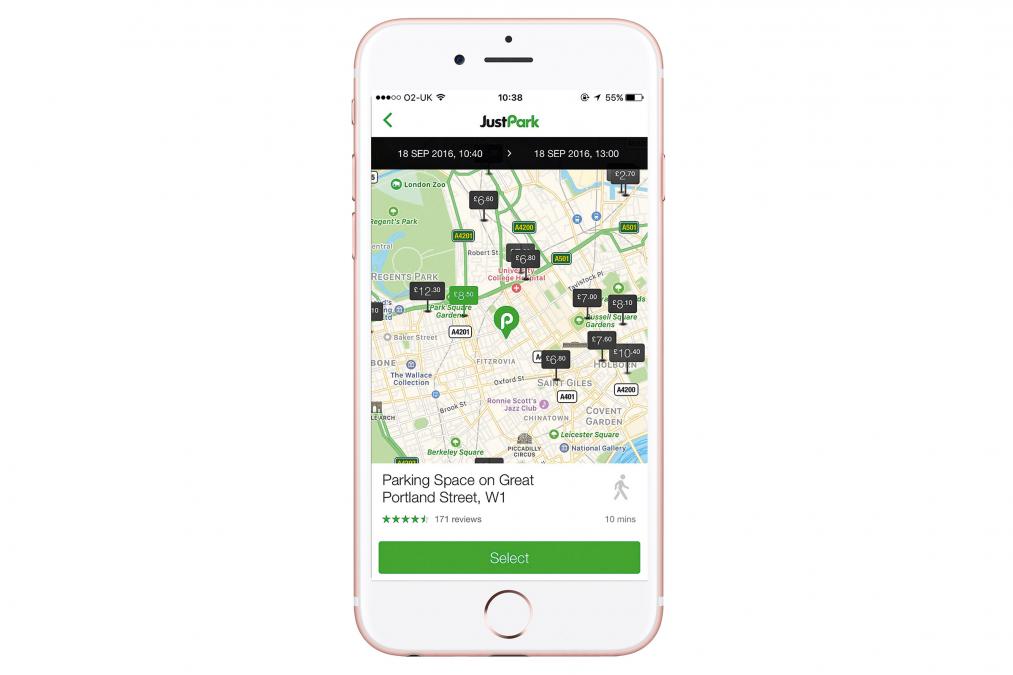 Available for: iOS, Android
Rating: 3/5
Just Park served up a good selection of parking options near our location and we found the search function easy to use.
It doesn't offer a live view of the spaces available, but car-park reviews and detailed information about costs and opening times are welcome. Spaces are clearly labelled as on or off-street and choosing a time slot to pay for via the app is very straightforward. Just Park lost some points by lacking a navigation function, making it less of an all-rounder.
ParkRight review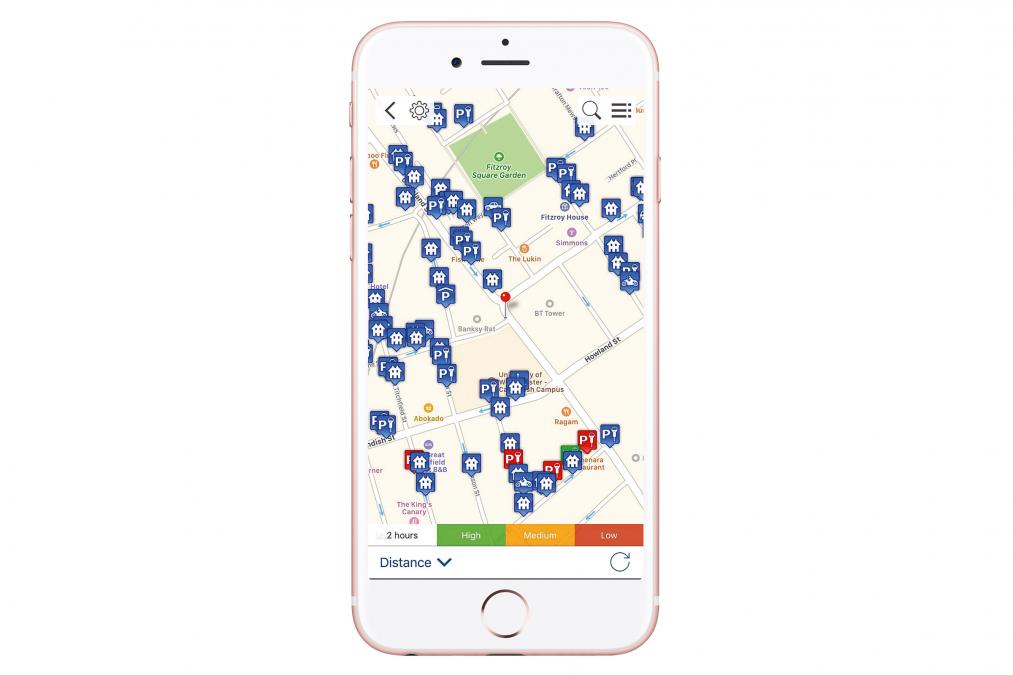 Available for: iOS, Android
Rating: 3/5
ParkRight is a perfectly good app, but the fact it's currently restricted to London instantly rules it out for most people. If you do live or drive into the capital, its search function is good, returning a good selection of on and off-street spaces for us to try. Spaces are clearly marked with information about the number of spaces and it's easy to see what you'll be spending and pay via RingGo.
Navigation is also available, automatically using one of the maps already installed on your phone. If it extends beyond London, ParkRight could challenge the top contenders.
ParkMe Parking review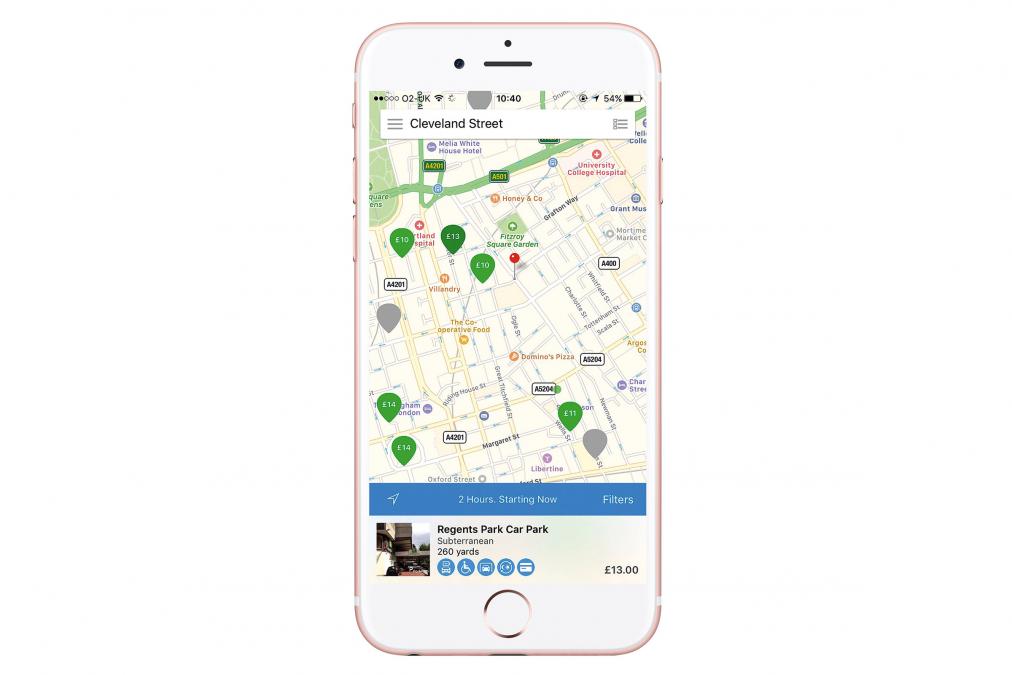 Available for: iOS, Android
Rating: 3/5
The ParkMe app offered plenty of style, but little substance when we tested it, returning a small number of parking options. It's a shame, because the interface is good and the map was nicely responsive.
Car parks that were included had clear icons and there was useful information and pricing. Live information on the number of free spaces isn't included, but users can leave details about how busy it is. Payment isn't offered either, but there are some thoughtful features that allow you to mark where you left the car, set a timer for how long you've been parked and navigate back to the car park using mapping app.
Parkmobile Parking review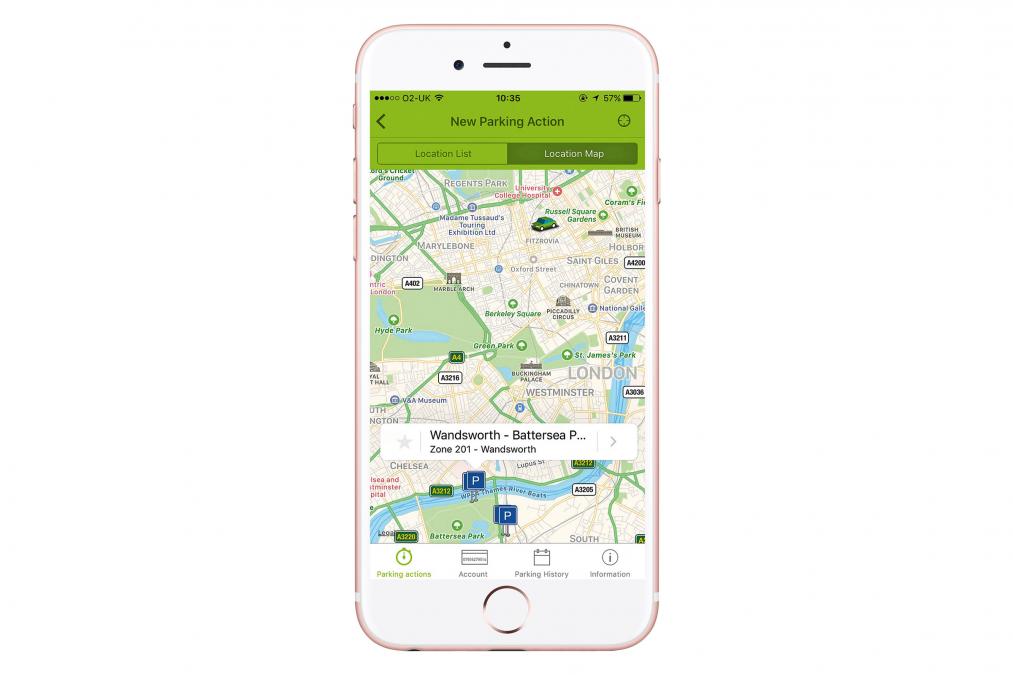 Available for: iOS, Android
Rating: 2/5
Parkmobile took a long time to get going, with a long-winded registration process compared with the other parking apps. Once set up, things didn't improve, with few parking suggestions even in central London. When we did select a location, there was almost no useful information on the size of the car park or availability of spaces.
In bays we did track down, picking a time duration was quite easy, although it wasn't completely clear at what point we were agreeing to pay and start the parking period. With no navigation functionality either, this is currently a hard parking app to recommend.
This article was written by Andy Goodwin from Car Buyer and was legally licensed through the NewsCred publisher network. Please direct all licensing questions to legal@newscred.com.
---
Information for blue badge holders
If you have a blue badge, you can usually park in places that other people can't, such as disabled parking bays or single or double yellow lines for a period of time (unless there is a 'no loading' sign) and you can often park for free on streets with parking meters or pay-and-display machines. Although the Blue badge scheme is UK-wide scheme, it is important to remember that the rules on how and where a blue badge can be used differ for various towns, cities and boroughs but you can download a copy of the Blue Badge booklet issued by the Department for Transport on the gov.uk website.
Related articles
Qualifying for a Blue Badge with Personal Independence Payment (PIP)
Parking bays to be widened in the UK following SUV boom
Airport parking: top tips for keeping your car safe and getting a cheap deal
People with 'hidden disabilities' could get Blue Badges