The right aids can be an important part of living independently. Blogger Chloe Tear shares with us some of the aids and equipment to help make life easier, as recommended by the disabled community.
---
I've been using disability aids for most of my life. I have mild cerebral palsy and I became visually impaired while at university. Yet the things I use have changed over time. When thinking about the aids that have helped me the most, one thing became clear – it's the disabled community who have the best answers.
We're constantly learning from each other to make day-to-day life that little bit easier. I took to Twitter and asked my followers what disability aids had helped them the most, here are some of their suggestions.
Wheelchairs and other mobility aids
When it comes to buying a wheelchair or mobility, it can be a minefield. Ibrahim Omotosho says that mobility aids "makes moving from one point to the other seamless. That's what I call empowerment."
While it will depend on your own needs, there are some tips and tricks.
If you can walk but often need to sit down, going out for longer periods of time can be a challenge. Laura Cook recommends getting a walking stick with a stool attachment, she said "it has been a game changer for me in getting me out and walking more. I carry my stick-stool everywhere so I can sit whenever I need to."
You could also benefit from a rollator which can give you something to lean on and sit down. Not only are these good to use outside, but can be helpful indoors when carrying things from room to room. If you need more support when going outside, the Rollz motion rollator easily changes from a rollator to a transit wheelchair.
If you have reduced vision, a long white cane could help more than you might think. I've used one for a few years and benefited greatly. I wrongly assumed this mobility aid was reserved for someone who had no remaining vision. Yet my reliance on a long cane has been a blessing in disguise. Did you know there were different kinds of canes? RNIB share stories of cane users and have explained the 4 types of canes.
Wheelchairs can be great, but what if you want to explore the outdoors? Alison has a solution: "I need a wheelchair but my freewheel attachment is the very best. It allows me so much freedom outside on all kinds of terrain. I don't get stuck, I'm more stable and it's so freeing!"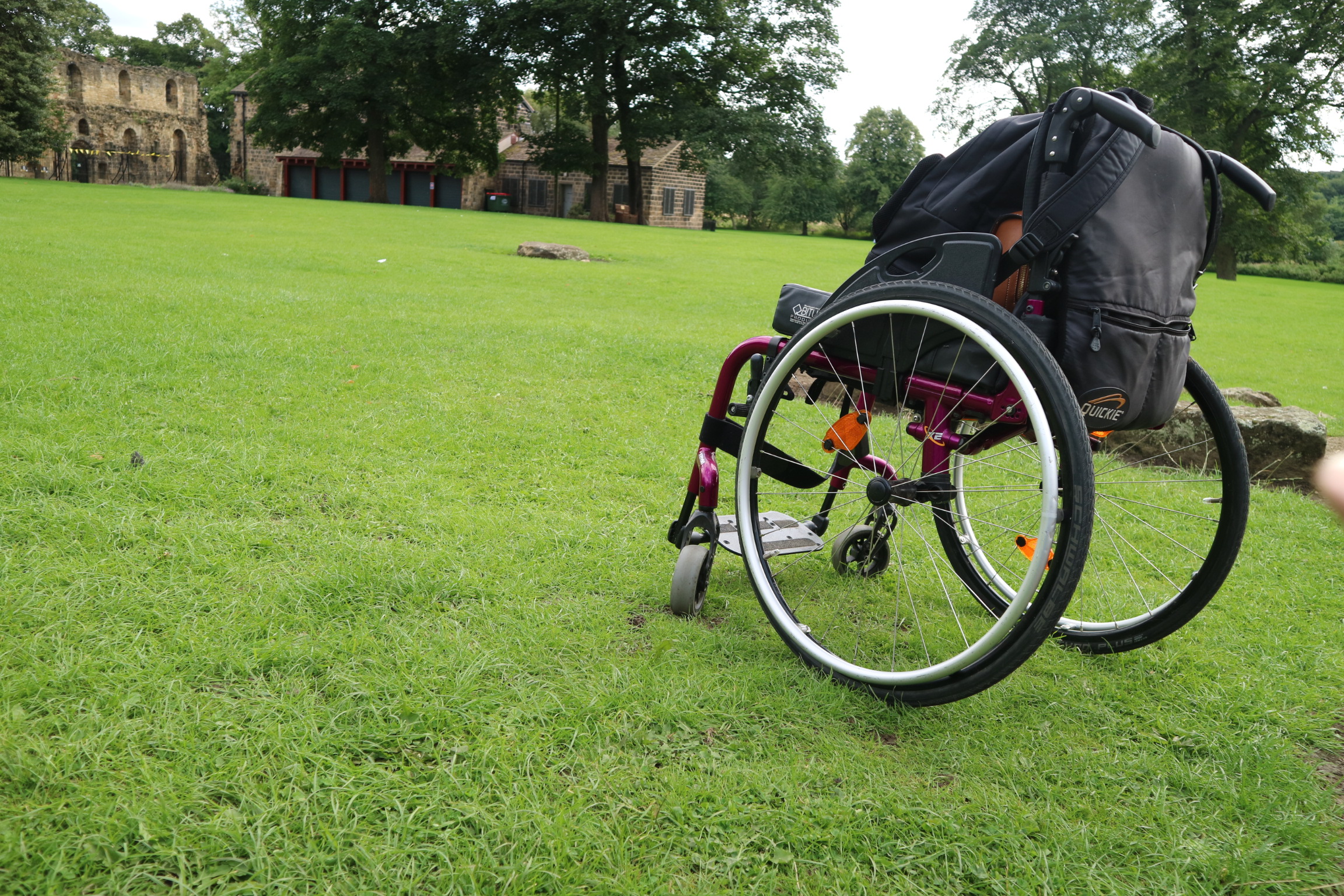 ---
Read Chloe's interview with Cara Readle about driving with Cerebral Palsy here.
---
Bathroom aids
One of the first aids I started to use was a bath board. This allowed me to sit down so I could climb over the edge of the bath, or even use it as a bench to sit on if I wanted a shower. This small modification can make a bigger difference than you'd think.
Jenny says, "my shower stool has been a game changer for me. Means I can wash a bit more regularly with peace of mind regarding my safety. Showering is no longer a scary experience."
If you don't have a shower, Alannah-Jayne recommends handles around the bath. She says, "without them I wouldn't be able to get in and out without pain or getting stuck. I recommend getting them as you can hold on to slowly sit up which is less painful than straining."
You can also get sponges on a long handle which can help if you have reduced mobility. These aids can make things easier and help you to wash your whole body. I also find it easier to use products that have a pump lid. You don't have to worry about opening bottles or squeezing them.
"Since having my talking scales, they have given me back some independence in the kitchen and grown my confidence with cooking."

– Katie's Vision
Kitchen gadgets
We're guaranteed to spend a lot of time in the kitchen. Whether that's making a drink or cooking. Yet there are loads of aids which can make things a little easier. Here are a few that have been recommended:
A regular go-to would be a perching stool – these are great when standing in the kitchen and can offer support around the house. The slightly slanted angle makes it perfect for taking the weight off your feet. If you'd struggle to do this, why not sit down when preparing a meal to save energy?
A tipping kettle or hot water dispenser can be "quicker and safer than pouring a boiled kettle" says Winnie Wilkins. It can be great if your hands are weaker or shaky. I also use a coffee machine which eliminates lifting a kettle.
No kitchen would be complete without a set of scales – as someone with a visual impairment, talking scales just make sense. They allow me to weigh food and liquid — giving me independence when cooking.
If you're new to an aid, it can feel like you're giving up. I'll let you in on a secret – it's the complete opposite. Aids allow us to function in a world that's not built for disabled people. By using aids, we can conserve energy, gain more independence and live life to the full.
---
Read Chloe's article on striving for independence as a young adult with Cerebral Palsy here.
If you'd like to find out more about the Motability Scheme, request an information pack below and we'll send you all the information that you need to make the right choice.
Related articles
Game-changing tech for disabled people
I want a world that's inclusive of everybody
Why I'll always answer a child's question about disability