It is crucial for the wellbeing of your child, or any children you transport in your car that you understand the revised UK child car seat laws, which were last amended in March 2017. We hope you'll find this guide which explains these regulations useful.
It's important to understand what the rules and regulations of child seat laws in the UK are, as if the police pull you over and you are found using an inappropriate or wrongly-fitted car seat, you can be fined £500. Read on to make sure you're following the latest regulations and keeping your little ones safe.
What are the new car seat laws?
Previously, children who weighed 15kg could use backless booster seats, but worries over safety made the law change. From 1 March 2017, all new-on-the-market backless booster seats are only for children weighing at least 22kg or 125cm tall. Safety specialists say that backless booster seats aren't secure, making them unsafe for young children. Fundamentally, there isn't enough side or head protection — and being at greater risk of being hurt during an accident, this is crucial for growing children.
Crucially, only seats endorsed by the EU are lawful in the UK – they are labelled with an 'E' in a circle.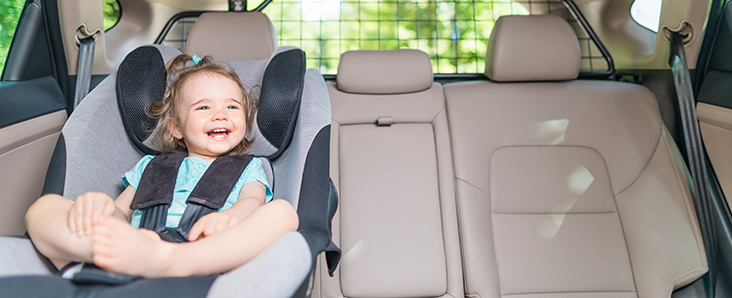 When your child is 15 months old, you can change their seat to face forwards
There are many other things to know when buying a child seat:
You can select a child seat based on a child's weight or height
Tots must be in a rear-facing child seat until aged 15 months, thereafter, you can mount the seat facing forwards
Never position a rear-facing seat in the front of your car if there is an active passenger airbag
Child seats must be fitted either using a diagonal seat belt strap or using ISOFIX mountings.
For smaller youngsters, a highbacked booster seat is still suggested
When can kids legally travel without a car seat?
UK law states that a child needs to use a child car seat until the age of 12 or 135cm tall. Youngsters aged 12 or above 135cm tall should wear a seat belt.
Backless seats are no longer considered safe so it's important to have a full car seat for all children
Exemptions
There are some exemptions when a child doesn't legally have to sit in a child car seat. These are:
A child can be transported in a minicab or taxi without a child car seat, but they must wear a seat belt if the driver doesn't supply the right seat. They must sit in the back and use an adult seat belt if they are more than three years old. Infants under the age of three should be transported without a seat belt.
Youngsters can also travel in a minibus or coach without a child seat but must sit in the back seats of a minibus if an adult seat belt or child car seat isn't fitted. If child car seats are not supplied or are considered unacceptable, kids aged three or over journeying in a minibus must be strapped in with a seat belt.
Little ones aged three or over are also allowed to use an adult seat belt if an unexpected but essential trip over a short distance needs to be made.
The same regulations apply for children with medical conditions or disabilities, but they may use a child restraint designed for their needs or a disabled person's seat belt. A GP can dispense an exemption certificate if required.
Second-hand seats
Used child cars seats are often inexpensive, but you don't know if they've been involved in a car accident, which might have impaired them. Therefore, the advice from safety experts is to avoid them.
Choose a family-friendly car
Finally, there are many family-friendly cars that can comfortably fit one (or more!) child seats. You can search them and all of the other cars available on the Motability Scheme by using our car search tool. If you're new to the Motability Scheme, find out more about joining by requesting a free information pack.
---
Related articles
How to use shopping vouchers for fun family days out
How the Motability Scheme can help if you care for someone with autism
How to deal with traffic jams: A 6-point plan