One of the most common things that drivers experience is punctures – simply running over a nail or something similar can make even the newest tyres vulnerable to getting a puncture, so it's important to be prepared and know what to do if it happens to you.
Types of flat tyre
There are two things that can happen to a tyre. The most common is a puncture from something sharp on the road. The air can often come out slowly so the tyre is drivable for longer but in some rare cases, the tyre will actually "blow out". This means that the air rushes out almost immediately, leaving the tyre totally flat. However most blowouts occur due to the tyre being under inflated, therefore it's important to check tyre pressures regularly to avoid this. Properly inflated tyres also helps with MPG.
How do you know you have a flat tyre?
It may seem odd, but in modern cars, it may take a while to notice that one of your tyres is deflating. If you have a puncture on either of the front tyres, you may notice the car starting to pull to one side. It can be quite subtle at first, but it is very important to find a safe place to stop and check as soon as you start to feel something wrong, as it can escalate quite quickly.
If the issue is in the rear tyres, the car may start to feel a little wobbly when you turn a corner, so it's best to avoid sharp corners if you think something might be wrong. If it is really flat, you will also feel it pulling to one side but rear tyre issues can be harder to feel.
Some cars do come with "run flat" tyres. These tyres have a special internal structure that allows them to be driven on for short periods with no air in. Check with your dealer to find out if the car you drive has this type of tyre.
In some cars, an emergency inflation kit is supplied for use with punctures. Once the canister has been used, you should contact your managing dealer to get a replacement. With breakdown cover and tyre repair and replacement included in your lease, if you are not comfortable using the kit, you can contact the RAC or Kwik Fit who will be able to do this for you.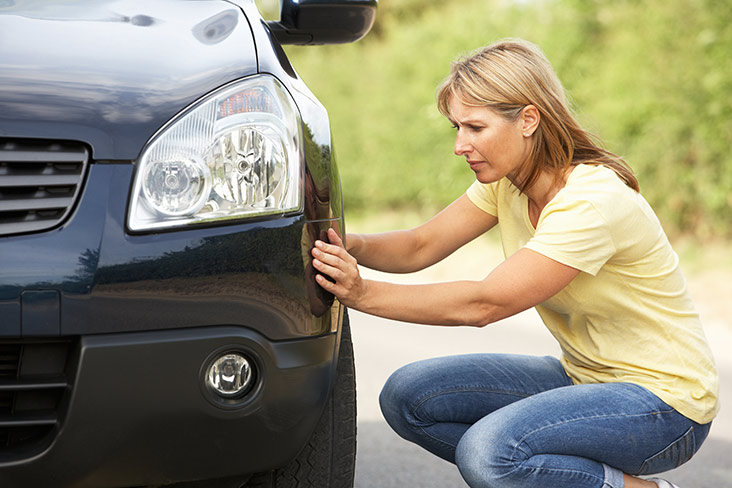 It's vital that you pull over safely and check for a puncture as soon as possible if you think something's wrong
How to cope with a puncture or blowout while driving
The first and most important thing to remember is not to panic. It is critical in all cases to avoid putting the brakes on rapidly; not only is this possibly dangerous for other road users but it can actually make the situation worse on your car, as the damaged tyre won't grip properly.
The best thing to do is to ease off the accelerator slowly and steadily and begin looking for a safe place to pull over. While it is important to look for a safe place to stop, it is also critical to do this as fast as possible. Do not try to keep driving until you find a garage or similar, as you will damage the wheel beyond repair and endanger yourself, passengers and other road users. Here is a guide to pulling over on different types of roads:
Motorways: If you get a puncture or blowout on the motorway, simply move safely to the hard shoulder.
Town/city roads: Slow down carefully and find a safe place to stop like a shop car park, lay-by or a safe parking spot at the side of the road.
Country road: Because of how narrow some country roads can be, it is important to pull over enough to allow other road users past. Look for a farm gate entrance or a solid verge and be careful not to pull over into a ditch or soft verge.
Once you have stopped safely
No spare wheel
---
Many new cars no longer come with a standard spare wheel. If this applies to your car, make sure you ask your dealer what alternative solution has been provided. If you are not sure what to do, remember that your worry-free package comes with full breakdown cover from the RAC and free tyre replacement from Kwik Fit. There will always be someone to help if your tyre needs replacing.
A puncture does not have to be stressful and can be dealt with quickly and safely, especially with the worry-free support of the Motability Scheme and the RAC.
As a Motability Scheme customer, your car is covered by the RAC for breakdown assistance for the whole of your lease. If you experience a puncture, you can call them on 0800 73 111 73. The RAC are available 24 hours a day, 365 days a year and they'll aim to get a Patrol out to you within 45 minutes. You will need to provide your name, your vehicle registration, your exact location and the nature of your breakdown and you should also let the RAC know if you or your passengers use a wheelchair, need urgent medical attention or have any other requirements. When they arrive, they will either change your tyre there and then or they will tow you safely to your nearest Kwik Fit Centre to replace the tyre. Many new cars these days have no spare wheel which does often mean that they have to be towed rather than fixed at the roadside, however to overcome this problem, the RAC have developed a Multi-fit Wheel, which fits a high proportion of vehicles. Where the Multi-fit Wheel is needed, the RAC patrol will fit it to your Scheme car so that you can drive to your nearest Kwik Fit centre to replace your tyre.
Kwik Fit's mobile service
If you are unable to get to a centre, or accessibility at your nearest centre is difficult you can use Kwik Fit's mobile service. However, the service is available by appointment in advance only and is only available to replace tyres, and not repair punctures. To organise an appointment for one of Kwik Fit's 220 mobile fitting units to replace your tyres at your home at no extra cost, please call 0330 123 1533.
Know your tyre size
When you book an appointment, you'll need to have your car registration and tyre size to hand to ensure that Kwik Fit have the right tyres for your car. The simplest and best way to tell what tyre size you need, is to go and have a look at the sidewall of your existing tyre. The sidewall will include lots of letters, numbers and codes, but the one you are looking for is usually in large print and will look a little something like this: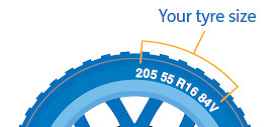 In this instance the tyre size is 205/55 R1684 V. While the numbers and letters may change, the format is always the same e.g. 195/70R14 T or 245/45R19 Y. The numbers and letters each represent a different aspect of the tyre's size and properties including the tyre width, aspect ratio, rim size and speed rating.
Tyre repair and replacement for Motability Scheme customers
A puncture does not have to be stressful and can be dealt with quickly and safely, especially with the worry-free support of the Motability Scheme. Tyres worn or damaged through normal use will be replaced for no extra cost as part of your lease, as well as puncture repairs, wheel balance and replacement of stolen or vandalised tyres.
Insurance, breakdown assistance, servicing and maintenance are also included in your three-year lease package. Find out more about what's included.
---
Related articles
4 pothole safety tips all drivers should know
7 simple tips to keep your tyres in good condition