Deciding to study at University is both an exciting and daunting time for anyone considering it. If you have a disability there are even more things to think about. However, in the second article of this series we are sharing how planning ahead, doing your research and being prepared can help take the stress out of the situation. Writer and blogger Emma Muldoon shares her tips on choosing a University.
Find the best course for you
The first step in applying for university is deciding what course you want to study. When considering my university course, I looked at university websites, read reviews and browsed prospectuses. I found speaking with my college lecturers incredibly helpful in choosing a course that matched my academic needs. It also felt reassuring to have their advice and guidance. This will be helpful in creating a shortlist of potential universities offering the best course for you.
Visit as many universities as you can
It's now time to visit the universities that made it onto the shortlist. Try to visit as many of them as you can as this will help you get a better understanding of the university, its layout and how it feels. Not only was it important to choose a university with the best course for me, but it was also important that I felt comfortable and at home in my new surroundings.
Check out the accessibility of facilities and accommodation
Early research will put you in a better position to fully understand the facilities available. When visiting it's best to check out all the areas that you will need to spend time in, including accommodations, lecture rooms/theatres, student areas and libraries. Don't forget to meet with the course lecturers and the disability advisor. During visits I looked out for accessible toilets and facilities, general accessibility of the campus and how easy or difficult I found moving around in my wheelchair. I wanted my time on campus to run as smooth as possible with very little accessibility barriers.
Consider the logistics
Will you be based on one campus, will you have to move between buildings or travel to a different building in another part of the town/city? Some of my lectures were going to take place in inaccessible rooms at another campus, so it was arranged that all my classes would be on the same campus so that I could easily attend them all. If you have your own car or wheelchair accessible vehicle (WAV) then you may require the use of a disabled parking space on campus and at your student accommodation. It's important to notify the university as soon as possible as alternative arrangements may need to be put in place if disabled parking is not available.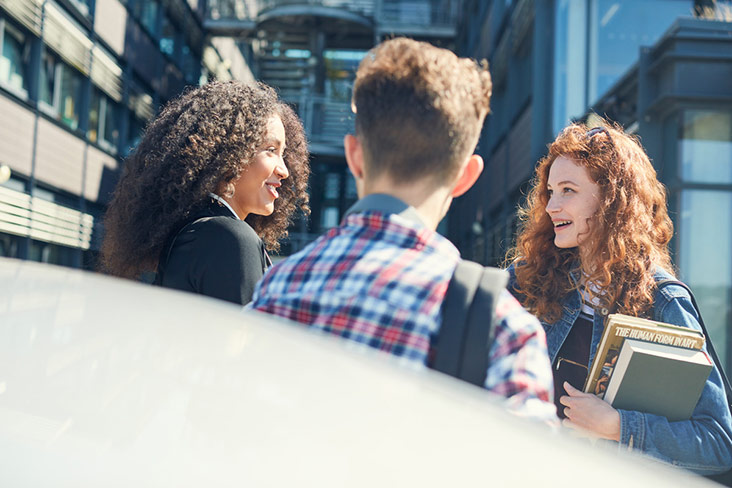 Find a good doctor or medical specialist near the university
If you are going to be living away from home, it may be best to create a plan for your medical care. This is especially important if you require regular medical treatment, tests or follow-ups. Find a local doctor and specialist consultant for your disability before starting university and then make an appointment to allow them to familiarise themselves with your case and medical history.
Meet the disability advisor at each university
Don't be afraid to meet with the disability advisor from each of your university choices. Ask as many questions as you want to help you make a decision based on what will best suit your needs. I found it helpful to write a list of my concerns regarding accessibility and discussing them with the disability advisor. They were then able to take them forward and provide a solution. Regular contact with my disability advisor meant I was able to establish a good relationship with them early on. I was then able to receive the best information and support I needed such as a note-taker, help with personal care, extra time for exams, organising wheelchair accessible lecture rooms and more.
Apply for Disabled Students' Allowances (DSA)
Disabled Students' Allowances (DSAs) are very helpful as they offer a wide range of support to disabled students. The DSAs are unique in that they are paid on top of other student finances and do not have to be paid back. I applied for DSAs at the same time as applying to UCAS. It can also be applied for along with your main student finance. You can also download the DSA form from www.gov.uk. The allowance covers a range of support including specialist equipment, laptops, note-takers, travel costs, computer software, Dictaphone and more. If you're not sure what support is available or what you may need help with, speak to the disability advisor as soon as you can.
Useful resources
---
Home study with Open University
If you have your heart set on a degree but don't want to attend the university, why not consider learning through the Open University. You may find this suits your circumstances perfectly as it offers a more flexible study that you can do from home. This can be especially beneficial if for example, you have recurrent illnesses that would potentially mean you could miss lectures on a regular basis or you have caring responsibilities for a family member at home. The flexibility of studying a course with the Open University will still provide you with all the resources to complete the undergraduate or postgraduate course.
Related articles
A wheelchair user's guide to attending university
A guide to travelling by scooter and powered wheelchair
Top wheelchair and scooter friendly towns across the UK