In this article, independent mobility consultant Helen Dolphin discusses ways in which you can decorate your mobility aids for the holiday season, including using wheelchair lights and festive stickers.
---
It's that time of year where everywhere you look there are twinkling fairy lights, Christmas decorations and beautifully decorated Christmas trees. If you think your wheelchair or mobility aid could do with a Christmas make-over there are lots of products out there to help you become as sparkly as a Christmas tree.
Wheelchair casters
Wheelchair casters are the front wheels of your wheelchair and usually come in either 4inch (100mm) or 5inch (120mm) sizes. Instead of having the standard grey colour you can replace them with flashing LED light up casters which flash when your chair is moving. They come in a wide range of different colours and many different websites sell them.
Wheelchair under-seat lights
If lights in your castors aren't enough you can go one stage further and add a wUnderGlow wheelchair light under your seat. WUnderGlow comes with two interchangeable LED lights. One LED emits a strong white light beam which can be used to light your way. The other emits a multi-coloured light which looks a bit like a disco under your chair. These wheelchair lights are designed to be clipped onto your manual wheelchair seat sling and have a rotatable clip which allows you to point the light in any direction.
For more information, please visit: http://www.rehadesign.com/products/wheelchair-lights
Wheelchair wheel lights
If you want even more festive lights for your wheelchair you can also purchase LED lights which fit onto the spokes. The lights are marketed for bicycles as it enables them to be seen from the side but they would also fit wheelchairs as they can be attached to a variety of different sized bikes. The lights come in an assortment of different colours including multi and are supposed to be easy to install.
Wheelchair wheel spoke covers
To individualise your wheelchair you can add a couple of wheel spoke covers. These cover over the spokes of your chair and are usually clipped on. You can choose any design you like but lots of companies do Christmas themed covers like Christmas trees and reindeer. Most spoke covers are made for 22" or 24" wheels so make sure you measure before ordering.
Jazzy walking sticks
There are lots of companies offering all kinds of different designs for walking sticks. You can have a Christmas theme, your favourite sports colours, photographs of your pets, or any kind of pattern. If you fancy something really sparkly to go with your Christmas outfit you can even have Swarovski Crystals embedded into the cane!
Stickers
Stickers can be an easy way to make your mobility aid look a bit more festive. Lots of shops sell Christmas themed stickers but you can also buy self-adhesive gem stones if you want a bit more glitz. You can stick them on your scooter, wheelchair, crutches etc I've even decorated my prosthetic arm with a few gem stones.
Wheelchair covers
If you're a bit bored with your black seat cover on your wheelchair you can change it to something a bit more exciting. It doesn't matter if you have specialist seating as custom covers can still be provided. Most covers are removable for ease of washing.
Wheelchair Pets
Wheelchair pets are essentially animals designed to fit over the arms of your wheelchair. You can choose from dogs, duck, lions, rabbits, frogs, monkeys, penguins and hippos. These would not make your wheelchair look festive, but I thought they looked a bit of fun. They would certainly bring a smile to your face on a grey January day. Wheelchair pets also make the arm rests feel more comfortable. These pets fit any wheelchair armrest 12 inches (30.5 cm) or less in length and mount on your wheelchair armrests in seconds by adjusting a drawstring.
To find out more, please visit: http://www.rehadesign.com/products/wheelchair-pets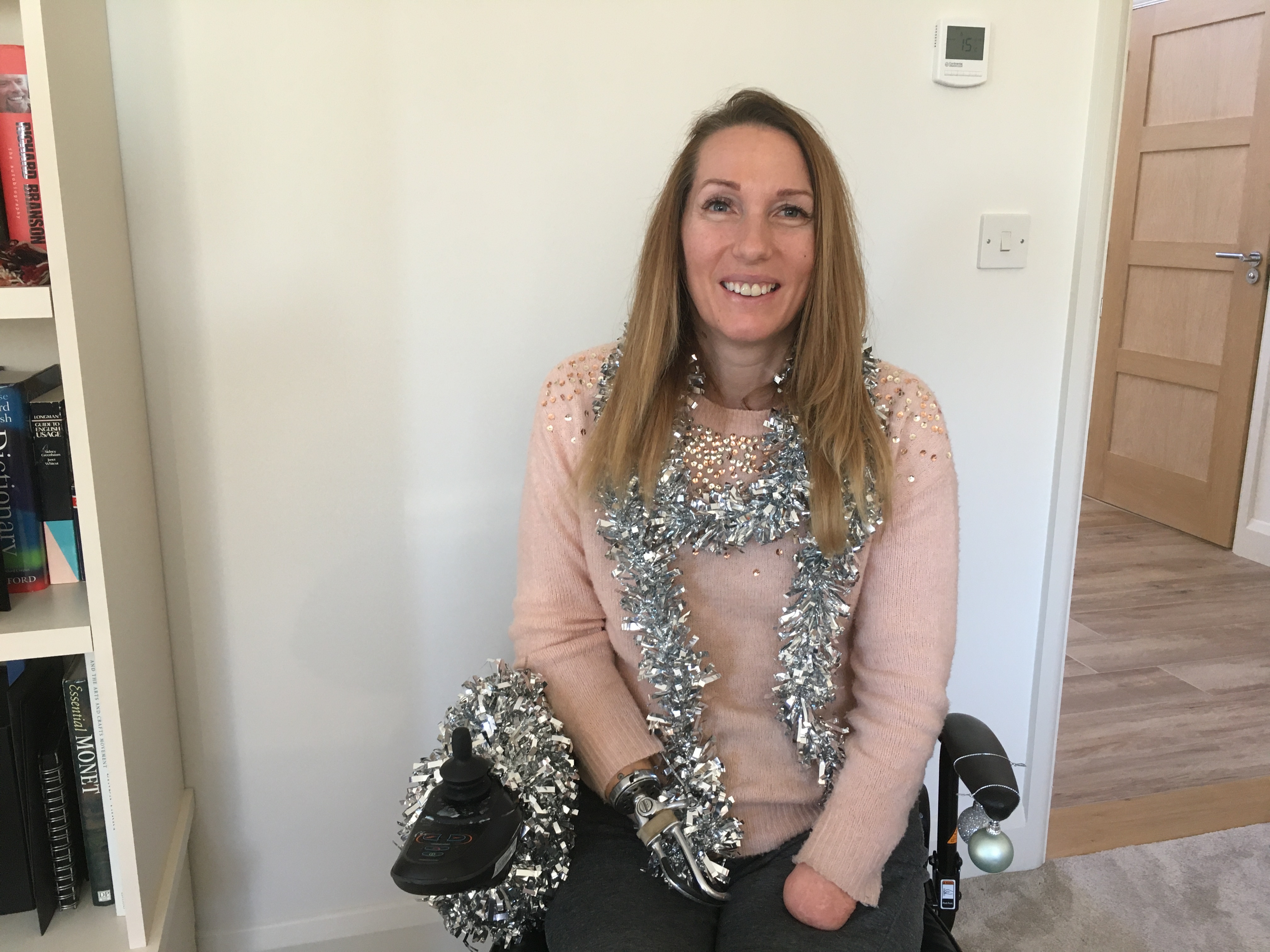 Helen's festive look
Use your own Christmas decorations
If you want to create your own Christmas themed wheelchair you could always add your own tinsel and even hang some baubles onto the back of your chair. Then just pop on your Christmas jumper and you are ready for the festive season.
Related Articles