Gordon Reid had never heard of wheelchair tennis when he was diagnosed with transverse myelitis. As a 13-year-old, he had long been a keen able-bodied player at his local club in Helensburgh but presumed his time on the court was at an end due to a spinal cord condition that appeared from nowhere one Friday evening, when a group of friends had called round.
It is funny how things turn out because his has been a remarkable year. He won singles gold and doubles silver in Rio, along with the singles titles at Wimbledon and Australia. He could also end the season as the world No1 with victory at the season-closing Masters tournament in London which start on Wednesday. After Andy Murray's rise to the top of the men's rankings, Jamie Murray's position as the No1 doubles player with his partner Bruno Soares, it would mean Scotland seeing out 2016 with three of the top-ranked tennis players in the world.
Reid is eternally grateful that his family were so persuasive in getting him back on court when he was told his paralysis would be permanent because it gave him an outlet for creativity and expression after a life-altering moment.
On that Friday night Reid was lying down at home, a regular teenager at the start of an ordinary weekend. But when he attempted to stand up his legs gave way. The following day he initially seemed fine before feeling pain that rapidly worsened. Six gruelling months in hospital followed but upon being discharged Reid's parents were keen for him to get active again.
"I never had any aspirations or hopes – I didn't even know wheelchair tennis even existed before I went and played it"
"At first I was a little hesitant because I wanted to be back playing on my feet and playing running tennis," he says. "We knew that was unlikely so my parents convinced me to try wheelchair tennis. I loved being back on the court and hitting balls even though I was no longer standing up. To be back playing the sport I grew up with was brilliant.
"I never had any aspirations or hopes – I didn't even know wheelchair tennis existed before I went and played it, so it was a few years further down the line that I started thinking that I could do something."
To say Reid has done something in 2016 would be an understatement. This season he has reached the final of the singles and doubles at three grand slams – Flushing Meadows clashed with the Paralympics, where he was centre stage for Team GB's charge to second in the medal table. That is before factoring in several other titles he won on tour.
Before this year he had held the No1 ranking in doubles but had never been in a singles grand slam final. The crucial change was placing more emphasis on enjoying himself, returning to the fundamental reason he started playing in the first point.
"I was ranked No3 in the world and I was winning every other tournament outside of the slams, beating all the top players," Reid says. "But every time I went to a slam I never felt I produced my best tennis. For me it was a mindset change, coming in and trying to enjoy being on that stage a bit more. I wanted to take in the atmosphere and thrive on it rather than shy away from it, not tighten up on the biggest stage."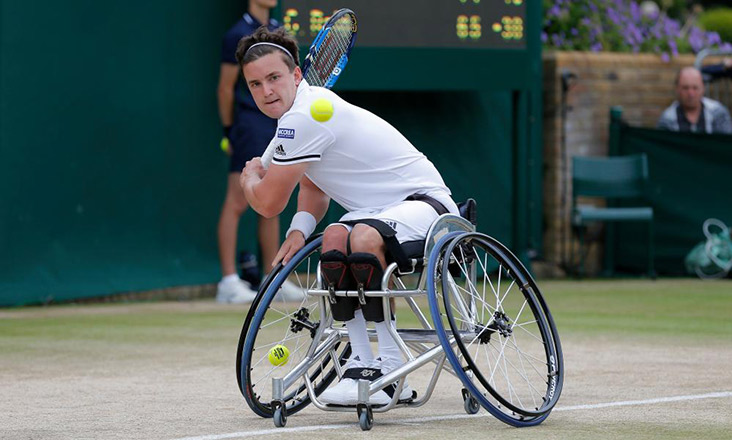 Gordon Reid in action during his victory over Stefan Olsson in the wheelchair singles final at Wimbledon. Photograph: Tom Jenkins for the Guardian
In Australia he defeated Belgium's Joachim Gérard in straight sets, setting the course for a remarkable run that included reaching the final at Roland Garros and triumphing against the 2012 Paralympic champion Stefan Olsson in the Wimbledon singles 24 hours after earning the doubles title alongside Alfie Hewitt. Rio, however, and the raised platform of performing in front of such a big TV audience, would be the best – even if he did have to defeat his close friend Hewitt in the final.
"There are good and bad points," Reid says of becoming a recognisable face. "I've been saying it a lot this year, I'm trying not to make it about me but about the sport. The fact I have a higher profile means more people are interested in what I'm doing and my success, and that means more people are taking notice of wheelchair tennis. It's great for the sport to be in the spotlight. It raises awareness of disability support too, and improves the normalness of disabled people in the country as well, which is good."
Being an outstanding talent at his sport aside, Reid is just a regular 25-year-old. His main passion off the court is Rangers FC, he holds his friends and family dear and despite all the travelling involved with competing at the very top of his sport, loves nothing more than being home in Helensburgh.
He cannot thank the friends and family that were alongside him through those difficult teenage years enough, so after Wimbledon and Rio he made sure they would all enjoy a night out together. "It was great," he says. "It was quite emotional to be with people who helped me, all celebrating together and still part of my life."
Yet Reid approaches next week's event at the Lee Valley centre in the Olympic Park still hungry, and quite differently to last year. Twelve months ago he won two of his three games but failed to emerge from the pool stage. "There's different pressure now," he admits. "I've got a target on my back and people will be gunning for me after winning at Rio, I'm now the one they want to beat. That's not necessarily a bad thing. If you're up there, you deserve it. I'd love to finish the year as world No1, I did it in doubles last year, but to do it in singles would be very special."
If it happens, he will again be reminded of his parents' encouragement to pick up his racket again.
This article was written by Alan Smith from The Guardian and was legally licensed through the NewsCred publisher network.
---
Related articles
The most inspirational people to follow if you're disabled
From mountain biking to Paralympic handcycling across the globe: Karen Darke's story
Swimming with a disability: Para-swimmer Andrew Mullen's Paralympic journey