Shona Louise is a disability and theatre blogger from Hertfordshire. In this article, her first in a series about her experience of joining the Motability Scheme, Shona explains how she learnt about the Scheme and the steps she's taking to find the best vehicle for her needs.
---
Whilst growing up learning to drive felt like one of the biggest rites of passage for a teenager. My friends and I would all talk about who we thought would learn first, how many tests it would take us to pass and who would end up being the taxi driver of the group! It might have taken me a little longer than most to get to this point but now at 22 years old I'm ready to get going and grab some more independence and I'm here to share the whole journey with you.
I'm Shona and for the past 8 years I've been documenting my life and covering disability and theatre topics over on my blog and across the media. I live with a condition called Marfan Syndrome which means outside of my home I whizz round in a powered wheelchair, Marfan affects me in many ways but it's issues with my spine that have affected me the most over the past few years. Currently I rely on public transport to get around but that will all be changing soon as I take the steps to join the Motability Scheme and learn to drive!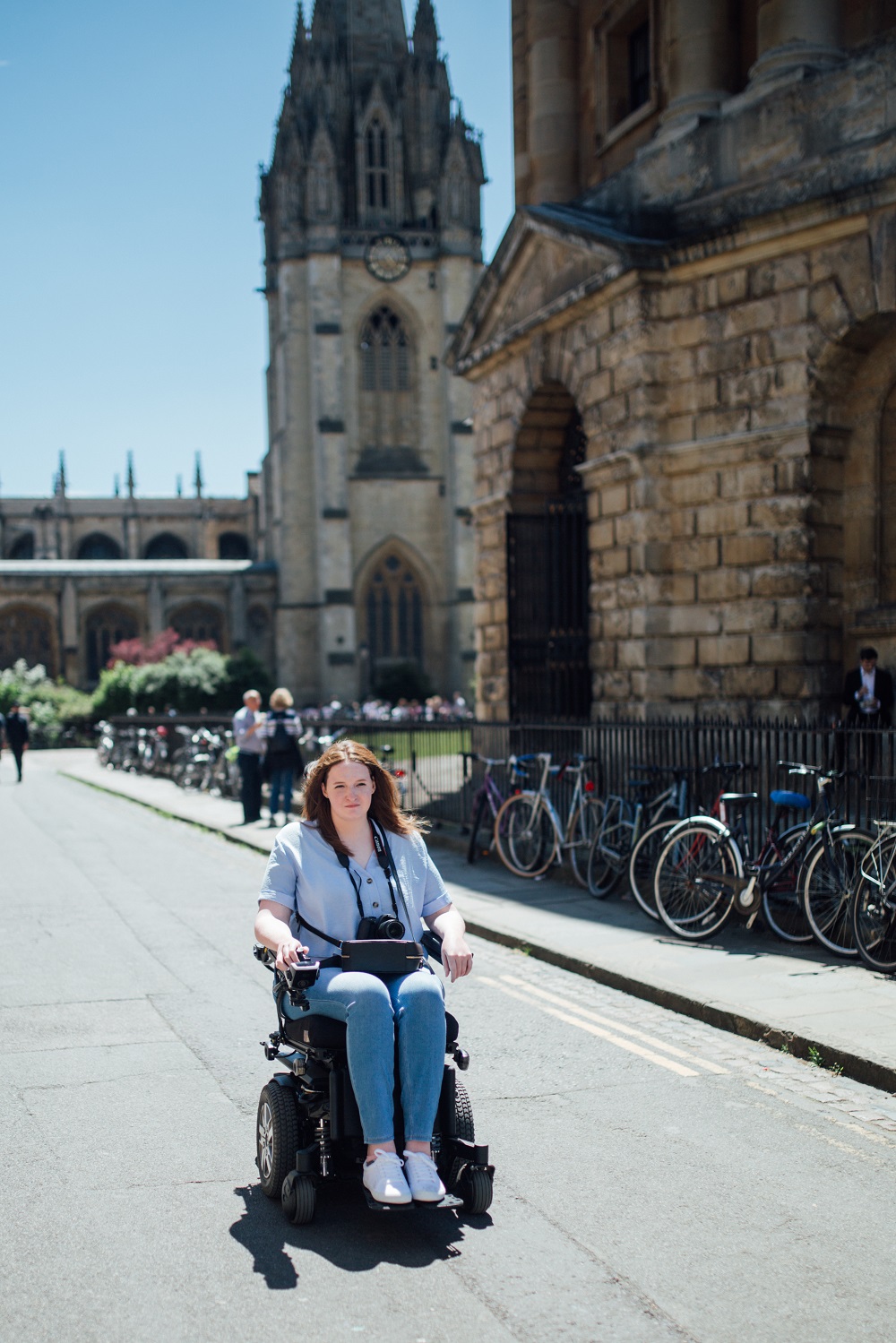 I've been a powered wheelchair user for around 3 years now and whilst the Motability Scheme is something that I have always been aware of since being involved with the disability community, it's not something I seriously looked into until about 18 months ago. It was at Naidex last year where I first saw adapted vehicles up close and spoke to representatives, learning more about how the Scheme could help me. I was so daunted by all the options but just one conversation guided me and gave me the confidence to start looking into things more seriously.
As well as this conversation, my experiences with public transport over this past year have also pushed me further towards the Scheme. When public transport goes well, when all the relevant lifts are working and all my assistance needs are met by staff, journeys are a breeze. But when things go wrong they tend to go badly wrong and for me joining the Motability Scheme will give me back that control and independence that I so greatly need to live the life I want. No more waiting for staff to assist me, waiting for a taxi that is suitable in the dark and cold, having journeys distributed due to broken lifts. The journeys to see my partner in her hometown also takes four times as long on public transport than it does to drive. There are so many gorgeous spots in the UK that are only easily accessible by car as well, it would be nice for me not to have to consider the local transport when choosing somewhere to visit or stay. And that is what has led me here today, eager and ready to have a whole new world opened up to me.
"Joining the Motability Scheme will give me back that control and independence that I so greatly need to live the life I want."
In preparation I've been speaking to friends who are already members of the Scheme and love it, as well as using the Motability Scheme website itself to research what kind of options are out there. There are adaptations and configurations available that I just had no idea even existed! Having watched my brother and sister both learn to drive I had concerns about how I would physically manage it, but through just a few conversations with friends and Motability Scheme representatives it's clear to see that there are so many solutions out there to help get me on the road. Step one is finding the perfect car for me and I'm really looking forward to getting the ball rolling with that over the coming weeks and months.
Right now I am just so excited to get started! Of course, I've got the standard nerves when it comes to learning to drive. Will I be a good driver? How will I remember it all? But, I know that there is so much support waiting for me, and a whole new world that is about to open up.
If you'd like to read more from Shona then visit her blog http://www.shonalouise.com/
Related Articles
Being young, disabled and getting back my independence
My Motability Scheme experience