Is there a difference between 4×4 – also known as four-wheel drive – and all-wheel drive (AWD) vehicles? And where do SUVs come into the equation? If your current lease with the Motability Scheme is coming to an end or if you're new to the Scheme and you're deciding which car to lease, read on to find out which one of these cars is right for you.
Is there a difference?
Some cars are called 4x4s while others are called all-wheel drive (AWD)—so what is the distinction? In most cases, AWD vehicles constantly send power to all four wheels, while 4×4 vehicles only power all four wheels occasionally. In normal driving, most of the power in 4×4 vehicles will go to the front or rear wheels only. If the car senses a lack of traction, power is transferred to all four wheels.
Some current intelligent 4×4 systems continuously vary the amount of power distributed to each wheel to maximise fuel efficiency and grip, and some 4×4 models may have the option for an AWD lock. However, car manufacturers can use both terms interchangeably, and in some instances, they even have their own labels. For example, Volkswagen uses the term 4Motion, BMW uses xDrive and Suzuki uses ALLGRIP.
But keep your eyes peeled when browsing these cars because the label 4×4 can sometimes be used to describe a car that looks like an off-roader but which may not actually have four-wheel drive capability. So make sure you research your chosen model and speak to your Motability Scheme dealer to guarantee it has the capacity you need.
Sports Utility Vehicles (SUVs)
Modern SUVs combine safety and comfort while offering greater space and practicality. They come in a variety of sizes and with different capabilities and have become a popular customer choice due to the high driving position. Some SUVs are offered in a road-biased two-wheel drive option, which helps to keep fuel consumption and emissions low. 4×4 versions have a better capability in wet and slippery conditions or on off-road terrain.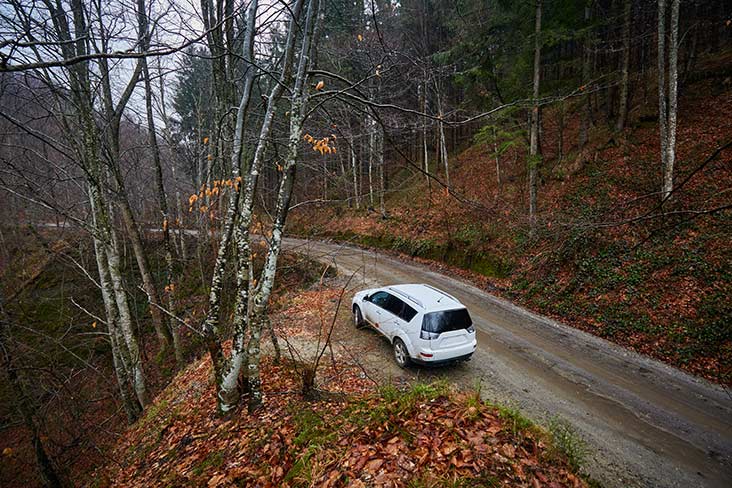 4X4s and AWD cars suit people who often drive off-road
Is a 4×4 car the right choice for you?
If you live in a rural area and need to drive off-road, 4×4 cars might be more suitable for you as they offer better grip on uneven and slippery ground.
We all know how tricky winter weather can be, but not everyone regularly needs to drive in these conditions! You might be able to use public transport or you might live in an area that has well-maintained roads which are gritted regularly.
However, if you live in a more rural area and you have to consider driveability in wintry conditions, then 4x4s offer a definite advantage for keeping control in these situations. Four-wheel drive can help improve a car's grip on slippery surfaces or when accelerating or driving off-road.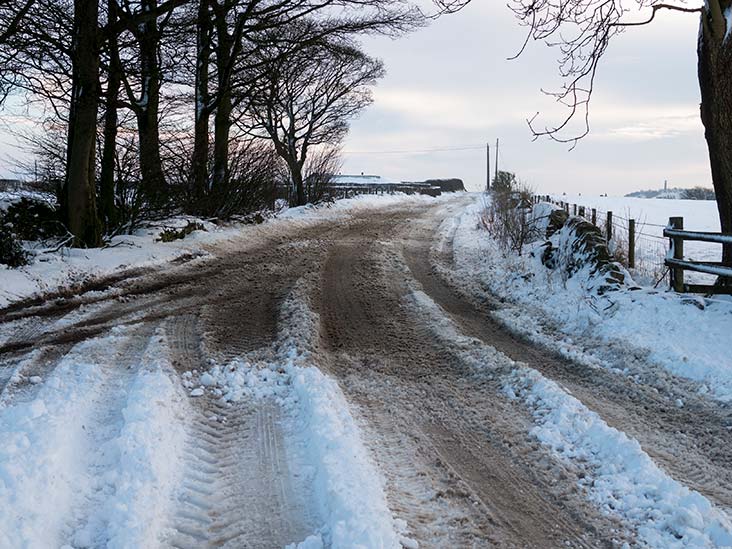 4×4 and AWD can also make driving in snow and ice easier
Cars available on the Motability Scheme
If a 4×4 seems like the right choice for you, there are a number of models available on the Motability Scheme that cater to different needs.
If you often need to drive on non-asphalt roads, or you like camping or caravanning and need to drive on to a grassy field, then Nissan's X-Trail could be a good option for you.
This large SUV uses an adaptive 4×4 arrangement, which can be toggled between front-wheel drive or an intelligent four-wheel drive, which constantly monitors traction and adjusts the balance of power between the front and rear wheels. This is perfect for temperamental wintry weather. You will need to specify that you need four-wheel drive as it doesn't come as standard on all variants.
Some variants of this family-sized SUV feature intelligent Torque-on-Demand four-wheel drive, which automatically supplies power to the rear wheels when necessary to maintain traction. At all other times, the majority of the engine's power is distributed to the front wheels. This helps to improve the fuel efficiency when driving in normal conditions while ensuring enough torque when needed.
The 4×4 models also feature Advanced Traction Cornering Control, which enhances cornering performance and safety. What's more, to maximise traction when driving up or down sharp inclines, off-road, or on muddy or sandy surfaces at speeds up to 19mph, you can lock the Tuscon into AWD to divide its torque squarely between the front and rear wheels. With a locked fifty/fifty torque split, you'll find you will be able to drive in slippery conditions with more confidence.
Another vehicle that will handle more than asphalt is the Suzuki Vitara. Available on the Scheme, the practical and entertaining small SUV comes with Suzuki's ALLGRIP 4×4 system as an option on the high-spec SZ5 and SZ-T versions. There are four transmission modes: Auto, Sport, Snow and Lock.
Auto mode prioritises front-wheel drive for optimum fuel efficiency, switching to 4×4 if a loss of traction is detected. Sport mode actively engages the four wheels based on accelerator inputs to make driving more responsive on country lanes. Snow and Lock modes give better traction and stability to help you keep control when the conditions demand it. Hill descent control is also a standard feature of ALLGRIP models, which enables the vehicle to brake automatically to help you control speed on steep downward slopes.
Choose your vehicle
Those are just three models available—you can see the full range of SUVs on the Motability Scheme by using our car search tool. If you're already a customer, you can find out more about the process of getting your next car and see a month-by-month breakdown of the process leading up to collection day.
The Motability Scheme enables you to exchange all or part of your mobility allowance for leasing a car, scooter or powered wheelchair. To find out more about joining the Motability Scheme and possibly leasing one of the cars in this article, use our eligibility checker and request a free information pack.
Related articles:
Small cars, estates or SUVs: What type of car suits your needs?
What are the latest car safety features?
Five optional extras your next car should have