Those experienced with Wheelchair Accessible Vehicles (WAVs) will tell you how different they can be to standard production cars. As WAVs are vehicles converted to enable a wheelchair user to travel in their wheelchair, a journey in a WAV can vary significantly from a journey in a car. Both the driver and passengers may experience these differences, so here Graham Lloyd tells us more about what to expect.
Graham has years of experience working with WAV converters, the people responsible for converting standard vehicles into WAVS. Here he explains some of the key changes those new to WAVs are likely to encounter:
What's the biggest difference between driving a WAV and driving a car?
One of the biggest differences is ground clearance. Because a lot of WAVs have lowered floors you don't have the same ground clearance as a car, so if you travel over a speed bump a little too fast then the bottom of the WAV may hit the bump.
Also, WAVs tend to be bigger than cars, in height, length and width, so it's important to remember that you might not fit into the same parking spaces and have restricted height access in some cases.
As the wheelchair user remains seated in their wheelchair, how does this compare to sitting in a standard car seat?
Initially, it can feel quite different to travel in your wheelchair in a WAV. You don't necessarily have seats next to you, so it can feel a bit odd compared to sitting on a shared rear seat in a standard car.
Your seated position could be towards the rear of the vehicle, so depending on the size of WAV this can make it harder to communicate with the driver or other passengers. This is a big change if you have been used to sitting side by side with the driver in a standard car, and can change the dynamic of how you travel and talk to each other.
That said, you will find that converters often offer a number of seating configurations for their vehicles so it's really important to discuss this with them to find the one that's best for you.
In a WAV, you're seated in the wheelchair which, although safely restrained, is not fixed to the floor in the same way as a car seat so you may feel some additional movement. And as you're generally sat higher than if you're sitting in a car seat, your eyeline could be higher, which could give you a different view out of the windows.
In time most people get used to these compromises, they're just some things to be aware of before deciding on a WAV.
How important is it to test drive a WAV?
It's the most important thing! Have as many test drives as you possibly can, customers normally lease their WAV for five years so you need a good indication of what it's like to live with it now and for the next few years.
Before the test drive, plan the route in advance and go on a journey that you're used to and know you'll have to do in the vehicle, along with the places you may need to park. I recommend taking all the equipment you would normally need and drive on roads where there are speed bumps and pot holes, as well as on higher speed roads with smooth surfaces; this will give you a chance to think about comfort, road noise and how the vehicle rides.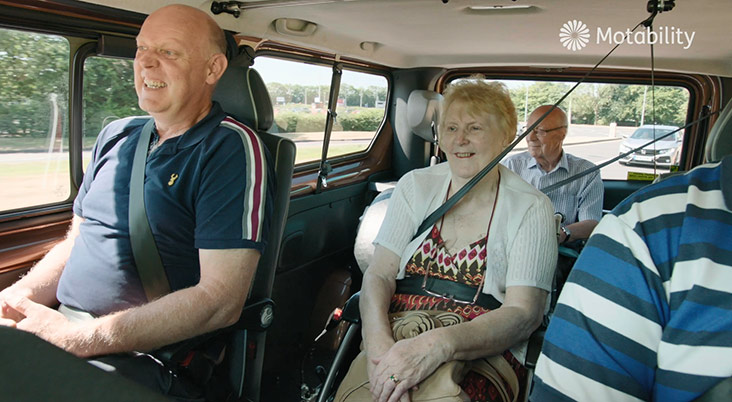 Are there any other options aside from a WAV if you are a wheelchair user/struggling with a standard car?
If you'd prefer to stay in a standard car then the Motability Scheme offers a range of adaptations to help get in and out of a car. A good option for wheelchair users are person hoists, these enable you to lift someone out of their wheelchair and guide them into the front passenger seat. While person hoists can be helpful, it's important to note that the person operating the hoist should be fairly able-bodied and flexible. If you're a full-time wheelchair user and you struggle to transfer yourself onto a car seat, with or without assistance, then a WAV is your best option, but the only way to know is to try one!
There are a range of Nearly New WAVs available on the Scheme, how do they differ to a new WAV?
Nearly New WAVs could be a more affordable way to lease a Motability Scheme WAV with a lower Advance Payment than a new WAV. Nearly New WAVs are on a three-year lease, as opposed to new WAVs which are a five-year lease. If a customer has a condition that frequently changes then the shorter lease may suit them better. However, bear in mind that with Nearly New WAVs, you're limited to what is available in the marketplace when you are ready to choose your vehicle, with a new WAV, you will have the full selection of vehicles that are listed on the Motability Scheme.
If you're new to the Motability Scheme and would like to find out more about leasing a WAV, you can browse our selection of models and also find your nearest WAV supplier.
Related Articles
Improved information on Nearly New WAVs
Are person hoists right for you?