There are many different kinds of car shapes and sizes on the market these days, which means you are spoilt for choice—especially if boot space is your main priority! But what kind of vehicle is the most practical for your needs? If you're new to the Motability Scheme or if your current lease is coming to an end, this guide might help you understand your options a bit more.
Hatchbacks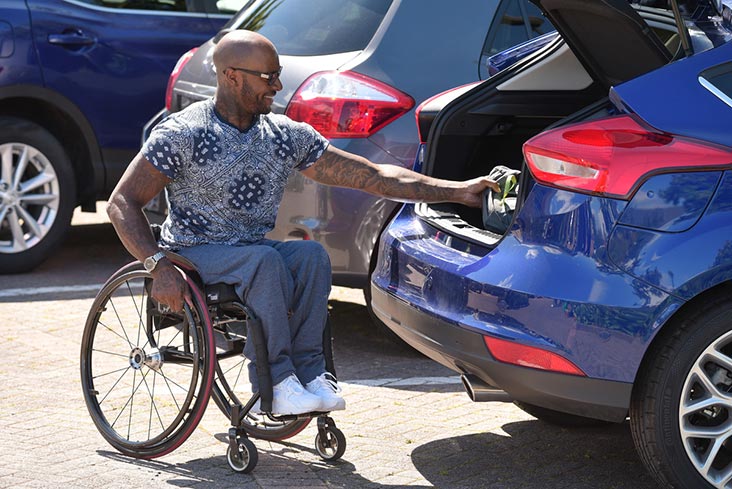 Hatchbacks are extremely popular cars—and with good reason!
Throughout Europe, more drivers purchase a hatchback than any other type of car. The greatest reason consumers change from a saloon to a hatchback is practicality. You can fold down the rear seats in virtually all hatchback cars, allowing for more load capacity than in a saloon.
In Britain, the best-selling hatchback is the VW Golf, which is available on the Motability Scheme and offers a good drive while being inexpensive to run. The Golf's cargo capacity is 380 litres and the opening is rectangular, making it easy to load items into. This point about the opening goes for all hatchbacks, no matter the size. The Golf's cargo volume jumps to 1270 litres if you fold the rear seats down, so this is a useful feature if you need to carry a large load.
Another hatchback car that is available on the Scheme is the Vauxhall Astra. It has a cargo capacity of 370 litres, which rises to 1210 litres with the rear seats down.
SUVs
Over the past few years, the Sports Utility Vehicle (SUV) segment has flourished. This is because SUVs provide a practical cabin and a raised ride height. They're also as brilliant in the boot department as their hatchback equivalents—if not more so.
SUVs are popular with families because they tend to have a decent boot capacity even with the rear seats up. This is ideal when there is a need to transport passengers and luggage at the same time.
A good example of an SUV with a roomy boot is the Honda CR-V. The diesel versions offer respectable fuel economy, but more significantly, the CR-V has a boot capacity of 589 litres. It also features three individual seats in the back. This not only makes the Honda a useful load-lugger, it means your rear-seat passengers will also be comfortable in their own chairs with all their possessions behind them. If you don't carry many passengers, then the CR-V's cargo capacity goes up to 1627 litres with the seats down.
Another example of an SUV available on the Scheme is the Kia Sportage. It's a handsome and spacious car with a sizeable boot, offering 503 litres or 1492 litres with the back seats down.
MPVs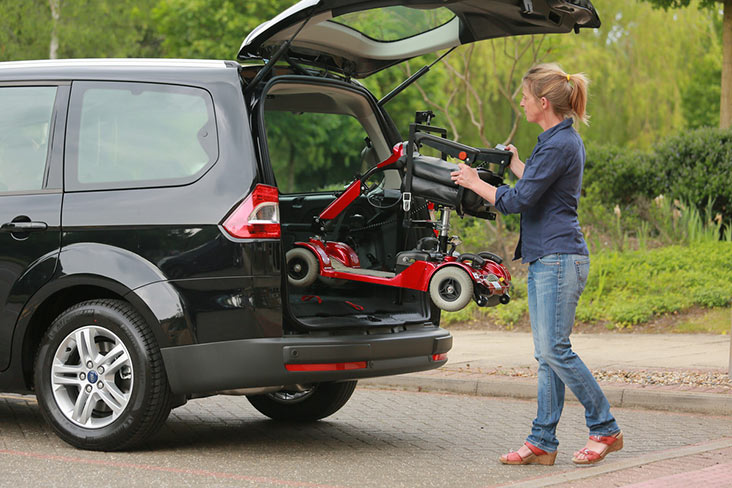 MPVs tend to have the most capacity of any other car types
There is a good line-up of Multi-Purpose-Vehicles (MPVs) on the market today. Also known as 'People Carriers', they are more flexible than a hatchback. If you need to make the best use of boot space, there are few cars that might be more suitable for your needs.
Fiat's Doblo is one of the roomiest MPVs when it comes to transporting gear. It has a vast cargo capacity of 790 litres, and this mushrooms to 3200 litres with the rear seats down. This makes it an astoundingly practical car if you need to transport a wheelchair or even a small mobility scooter. It is also the perfect vehicle for carting around luggage on family leisure trips.
Another example of an MPV is the Ford Galaxy, a big seven-seater. It offers 300 litres with all seats in place, but fold them away and you get a mammoth 2339 litres of cargo space. This means that this MPV should not be dismissed from your list if you are regularly driving around and a large load is your main concern.
The SEAT Alhambra is another seven-seater MPV worth checking out. Its boot is smaller than the Galaxy's at 267 litres, but drop all the back seats and you'll find a sizeable 2297 litres of load space.
Crossovers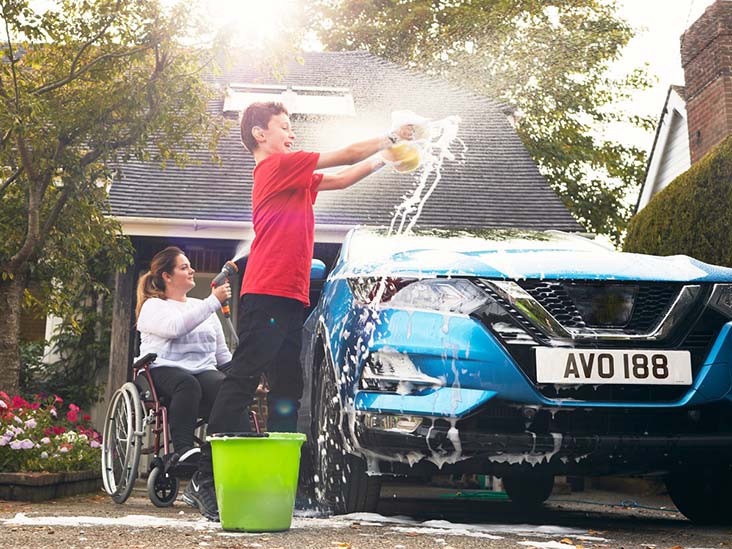 Crossovers are very similar to hatchbacks but their SUV-inspired features allow for bigger boot capacity
Crossovers are fundamentally hatchbacks, blended with solid SUV design. They come in a variety of sizes, so it's worth researching which is right for your needs. Examples of Crossovers available on the Scheme include the Citroen C4 Cactus and Nissan Juke. These are both compact Crossovers, but bigger models, like the Vauxhall Crossland X, are also available. As with SUVs, Crossovers offer a high ride height. This makes getting in and out of the vehicle easier if you find it hard to lower yourself into a smaller car.
The Citroen C4 Cactus has a cargo capacity of 358 litres or 1170 litres with the rear seats folded. The Nissan Juke's boot offers 354 litres, and 1189 litres with the back seats down. The Hyundai Tucson's load area is 513 litres and 1503 litres without the rear seats in place. As with most Crossovers, these models are efficient to run.
Estates
Estate cars are great if you don't require the elevated ride height of an SUV or Crossover. They are often based on saloons or hatchbacks but offer more room. They are also straightforward to load up because they generally have a low boot sill.
If you are looking for a small estate that's very practical, the Skoda Fabia Estate is available on the Scheme and offers a boot capacity of 530 litres or 1395 litres with the back seats down. Your next best option is to consider estate versions of popular family sized models such as the SEAT Leon (587/1470 litres) and VW Golf (605/1620 litres). There are larger estates as well, such as the Skoda Octavia Estate (610/1740 litres), Skoda Superb Estate (660/1950 litres), and Ford Mondeo Estate (500/1605 litres).
Choose your Scheme vehicle
You can find out more about joining the Scheme by requesting a free information pack and using our eligibility checker. Once you've searched through the car search tool, you can find your nearest dealer to arrange an appointment to view and test drive the cars you're interested in.
---
Related articles
A guide to car boot space: How much do you really need?
4x4s and all-wheel drive cars: Are they right for you?
Manual vs Automatic: Which is right for you?