If you have a disability, attending a gig might seem like a daunting task – whether that's due to the venue layout itself, difficulty booking tickets or the potential for effects like strobe lights. But there are many music venues that make accessibility a priority.
In this article, Rough Guides have reviewed some of the UK's best accessible music venues, from giant arenas to intimate spots for rock lovers.
Brighton Centre, Brighton
Brighton Centre is a huge entertainment and conference venue in a Brutalist building, which opened on the Brighton seafront in 1977. The concert hall has hosted a stellar line-up of rock and pop acts over the years – including Bing Crosby's final performance, and shows by The Jam, Wham!, Kylie Minogue and the Prodigy – as well as classical concerts, comedy and theatre. 
The online access statement covers all bases, including details on early entrance and a video that shows how to get around the venue.
Scottish Event Campus, Glasgow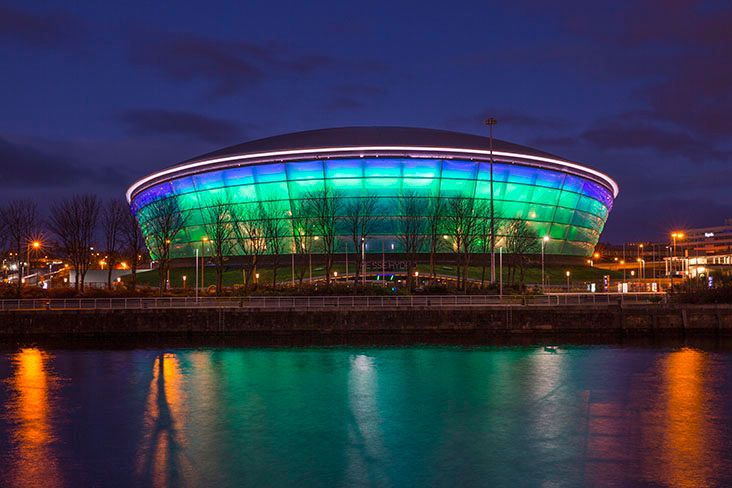 With three major venues, including the world-class SSE Hydro arena and the Foster-designed SEC Armadillo, Glasgow's Scottish Event Campus delivers both astonishing architecture and huge international acts, from Beyoncé to Take That.
Every element has been purposely designed for easy access and stewards are on hand to help. There are induction loops and you can also pick up a sensory backpack which includes a fidget toy and ear defenders. 
SSE Arena, Belfast
You'll find some seriously big names on the roster at Belfast's SSE Arena, held up as the top entertainment complex in the city. Since opening in 2000, it's welcomed world-class acts, from Cher and Kylie Minogue to The Stone Roses and Rod Stewart, and it's also home of the Belfast Giants, the city's own ice hockey team.
The venue places accessibility as a priority, too. There are accessible viewing platforms, low-level counters at the Box Office and lift access to all floors.
Sage Gateshead, Gateshead
The wonderful Sage Gateshead is another architectural gem from Foster + Partners. The music centre is home to the Royal Northern Sinfonia and hosts regional, international and emerging artists in three large venues. There are typically more than 400 concerts per year plus music workshops and classes.
Visitors can sign up to the Access Register to ensure they get the seats best suited to them – these requirements will be saved for next time, too.
The Leadmill, Sheffield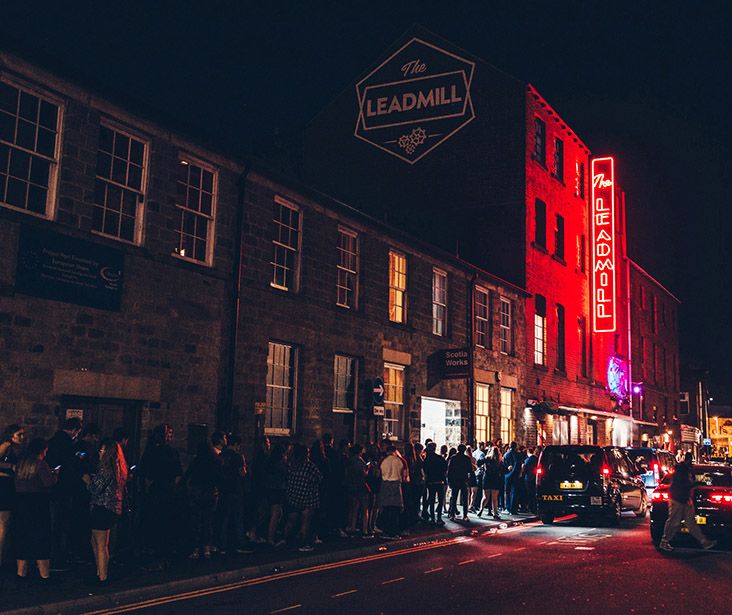 The legendary Leadmill (which has been fighting to stay open over the past year) is Sheffield's longest-running music venue and nightclub. Countless rock bands have played in this converted flour mill since it opened as a concert venue in 1980, including Oasis, Pulp, Arctic Monkeys, the Killers and the Stone Roses.
Its ground-floor location means that wheelchair access is a breeze, and you can get priority entry and personal assistant tickets if you apply in advance.
Brudenell Social Club, Leeds
Since the Brudenell opened as a working men's club in 1913, this award-winning venue has been the centrepiece of the Leeds social scene. From the 1970s, the 400-capacity hall has hosted numerous indie and rock bands, including secret gigs by Franz Ferdinand and The Kaiser Chiefs. The down-to-earth establishment is now a not-for-profit venue (owned and run by its members) that serves craft ales and pies and includes a pool hall.
The access guide has a complete rundown of the club's facilities, including step-free access, PA tickets and medication refrigeration.
Band on the Wall, Manchester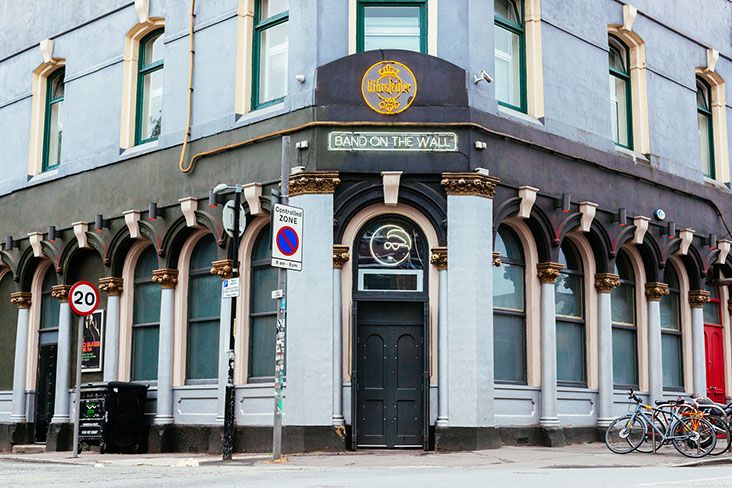 This rock institution in Manchester's Northern Quarter started out almost a century ago as the George & Dragon pub, with a house jazz band. Later, it was at the heart of the 1970s post-punk scene, with early gigs from Joy Division and the Buzzcocks, and it's now a multi-award-winning venue. In 2009, the venue reopened after a refurbishment project that transformed the Victorian building into an accessible space.
Band on the Wall has a detailed accessibility guide on its website, which contains useful information on bookings, transport and getting around in the venue. It's also available as an audio guide or in braille upon request. When visiting the venue, you can expect level access throughout and free entry is granted for personal assistants.
The Tin, Coventry
This atmospheric arts space has been at the forefront of the city's music scene through incarnations as Taylor John's and the Tin Angel, and is now a thriving venue for local and international acts. Since 2013, this former coal storage building in Coventry's Canal Basin has been run by the charity The Tin Music and Arts.
There's step-free access into the venue, a ramped bar area and viewing platform. They also provide disabled attendees with one free ticket for a Personal Assistant to accompany them.
The Roundhouse, London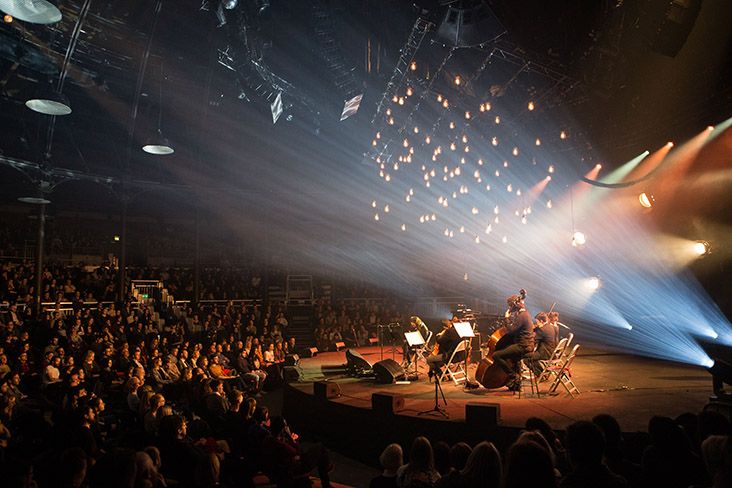 The historic Roundhouse in Camden is one of the UK's most extraordinary places to enjoy live music. Housed in a former railway engine repair shed, it opened as a concert venue in 1966 and soon became a focal point for London's counter-culture. Many of the greatest rock bands and artists have played here, including Jimi Hendrix, The Who and Pink Floyd in the 1960s and post-punk groups during the 1970s, such as The Ramones, Blondie and The Clash. More recent years have seen a vast range of shows, including high-wire circus, dance and spoken word, as well as theatre.
Their online access guide is exceptionally thorough. The building has flat walkways throughout and there are relaxed performances for some shows. You can also take a virtual tour of the venue beforehand to get familiar with what the space is like.
The Georgian Theatre, Stockton-on-Tees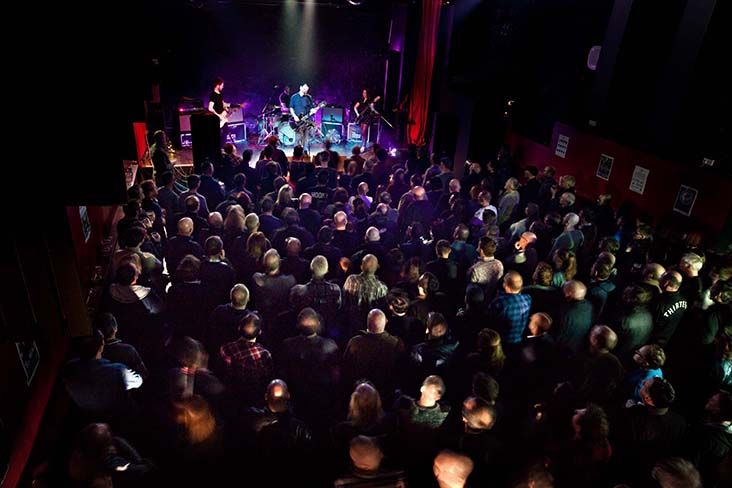 The Georgian Theatre, occupying a restored 1766 building, was once a theatre, then a Salvation Army centre and later a sweet factory. It is now one of the northeast's best independent music venues, run by Tees Music Alliance. An eclectic array of famous names have performed here, including the Arctic Monkeys and Martha Reeves & The Vandellas, but the emphasis is on nurturing local artists.
Accessibility at the 300-capacity renovated building is excellent, with ground-floor access to performance spaces (plus a lift to upper levels), a lowered bar and a quiet space during noisy shows.
More Music, Morecambe
Over the years, the former Devonshire Hall has been home to a music hall, a snooker hall, a paint factory, shops and finally More Music, a music and education charity that took over in 1996. The Arts Council-funded initiative runs a programme of community music, with a broad range of events, including gigs by local choirs, classical concerts and folk groups, alongside music workshops, festivals and family shows.
The refurbished building is fully accessible, with a ramp to the main entrance and a lowered counter at the box office, plus free carer tickets are available. You can also get a portable chair while queueing, or gain priority access.
Exchange, Bristol
Effortlessly cool Exchange is a non-profit, indie music venue in Bristol's hip Old Market Quarter. It's been open for a decade, with its two spaces able to hold 250 and 60 people respectively, and it's played host to the likes of The 1975, George Ezra and Haim over the years.
Both the bar and the main events space are on the ground level and the venue is accessed via a small ramp from the street. There's also an accessible viewing area, plus free tickets for personal assistants.
For more great places to visit around the UK, take a look at the new Rough Guide to Accessible Britain.
Image Credits
Rough Guides would like to thank the following individuals, companies and picture libraries for their kind permission to reproduce their photographs (in order of appearance on the web page):
Header image: © John Williams Photography.co.uk
Scottish Event Campus: © VisitScotland / Kenny Lam
The Leadmill: © The Leadmill
Band on the Wall: © John-Paul Brown, All Rights Reserved
The Roundhouse: © John Williams Photography.co.uk
The Georgian Theatre: © Gary Walsh Photography
---
Related Articles
Accessible & sociable Friday nights out for young people with disabilities
The best accessible art and sculpture around the UK
5 Accessible Spots for Rainy Days