It can be hard to find a summer holiday that works for all the family, including those with disabilities. In a bid to help make the perfect choice for you, Rough Guides has picked some of the best family-friendly trips to suit all tastes. From city-centre breaks to fun in the sun at the seaside to the wooded wilds of the countryside, there's bound to be something that appeals to everyone.
Back to nature
With ten wonderful wooded sites around England, Scotland and Wales, Forest Lodge holidays are a great way to get back to nature. The lodges are all set in beautiful woodland, and are designed to make the most of the local environment. The Deer Park site in Cornwall, for example, is in a lovely wooded valley, that was once the site of an old gunpowder mill. Wander around the woods and you may spot nesting buzzards, or just sit quietly on your deck and woodpeckers, robins and other birdlife will come to you. The lodges come with all home comforts, such as a wood-burner and a hot tub on the deck where you can sit back and watch the stars.
All the sites have at least one specially adapted lodge, with an accessibility hoist for those with mobility issues to access the hot tubs. At Deer Park, the accessible lodge has an extra-large terrace overlooking a pond, car parking with direct access to the lodge for wheelchairs, and is close to the Forest Hub, shop and reception building. The Deer Park site is quite steep so wheelchair users will have to stick to the main paths, but there are plans to have all-terrain mobility scooters available for hire in the future.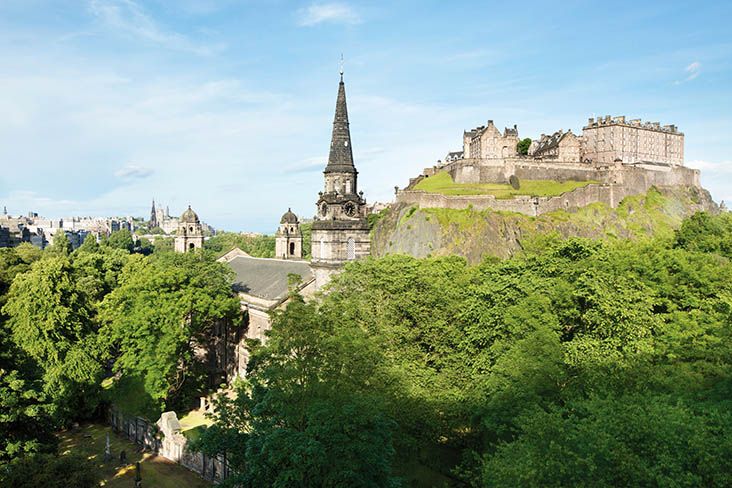 View of Edinburgh and its castle © Hilton Hotels & Resorts
City break
After London, Edinburgh is the UK's most popular destination and, despite its hills and cobbled streets, it still makes a great place for a city break. Highlight of the city, of course, is Edinburgh Castle, which is surprisingly accessible for such an ancient building. Disabled visitors can park at the Esplanade, and a mobility car will take you up to the top of the castle if you can't manage the steep ramps and bumpy cobblestones yourself.
A fun way to visit other sights around the city is on the new tram, which is fully accessible for wheelchair users. The long-established Caledonian Hotel is in a great location for exploring the city centre and has good facilities for those with disabilities, including wide corridors, spacious accessible bedrooms and an accessible changing room in the spa.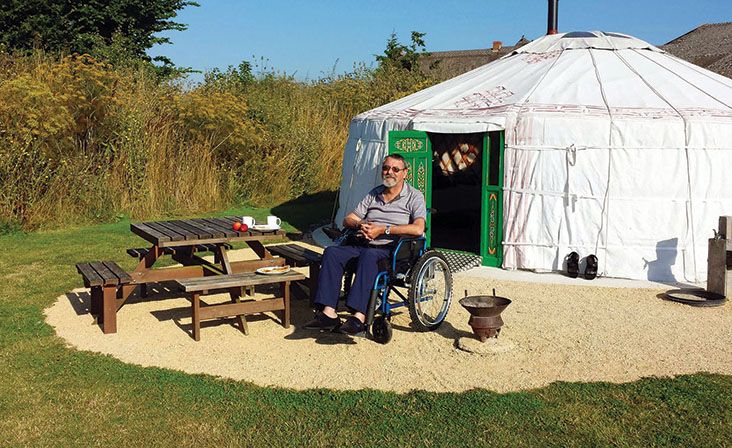 Outside the yurt, Dorset © Caalm Camp
Glamping in deepest Dorset
Get off-the-beaten track and go glamping in the glorious Dorset countryside in a comfortable yurt at this disabled-friendly campsite. Accessed by smooth, flat paths, the beautiful Mongolian yurts are spacious, with wide doorways, plenty of room for a wheelchair and space for a hoist if necessary. They are well kitted out with a woodburner, electricity, private picnic table, barbecue and firepit. Set on a former farm, this site is all about peace, quiet and getting back to nature – there are goats, sheep, far-reaching countryside views and plenty of wildlife to look out for.
Blissful beach huts
The seven-mile-long sandy Bournemouth beach was voted Tripadvisor's top UK beach of 2019, and Bournemouth Beach Lodges have prime position on it. The 24 luxury beach huts enjoy direct access to the promenade and the sand, as well stunning views over to the Isle of Wight and the Purbecks from their decks. The lodges are equipped with a well-designed galley-style kitchen, bathroom, trifold doors out onto the deck and a seafront barbecue area.
The adapted hut is accessible via a series of ramps, and has a large wet room-style shower area with enough space on the ground floor for wheelchairs to maneuver. There's a pull-out double bed on the ground floor, but the other beds are in a mezzanine loft space, which is accessed by a steep ladder, so they're not suitable for those with mobility issues.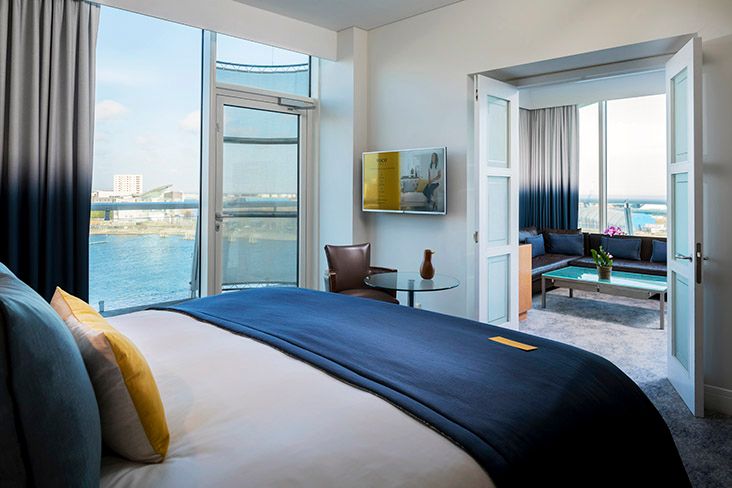 St David's hotel, Cardiff © Intercontinental Hotels Group
Sea and city
To combine staying by the sea with being right in the heart of a capital city, opt for Cardiff. Cardiff has plenty to explore, from fascinating museums and ancient castles to the cutting-edge architecture of the regenerated waterfront, and the gleaming new Millennium Stadium, where the country's top rugby is played. St David's hotel is right on the waterfront with good accessibility and facilities for those with disabilities. There's level access into the hotel and a lift to all floors – but the best thing about this place is the sea views from all the rooms.
Don't miss a visit to the Welsh Senedd, home to the National Assembly for Wales, just a ten-minute flat walk along the waterfront from the hotel. It's a fascinating contemporary sustainable building, designed to be completely accessible, with lifts, ramps, accessible toilets and wheelchairs to borrow.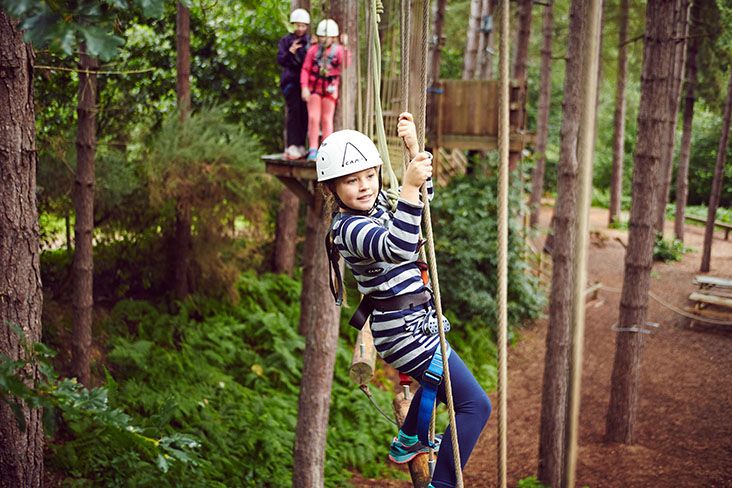 Swinging in the trees at Centreparcs © Centre Parcs
Awesome activities
With five huge parks in England and one opening in Ireland this summer, Centerparcs is a great place for a family-friendly activity holiday. And they cater well for people with disabilities, with a range of facilities including adapted accommodation, wheelchair bikes, adult tricycles and hoists into the wave-pool.
Having a disability needn't stop you trying some of the more adventurous activities, such as scuba diving, or even tackling the Action Challenge – zip-wires, high ropes, abseiling and tree treks – though it's always best to discuss any special needs with staff before booking. Each site varies as to how easy it is to get around – Longleat, for example, is very hilly – but there is a Mobility Bus and the website has full details on each site.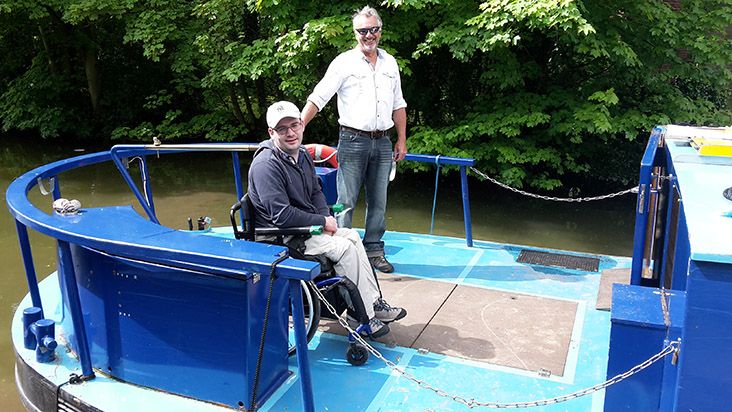 Enjoying the sunshine on the water © Voluntary Association For Surrey Disabled
Take to the water
Cruise along the Grand Union Canal and take in the beautiful scenery at a leisurely pace in this specially adapted canal boat. The boat is moored in Hemel Hempstead, so you can float along the peaceful waterways via historic Berkhamsted, passing pretty countryside and stopping in at canalside pubs en route. The boat has been thoughtfully converted to accommodate eight people and three wheelchairs, with a hydraulic lift at both ends of the boat to access the interior, boarding ramps from the towpath, and a wheelchair-accessible toilet and shower. So, grab your life-jacket and get on board!
Related Articles
Accessible weekend getaways in the UK
Helen Dolphin's guide to accessible hotels in the UK
Free and accessible days out in your own backyard
Image Credits
Rough Guides would like to thank the following individuals, companies and picture libraries for their kind permission to reproduce their photographs (in order of appearance on the web page):
Header image: © Caalm Camp
Edinburgh: © Hilton Hotels & Resorts
Glamping Dorset: © Caalm Camp
St David's, Cardiff: © Intercontinental Hotels Group
Centreparcs: © Centre Parcs
Canal boat: © Voluntary Association For Surrey Disabled