Emma Muldoon, disability blogger and Motability Scheme customer, takes a trip to her favourite coastal spots in St Andrews.
As a full-time power wheelchair user, beaches wouldn't be the first place I'd think of visiting for an accessible day out. Sand and wheels don't go well together, but it's great to see beaches across the UK becoming more wheelchair accessible and offering a range of facilities for disabled people.
After all the COVID restrictions and having to shield for the majority of the last 18 months, a trip to the beach with my family was just what we needed. Especially with the incredible weather, we were keen to get out and make the most of the rare sunshine in Scotland.
There are so many stunning Scottish beaches, and living in central Scotland means we are well placed to visit many of them fairly easily.
So we packed a picnic and enjoyed a scenic drive through the Fife Coastal Path before arriving in St Andrews. There are a few beaches in St Andrews, but we decided to base ourselves at West Sands beach. It stretches two miles and is lined with golden sand dunes and has incredible views across the sea.
It was especially exciting because it meant I got to use my beach wheelchair again after almost two years. I have the WheelEEZ beach wheelchair conversion kit which essentially converts a manual wheelchair into a beach wheelchair.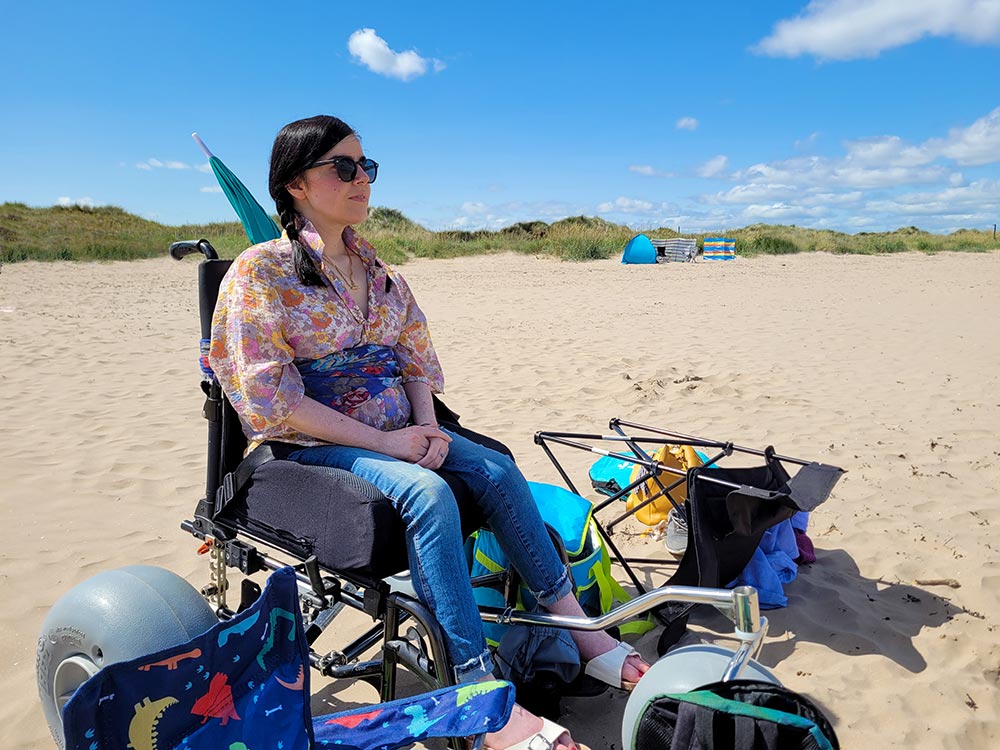 It's brilliant and an absolute game-changer for wheelchair users and people less able to access the beach. I absolutely love it.
When we arrived the beach car park was already fairly busy, but thankfully we managed to find a parking space quickly. It worked out really well as there was plenty of space at the back to access my wheelchair ramp and space to transfer from my power wheelchair into the beach wheelchair.
We were also parked close to one of the sandy pathways down to the beach, making it easy with my beach wheelchair. Before we knew it we were down on the beach, sand between our toes and feeling the lovely sea breeze.
Ever since I can remember I've loved going to the beach. It has a special way of creating calmness and I always leave feeling boosted. But unfortunately, beaches are usually off-limits to wheelchair users, like me. I'd either just not go to the beach or sit on the sidelines watching everyone else.
But having the beach wheelchair allows me to feel included and enjoy quality time with my family. I can access every part of the beach and even go right down the water edge.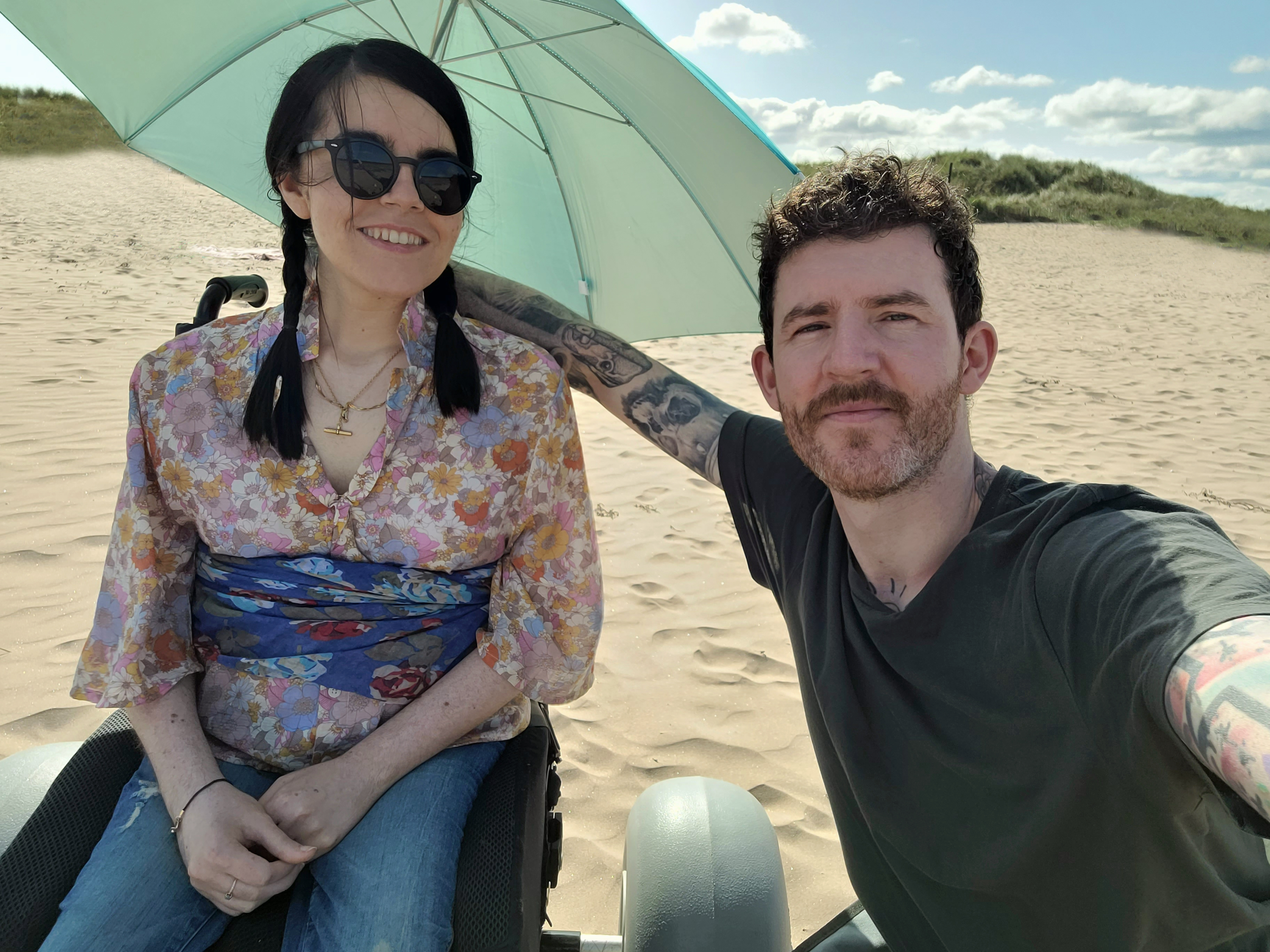 We did forget the wheelchair armrests though, so we had to improvise by tying a scarf around me and the backrest to prevent me from falling over to the side due to having poor trunk control.
Many UK beaches including West Sands beach in St Andrews offer free rental of beach wheelchairs, which is fantastic. There are around six different types to choose from depending on your individual needs and preferences.
They are available to rent from the Seashell Café at West Sands beach, but only on Tuesdays, Thursdays, Saturdays and Sundays. Advance booking is also required so it's best to check before visiting.
There is something for everyone whether that's relaxation or water activities, making West Sands a popular beach. There is also a café selling snacks and next to the beach is also the world-renowned golf course. The town centre is a fifteen-minute walk away, which is ideal if you want to enjoy a spot of shopping or grab some food in one of the restaurants.
Although we didn't use them during our visit, there are accessible toilets at the beach. Unfortunately, though I couldn't find a Changing Places facility.
It was then time to head home but first, we wanted chips for dinner. We enjoyed a detour through the lovely towns of Crail, Pittenween, Elie looking for a chip shop that didn't have a massive queue. Finally, we found one in Leven, so we sat in our WAV and ate the chips at the promenade.
We had a great day out and are now on a mission to visit as many Scottish beaches as we can before the good weather disappears again.
You can read more from Emma on her blog Simply Emma
Interested in joining the Scheme?
About the Scheme
The Motability Scheme supports families in staying mobile by offering a unique, all-inclusive leasing package for brand new cars from all the major manufacturers. If you care for a child or someone who doesn't drive, you can be added as a named driver instead. And as well as standard cars from a range of manufacturers, cars with adaptations, Wheelchair Accessible Vehicles, scooters and powered wheelchairs are available too.
Eligibility
If you are in receipt of one of the following allowances you can apply to join the Scheme:
Use our eligibility checker tool to see if you're eligible.
If you'd like to find out more about the Scheme, request an information pack below and we'll send you all the information that you need to make the right choice.
Related articles
Radar keys explained: what are they, where can I use them and how can I get one
Accessible Vehicles and Equipment scheme launches in Scotland