In this article, Richard Aucock of Motoring Research has selected and reviewed five large cars that are available to lease on the Motability Scheme, with no Advance Payment. This means that in order to lease any of the below brand news cars for three years, you simply exchange your qualifying mobility allowance. Read on to find out more about Richard's selection of cars that are great for comfort, load space and technology. The prices shown are valid for applications placed before 31 March 2021.
---
Maximum space and practicality are a key deciding factor for many Motability Scheme customers. Large and commodious load areas, flexible driving positions and plenty of space for those in the rear are all top priorities. Here, we'll highlight some of the roomiest, most practical five-door motors that can be taken with no Advance Payment on the Motability Scheme.
Our line-up covers all bases, from box-fresh new hatchbacks, to crossover-style vehicles, to fashion-conscious SUVs. We even include a truly mammoth large car here, with space on board to challenge many vans! All of them have fuel-efficient petrol engines with ample oomph to make light work of long trips – even when all the space is being fully utilised. Here are some of the large cars with no Advance Payment you should check out this quarter.
Citroen C4 1.2 Puretech 130 Sense Plus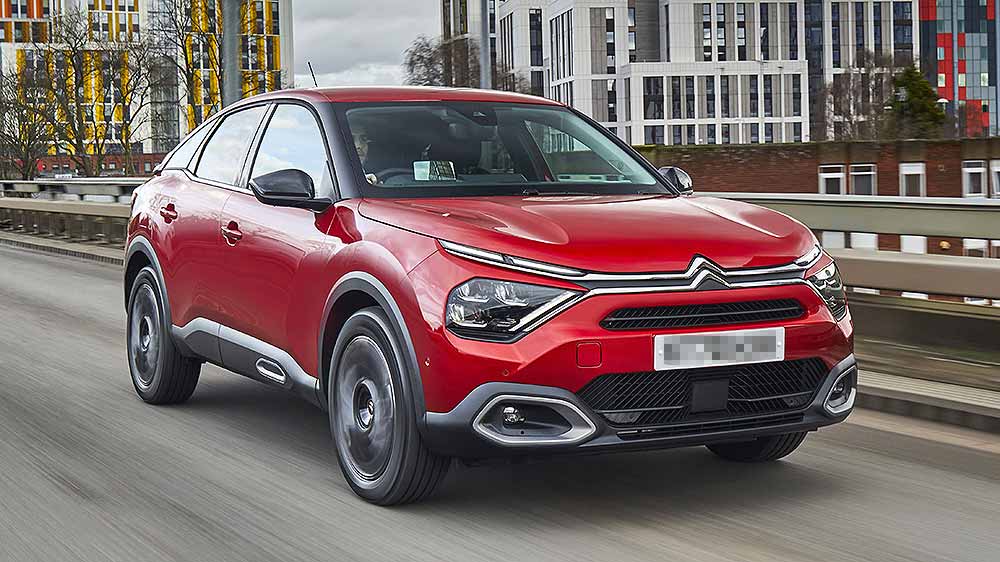 What sort of car is it?
The fresh-faced Citroen C4 is a brand-new family-sized hatchback from the chic French brand. It has distinctive styling and a creative interior, and is offered in petrol, diesel and pure electric guise. Here, we're focusing on the smooth-running 1.2-litre Puretech petrol, in well-equipped Sense Plus trim.
Why is it so popular?
The Citroen C4 is already turning heads on the road thanks to its modern, distinctive styling. It's a family five-door that has styling cues from SUVs, helping it stand out from other more conventional hatchback alternatives. It marks Citroen's return to this popular car sector.
Inside, the spacious interior has been thoughtfully designed with modern, interesting shapes and surfaces. I like the contemporary materials and found the big central touchscreen easy to use – helped by a separate row of controls for the climate control system.
The 380-litre boot is a good size. Plus, as the C4 is a little higher off the ground than a regular hatch, it's easy to step in and out of. I also love some of the intriguing options that can be added to it, particularly the slide-out drawer on the passenger side, which has a mounting kit so you can locate a tablet computer in it!
Suzuki S-Cross 1.4 Boosterjet SZ4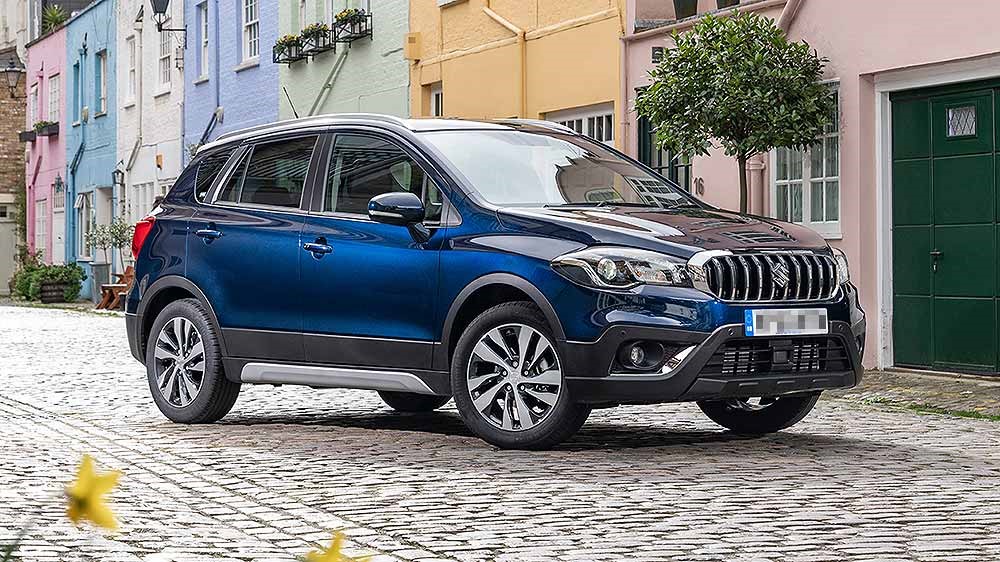 What sort of car is it?
The S-Cross is Suzuki's roomy and practical family SUV. Measuring a manageable 4.3 metres long, It's nevertheless spacious enough inside for five, and also comes with a generous level of standard equipment. This latest version has standard 48v mild hybrid technology to save fuel, too.
Why is it so popular?
The S-Cross is a really good value car. The SZ4 we're looking at here has standard roof rails, LED projector headlamps, dual-zone climate control, adaptive cruise control and a 7.0-inch touchscreen all as standard. Alloy wheels are included too, setting off the car's chunky stance and high ground clearance – and black plastic wheel arch extensions can help shrug off city centre scrapes.
The Boosterjet engine is impressive. The 1.4-litre motor accelerates from 0-62mph in 9.5 seconds, and is capable of more than 50mpg according to the official fuel consumption test. Mild hybrid tech helps the engine shut down at low speed, helping cut fuel consumption, and actually gives the engine a power boost under acceleration, too.
All-round legroom is good, and the practical boot capacity of 430 litres is made even more user-friendly thanks to a multi-position load board, wide space and fold-flat 60/40-split rear seats. Suzuki dealers are also highly regarded by customers.
SsangYong Tivoli 1.2 EX

What sort of car is it?
The Tivoli has proven to be one of SsangYong's most popular cars to date. The compact SUV has relatively manageable exterior dimensions but clever design means it packs plenty of space and flexibility inside. Constant updates have kept this rugged-looking car competitive in an ever-growing sector of car.
Why is it so popular?
The Tivoli has tough, city-friendly styling with chunky lines that are nicely set off by crisp LED running lights at the front. Add in roof rails and beefy rear wheelarches, for a car that's every inch a city-friendly SUV.
All Tivoli have a good amount of standard equipment including cruise control, steering wheel stereo controls, fuel-saving engine stop-start and a broad array of safety gadgetry that can help drivers avoid an accident altogether. The Tivoli EX even comes with heated seats as standard.
The 1.2-litre turbo petrol engine has fuel-saving direct injection, and delivers good pulling power, while the boot stretches to 427 litres even with the seats up. Fold them flat – via a 60:40 split – to juggle the layout and create even more space.
MG HS 1.5 T-GDI Excite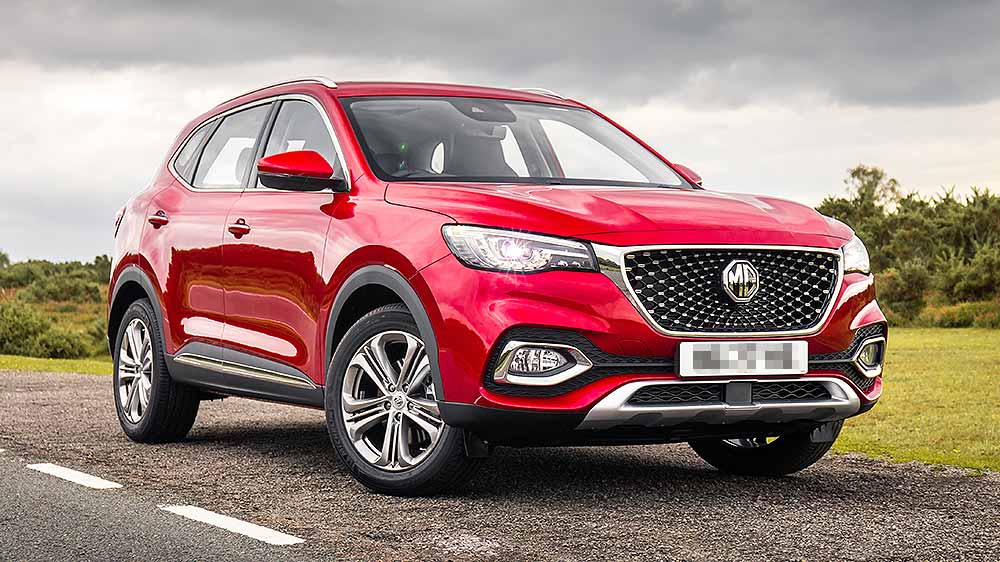 What sort of car is it?
The HS is the range-topping model in MG's ever-expanding UK line-up of cars. The five-seat SUV is bigger than some of its rivals, delivering plenty of onboard space, and also a good dose of standout status out on the road. It comes as standard with a powerful 162hp 1.5-litre turbo petrol engine.
Why is it so popular?
The MG HS is certainly a good performer. The petrol engine has vigorous response and performance, meaning you usually have plenty of power in reserve. It's a great car for devouring long distances without fuss. The model available with no Advance Payment has a six-speed manual gearbox but an automatic is also available.
Owners like the high level of standard equipment that comes with the HS – even this entry-level Excite has a 10.1-inch colour touchscreen, rear parking camera, stylish 18-inch alloy wheels and a convenient electronic parking brake instead of a heavy handbrake lever.
The MG HS has a stylish, upmarket interior, comfortable seats and a very practical boot that's wide, well-shaped and beautifully trimmed in soft carpet. Total capacity is a generous 450 litres and there's a hidden storage compartment beneath the boot floor to stow valuables out of the way of prying eyes.
Vauxhall Combo Life 1.2T Edition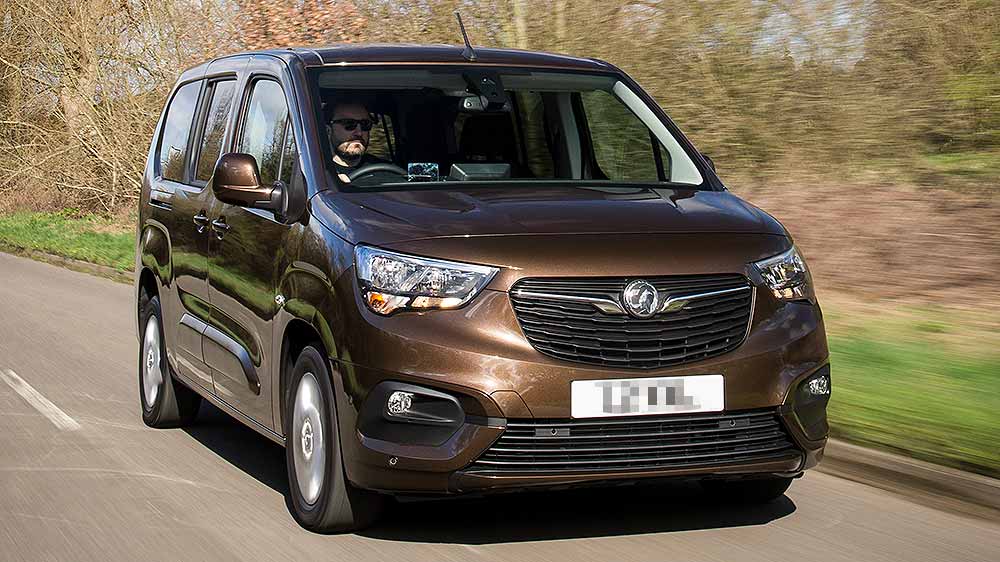 What sort of car is it?
The Vauxhall Combo Life is one of the most practical cars sold by this famous British brand. The square, boxy profile has been designed to maximise interior space, making it an ace in the practicality stakes. You can even get a seven-seat version, but here, we're looking at the great-value five-seat model which delivers an almost unbeatable amount of room.
Why is it so popular?
Although it's designed to be as spacious as possible, the Combo Life is still a smart-looking machine, with an upmarket front end and stylish headlights. It's comfortable inside too, with a high-up seating position, good-quality dashboard and a comprehensive 8.0-inch touchscreen featuring Apple CarPlay and Android Auto.
It's absolutely gigantic inside. All passengers have acres of space – with those in the rear enjoying easy-to-use sliding doors – and the boot is gargantuan. There's 597 litres of space even below the sliding luggage cover: load it to the roof-top and 983 litres is available, and that's with five people also on board. Fold the rear seats and a total of 2,126 litres is yours – you'd literally need a van to match it!
The 1.2-litre turbo petrol engine is a good performer, with a smooth nature and good response to the accelerator, while fuel consumption is impressive. The Combo Life is also light and easy to drive, with stable handling and decent ride quality. That it's available with no Advance Payment really does simply seal the deal.
What are the pricing options?
There are three pricing options available when leasing through the Motability Scheme:
Cars that cost less than your mobility allowance:
There are over 100 cars that cost less than your mobility allowance, giving you money back to spend as you wish. The amount you pay is fixed during your lease and the remainder is paid directly to you by the Department for Work and Pensions (DWP) or Veterans UK, depending on which mobility allowance you receive.
View less than your allowance cars
Cars that cost all of your mobility allowance:
There are almost 300 cars that cost the same as your allowance, which means you swap the whole of your weekly mobility allowance for the car of your choice. There is no Advance Payment on these models. These cars will display the words 'Total Mobility Allowance' on the specifications page for weekly rental amount on the Car Search tool.
View Total Mobility Allowance cars
Cars that cost all of your mobility allowance and have an Advance Payment:
You can increase your choice further by paying a one-off, non-refundable upfront payment which we call an Advance Payment. The Advance Payment covers the cost between your mobility allowance and the total cost of your lease.
View cars that have an Advance Payment
How the payments work?
Payments are deducted from your qualifying mobility allowance every four weeks, then paid directly to us by the Department for Work and Pensions (DWP) or Veterans UK. If you choose a car that costs less than your allowance, the remainder is paid directly to you by the DWP or Veterans UK.
All-inclusive leasing
No matter which car you choose, all come with our all-inclusive package of insurance, breakdown cover, servicing, tyres and glass repair and replacement.
Search the full range
If you'd like to join over 630,000 customers already enjoying the benefits of a worry-free lease package through the Scheme, start exploring the full range of cars available using our Car Search tool to narrow down your options.
Our price lists are updated every three months, so you can be assured you're getting the best prices from each manufacturer. The dates the new prices are published are:
1 January
1 April
1 July
1 October
Interested in joining the Scheme?
About the Scheme
The Motability Scheme offers an all-inclusive package. If you are in receipt of a qualifying mobility allowance you can use it to lease a car, scooter, powered wheelchair or Wheelchair Accessible Vehicle. The Scheme provides flexible and hassle-free access to a brand new, reliable vehicle of your choice. As well as a great choice of cars, we also provide a wide range of Wheelchair Accessible Vehicles, scooters and powered wheelchairs.
Eligibility
To join the Scheme, you must be in receipt of one of the following mobility allowances:
Enhanced Rate of the Mobility Component of Personal Independence Payment (PIP),
Higher Rate Mobility Component of Disability Living Allowance (DLA),
War Pensioners' Mobility Supplement (WPMS),
Armed Forces Independence Payment (AFIP).
Related Articles
Automatic cars with no Advance Payment available on the Motability Scheme
Why car prices are rising – and how the Motability Scheme is keeping them affordable