In this article, Richard Aucock of Motoring Research has selected and reviewed five large cars that are available to lease on the Scheme, with no Advance Payment. This means that in order to lease any of the below brand news cars for three years, you simply exchange your higher rate mobility allowance. Read on to find out more about Richard's selection of cars that are great for comfort, load space and technology. The prices shown are valid for applications placed before 31 December 2020.
---
Maximum space and practicality are a key deciding factor for many Motability Scheme customers. Large and commodious load areas, flexible driving positions and plenty of space for those in the rear are all top priorities, and can make or break a decision to take out a lease once the models have been checked out in the showroom.
Although Covid-19 has put pressure on the industry, there are still affordable choices out there for those seeking good-value large cars. There are currently numerous roomy models on the Motability Scheme on offer for nil Advance Payment. Here, we have picked out five of the biggest and most practical models you can choose for nil Advance Payment.
Skoda Octavia 1.0 TSI SE Technology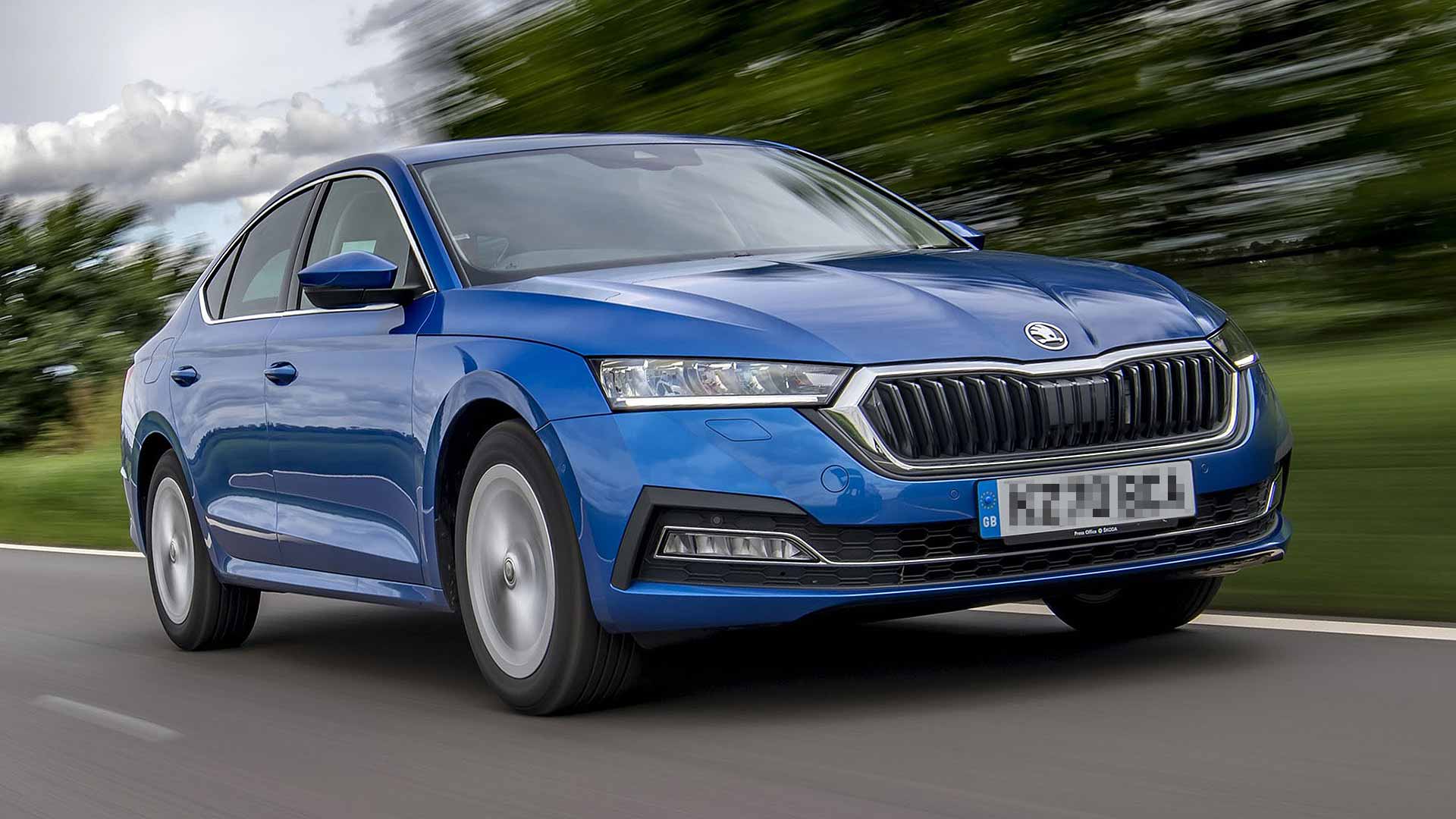 What sort of car is it?
The Skoda Octavia is all-new for 2020 with a brand new evolution of a very popular model. This latest version has a distinctive new look with a prominent grille at the front and a variation of Skoda's new rear end, complete with 'SKODA' script on the bootlid. It looks more upmarket than ever and has real showroom appeal.
Why is it so popular?
The practicality of the Skoda Octavia is a key reason for its popularity. It is an extremely roomy car, with plenty of space for those in the front, more than enough space for rear seat passengers, and a truly enormous boot. This latest version packs in 600 litres, which is an extraordinary amount of space for a car in this sector – particularly as it's all available for nil Advance Payment.
Skoda has pushed the rest of the Octavia upmarket too. The interior is good quality and uses the latest Volkswagen Group touchscreen technology, centred around a prominent display in the centre of the dashboard. It all feels very modern and contemporary.
While choosing such a large car with a small 1.0-litre engine sounds unappealing, the performance of the 1.0-litre TSI motor will far exceed expectations. It will accelerate from 0-62mph in under 11 seconds, while also officially returning almost 55mpg. It is a superb engine, with plenty of pulling power, and is a great companion to this large and useful family-friendly car.
Kia Ceed Sportswagon 1.0 T-GDI 2 Nav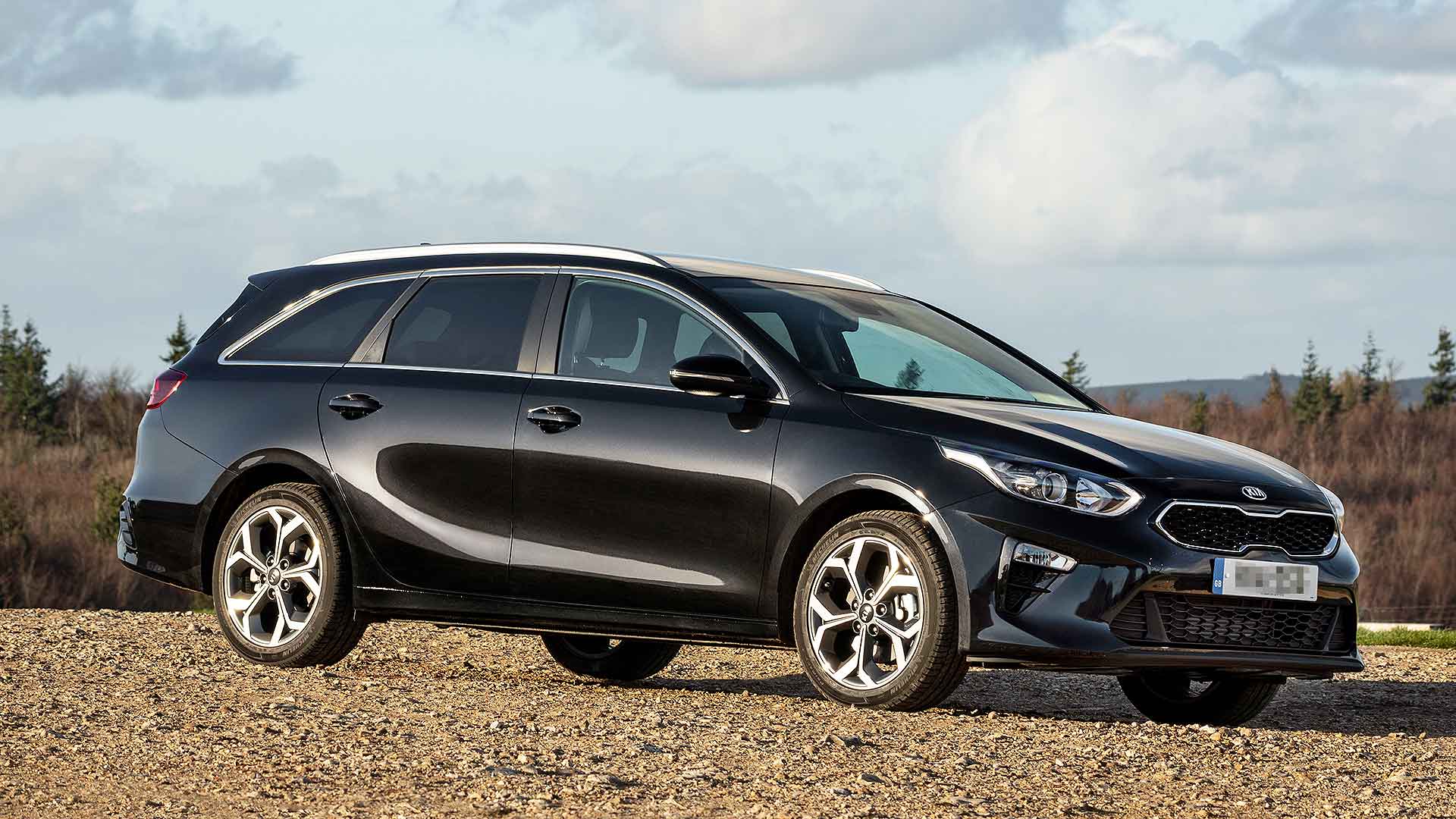 What sort of car is it?
Kia sells the Ceed Sportswagon alongside the regular Ceed hatch and the Ceed SW estate. The Sportwagon aims to offer the best of both worlds – the good looks of the hatchback, with some of the practicality of the estate. Some have likened it to Kia's version of the svelte, upmarket Mercedes-Benz CLS Shooting Brake… high praise indeed for the good-looking and great-value Kia.
Why is it so popular?
The Kia Ceed Sportwagon is a car with plenty of visual appeal. It really is a bit of a head-turner. Compared to regular models, the seating position is that bit lower and the lines a little more rakish, so it feels like a secret coupe in disguise. The slightly sportier setup means handling is sharper and more agile, so it's a fun car to steer through the bends.
The Ceed Sportwagon is also a practical and family-friendly car, though. Despite its sporty good looks, the boot boasts 528 litres of space even with the seats up. Fold them flat, and this expands to 1,642 litres. The engine also returns almost 50mpg and the 2 Nav model grade includes a good haul of standard equipment – including, as its name suggests, sat nav. This is a smart-looking yet practical car that, for nil AP, is a real bargain.
Dacia Duster 1.0 TCe 100 Access

What sort of car is it?
The Dacia Duster is a funky-looking crossover SUV with a cheeky appearance and tough stance. This version is the all-new model that was launched in 2019, so still has a fresh and modern appearance. Affordable Access trim uses its back-to-basics spec to make it a Motability Scheme bargain – not only is it zero Advance Payment, you don't even have to use your full weekly allowance!
Why is it so popular?
The Duster has a neat and modern interior. Owners like the raised seating position and confident feel behind the wheel, helped by chunky controls and a well-located gearlever. The view over the bonnet is clear and all-round visibility is good. Rear seat passengers will be happy, and the boot has a generous 445-litre capacity.
Although it is a bargain, Dacia hasn't skimped on the engine. The 1.0-litre petrol engine is turbocharged, and delivers surprising pulling power and a swift response to the accelerator. It's smooth and refined in town, and great on long journeys – particularly as the ultra-efficient motor serves up great fuel economy as well.
MG HS 1.5 T-GDI Excite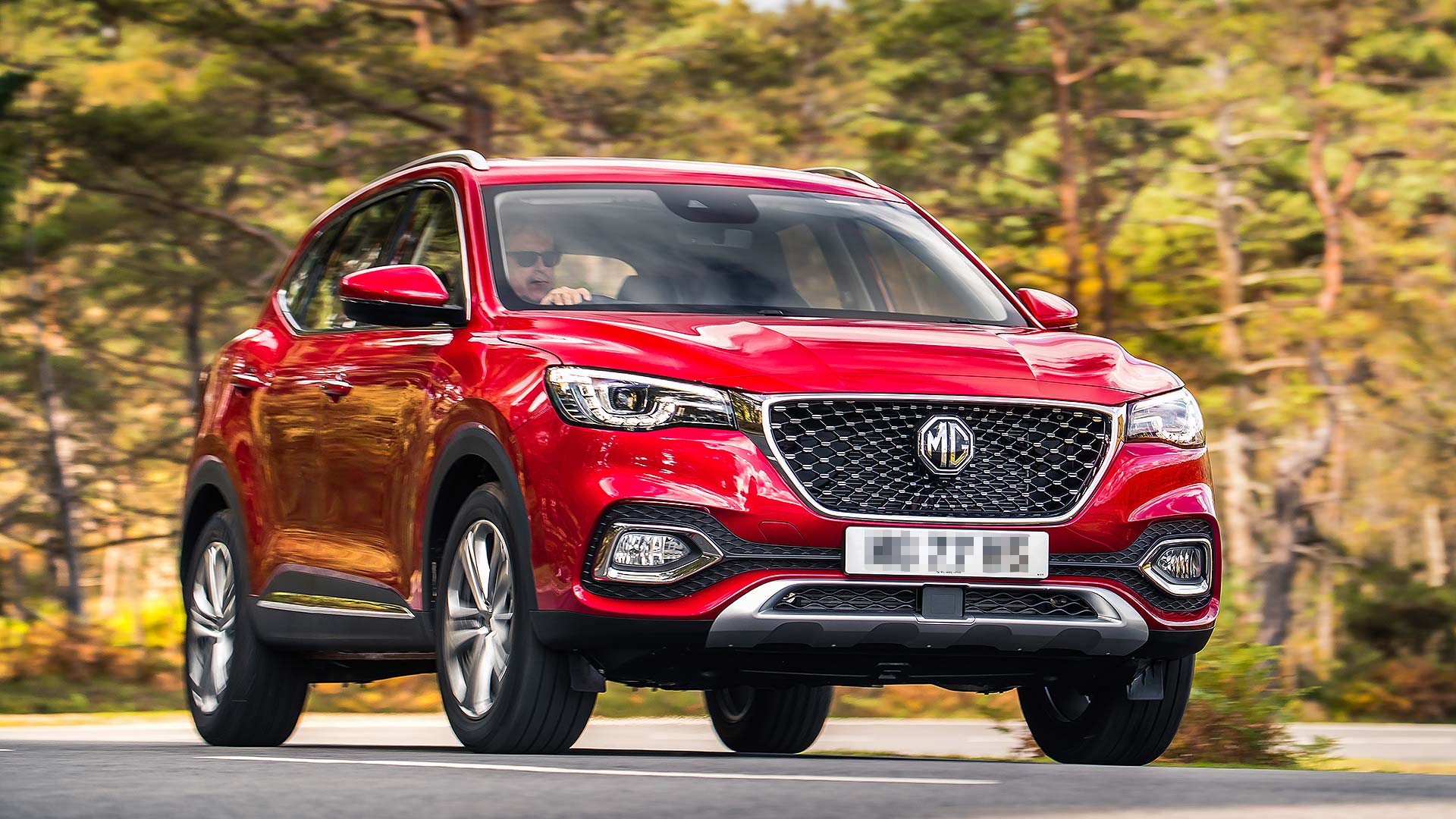 What sort of car is it?
The MG HS is new for 2020. It is a family-sized SUV with a very modern and premium appearance – you are certain to turn heads in it, thanks to its distinctive front end (including a great-looking grille) and chunky wheelarches protected by tough plastic extensions.
Why is it so popular?
The MG HS is a commanding car on the road, almost 4.6 metres long and over 1.6 metres tall. It has real presence. Big 18-inch alloy wheels are stylish and MG tells us the logo on the grille is the biggest MG octagon ever fitted to a production car!
The HS is well equipped, with a 10.1-inch touchscreen in the centre of the dash, plus cruise control, blind spot warning and automatic emergency braking in town – a real life-saving feature. Rear passenger space is ample and the 450-litre boot is a decent size. The load space also extends into a fully-flat bay by folding the split rear seats.
Nissan Qashqai 1.3 DiG-T Acenta Premium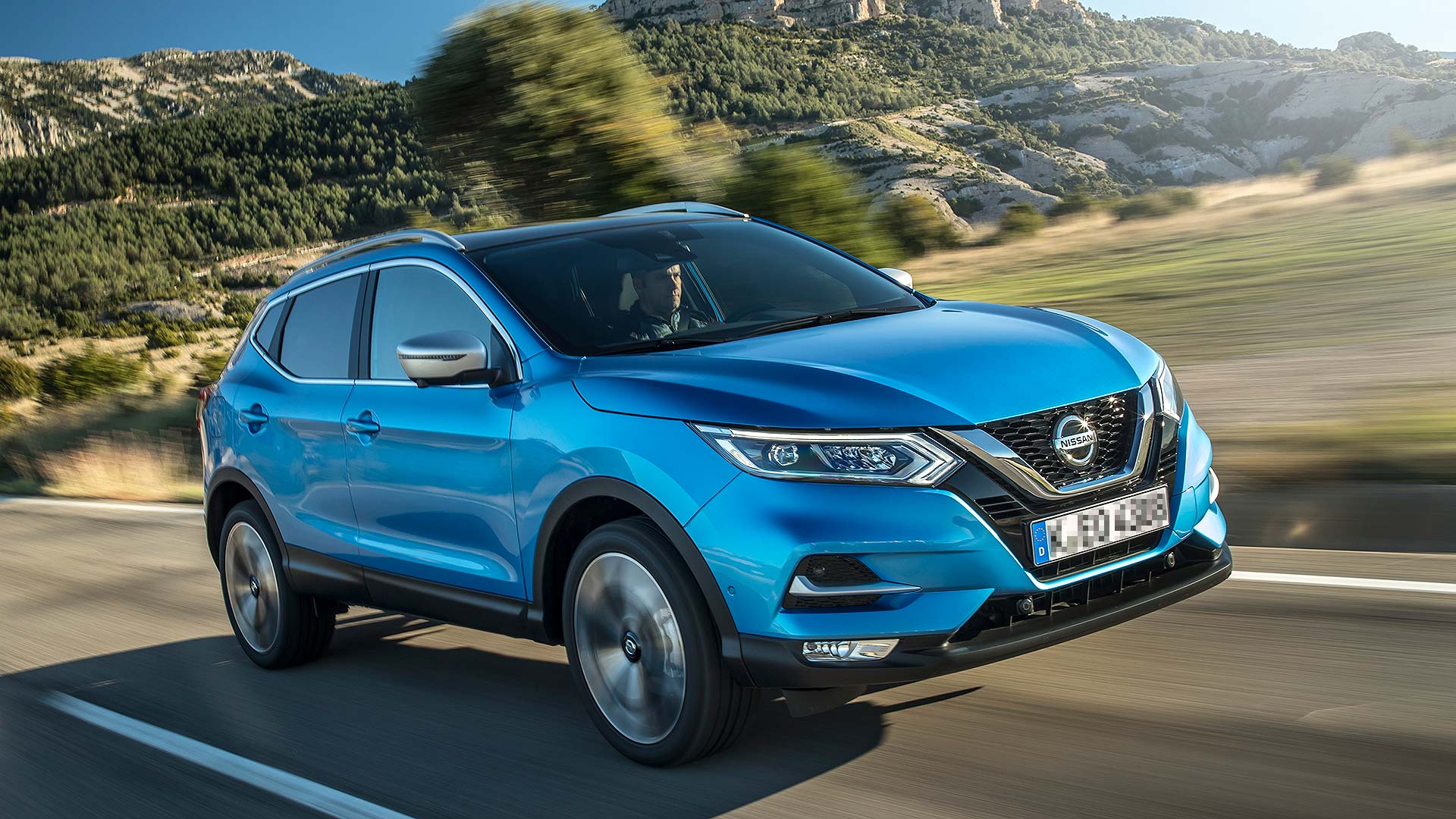 What sort of car is it?
The Nissan Qashqai is a very popular crossover SUV in the UK. It is built here in Britain and has frequently been a top 10 best-seller. The current version has been kept fresh over the years and Nissan is generous with the amount of standard features it fits, particularly on the Acenta Premium grade we're looking at here.
Why is it so popular?
British motorists really rate the Qashqai's sharp lines and smooth curves. It still looks smart, and the well-built interior has a solid feel and some upmarket finishes. The Acenta Premium has a rear-view camera, NissanConnect sat nav, all-round parking sensors and a lane departure warning system, all as standard.
Drivers like the high-up seating position and there's decent space in the rear seats. The boot is very practical, with a flexible load floor and easy-load design, while the rear seats fold down easily to extend the space further. A lot of care and attention has been put into making the Qashqai a particularly practical and easy-to-live-with large car.
What are the pricing options?
---
There are three pricing options available when leasing through the Motability Scheme:
Cars that cost less than your mobility allowance:
There are over 100 cars that cost less than your mobility allowance, giving you money back to spend as you wish. The amount you pay is fixed during your lease and the remainder is paid directly to you by the Department for Work and Pensions.
View less than your allowance cars
Cars that cost all of your mobility allowance:
There are almost 300 cars that cost the same as your allowance, which means you swap the whole of your weekly mobility allowance for the car of your choice. There is no Advance Payment on these models. These cars will display the words 'Total Mobility Allowance' on the specifications page for weekly rental amount on the Car Search tool.
View Total Mobility Allowance cars
Cars that cost all of your mobility allowance and have an Advance Payment:
You can increase your choice further by paying a one-off, non-refundable upfront payment which we call an Advance Payment. The Advance Payment covers the cost between your higher rate mobility allowance and the total cost of your lease.
View cars that have an Advance Payment
How the the payments work?
Payments are deducted from your higher rate mobility allowance every four weeks, then paid directly to us by the Department for Work and Pensions (DWP). If you choose a car that costs less than your allowance, the remainder is paid directly to you by the Department for Work and Pensions.
All-inclusive leasing
No matter which car you choose, all come with our all-inclusive package of insurance, breakdown cover, servicing, tyres and glass repair and replacement.
Search the full range
If you'd like to join the 600,000 customers already enjoying the benefits of a worry-free lease package through the Scheme, start exploring the full range of cars available using our Car Search tool to narrow down your options.
Our price lists are updated every three months, so you can be assured you're getting the best prices from each manufacturer. The dates the new prices are published are:
1 January
1 April
1 July
1 October
Interested in joining the Scheme?
About the Scheme
The Motability Scheme offers an all-inclusive package that allows anyone in receipt of higher rate mobility allowances to use their mobility allowance to lease a car, scooter, powered wheelchair or Wheelchair Accessible Vehicle. The Scheme provides flexible and hassle-free access to a brand new, reliable vehicle of your choice. As well as a great choice of cars, we also provide a wide range of Wheelchair Accessible Vehicles, scooters and powered wheelchairs.
Eligibility
To join the Scheme, you must be in receipt of higher rate mobility allowances (such as the Enhanced Rate of the Mobility Component of Personal Independence Payment or the Higher Rate Mobility Component of Disability Living Allowance). Use our eligibility checker tool to see if you're eligible.
Related Articles
Spotlight on: Electric cars available on the Motability Scheme
Why car prices are rising – and how the Motability Scheme is keeping them affordable