We want to make it easier for you to keep up to date with your vehicle's servicing and MOT schedule.
To help you do this, we've recently launched four new email reminders.
We wanted to explain a bit more about when you'll get these emails, and what to do if your service or MOT is due but you have not received one.
When will I get a reminder?
We've introduced emails at four different points during your lease:
When your service is due
If your service is overdue
When your MOT is due
If your MOT is overdue
We've done this so you can plan your servicing and MOT appointments in plenty of time, rather than waiting for a call from your dealer.
The emails will tell you when your service or MOT is due and give you some more information about how to make a booking.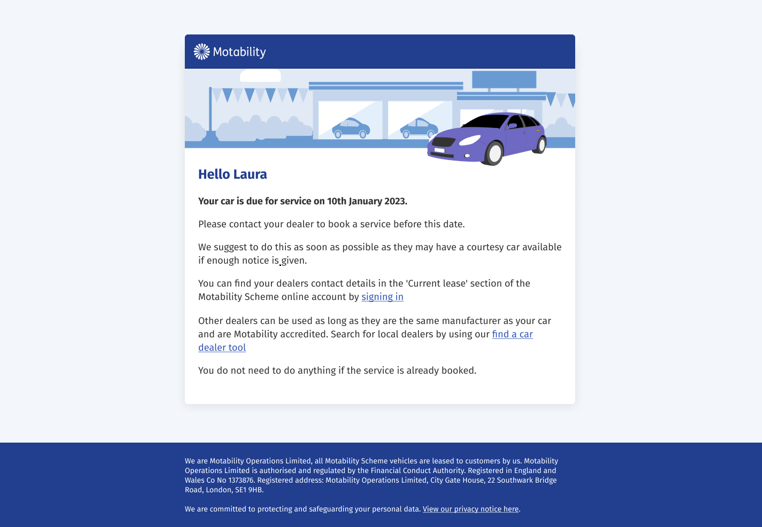 Who will get these emails?
We'll send the service and MOT reminder emails to everyone with an email address.
If you've already booked your service or MOT, you can ignore the email. There's no need to contact us to let us know.
We'll only send the service or MOT overdue emails if you've missed the due date for getting either of these done.
My service and MOT are due – why haven't I had an email reminder?
If you have not had one of these emails yet, it's likely we do not have your correct email address.
The best way to check the email address we hold for you in is your Motability Scheme online account.
If you do not have an online account yet, when you create one, you'll be asked to enter your current email address and validate it. This will then update on our records, so we can send you reminders in the future.
Start your application from home, track your order and see your PIN ready for handover
Add your bank details to get payments like the Good Condition Payment or New Vehicle Payment faster
Add or change your drivers at any time without needing to call
Easily book a tyre replacement or inspection
Update your personal details and contact numbers
Related articles
MOT reminders in the Motability Scheme online account
Introducing the Motability Scheme online account
10 tips for keeping your car in good condition