Tyres come in various sizes depending on the type of car you drive. Whether they've become worn with age or you've discovered a puncture, if you find you are in need of a new tyre, the first thing you'll need to know when replacing it is your tyre size, so that Kwik Fit can ensure that they have the correct tyre for your car at the centre when you arrive for your appointment.
You won't necessarily find the correct tyre size in the vehicle manual as there are usually several that can be fitted to each make and model. The simplest and best way to tell what tyre size you need, is to go and have a look at the sidewall of your existing tyre. The sidewall will include lots of letters, numbers and codes, but the one you are looking for is usually in large print and will look a little something like this: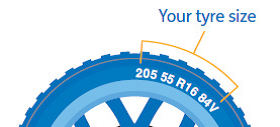 In this instance the tyre size is 205/55 R1684 V. While the numbers and letters may change, the format is always the same e.g. 195/70R14 T or 245/45R19 Y. The numbers and letters each represent a different aspect of the tyre's size and properties including the tyre width, aspect ratio, rim size and speed rating.
Top tip
---
We recommend that you make a note of your tyre size and keep it handy so that you have this easily accessible for when you need it. On many makes and models of vehicle, the front and rear tyre size can actually be quite different in order to improve handling and stability. Tyres on the same axle should always be the same size however.
As a Motability Scheme customer, tyre repair and replacement is included in your three year lease agreement. It is possible to call in to your local Kwik Fit centre without an appointment and the team will fit you in as soon as they can. However, most Kwik Fit branches operate on a first-come, first-served basis, which can lead to long waiting times during busy periods, so we would recommend that you book an appointment in advance.
What you'll need when booking an appointment
When you book an appointment with Kwik Fit, you'll be asked to provide your vehicle registration and the tyre size you made a note of earlier, the agent will then be able to order an appropriate replacement for your car.
You can book an appointment online or call Kwik Fit on 0330 123 1533. If you are unable to get to a centre, or accessibility at your nearest centre is difficult you can use Kwik Fit's mobile service. However, the service is available by appointment in advance only and is only available to replace tyres, and not repair punctures. To organise an appointment for one of Kwik Fit's 220 mobile fitting units to replace your tyres at your home at no extra cost, you can call 0330 123 1533.
Related articles
Time for new tyres? It's easier than you think with Kwik Fit's online booking service
What to expect when visiting a Kwik Fit centre
Kwik Fit's top tips for looking after your tyres