Part of the Motability Scheme package for customers leasing powered wheelchairs and scooters is a breakdown service that operates in exactly the same way as recovery services such as the RAC for motorists: Motability Assist. It is a free service offering around-the-clock cover for anyone who breaks down while out and about on their product. This gives customers great peace of mind, security and reassurance.
Here, four Motability Scheme customers tell their stories about what happened when they broke down and how Motability Assist helped them.
"Motability Assist rescued me and my dog!"
Colleen Marriott, 61, from Barnsley, was helped by Motability Assist when she was on the way to collect her Cavalier King Charles dog from the groomers and a flat tyre caused her mobility scooter to break down.
She says: "They didn't just rescue me – they rescued my dog too! I thought that went well above and beyond the call of duty." Colleen's little dog was collected while she waited in the recovery vehicle and then they were both taken home.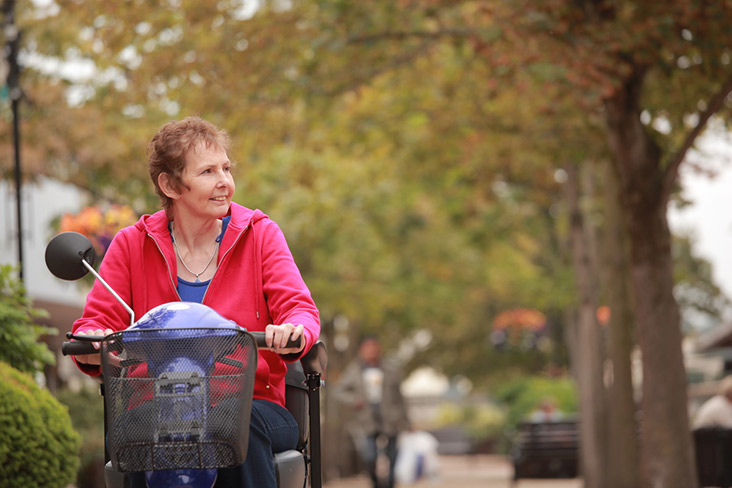 Motability Assist is available 24 hours a day, 365 days a year
"It wasn't very nice breaking down, but Motability Assist kept in contact with me the entire time on the phone while I waited for them to arrive. They asked me if I was okay, if I needed any medication. I feel really reassured when I go out now knowing they are always there. My sister just got a Motability Scheme scooter too and one of the things she's grateful for is the included breakdown service."
Colleen has arthritis and uses her scooter for everything, saying, "it's especially wonderful to have in the summer months."
"I won't forget to charge again"
Janet Moss, 56, broke down while out shopping near her home in Plaistow, East London. She felt very reassured by the service which came quickly and took her home after her mobility scooter ran out of battery. This happened because she'd forgotten to charge it, but she's treated this as a wake-up call and says she definitely won't forget again.
"Motability Assist made me feel very reassured. I use a scooter because I have severe osteoporosis. It was a bit frightening to break down like that, but the breakdown recovery service made me feel secure and safe.
Always make sure your product is fully charged before going out
"My scooter means I can get out and about. Without it, I couldn't leave the house but it gives me a sense of independence. Even though I've only had it a year, it's really changed my life for the better."
"Broken down in the middle of nowhere"
Annette Edwards, 59, uses her mobility scooter regularly to visit her sister who lives a few miles away from her in Bridgewater, Somerset. But one day, along a pedestrianised path in woodland on the way to her sister's home, she broke down.
Without her phone, she had no way of contacting anyone and there was no one around. So she walked the short distance left of her journey to her sister's and rang the recovery service immediately she arrived. "Everything was perfect. They were very helpful, very polite. I was very happy with the service that day and incredibly relieved, too."
Usually, Annette always carries her phone with her but she didn't have it with her that day. "But that's taught me to make sure I never forget it again!"
"Now I always charge my scooter before leaving!"
William Park, 59, from Middlefield in Aberdeen thought he'd charged his mobility scooter battery sufficiently when he went out one day. But it ran out of battery two miles from home. Without his phone, he had to ask a passer-by if he could use their phone to ring Motability Assist.
"Within ten minutes of me phoning them, I was in a taxi on my way back home along with my scooter. I'm very happy with the service."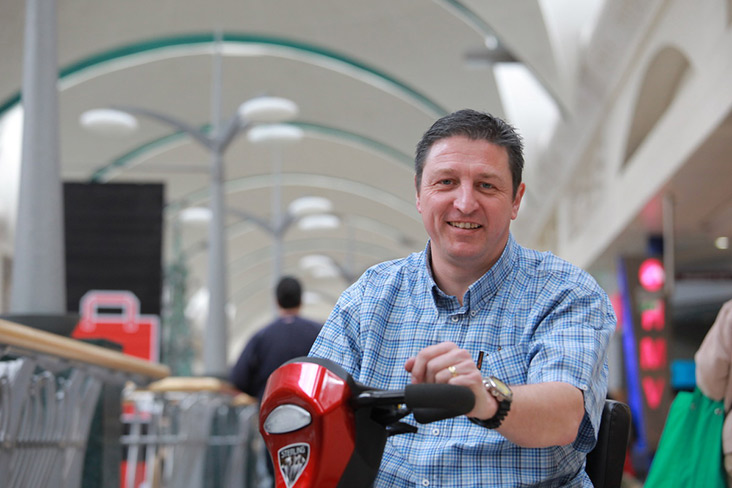 Always keep your mobile phone on you just in case you need to ring Motability Assist
Like many other Motability Scheme users, William really values the independence his vehicle gives me. "I get such a sense of freedom from my scooter. I can get out, get to the shops, do whatever I want. The scooter means I can get out the house every day.
"I always take my phone with my now and I always put my scooter on an 18-hour charge after use so this doesn't happen again!"
Key things remember when you're out on your scooter:
Always charge your device in line with the dealer's instructions.
Always take your phone with you and make sure it's fully charged
Tell someone where you're going and what time you expect to arrive, as well as when you expect to be back home
Save the number for Motability Assist in your mobile phone contacts
Carry the useful numbers card your dealer gave to you when you collected your product
These simple precautions will help you get the most out of your device. In the unlikely event that you break down on your mobility scooter or powered wheelchair, Motability Assist is available for Scheme customers around the clock, 365 days a year.
To find out more about joining the Motability Scheme, use our eligibility checker and order a free information pack. You can also browse our full range of scooters and powered wheelchairs to see what kind of device is best for you.
Disclaimer: These images are of models, not the customers providing the testimonials
---
Related articles
Choosing the right mobility scooter for you
Maximise your scooter battery life