The Motability Scheme online account is a simple and flexible way for you to manage your lease and keep your information up to date. But did you know that if you're looking to join the Scheme or order your next car, you can now use your online account to start your application from the comfort of home?
You don't need to have decided what vehicle you want to order, but by entering some of your key information before you visit a dealership, your dealer will have more time to focus on finding the right car for your needs.
Plus, you'll have peace of mind that the information you've entered is correct.
Who can start their application online?
This feature is currently available to customers without an appointee who are ordering a Scheme car or Wheelchair Accessible Vehicle (WAV). It can be used by existing customers who want to place their next application, or by customers who are new to the Scheme and are placing their first application.
We are working hard to make this feature available to everyone soon.
How do I start my application online?
To get started, create your Motability Scheme online account or sign in to your existing account.
If you're newly creating your account, you'll then be asked to confirm whether you're new to the Scheme, or you already have a lease or application ongoing with us.
Watch our video below to learn how it works:
New customers
If you choose that you're new to the Scheme, we'll give you a bit of information about how the Scheme works. You'll be asked to acknowledge that you've read and understand the information before you start your application.
You'll then be able to add the following details:
Personal information such as name, address and date of birth
Details about your mobility allowance
Grant information (if you are receiving a grant towards your vehicle)
Details for two of your named drivers (if they hold an England, Wales or Scotland licence)
Existing customers
If you already have a car or WAV on the Scheme, you'll need to head to the 'New car application' area in your online account. You'll then be able to enter the same details as listed above to start your application.
Please note you'll need to be within the last three months of your existing lease, or in a lease extension, to start your application online.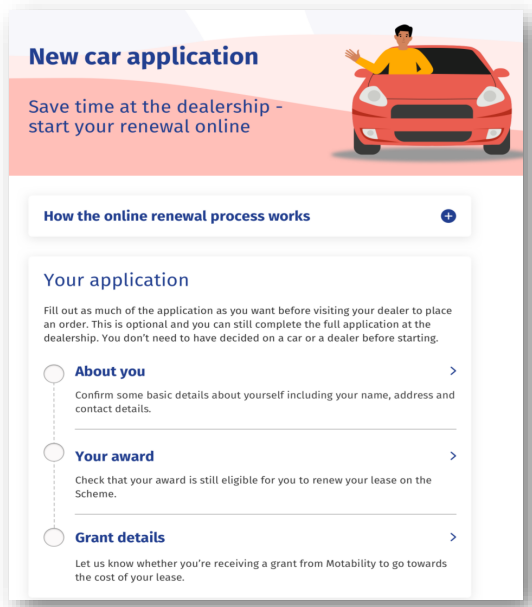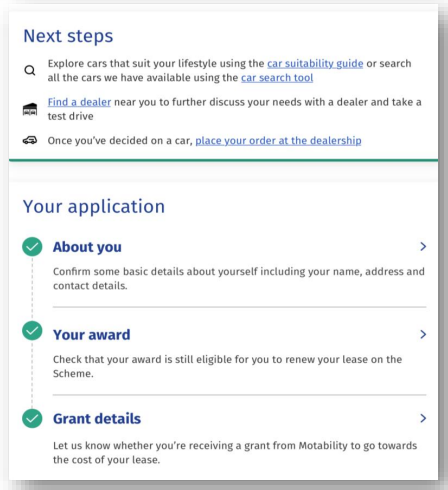 "It's an excellent idea. It's easier. You can sit at your table and do it at your laptop. Everything is simpler and more precise and it's there in front of you and you can keep a record of it."
What happens after I've started my application from home?
Once you've entered all of your details, you'll then need to visit a dealership to choose your car, take a test drive and finalise your application.
If you've started your application from home, your dealer will be able to spend more time helping you find the right car and answering any questions you might have.
"In order to save time, it's quicker and easier to enter info yourself rather than having to relay it to someone else"
Did you know?
Thousands of customers have now started their application online and more than 90% gave the experience a 5-star rating!
After you've placed your order
There are a host of other great features in the online account that can help you once you've placed your order. You can check the details of the vehicle you've ordered and check the status of your application for peace of mind that your order is progressing.
When you get closer to collecting your new car, you'll be able to view and access your PIN ready for delivery day. This means you won't have to remember your PIN letter when you collect your new vehicle and can instead easily access this on your smartphone at the dealership.
Plus, you can update your payment preference to bank transfer before you collect your new vehicle. This means that if you're eligible for the Good Condition Payment or New Vehicle Payment when you collect your new car, you'll get these straight into your bank account in just a few days rather than waiting a few weeks for cheques.
Other great benefits of an online account
View, add or change named drivers during your lease and easily see the details of your insurance cover, saving you a call to our insurance provider
Easily view and update personal information such as your address and contact details, giving you peace of mind that everything is up to date
Find your managing dealer's contact details – useful if you need to get in touch with them to arrange any servicing, maintenance or repairs
View key lease dates and important Scheme documents to help you stay organised throughout your lease
Read Sarah's experience of receiving payments via bank transfer, thanks to the online account
Ready to create an online account?
If you are ready to create an online account, you can sign up here.
We'll need your National Insurance number and date of birth so that we can verify who you are, but once you've created an account, you can log in at any time using your email address and chosen password.
If you have already created your online account, you can log in here
Related articles
Start your next application from home with the online account
Current challenges in the motoring industry
Did you know you can add or change named drivers in your online account?