We hear a lot about the negative aspects of disability, but less about those people who are doing amazing and inspiring things despite their disabilities. In this article, Rough Guides author Mandy Tomlin showcases some noteworthy figures, who have disabilities ranging from deafness to cerebral palsy to autism, who've achieved astonishing things in the fields of sport, music and politics, amongst others.
Francesca Martinez Performing stand-up in your own show at the Edinburgh Festival would be daunting enough for anyone, but even more so if you've got cerebral palsy. Francesca Martinez is unphased, however, and as well as writing and performing comedy shows, she has acted on stage and TV and held her own amidst the cut-and-thrust of radio comedy news quizzes and panel shows. Referring to herself as "wobbly", Francesca is also a fearless campaigner against cuts to disability payments and austerity.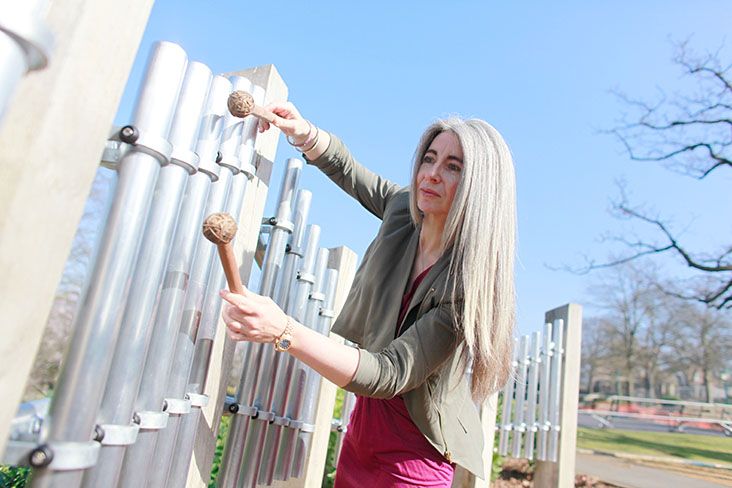 Dame Evelyn Glennie: © Caroline Purday
Dame Evelyn Glennie Despite being profoundly deaf since the age of 12, Dame Evelyn Glennie is an internationally acclaimed percussionist and composer who has played with some of the world's top orchestras and performed at the Opening Ceremony of the London Olympics. Claiming that she developed the skill to hear and feel music with other parts of her body, Glennie also plays the bagpipes and has collaborated with musicians of all genres from Bjork to Mark Knopfler.
Chris Packham CBE A much-loved naturalist and TV presenter, Chris has an encyclopedic knowledge of birds, beasts and creepy crawlies, and is one of the UK's top nature presenters, photographers and film-makers. Having only been diagnosed in his forties, Chris is very open about having Aspergers and has done a lot to raise awareness of the condition. His moving autobiography, Fingers in the Sparkle Jar, describes beautifully the sense of bewilderment and alienation he felt as a young boy and teenager on the autism spectrum.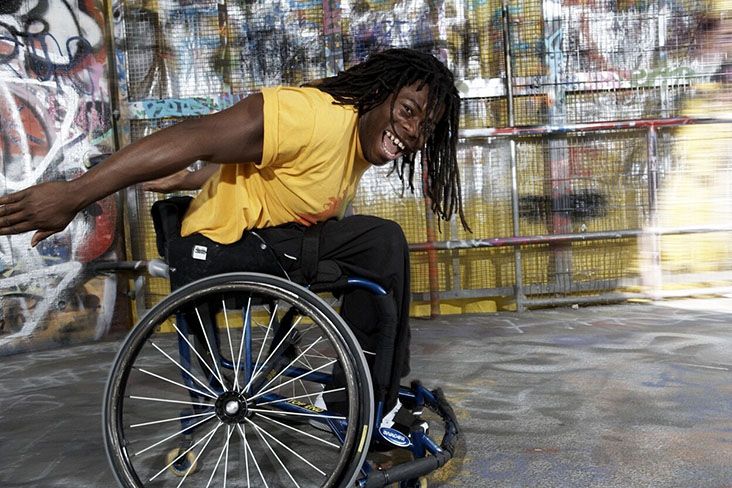 Ade Adepitan: © Invacare image c/o John Noel Management
Ade Adepitan MBE After contracting polio in Nigeria, Ade's family moved to East London, England where he grew up and became an accomplished wheelchair basketball player. He won a bronze medal in the Great Britain wheelchair team at the 2004 Athens Paralympics. Awarded an MBE for services to disability in sport, he is also a well-known TV presenter frequently hosting The Travel Show for the BBC and Unreported World for Channel 4. He also co-presented the 2016 Paralympics in Rio and has recently fronted his own BBC2 series, Africa with Ade Adepitan.
Baroness Tanni Grey Thompson As well as winning eleven gold medals and breaking 30 track world records as a Paralympic wheelchair-racer, Tanni Grey Thompson has played wheelchair basketball and worked as a sports commentator and pundit. Now a baroness, she sits in the House of Lords where she champions many causes including disabled rights, welfare reform and sports.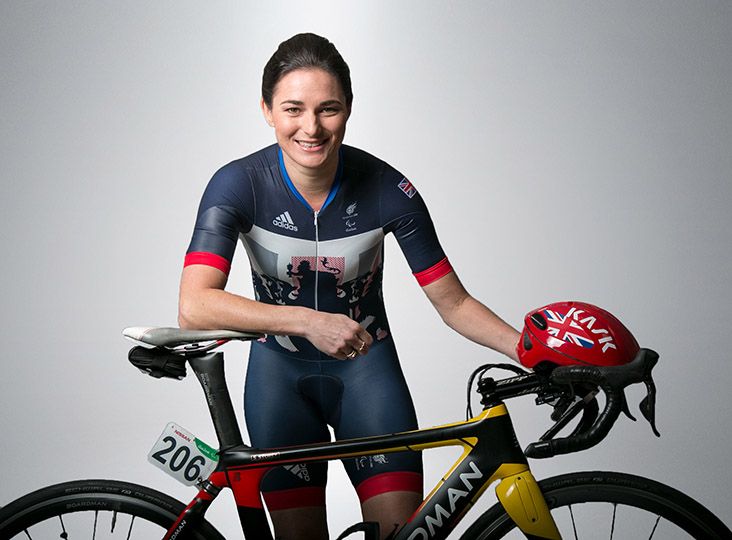 Dame Sarah Storey © Chris Braybrooke
Dame Sarah Storey Winning a gold medal at the Paralympics in one discipline is hard enough, but to master and win gold in a second, entirely different sport is a pretty amazing feat. Dame Sarah Storey started out as a Paralympic swimmer, winning her first gold medals at the Barcelona games in 1992, before turning to road and track cycling. Despite having just one functioning hand, Sarah also qualified for the able-bodied England cycling team in the Commonwealth Games in 2010. With a total of fourteen gold medals over the two sports, she is Britain's most successful female Paralympian, and is a vocal promoter of cycling in Sheffield, where she is the appointed Active Travel Commissioner.
Frank Gardner OBE BBC Security Correspondent Frank Gardiner was shot and partially paralysed by al-Qaida gunmen in 2004 while reporting from Saudi Arabia. Despite using a wheelchair or frame ever since, he still travels widely, reporting from the Middle East, making documentaries and writing novels. He has always been a keen skier, now using a sitski, and is patron of Disability Snowsport UK. Last year he was particularly vocal in criticising Heathrow airport after he was left stranded on a plane for 100 minutes. Since then the airport has introduced major improvements for disabled travellers.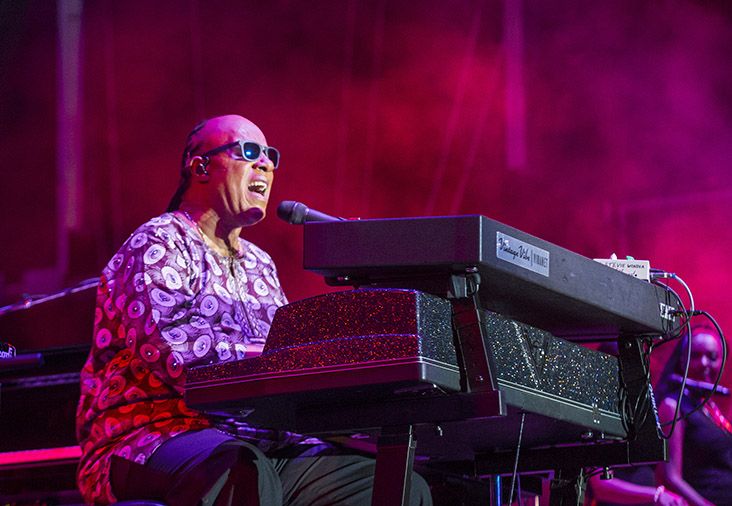 Stevie Wonder: © Shutterstock
Stevie Wonder Song-writer, singer, piano-player and record producer, Stevie Wonder's career has spanned almost five decades and he's sold more than a million records worldwide, topping the charts with hits such as "Superstition", "Isn't she lovely" and "You are the Sunshine of my Life". An impressive roll-call of achievements for anyone, but even more so for someone who has been blind since shortly after his birth. He's also a long-standing active civil-rights campaigner protesting against racial discrimination and social injustice.
Nikki Fox The BBC's Disability News Correspondent, Nicky Fox has muscular dystrophy and is unstinting in reporting on issues affecting people with disabilities and calling out bad (and good!) practice. A mobility scooter user herself, she has worked as a TV researcher and made and produced radio documentaries and TV reports on disability-related issues and is currently a presenter on BBC's Watchdog.
Jonnie Peacock: © EQ Nutrition
Jonnie Peacock MBE For many people, Jonnie Peacock may be best known from his impressive performances on Strictly Come Dancing, where he was the first amputee Paralympian to compete. Aged five, his leg was amputated below the knee due to meningitis, but he was determined to participate in sports. Peacock went on to break world records in sprinting and win a gold medal in the T44 100 metres at both the London 2012 Paralympics and the Rio 2016 Paralympics.
Image Credits
Rough Guides would like to thank the following individuals, companies and picture libraries for their kind permission to reproduce their photographs (in order of appearance on the web page):
Header image: © Invacare image c/o John Noel Management
Dame Evelyn Glennie: © Caroline Purday
Ade Adepitan: © Invacare image c/o John Noel Management
Dame Sarah Storey: © Chris Braybrooke
Stevie Wonder: © Shutterstock
Jonnie Peacock: © EQ Nutrition
Related Articles
6 accessible outdoor activities in the UK
A guide to cycling with a disability
The most inspirational people to follow if you're disabled