The rise of cycle lanes, dedicated cycle routes and disability-friendly cycles means there's never been a better time to get on two (or three or four) wheels!
There really is a cycling solution or adaptation for virtually every disability including loss of limbs, balance or leg power. So whether you fancy a short trip to the shops or off-roading along a woodland track, here is a breakdown of the equipment available and what might be right for you if you have limited mobility.
Our writer Ian went to his local Wheels For All centre to find out more about the equipment available for people with disabilities and try out the cycles for himself. Wheels For All is a nationally recognised cycling charity and programme for people with additional needs and disabilities. There's a national network of 50 plus centres with specially adapted cycles, and trained leaders with the knowledge and expertise to help disabled people enjoy cycling safely and confidently. You can find your local centre on their website.
Tricycles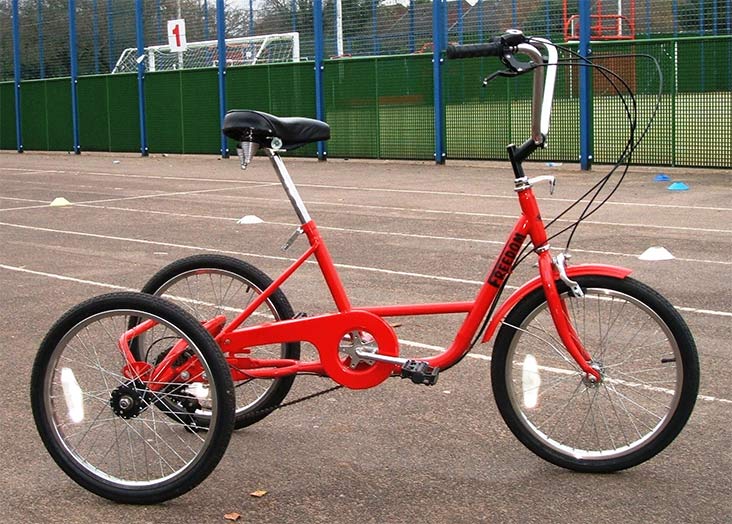 With a tricycle, people who would struggle to balance on two wheels have additional support
Possibly the most obvious solution to making cycling more accessible is to add an extra wheel and make a bicycle into a tricycle. Adult tricycles are perfect for those who lack balance or who don't have the agility to get on and pedal a conventional two-wheeler. The other advantage of adding an extra wheel is that with three wheels you can ride as slowly as you like without falling off, which is perfect for people who are still learning and feel nervous! If you need to, you can stop and still be totally stable, sitting with your feet firmly on the pedals.
The other great thing about trikes is there is a huge variety to choose from. There is everything from conventional upright tricycles to easily storable folding tricycles to semi-recumbent tricycles with which you sit with your legs and pedals in front of you, rather than underneath your seat. There are also electric tricycles and "low step" tricycles for those with limited flexibility who want to mount and dismount comfortably.
Why stop at three wheels?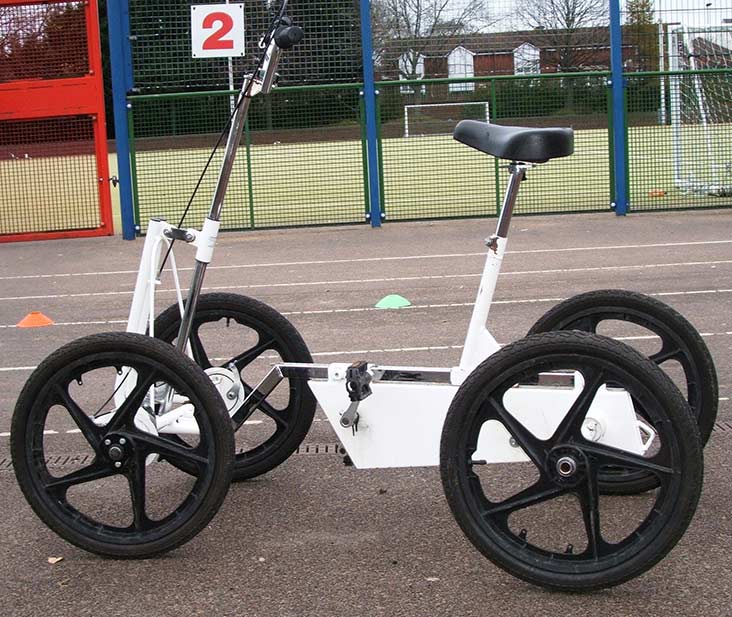 Quad-cycles are very similar to tricycles and keep the rider steadier than two-wheel bikes
When it comes to adding an extra wheel you might ask, 'Why stop at three? Why not a four wheeler?' And indeed, there are pedal powered "quad-cycles". Like tricycles, four wheeler cycles come in a variety of shapes and sizes. Most are upright, powered with pedals underneath the saddle, but there are also "semi-recumbent" versions where your legs are in front of you rather than underneath you. There is no major difference between a tricycle and a quad-cycle, other than having even greater stability and the extra width at the front of the quad for more protection.
Hand cranking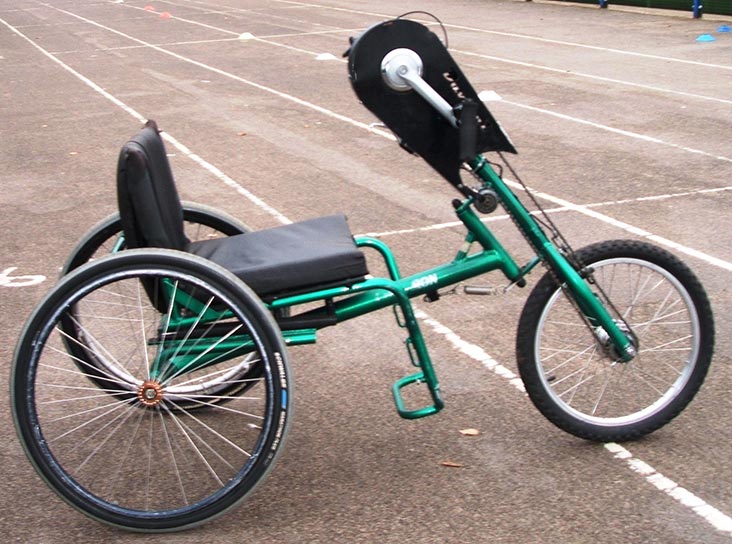 Hand cranks for bikes are made for people with limited or no leg movement
If you have limited leg movement, there are even cycles which you power by pedalling with your hands in what is known as "hand cranking". Hand cranking is the perfect cycling solution for someone who can't use one or both legs, perhaps someone with a spinal injury or a leg amputee, as you use your hands and arms rather than your feet and legs to propel you. One type of hand-cranked "hand trike" comes in the shape of an attachment comprising a front wheel, hand crank, handles, brakes and a docking station which you secure to a wheelchair. This means your wheelchair can be converted into a trike in seconds.
Cycling with a friend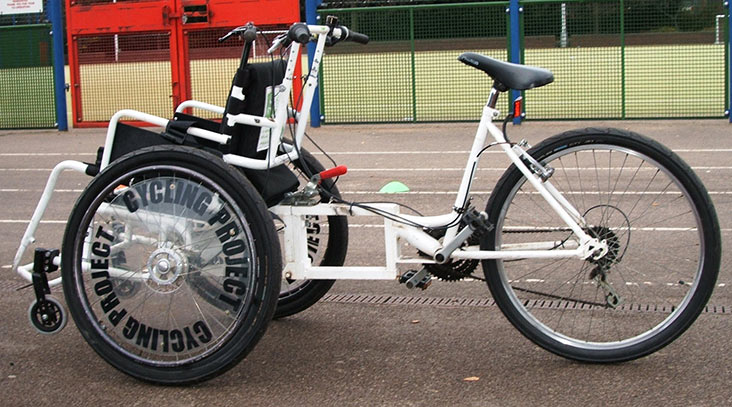 People with very limited mobility can still enjoy the feeling of cycling by using a bucket seat bike with a friend or carer
If you want to experience cycling but with someone else taking care of the pedalling, a bike with a "bucket seat" may be what you're looking for. These bikes are two-seaters with a moulded "bucket seat" located in front of the person doing the pedalling. You travel as a passenger up front with a seat belt or harness securing you while the person doing the legwork sits behind you. A variation of the "bicycle made for two" idea is where the wheelchair is bolted on to the back part of the cycle and the wheelchair can be attached and detached at will. Both these types of adaptations are often known as "wheelchair tandems".
Find out more
To find out more about using one of the bikes above or to inquire about where they can be used safely in your area, contact your local Wheels For All centre, where a local dealer will be able to advise you.
How the Motability Scheme can help
You can use your Motability Scheme vehicle to visit your local Wheels For All centre and pursue other wonderful hobbies. If you're new to the Scheme, find out more by ordering a free information pack and using our eligibility checker. If you're already a customer, sign up for our e-newsletter for more tips and tricks for pursuing interesting hobbies with the help of your vehicle.
Related articles
How to: Enjoy gardening with a disability
You can still enjoy fishing with a disability: How the Motability Scheme can help
Swimming with a disability: Para-swimmer Andrew Mullen's Paralympic journey
From mountain biking to Paralympic handcycling across the globe: Karen Darke's story