Through sport, this global, non-profit organization Special Olympics aims to generate more social inclusion for, and end discrimination against people with intellectual disabilities. More than six million children and adults take part in the Special Olympics' 32 Olympic-type sports and 100,000 annual games and competitions around the world. The flagship event is the biennial Special Olympics World Games. Rough Guides writer Emma Field has the lowdown on everything you need to know about the next Special Olympics World Games Abu Dhabi 2019, held on 14–21 March.
Q: What exactly are the Special Olympics World Games?
A: The Special Olympics has its roots in 1960s USA, when President John F Kennedy's sister, Eunice Kennedy Shriver had a vision for the acceptance of people with intellectual disabilities by focusing on what they could do, rather than what they couldn't. Eunice held the first Games in her own backyard. Her vision gathered momentum and the first World Games was held in Chicago in 1968.
Fast forward 50 years and world games have been hosted in China, South Africa, Ireland, Greece and India, with Special Olympics count Didier Drogba, Michael Phelps and Nicole Scherzinger among its global ambassadors.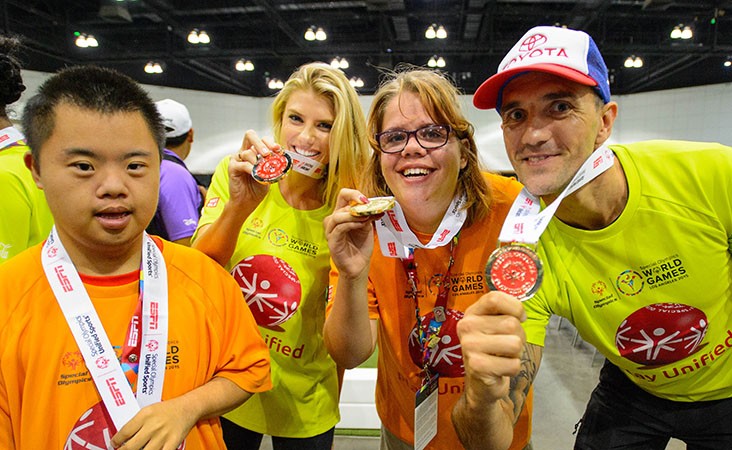 Jubilant medal winners
Q: What can I expect to see at the Special Olympics World Games Abu Dhabi 2019?
A: The Games are being billed as "the world's biggest sports and humanitarian event in 2019." After a glittering opening ceremony in Zayed Sports City Stadium, more than 7500 athletes from 192 nations will compete in venues throughout Abu Dhabi and Dubai. They will be supported by 3000 coaches, 20,000 volunteers, 1500 officials and 500,000 spectators.
Q: What sports are played?
A: There are 24 different individual and team sports including athletics, badminton, cycling, gymnastics, beach volleyball, golf, football, judo, roller skating and triathlon.
There will also be non-sports activities such as the Law Enforcement Torch Run, a Global Youth Leadership Summit, free health screenings at Healthy Athletes, and Unified Sports experiences, which sees people with and without intellectual difficulties work together on the same team; the Abu Dhabi event promises to be the most unified Games in the 50-year history of Special Olympics.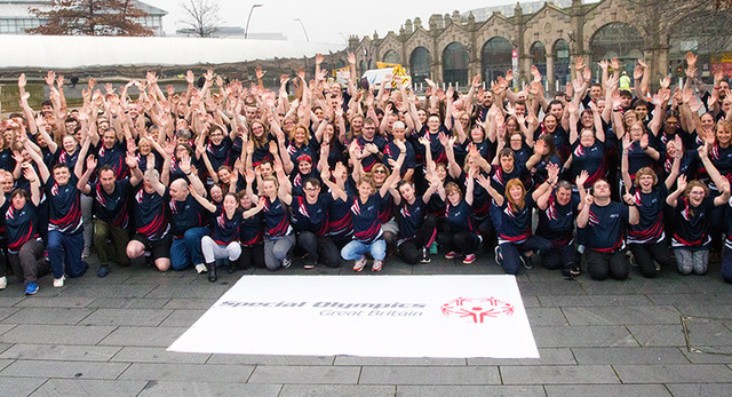 Special Olympics Team GB
Q: Which athletes should I look out for?
A: #TeamSOGB's 128 athletes will take part in 17 sports, including basketball, bocce, bowling, equestrian, powerlifting, sailing, swimming and table tennis. You can follow all the SOGB team on the Special Olympics GB social media channels and website.
Watch out especially for 16-year-old Lily Mills, from North London. The tennis player has already won a string of awards and tournaments, including Gold for the ladies top division at the Learning Disability National Tennis tournament for the last four years and silver in both the ladies and mixed doubles at the Special Olympics GB National Games in 2017.
Keep an eye on Philip Brodie too; he took gold for judo in the Sheffield Summer Games in 2017.
Q: How do I get tickets?
A: Pre-register to be the first to hear the details on tickets and venues.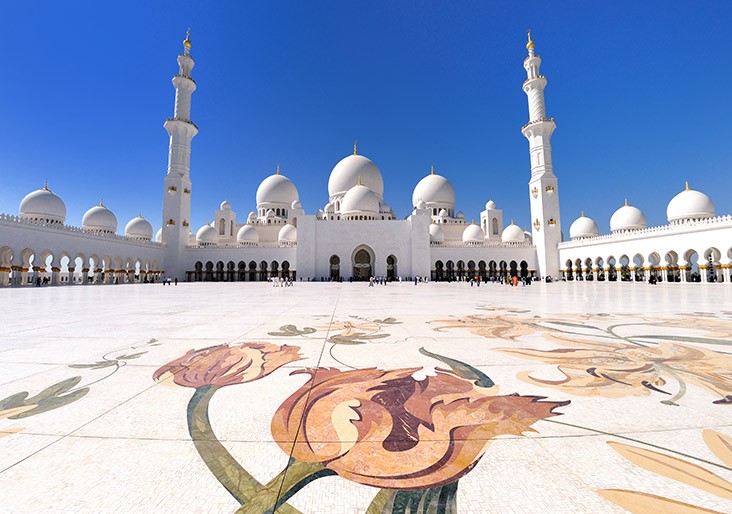 Sheikh Zayed Grand Mosque is just one of Abu Dhabi's architectural wonders
Q: How disability-friendly is Abu Dhabi?
A: Abu Dhabi is, in its own words, "at the forefront in the Middle East in the protection and promotion of rights for people with intellectual disabilities." The international airport is well-equipped for people with physical disabilities, and the five-star hotels, malls and attractions have wheelchair facilities, although ramps often have steep angles. Be very specific when enquiring about facilities for disabled travellers.
The capital of the United Arab Emirates is contemporary, wealthy and packed with dizzying skyscrapers and audacious modern developments. Don't miss the Sheikh Zayed Mosque and the new Abu Dhabi Louvre. In between sporting events, take time to browse the city's souks and join the locals in a sunset stroll along Corniche Road.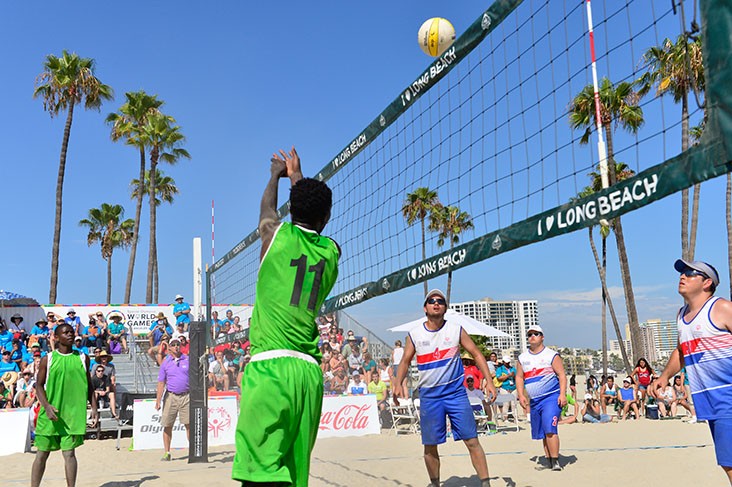 A volleyball match being played at the LA Special Olympics
Q: I can't go to Abu Dhabi for the World Games. How can I watch from home?
A: The international broadcasting partner for Special Olympics is ESPN. It's also worth downloading the official Special Olympics World Games Abu Dhabi 2019 app. For on-the-ground updates on social media, follow Special Olympics GB on all their social media platforms: Twitter (@SOGreatBritain), Facebook (@SpecialOlympicsGB) and Instagram (@SpecialOlympicsGB).
Q: I'm feeling inspired! How do I get involved with Special Olympics?
A: Check out Special Olympics Great Britain! Every year, they run an average of 100 inclusive sporting competitions for thousands of children and adults with intellectual disabilities. Athletes have the chance to progress from local to regional to national and international levels in 28 different sports.
Q: Can I compete?
A: If you see yourself as a potential athlete, or have a family member who wishes to get involved, get in touch with your local Special Olympics club.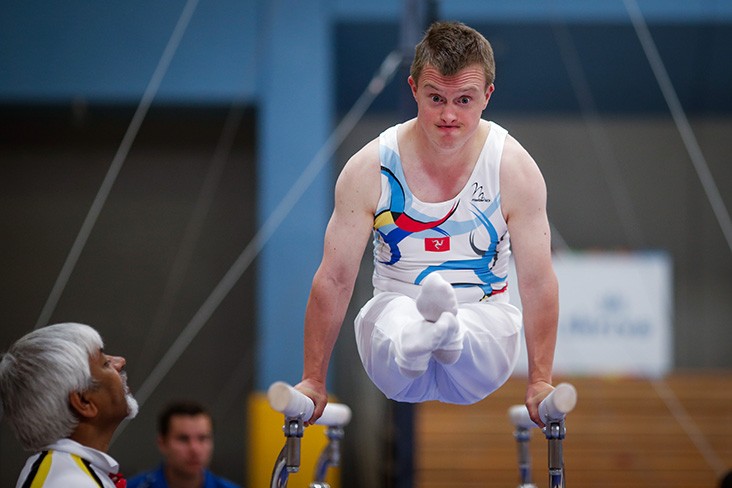 Gymnast competing at the 2015 Special Olympics
Q: Are there other ways to get involved?
A: Get involved with Special Olympics GB as a sports coach or volunteer. And, of course, there's always a need for enthusiastic supporters!
Q: Just how effective is Special Olympics?
A: Powerfully effective, at personal, national and international levels. Everyone involved is treated with dignity and respect, which goes a long way towards building self-confidence.
The World Games do an excellent job of helping to showcase the lives and achievements of those with intellectual disabilities to people across the globe, and their impact changes lives. For example, 30,000 people came from across Ireland to volunteer at the 2003 World Games in Dublin; soon afterwards the Irish government passed a new disability act. The UAE has made inclusivity a priority within National Vision 2021.
Image Credits
Rough Guides would like to thank the following individuals, companies and picture libraries for their kind permission to reproduce their photographs (in order of appearance on the web page):
Header image: Team GB © Ken Hanrahan-Smith (Kat Wizkas Photography)
Medal winners: © Will Schermerhorn/Special Olympics
Team GB: © Ken Hanrahan-Smith (Kat Wizkas Photography)
Sheikh Zayed Grand Mosque: © iStock
Volleyball match: © Will Schermerhorn/Special Olympics
2015 gymnast: © Diego Azubel/Special Olympics

Related articles
Everything you need to know about the Invictus Games
How, where and why to play disability tennis
Jon Bolding: My journey to becoming England's powerchair football captain