As World Cup fever strikes all over again, Rough Guides' author Emma Field talks to FA Disability Football star, Jon Bolding about his journey to becoming England's powerchair football captain.
Firstly, what is disability football?
There are two types of disability football: pan-disability football is for people with various disabilities, impairments and conditions and disability-specific football is for people with similar disabilities, allowing them to play together with specially adapted equipment where required. Both types can be played at every level, from turn-up-and-play through to elite.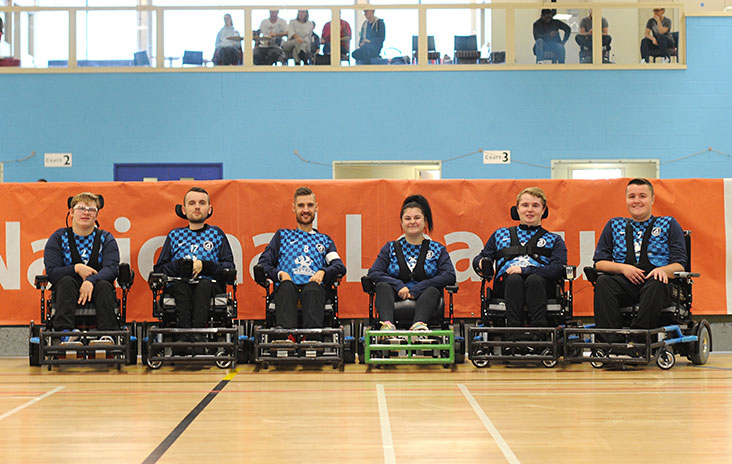 The Aspire team – with Jon Bolding third from the left
Motability Scheme customer, Jon Bolding is the captain of the England powerchair football team and the captain of Aspire Powerchair Football Club, which is one of the teams that reached The FA Disability Cup Finals earlier this month. He credits Aspire and powerchair football with changing his life.
"It has allowed me to compete on a level playing field in a sport that I've always loved. I never thought I'd have the chance to play for my country, never mind captain the team, but thanks to powerchair football and Aspire I've been able to achieve my dream."
Here he tells us about his journey to the top spot in powerchair football – and how you can get involved too.
Why did you start playing powerchair football?
Growing up, powerchair football wasn't around, so I wasn't aware of it until I was 15 years old. I always loved football and so once I heard about powerchair football I jumped at the chance to give it a go, and I've loved it ever since.
What does being the England powerchair football team captain mean to you?
Representing and captaining England has meant the world to me. It's something I've always strived for and now that I've had a taste of it I don't want to let it go! I'll do everything possible to keep playing at the highest level and I have the drive to win major honours with both club and country.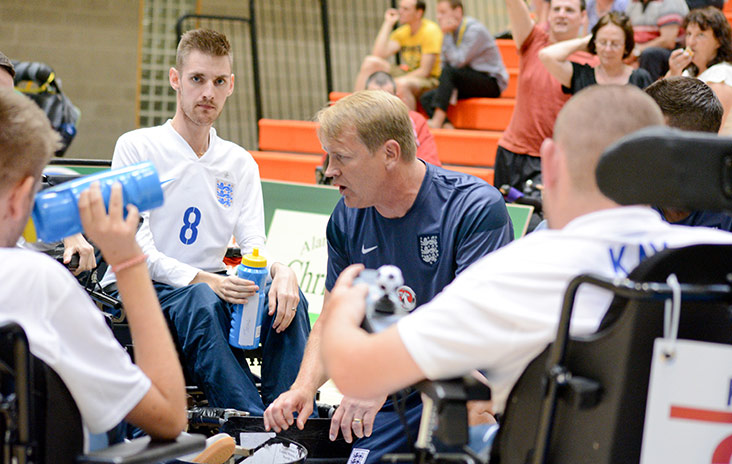 The England team stopping for a team talk during half time at the EPFA Nations Cup, Ireland
What do you most enjoy about the sport?
For me, the most enjoyable thing about powerchair football is the competitiveness, which I never really had growing up. Also, the social side of the sport has allowed me to become more confident in myself, meet so many new people and be part of a team.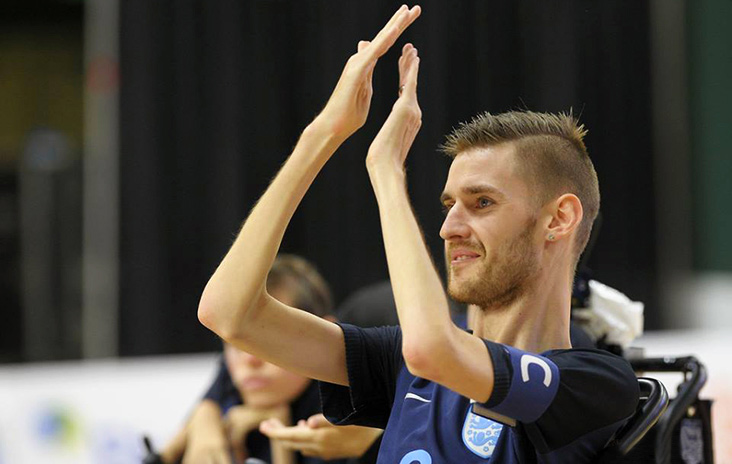 Jon Bolding thanking the fans at the 2017 FIPFA World Cup in Florida
What's your greatest achievement in the sport?
I've achieved a number of league titles and cups with my club team Aspire PFC, but my greatest achievement was to captain my country for the first time at a world cup. I was privileged to captain England at the 2012 World Cup in Paris; we got to the final but lost, unfortunately.
What tips do you have for people who want to try powerchair football?
If you or someone you know is in an electric wheelchair, just come and give powerchair football a go. Regardless of whether you enjoy football or not, this is a sport that brings all kinds of disabilities, ages and genders together. There's a wide range of teams throughout the country, so there's a good chance you're near a team you can join.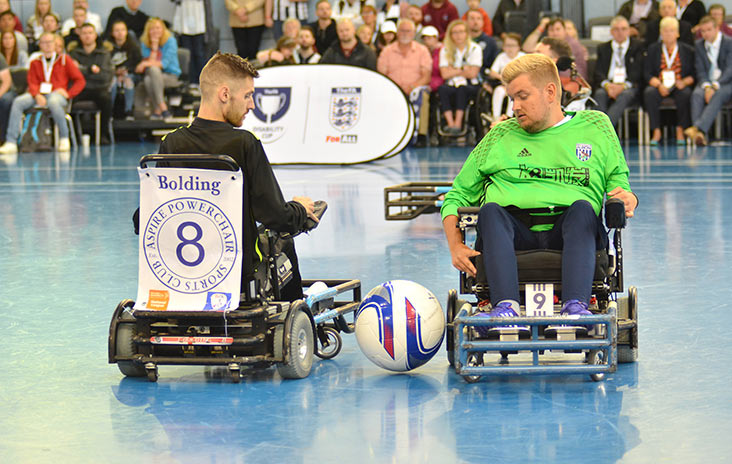 Jon Bolding battling against a West Bromwich Albion opponent at the 2018 WFA Cup final
Which players should we look out for in The FA Disability Cup?
Four England internationals (myself, Charlie Kitcher, Marcus Harrison and Chris Gordon) are playing in the powerchair Cup Final [between Aspire PFC and West Bromwich Albion] – they'll have a massive impact on their team's chances of winning, so keep an eye on them. The players around them aren't far off breaking into the England team and they know that a few good performances could push them into England contention; this is a big stage for them.
How has the Motability Scheme helped you?
After I passed my driving test, the Motability Scheme helped me to pick the perfect car for me and my disability needs. I use hand controls to drive and the Scheme put all the necessary steps in place for hand controls to be fitted to the car in time for me to collect it. Since then, I've received a new car every three years without any effort – that wouldn't have been possible without the help of the Motability Scheme.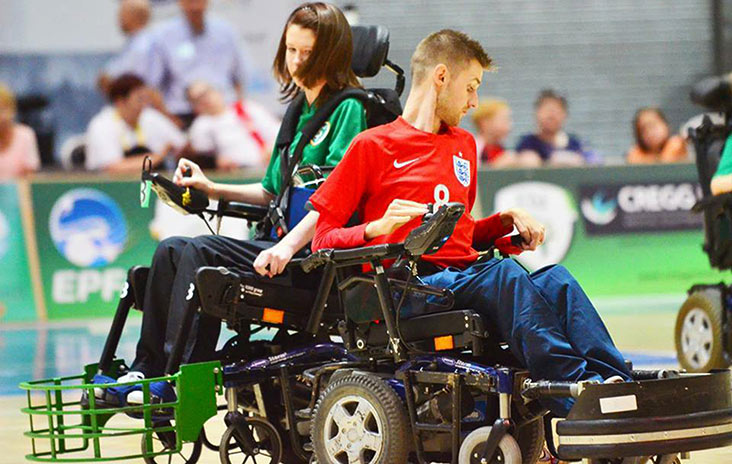 Tackling an opponent at the 2014 European Cup
How to get involved with disability football
1. How do I find a disability football team to watch and/or join?
Use The FA's Find football near you search tool.
2. Does it matter if I've never played disability football before?
No. Grassroots disability football offers more opportunities to people with a disability or impairment to play than ever before, no matter what your age, gender or experience.
3. I already play grassroots disability football. How do I take it to the next level?
The FA Disability Football Performance Unit has mapped out a clear pathway from grassroots to elite level disability football, which includes regional talent identification programmes and talent centres.
4. I want to play powerchair football. How do I get hold of a powerchair?
The Wheelchair Football Association can point you in the right direction. Several different chairs are available for powerchair football, including decent cheaper options.
Related articles
The most inspirational people to follow if you're disabled
From mountain biking to Paralympic handcycling across the globe: Karen Darke's story
Swimming with a disability: Para-swimmer Andrew Mullen's Paralympic journey
Image Credits
Rough Guides would like to thank the following individuals, companies and picture libraries for their kind permission to reproduce their photographs:
Header image: 2014 European Cup: Courtesy of Jon Bolding via Facebook
The Aspire team: © Alexandra Johnson Photography
Team talk at the EPFA Nations Cup: © European Powerchair Football Association
Jon Bolding thanking the fans: Chris Cove
2018 WFA Cup final: © Alexandra Johnson Photography
2014 European Cup: Courtesy of Jon Bolding via Facebook