In celebration of another fine summer of tennis at Wimbledon, Rough Guide's author Emma Field has provided a guide to disability tennis, so that you can have a go at the sport too.
There's never been a better time to pick up a racket. This year, the All England Club staged a quad wheelchair doubles exhibition match for the first time at Wimbledon, with the hope that this sets the stage for introducing this form of the sport to future Championships. Brits Alfie Hewett and Gordon Reid also hope to defend their wheelchair doubles title in front of the event's famously attentive crowd. Wheelchair tennis is already hugely popular, both at the Grand Slams and at grassroots level, but interest in other formats of disability tennis is rocketing.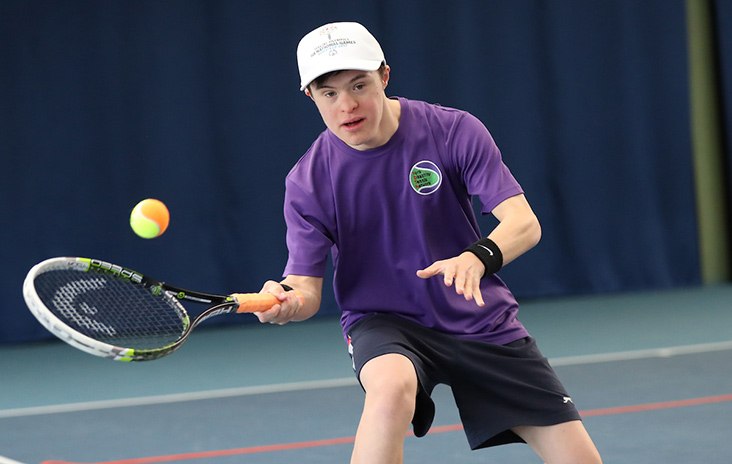 Competing at the National Learning Disability Tennis Championships 2017
What is disability tennis?
Disability tennis is a general term that covers a range of formats designed to make the sport accessible to people with a variety of disabilities and impairments. Categories within disability tennis include; learning disability tennis, deaf tennis, visually impaired (VI) tennis and physically impaired tennis – the latter includes ambulatory tennis and wheelchair tennis. The rules, racket, ball and court sizes are altered according to the disability/impairment. For example, VI tennis has a smaller court, lower net and an audible ball that's allowed to bounce up to three times before returning.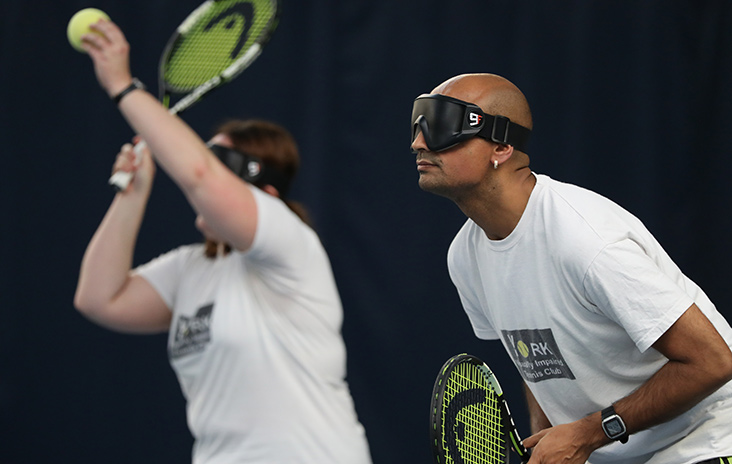 Players wearing goggles at the National Visually Impaired Tennis Championships
Why should I give disability tennis a try?
It's not just about being more physically active – a 2017 Tennis Foundation study into the impact of disability tennis on those involved in the sport in Britain found that 91% of players reported improved self-confidence, and more than two thirds feel happier since their first knock up on a tennis court. In the words of one wheelchair tennis player from Grantham, "I'm a lot calmer. It's very good for your mental health as well. You can just go out there and blast as many tennis balls as you need… You have this massive sense of accomplishment at the end of each session."
More people with disabilities are playing tennis than ever before, and it's not a trend that's likely to go away any time soon. While wheelchair tennis tends to hog the limelight at the pro level, learning disability tennis has the most participants while VI tennis is one of the fastest-growing. In fact, VI tennis has ambitions to become a Paralympic sport – and while we can't all be Alfie Hewett (the wheelchair tennis champ who says "tennis has changed my life"), with the promise of greater interest and investment in disability tennis, now really is a great time to get on court.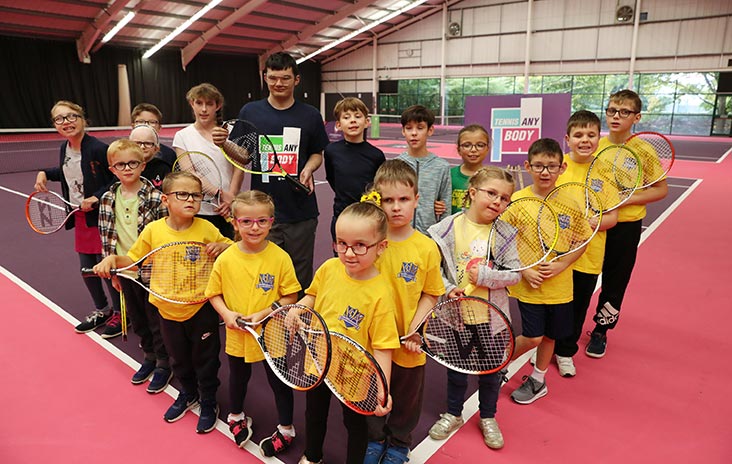 Getting ready to play at the Junior Visually Impaired Tennis Festival in Loughborough, 2017
What do I need to play disability tennis?
Not much! Equipment is usually provided at venues and sessions. If you're keen to use your own wheelchair, you might find the Tennis Foundation's Tennis Wheelchair Setup and Maintenance Guide useful, and if you need a partner, check out their Find a player interactive map.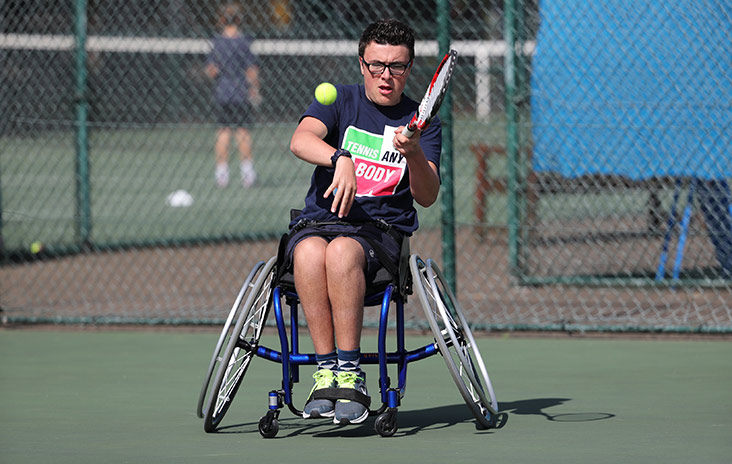 A junior player at the British Open Wheelchair Tennis Championships in Nottingham, 2016
Where can I play disability tennis?
The Tennis Foundation has a network of nearly 400 venues across England, Scotland and Wales that provide disability specific tennis sessions; use the Find a local session tool. Closely affiliated, the Lawn Tennis Association, Tennis Wales and Tennis Scotland have useful court search tools too.
Notable venues include Lee Valley Hockey and Tennis Centre, which has international standard courts adapted from the London 2012 Wheelchair Tennis venue; Gannochy National Tennis Centre in Stirling, recently named one of two National Academies due to open in September 2019 as part of the Lawn Tennis Association's (LTA) 10-year Performance Strategy for British Tennis; and Desford Lawn Tennis Club in Leicestershire, awarded Disability Programme of the Year at the 2018 British Tennis Awards.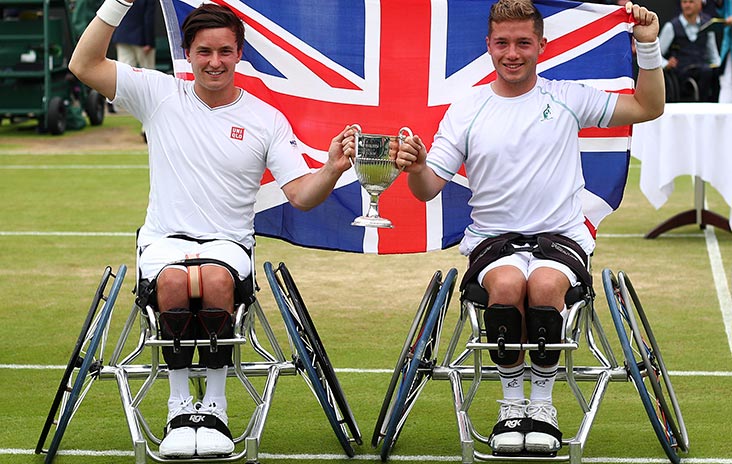 Gordon Reid and Alfie Hewett celebrate winning the doubles wheelchair tennis final at Wimbledon 2017
---
Read the article on Gordon Reid's journey to becoming a wheelchair tennis pro
---
How can I take my disability tennis to the next level?
If you're already smashing it on court, there are plenty of ways to push yourself harder – and even get noticed by pro coaches. You can up your game by taking part in regional and national competitions. There are tournaments at junior and senior levels, across the categories. Check out the Tennis Foundation's competition calendar to find one near you.
I'd still rather just watch…
In that case, don't miss these high-profile disability tennis tournaments:
The British Open Wheelchair Tennis Championships in Nottingham (17–22 July) is the biggest stand-alone wheelchair event of the year, and free to watch. It will be streamed live on the BBC. If you do feel tempted, join the Come & Try Tennis session (21 July) and have a go at all sorts of forms of disability tennis.
All the major tennis events now feature wheelchair tennis. For the first time this year, Queens hosted a wheelchair tennis tournament as part of the Fever-tree Championships.
Related articles
Jon Bolding: My journey to becoming England's powerchair football captain
A list of some of the best accessible sports to try out this summer
A guide to cycling with a disability
Image credits
Rough Guides would like to thank the following individuals, companies and picture libraries for their kind permission to reproduce their photographs (in order of appearance on the web page):
Gordon Reid and Alfie Hewett: © 2017 Getty Images
All other images courtesy of James Jordan/Tennis Foundation