Four Scheme customers have discussed how their powered wheelchairs and scooters have changed their lives and given them a sense of independence. Take a look at this article from Lifestyle magazine to find out more.
---
Going anywhere with the Sunrise Medical Quickie Q300 Mini
Ryan Swanepoel has made his Sunrise Medical Quickie Q300 Mini a central part of his life. He describes it as giving him "incredible freedom" as it allows him to support his wife and six-strong young family, hold down a job at an afterschool nursery club, and even become an Instagram star (@Guppie83).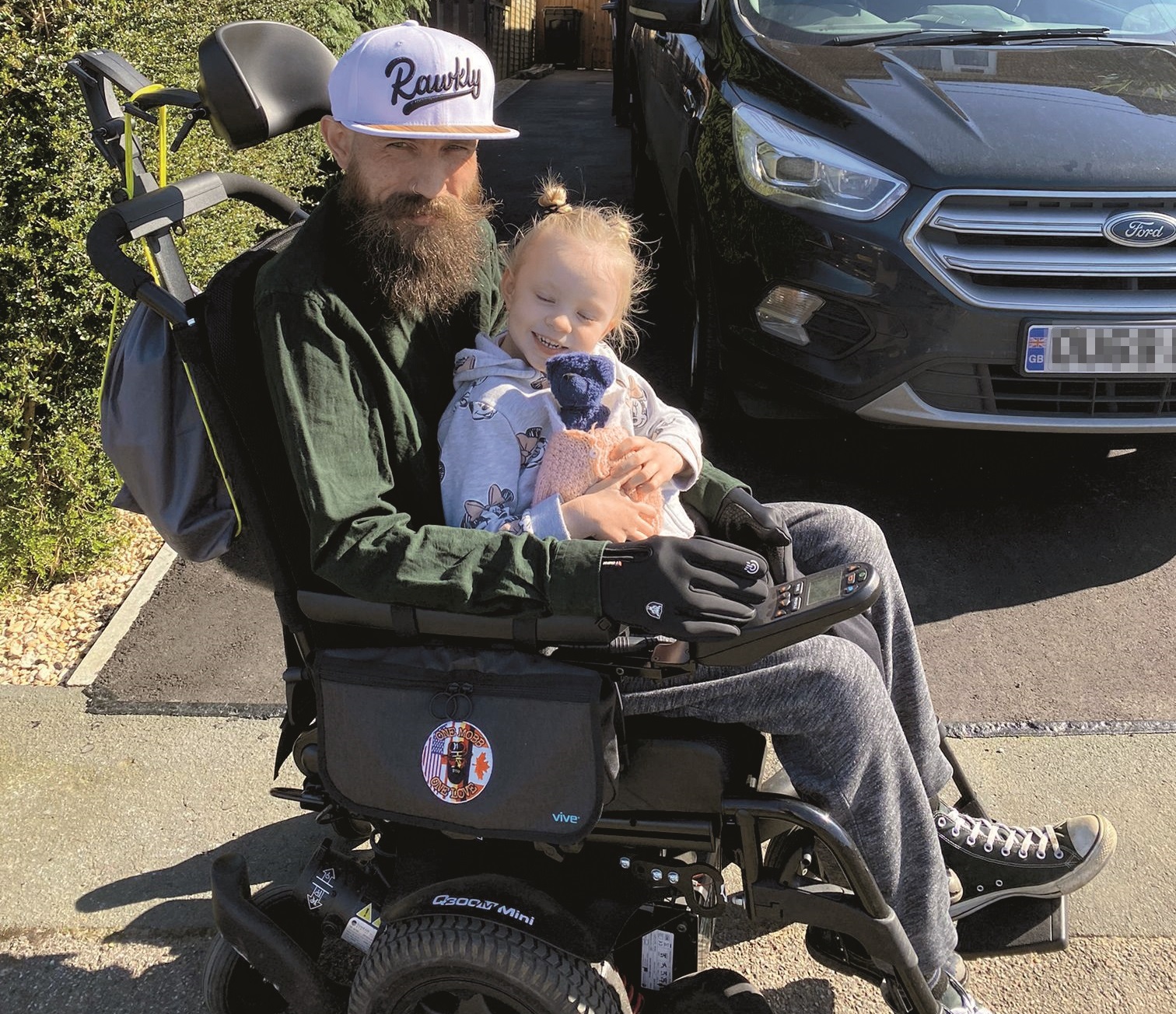 Ryan, 38, has limb girdle muscular dystrophy (dysferlinopathy), which slowly progressed in his early twenties, affecting the strength of his legs and then arms. His preferred chair had to be small, compact, with a great turning circle, which allows him to go anywhere. The Quickie perfectly fitted the bill and, since getting his chair in January, Ryan has covered 230 miles.
"As soon as I tried it, I felt in a world of comfort and safety. I didn't have to tell someone where I wanted to go," says Ryan, who lives in a village in Bedfordshire. As well as a busy daily schedule, Ryan manages to squeeze in charity work with friends. He says:
"I can definitely do things I couldn't do before, and even the children at the nursery think it's cool."
Alternatives to consider:
If you're interested in a complex powered wheelchair, the Permobil M1 RoHo and Quantum Edge 3 Stretto are also great options to look at.
Keeping an active lifestyle with the TGA Breeze S4 Long Range Battery
Carole Young is on a mission to tell everyone how brilliant mobility scooters are. Carole, who has rheumatoid arthritis, which causes inflammation in the joints, got her scooter after her husband passed away five years ago and she couldn't use her Motability Scheme car anymore.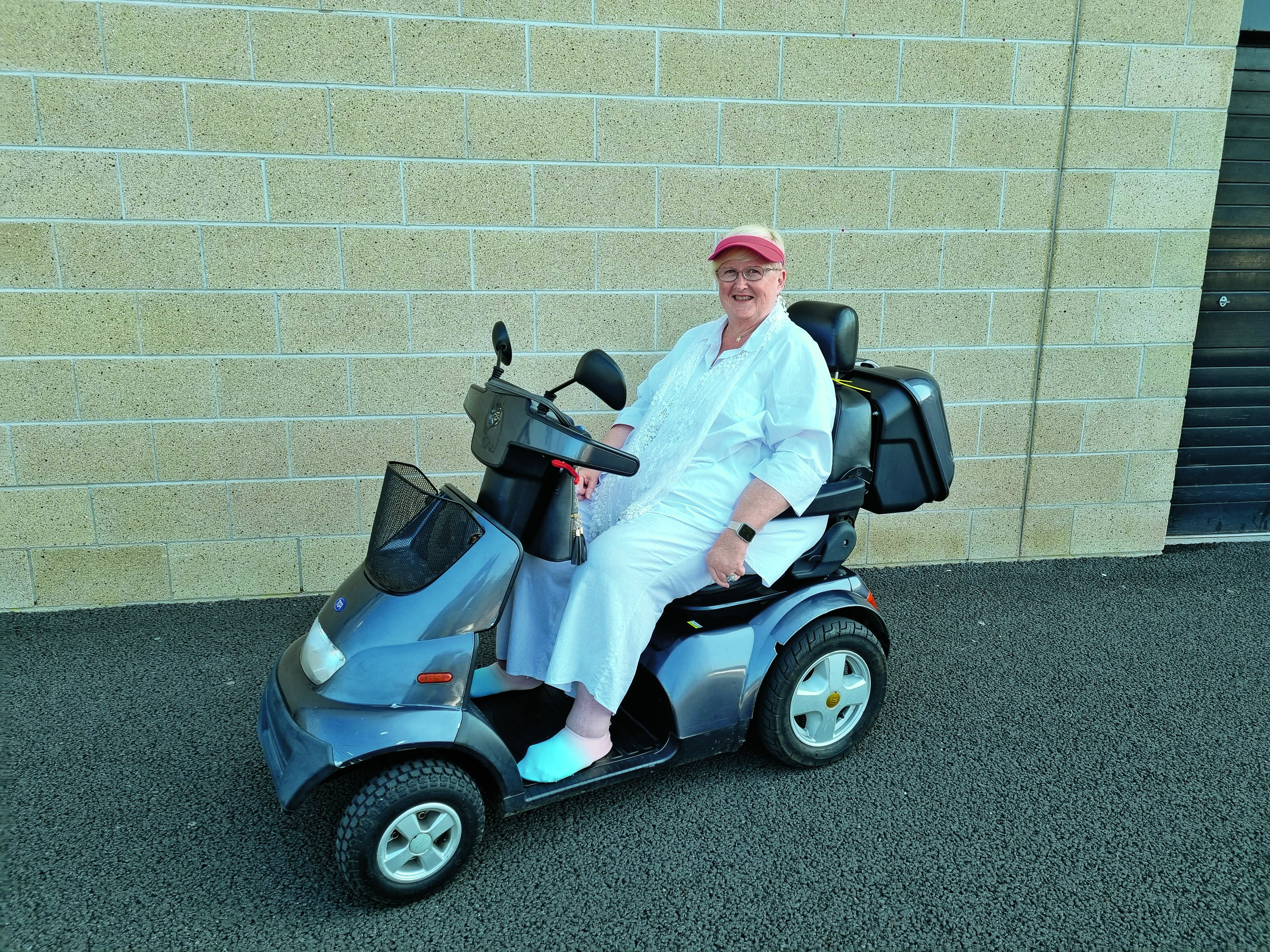 Determined to still get out and about, Carole, 62, swapped the car for a top-of-the-range TGA S4 scooter, which she describes as her "lifeline". Despite her disability, Carole leads a very active lifestyle made easier by using the scooter, including going to the gym and aquacise swimming sessions. She also uses the scooter to meet friends and family, attend hospital visits and go shopping in Swansea.
"The scooter was very easy to organise. TGA Mobility give you advice on what you need and allow you a test drive. What is also great is that if you breakdown, as I did with my previous scooter, they will come and collect you and take you home. I've never had a problem with this model, which has excellent suspension and can tackle all terrains," says Carole.
Alternatives to consider:
If you're looking for a Class 3 scooter, you could also opt for a Pride Ranger or Roma Medical Girona.
Mobility come rain or shine, with the TGA Breeze S4 Full Canopy
Tom Rees, 85, who has Asbestosis, was a long-time Motability Scheme car customer. But when the lease on his Mercedes B Class was due to finish, he didn't feel he was capable of driving much longer. As Tom puts it, he didn't want to sit staring out of the window all day. So, he was delighted to learn that he could swap his mobility allowance for a mobility scooter lease.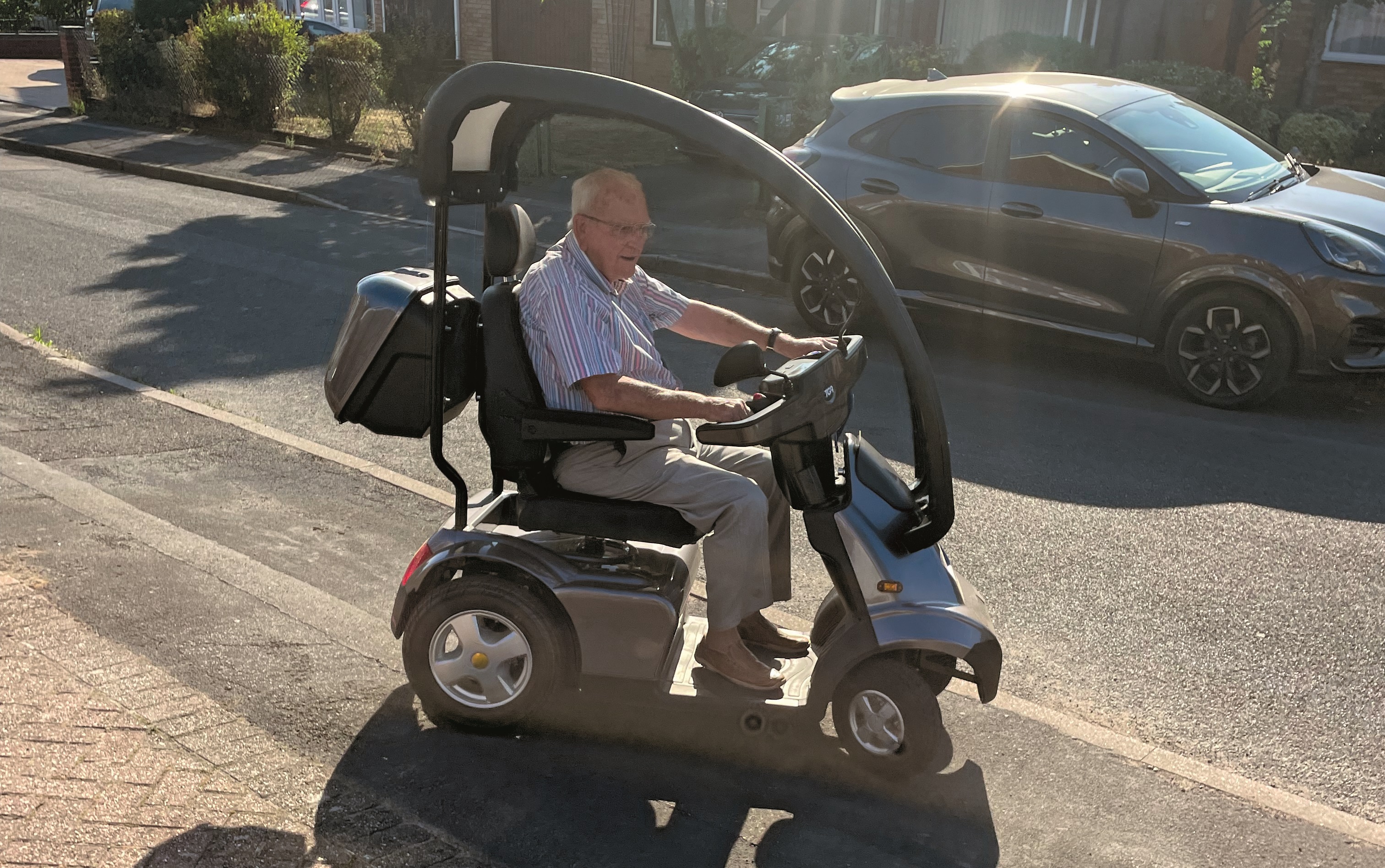 Tom wanted something robust he could use daily for longer trips in all weathers so chose one of the larger scooters on the Scheme. The TGA Breeze is ideal with its all-round suspension, stable design and large wheels, which means it copes well with potholes.
Other plus points for Tom are the generous legroom and a supportive, adjustable seat. It has plenty of storage in secure, lockable, and waterproof compartments at both the front and rear. He chose to upgrade his scooter with a Perspex canopy, complete with sides, so he's ready to go out whatever the weather. Tom says:
"I'm delighted with it – it's kept me mobile and is so easy to use."
Alternatives to consider:
If you want a scooter that lets you go out without worrying about the weather, you could also consider the Electric Mobility Vortex with solid canopy & sides or the Freerider FRI with canopy.
Always on-trend with the Whill Model C2
It was Georgina Wasdall's dream to watch mega-star Billie Eilish in concert at the O2 in London. Her Whill Model C2 powered wheelchair made that possible with its flexibility, easy manoeuvrability, and long battery life.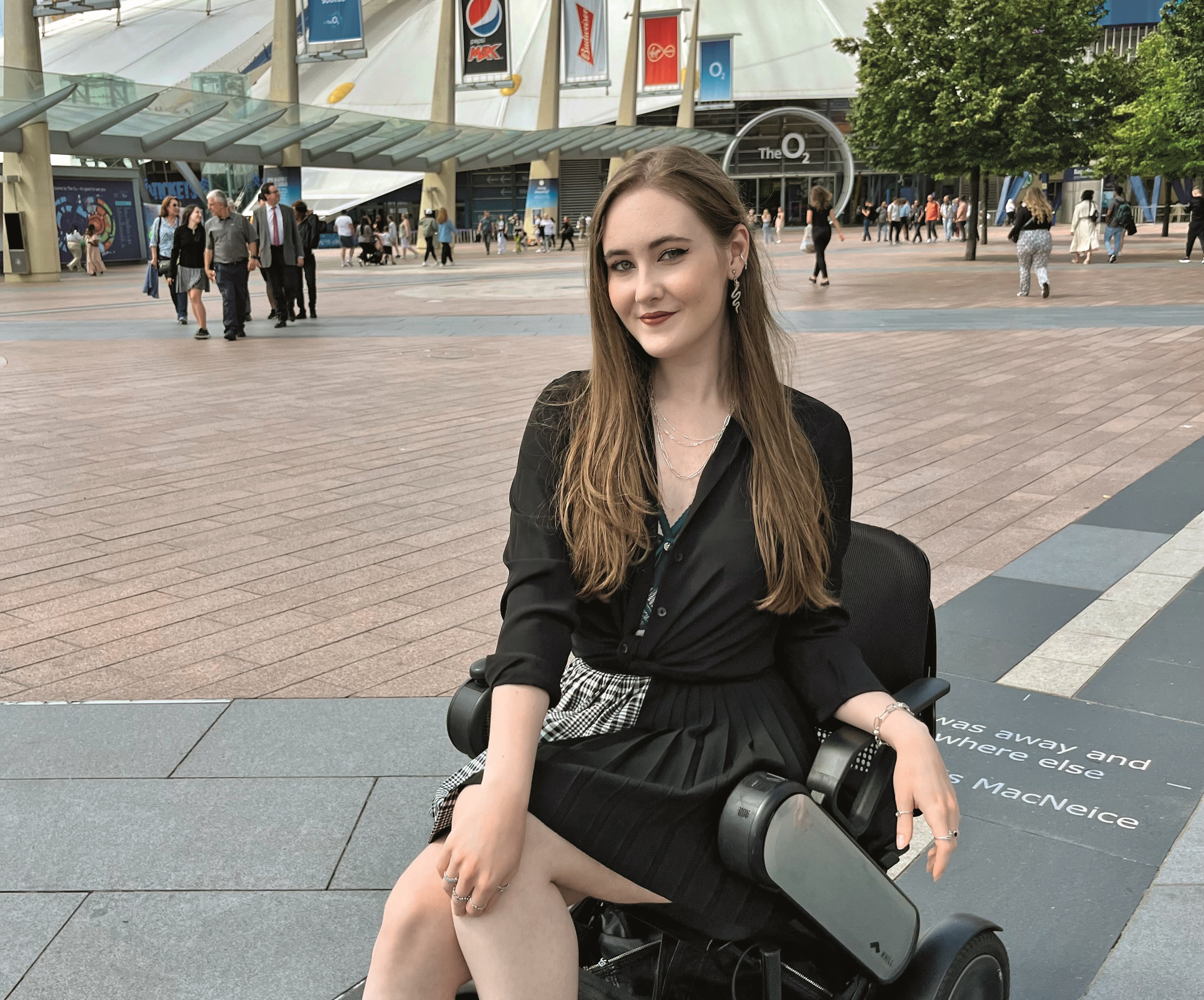 Georgina has myalgic encephalomyelitis – an illness that causes extreme tiredness, muscle pains and migraines. The mobility Georgina's wheelchair has provided also enabled her to build a successful modelling and acting career.
The scooter's tight turning circle and compact size is also great for outdoor trips, says Georgina: "To get to the O2, we used the Emirates Cable Cars from Greenwich. The staff stop the cars and collapse one side of the seating so that it's easy to get into, and then you just reverse out… the Whill C is the perfect size for this!"
Best of all, the chair is easy to dismantle – you just pull the levers, it comes apart and loads into pretty much any car boot. The detachable lightweight battery weighs just 2.8kg and has a range of 15km.
Alternatives to consider:
The Invacare Aviva RX20 and Dietz Power Sango slimline are two other powered wheelchairs worth considering as well.
---
This piece was previously published in Motability's Lifestyle magazine. If you're not already receiving Lifestyle and would like to, please contact us to let us know.
Related articles
Test Drive: scooter and powered wheelchair review round up
Mobility scooter range: how far can yours travel?
3 or 4 wheels: which mobility scooter is right for you?