Many people across the UK are supported by young carers, who provide support with daily tasks and often take on extra responsibilities to support their loved ones. In this article, disability blogger and Scheme customer Sarah discusses the importance of young carers in her life.
---
Currently in the UK, there are around 800,000 young carers (aged 5-17) that provide support for an adult or family member. Some of these young carers face unique challenges, such as difficulties with schooling due to their daily caring responsibilities.
The role of a young carer can be incredibly varied, from taking their younger siblings to school to cooking the family meal, picking up prescriptions to dressing their parent. The responsibilities of a young carer can be vast, and that must go alongside their education, social life (which many of them are lacking outside of school), and ambitions. Young carers are so important – they are vital in the work they do and the support they provide.
I consider myself very lucky to have my wonderful nine-year-old nephew who helps me. He assists me around the house, with things like getting my medication and making me drinks.
When we are out and about, he helps me with my Wheelchair Accessible Vehicle (WAV). My nephew will be the first one to get out of the vehicle so he can open the boot, get the ramp down and help me transfer into my powerchair. He then puts the ramp away and closes the boot. He loves doing it. Each time he asks me if he has done it correctly, and he always has.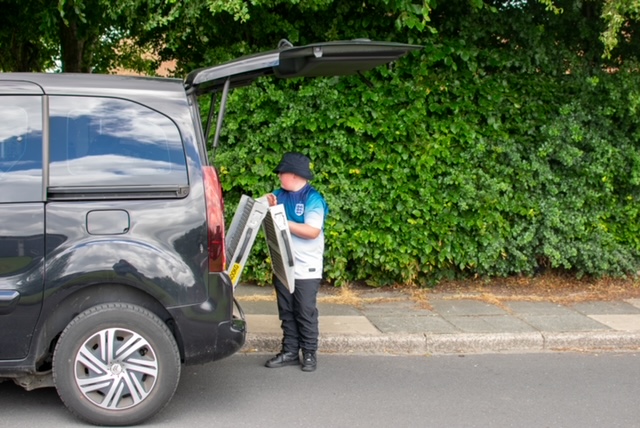 It's such a small task, but after a long day I find it extremely helpful. Some days I can barely transfer from my powerchair due to pain, so having my nephew there to help me – even if it is only doing something small – means everything. It just takes the pressure off me. He has no idea how much I value his assistance.
My nephew also knows that I have anxiety and ADHD, so if we are out shopping and I can't find something he will go and ask on my behalf, as he knows I sometimes get too nervous. He also complained about our meal being incorrect at a restaurant a few weeks ago, because I'd wanted to mention it but was too anxious. He's an absolute superstar!
He is so caring and nothing I ever ask him to do is too much. He loves to help me. We have such an amazing bond, and I couldn't ask for a better connection. He really is a truly wonderful kid, and he understands me, my disability and my chronic conditions so well.
Not only that, but we are always laughing and being silly together. He's my best friend, and I love him so much.
Related articles
Carers: a 360 guide to better living
Kim's story: Caring for my mum
10 top support forums for carers