Disability blogger Shona Louise has discovered newfound freedom with her Motability Scheme vehicle. She shares how her Wheelchair Accessible Vehicle (WAV) has opened the doors to even more freedom and empowerment in her life.
---
Since I was a teenager, I've been using various mobility aids to give me more independence and a better quality of life. Due to my genetic condition and chronic pain, I began using a wheelchair for mobility when I turned 18. I moved from a manual wheelchair to a powered wheelchair six years ago, and that really helped expand my world.
I didn't think things could get any better, until I received my Wheelchair Accessible Vehicle (WAV) through the Motability Scheme.
Public transport was holding me back
My powered wheelchair changed my life, but having to rely on public transport to get around limited me. I had to plan my life around bus timetables. The buses stopped running at 10 pm, with an even less reliable service on weekends. Despite having more independence with my new wheelchair, I couldn't fully enjoy it due to these transportation constraints.
At the same time, I had to endure a four-hour bus and train journey each way to see my partner, Jemma. While I lived in Hertfordshire, they resided in Reading. By car, this journey takes just over an hour, but relying on public transport meant that I had to travel on two buses, two trains, and a trip on the London underground. It was an exhausting ordeal that limited how often we could see each other, as I didn't always have the energy to travel every weekend.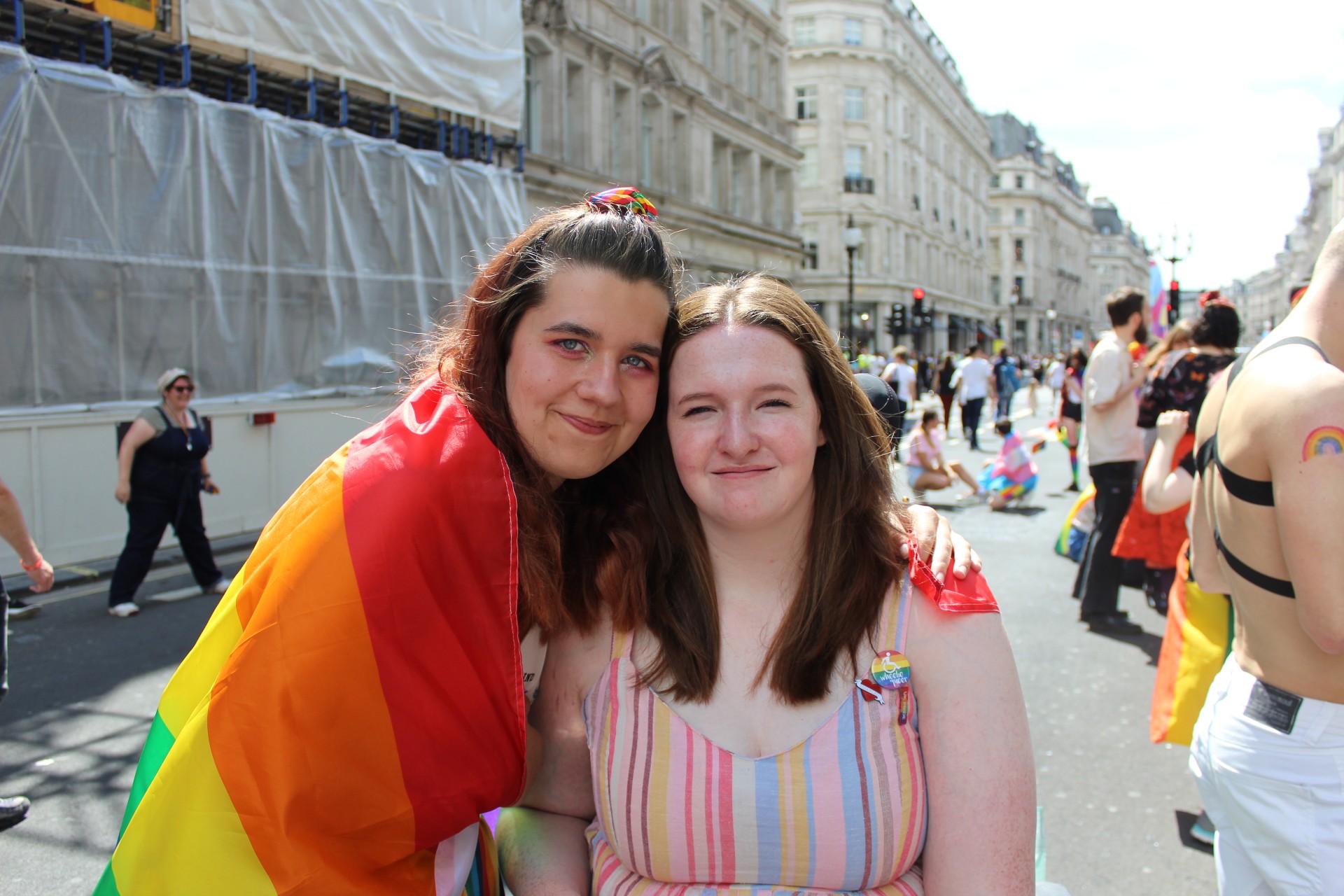 We talked about moving in together all the time. However, I realized how difficult it would be for me to move somewhere new with only public transport to get me around. This is when I knew it was time to learn to drive and get myself a Wheelchair Accessible Vehicle. I knew that getting a WAV would change my life, but now it was the difference between living with my partner or not.
My first independent drive
I received my Motability Scheme vehicle at the end of 2020 and passed my driving test in October 2021. My vehicle comes with an automatic ramp, allowing me to drive in with my wheelchair. It also has an automatic locking system that secures my wheelchair in place without needing assistance from anyone else. With hand controls to drive, every aspect of my vehicle is designed to enable my independence.
My first solo driving trip was just to the supermarket, but it felt incredible. No longer did I have to depend on buses turning up, or whether the wheelchair space would be available. I could get in my car and go wherever I wanted. Within a few weeks, I was on the motorway building confidence with my Mum, learning the journey to my partner's home.
I enjoyed the freedom of being able to drive myself to the shops, but it was this journey that everything had been building up to. The first time I drove to my partner's home alone, I felt so proud of myself. I knew that this was the start of us being able to build our lives together finally.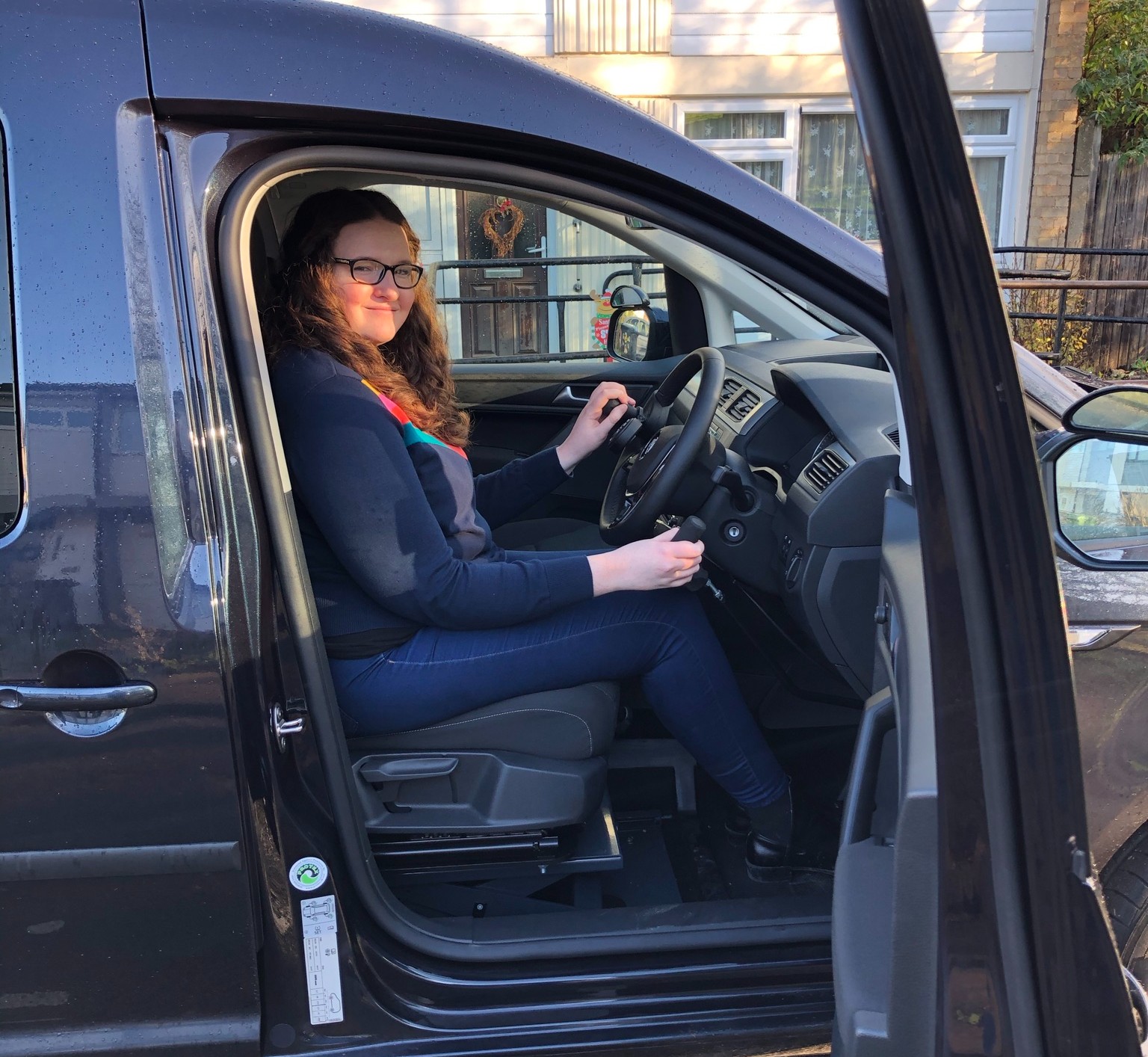 Moving in with my partner
Jemma and I finally started flat hunting at the end of last year, something that wouldn't have been possible without my Motability Scheme vehicle. We were looking to move to Reading near them, and I knew I needed to be able to drive so I could see my family and get to my hospital appointments.
Moving to a new area is daunting and I didn't want to become isolated, so being able to just pop out in my vehicle whenever I wanted was vital. My vehicle also made it easier for me to attend flat viewings at short notice. It meant we didn't miss out on viewing the place that we're now able to call home.
A life without limits
We've been living together for 6 months now, and my WAV has helped me in so many ways. We've gone on weekend trips away to new places I'd not been able to visit before, and spontaneous day trips to the seaside. Even simple tasks like food shopping are easier, because I don't have to limit my shopping to what I can carry on my powered wheelchair. 
My vehicle has made it easier for me to work, too. I don't have to factor in long bus or train journeys, which use up precious energy. I can just focus on doing what I love. I finally feel like I have full control over my life now.
For me, the Motability Scheme is about more than just a vehicle. It has shaped my whole life and given me a level of independence I didn't think possible.
Find your next WAV
You can see the full range of WAVs and other vehicles available on the Motability Scheme by checking out our 'Find a vehicle' tool.
The Motability Scheme allows you to swap all or part of your mobility allowance to lease a car, scooter, powered wheelchair or Wheelchair Accessible Vehicle (WAV).
Related articles 
Why are WAVs converted from commercial vehicles?
Which Wheelchair Accessible Vehicle is right for you?