In exciting news for car technology, Ford's new Level 2 advanced driver assistance system (ADAS) has gained approval for use on the UK's motorways. This will allow motorists to legally drive with their hands off the wheel – but only in pre-designated driving zones. Learn more in this article written by Jack Evans from PA Motoring Service.
---
In a first of its kind for a system of this type in Europe, the BlueCruise system allows for 'hands-off, eyes-on' driving technology on 2,300 miles of pre-mapped motorways in England, Scotland and Wales.
These pre-designated 'Blue Zones' will allow the driver to travel in hands-free mode, providing that they pay attention to the road ahead. It can be operated at speeds of up to 80mph, too.
The system monitors road markings, speed signs and traffic conditions and then uses this to control the vehicle's steering, acceleration and lane positioning. It also allows the car to maintain a safe distance to the vehicles ahead, but it can also automatically slow the vehicle down should traffic build up ahead.
In-car cameras also monitor the driver's attentiveness to ensure that they're maintaining concentration on the road ahead. These infra-red driver-facing cameras check the driver's eye gaze and head pose, even if they're wearing sunglasses.
If it detects that the driver isn't being attentive to the road ahead, it will display a warning message in the instrument cluster. This will be followed by audible alerts and will finally apply the brake and slow the vehicle if the driver fails to look at the road. This will also occur if the driver fails to place their hands back on the wheel when they return to an area outside of a Blue Zone.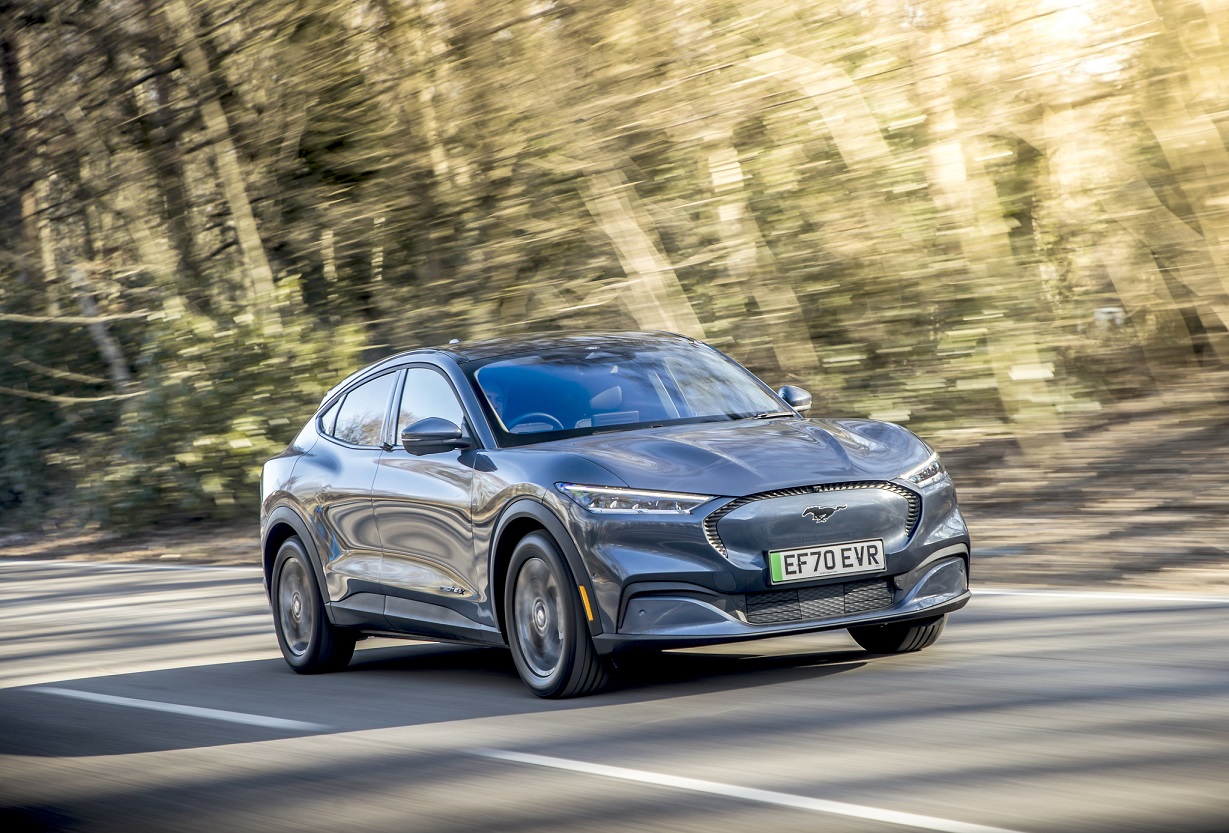 The Mustang Mach-E is the first Ford to be equipped with 'hands-off' capability. (Ford)
Martin Sander, general manager of Ford's electric division in Europe, said: "It's not every day that you can say you've placed one foot in the future, but Ford BlueCruise becoming the first hands-free driving system of its kind to receive approval for use in a European country is a significant step forward for our industry."
Those with a 2023 Ford Mustang Mach-e will be the first that can access BlueCruise via a subscription. The first 90 days are included with the car's price, but after that it'll require a £17.99 monthly subscription.
This article was written by PA Motoring Reporter and Jack Evans from PA Motoring Service and was legally licensed through the Industry Dive Content Marketplace. Please direct all licensing questions to legal@industrydive.com.
Related articles
Driven by technology: the future of connected cars
Expert car picks from the new Motability Scheme price list
Electric Cars: Information and Driver's Guide