Electric cars are a great option for lots of people, particularly those who are looking for a modern, eco-friendly and cost-effective vehicle.
Because of this, the Motability Scheme provides a wide range of electric vehicles for people to choose from, helping to make them more accessible to disabled people across the UK.
This guide explains everything you need to know about electric cars – from charging solutions and key terminology to some handy FAQs.
Completely new to electric cars?
Unlike petrol & diesel cars which are refuelled at petrol stations, electric vehicles (also known as EVs) plug into a local electricity network. The process works in a similar way to refuelling a petrol or diesel car – one end of the charger simply connects to the vehicle, the other to the electricity source. EVs can be charged at home, at work, at destination networks such as supermarkets and car parks, or via an ever-expanding public network.
There are a few key terms that are used when discussing electric cars:
Range: That's the distance an electric car can travel (on average) when fully charged
kW:  A unit of energy which is used to measure the power of an electric car's motor. A higher figure indicates a more powerful vehicle – similar to the 'horsepower' of a combustion engine.
kWh: A unit which is used to measure the output of an electric car's battery. The higher the kWh rating of the battery, the greater the car's range will be.
Charging speeds: How quickly you can charge an electric car using a particular charger. There are a few different charger speed categories, in ascending order: slow, fast, rapid and ultra-rapid.
If you want to know more, take a look at our beginner's guide on how to speak the language of electric and hybrid cars. It explains all the terminology you're likely to see when reading about (or choosing) an electric vehicle. 
You may also want to take a look at our guide to EV charging equipment, to understand the different types of connectors and charger cables as well as the different electric charging speeds available.
How do electric cars work?
Electric cars get their power from a rechargeable battery, rather than a combustion engine. This means they don't require fuel or oil, and they produce zero emissions.
The battery is charged by plugging the car into a charge point and drawing electricity from the grid. That electricity then powers an electric motor which turns the wheels. EV motors deliver instant power, and therefore they can accelerate much quicker and feel lighter than petrol-powered cars.
Why choose an electric car?
There are many benefits of choosing an electric car – we've outlined some of the most popular reasons below.
Sustainability
The ban on new diesel and petrol cars will come into effect in 2030. It was initially scheduled for 2040, but was moved forwards by the government to help tackle climate change. This means that in the near future, the fossil fuel car ban will see fewer 'combustion engine' vehicles on the road and more of their electric counterparts. The move is part of the government's plan to reduce CO2 emissions and eventually get to 'net zero'.
Electric cars offer a great solution. Their lower environmental footprint makes them a much greener choice than a petrol or diesel car. It's worth remembering that this isn't just a nice added benefit — electric cars are destined to be the only cars on the road in future years. It's clear that they are a long-term essential, not a short-term trend. 
There are already many electric cars on the Motability Scheme, and more manufacturers are coming out with electric and hybrid versions of their bestselling models. If you want to know more about sustainably powered cars, this video explains the different types of electric and hybrid vehicles. 
---
New to the Motability Scheme?
The Motability Scheme provides worry-free motoring to 640,000 people across the UK. If eligible, you can exchange part or all of your qualifying mobility allowance to lease a brand-new vehicle of your choice. Learn more about how the Scheme works.
---
Lower costs
Some drivers can be put off by thinking electric vehicles are too expensive for them, when in reality they can be cheaper to run and maintain than fossil-fuelled cars. One of the biggest reasons for this is the price of fuel: depending on your energy tariff, charging an electric car can cost significantly less than filling up a tank of petrol or diesel. A higher upfront cost may well be compensated by your everyday running costs being lower.
On the topic of upfront costs, one thing that should be considered is whether to get a home charging point. Home chargers allow you to recharge your car from home, which some people find more convenient than regular trips to the fuel station. For Motability Scheme customers, if you're leasing your first EV you could get a home charge point installed at no extra cost to you.
Not a Scheme customer?
Follow these 3 easy steps if you're interested in the Motability Scheme:
You can also have a browse of our website for more general information on the Motability Scheme.
Motability Scheme customers are also able to lease a brand-new electric car at an affordable price, thanks to our wide range of cars available at different pricing options.
For those who are looking for an electric car on a budget, there are some EVs available on the Scheme with no Advance Payment. That means you can enjoy the lower running costs of an electric car without having to pay any upfront costs.
To find them, simply search our range of electric vehicles and use the 'Advance Payment' filter. You can also filter by car size, number of doors and more.  
And if you're not sure where to start, why not take a look at some expert picks of electric cars available on the Scheme.
A better driving experience
Did you know that almost all electric cars are automatic? This is one reason why people find that they offer a much smoother and more enjoyable driving experience, as opposed to cars with manual transmissions.
They are also very quiet cars, which can be a real bonus. Reduced noise means less distraction for the driver, and a better experience for any sound-sensitive passengers in the car. On top of that, electric cars don't give out too much noise in busy towns and cities, which is beneficial for both the neighbours and the outside environment in general.
Despite their lack of noise, EVs are still very safe due to the Department for Transport's sound safety rules for electric cars. All new electric and hybrid cars are fitted with a system that emits a sound when around pedestrians, so that they can hear the vehicles if they are driving nearby. Therefore, you can expect an electric car to provide a smooth and quiet ride, while helping you keep others safe too.
What electric car drivers say
Still unsure whether an electric or hybrid car is right for you? It can be helpful to know what other Motability Scheme customers feel about their experience of switching to an electric vehicle. 
One Scheme customer, Alan, shared his experiences of using an electric car. He's been impressed at how easy it's been to drive, even when travelling almost 250 miles to visit friends in Scotland:
"I just use it as a normal car. I don't think that because it's electric it's anything different."
After making the switch, Alan can't imagine going back to a petrol or diesel vehicle.
Watch this video to hear more from Alan on his switch to an electric car
What are the different types of electric vehicles?
'Electric vehicle' is an umbrella term for any kind of electrified car. At present, there are several types of EVs, including Plug-in hybrids (PHEV) and Mild hybrids (MHEV). The two most popular types in 2022, however, are Battery Electric Vehicles (BEV) and 'Self-charging' Hybrids (HEV).
Electric vs hybrid cars
If you're interested in electric cars but aren't quite ready to make the switch, a hybrid may be a good place to start. Hybrids are a greener alternative to petrol or diesel cars, and some of them can help you get used to electric charging. This will come in handy if you do decide to move onto a fully electric vehicle!
To start with, here's a simple explanation of the difference between electric and hybrid cars:
Electric cars do not use petrol or diesel at all. They rely solely on electricity as their power source.
Hybrid cars use a combination of electricity and fuel (usually petrol).
As mentioned, there are different types of hybrid and each one works slightly differently. The most common types are:
Plug-in hybrids, also known as PHEVs, which allow you to recharge your car with electricity as well as using standard fuel if you need to. They can help you get into the habit of electric charging whilst giving you the reassurance of being able to refuel at a petrol station.
'Self-charging' hybrids, also known as HEVs, which do not allow you to plug them into a power source. Although they do use electrical energy, this is generated by the excess heat from the combustion engine – so the driver will still need to refill the tank with fuel, just as they would any other car. Depending on your driving habits, they can sometimes be a more energy-efficient alternative to a petrol or diesel vehicle.
Mild hybrids, also known as MHEVs, which are essentially just regular petrol or diesel cars that benefit from an additional electric motor. Although they can help you save on fuel, they don't possess the same benefits as a fully electric car or another type of hybrid.
Hybrid cars are becoming fairly popular, however it's worth remembering that they will be phased out in the future. The government are planning to ban the sale of new hybrid vehicles in 2035, five years after their ban on petrol and diesel cars takes effect.
There are different factors that might determine your decision when choosing between a hybrid or fully electric car. If you're unsure which might be the best option for you, knowing the pros and cons of each can help you decide.
How EV charging works
The main difference with electric cars is the fact you have to charge them, rather than fill them with fuel. But don't worry, the Motability Scheme is on hand to make the transition as smooth as possible. We have a dedicated information hub on electric vehicles, which covers some of the charging basics and explains what support the Scheme provides.
To help make home charging more accessible, we also offer an easy charging solution for electric vehicle customers. As EVs grow in popularity, it is likely that the electric charging infrastructure will also grow, and in turn, become more accessible to people across the UK.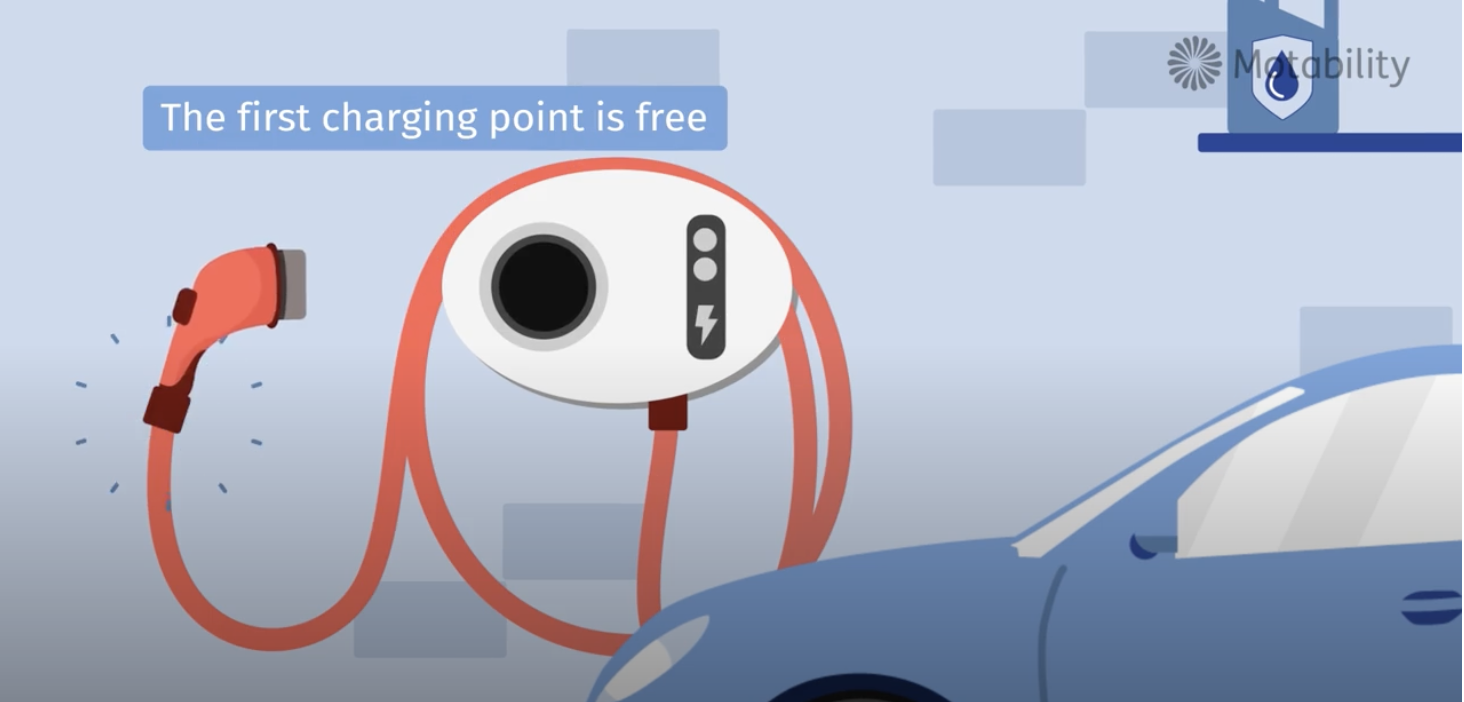 Your charging questions answered
Take a look at some of our answers to the most commonly asked questions on electric cars and how to charge them. You can read the quick answers below or click the links for a deeper dive.
Where can you charge an electric car?
Most people prefer to get a charge point installed at their home, if possible. This makes it easy for them to plug their car in overnight, so that it is recharged and ready to drive in the morning. Aside from that, there are also public charge points which you can use. These can be found in lots of different places, including supermarkets, shopping centres, gyms and public car parks.
Learn more about the different EV charging options
Is wireless charging available?
At present, there are no wireless charging options that are easily accessible for everyday drivers. However, wireless charging is currently in development and could become a mainstream option within the next few years. Using 'inductive charging', a technology currently used to charge mobile phones and other portable devices, wireless charging would allow drivers to charge their car simply by parking over an underground charging station. It is a promising option, but more research and work need to be done.
How long does it take to charge an electric car?
Charge time largely depends on the model of EV you choose, but also on which type of charger it is able to use. There are currently four main charger types: Slow, Fast, Rapid or Ultra-rapid.
Most electric cars use fast chargers, which can typically refill an EV battery within 3-8 hours. Slow chargers are the second-most common, capable of charging a battery within 6-12 hours. Rapid and ultra-rapid chargers are currently less common. A rapid charger typically charges a car to 80% in around 40-60 minutes, and an ultra-rapid does the same in around 20 minutes.
How much does it cost to charge an electric car?
Charging costs vary, based on location, energy cost, battery capacity, charging speed, connection fee and charge level. If you charge at home, you may be able to switch to an EV tariff, which could save you money by allowing you to charge your car at a cheaper rate during certain hours. If you do need to charge in public and want to use a rapid or ultra-rapid charger, the costs could be higher. However, there are some offices and public locations such as supermarkets that have electric chargers, which are often free to use for the duration of your stay.
Can you drive long distances in an electric car?
Most electric cars can run for over 200 miles per charge. A Motability Scheme specialist puts an electric car to the test by taking it on a long drive, including driving on the motorway and climbing up the mountains of Snowdonia.
Watch our video on driving long distances in an electric car
How do I charge my car when out and about?
Charging at home is a relatively simple process and should provide you with enough charge for most day-to-day journeys. However, when you're travelling further afield you may need to use a public charging point. That's why we created a step-by-step guide for EV street charging.
Read our guide to charging an electric car in public
What happens if my electric car runs out of charge?
Electric vehicles never run out of charge without warning. They repeatedly remind you of the outstanding range, so that you can go somewhere to recharge the battery before it gets too low. They are also equipped with economy modes for low battery to help get you to a safe place, although these are only a last resort if you have not recharged the car despite all of the alerts.
Things to remember if you have range anxiety
How do I extend the range of my EV?
There are a number of things you can do to extend the range of your EV and alleviate any worries about running out of charge on the road. These tips include temperature pre-conditioning, watching your speed and testing your tyres.
Discover 6 ways to maximise your electric vehicle's driving range
Can an electric vehicle's battery run out when stuck in traffic?
The good news is that, so long as you hit traffic with a decent amount of charge left, you have nothing to worry about. If you have a decent amount of charge left, you can still use the climate controls and entertainment without worrying – but if your charge is very low already, then it's a good idea to turn off any unnecessary features.
Getting an electric car on the Motability Scheme
If you're thinking about getting an electric car on the Motability Scheme, you first need to make sure you're eligible.
Eligibility
To join the Scheme, you must be in receipt of one of the following mobility allowances:
Enhanced Rate of the Mobility Component of Personal Independence Payment (PIP)
Higher Rate Mobility Component of Disability Living Allowance (DLA)
Higher Rate Mobility Component of Child Disability Payment – Scotland
War Pensioners' Mobility Supplement (WPMS)
Armed Forces Independence Payment (AFIP)
You can easily check whether you're eligible to join the Motability Scheme by using our eligibility checker tool.
Finding a car
If you're eligible to join, you can use our Car Search tool to browse the electric cars that are available on the Scheme.
There are also Motability Scheme specialists across the UK, who will be able to answer any questions you may have and help you find the car that best suits your needs. Use our Find a Dealer tool to get the details of your local Motability dealership.
Related articles
Electric cars available on the Motability Scheme
Driving an electric car: what our customers say
EV street charging: a user guide